November 23, 2022
This is her favorite outfit, right now. She wants to build a small wardrobe for the upcoming couple of months using this as her starting point:
Normally I would suggest her first garment should be a clean shirt, but that's not going to look much different – her green sweater covers most of her torso so the shirt isn't super visible…
But swapping out sweaters? This will make a big difference in how her outfit looks:
NOW, we find her another top to wear under either sweater. I've chosen a turtleneck because (1) it's wintertime in the Northern Hemisphere and (2) it will show under her green sweater!
Next obvious thing to find is another "bottom." Our heroine assures me that she doesn't want anything bright, or patterned, and that she will be just fine with lots of navy!
So how about cords? They are my favorites, and they just scream "casual winter" to me…
Our heroine's socks in her favorite outfit have a pronounced yellow stripe in them, which she really likes. A yellow sweater seems like a logical addition to her wardrobe, doesn't it?
We didn't discuss "level of dressiness" in our emails, but I'm going to assume that she will have some occasion to wear a skirt in the next few months. If this isn't the case, maybe a simple pair of cotton twill pants would be her preference.
Time for a tee shirt! Our heroine likes graphic patterns likes stripes and checks, so a navy striped tee shirt is a pretty obvious classic for her:
Something that we should all bear in mind when adding accent colors to our wardrobes – if garments won't be worn together (like a cashmere crewneck and a wool cardigan!), they don't have to be the same shade of your accent.
I couldn't pass up this cardigan for her, even though it clashes with her crewneck. They will never be worn together, so nobody is the wiser…
Hmmm, it's winter, it's cold, and she likes graphic prints. What's more classic than a flannel shirt?
Jeans. Must have jeans! These dark ones look good with navy:
Our heroine now has a dozen garments – but for no good reason, 13-piece wardrobes are a thing I like to do…
And she's ready for a treat – something classic, festive, and warm. Also one of my favorite patterns!
Here's what we have assembled for her so far: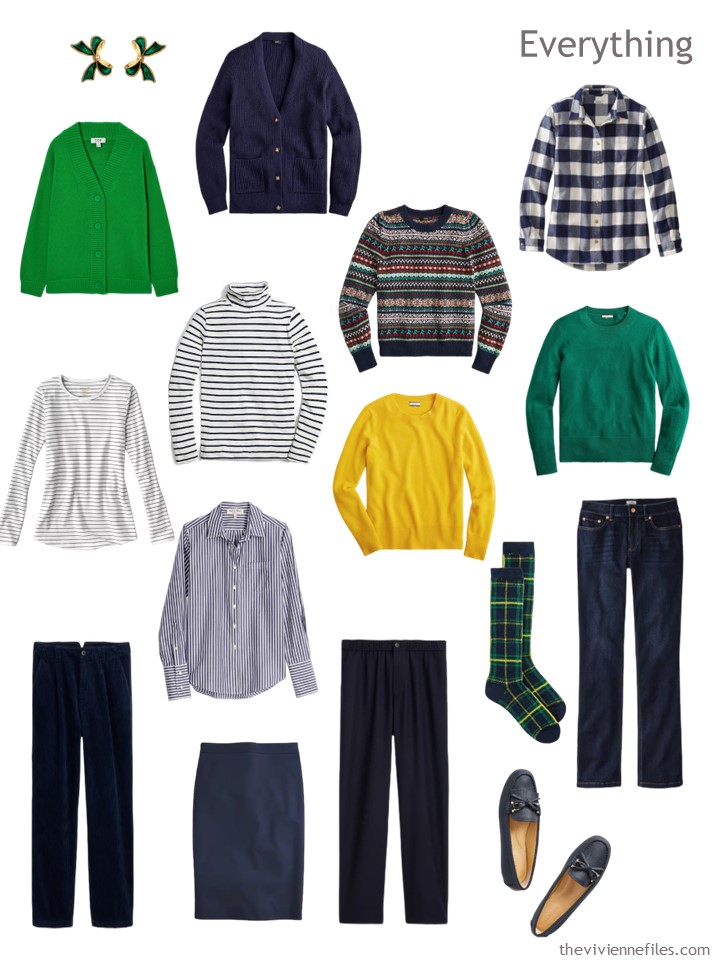 This would be a wonderful outfit for travel, or to just have set aside in your closet for the next few months. Having these things sorted out ahead of time can take a bit of stress out of the winter holidays…
And yes, I think I MUST assemble some accessory suggestions for her, mustn't I?
love,
Janice
p.s. 3 years ago, our very romantic long weekend was inspired by a Sean Scully painting…