May 20, 2022
It happens every year; May is cold cold cold, with high temperatures in the teens Celsius, and then BAM – the temperature goes up to the upper 20s… (For North Americans – we've been from LOW 50s to upper 80s with HIDEOUS humidity, within 12 hours, and then back down again 12 hours later…)
Pity the tourists… they seem to generally be prepared for the hot weather, and then we get down into the 50s and they freeze.
So every year, vendors here in Chicago sell tons of sweatshirts. But still, without other appropriate clothing, knees turn blue, toes lose feeling… It really spoils a vacation.
And of course, this happens to the rest of us who live here; we think that summer is finally here, and we pack away our winter clothes. If you live in a teeny apartment, your clothes might end up 28 floors away, in a storage locker. Not convenient for last-minute wardrobe adjustments!
So finally, I've realized that I need to keep a week cluster of warmer clothes in my closet EVEN IN AUGUST…
This can be a pretty fun exercise – there are some wonderful sweatshirts in the world!
This is what I think of as necessary – you might want to make adjustments to reflect your own tolerance for cold breezes!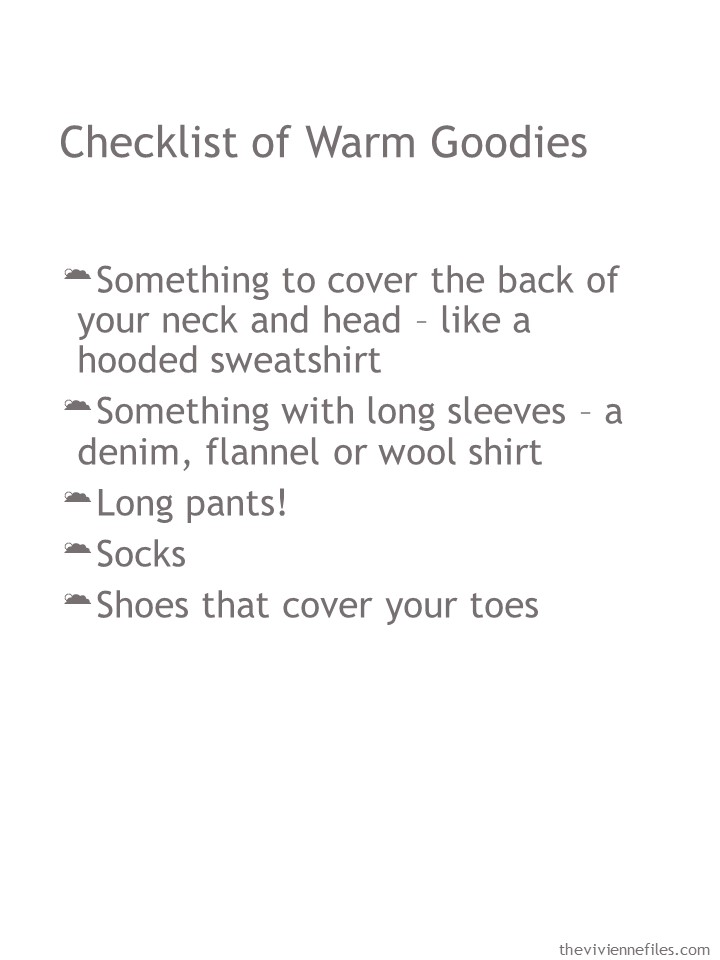 Even though the clothes that you're keeping available are for warmth, they can look for bright and summery:
Depending on where you live, these pieces could live in your clothes every day of the year!
note that sweatpants that don't have elastic ankles can pass for "real" pants in a lot of situations; tuck in that waist tie and who's going to know?
If you're hanging out where I grew up, near Deep Creek Lake in Maryland, a flannel shirt is ALWAYS useful. Or a corduroy shirt. Or both of them at once! (we had some cold mornings…)
If you like the depth of color and texture that you get with flannel, but you don't like your thighs to make that "schwoop schwoop" noise, a shirt is the way to go!
And I have to strongly suggest that every woman should have at least a couple of these Buffs – gaiter-like thingies – in their emergency bag. They don't make a great medical mask, but they are a warm face covering, hat, neck gaiter, ear band etc. It's a lot of value in a tiny space…
You may want to keep the same "emergency warmth" cluster all year 'round; a nice navy-based cluster is a perfect solution…
Maybe your idea of being prepared for a cold-snap is a little bit dressy; this last cluster is what I keep aside through the year for those occasional FREEZING days….
I remember an August evening, back in the '90s, sitting on the lake front until VERY late, with a dear friend… I was wearing essentially the outfit shown above. We talked at length about how peculiar it was to be wearing sweaters in August…
love,
Janice
p.s. Five years ago, I was packing for Ireland…