January 5, 2022
Let's GO!!!
First up is black…
Last week we started with 5 essential garments (well, essential for most of us!):
As soon as I saw this "rust red" – I know that this was where I wanted to start! To me, this color is very close to the color of warmly brown leather… maybe brown earrings would have made sense here but I didn't see any that impressed me, so I opted for these timeless black ones!
These 6 additions to the original 5 garments give you something that can legitimately be called a wardrobe! It's not huge, but for a long weekend, this would serve you well: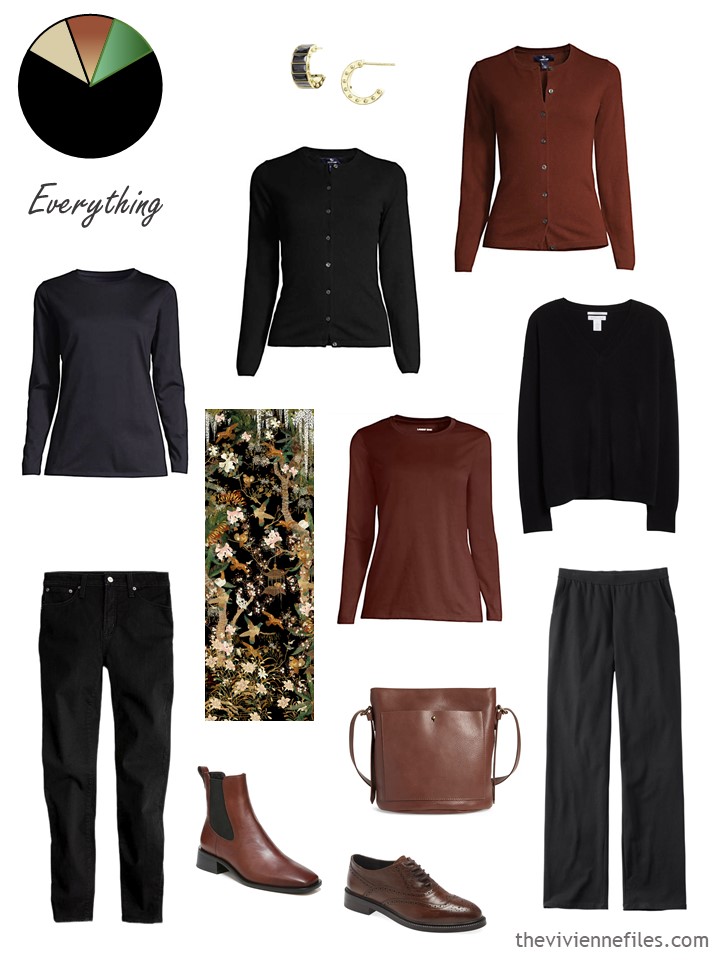 You've now got at least a few outfits…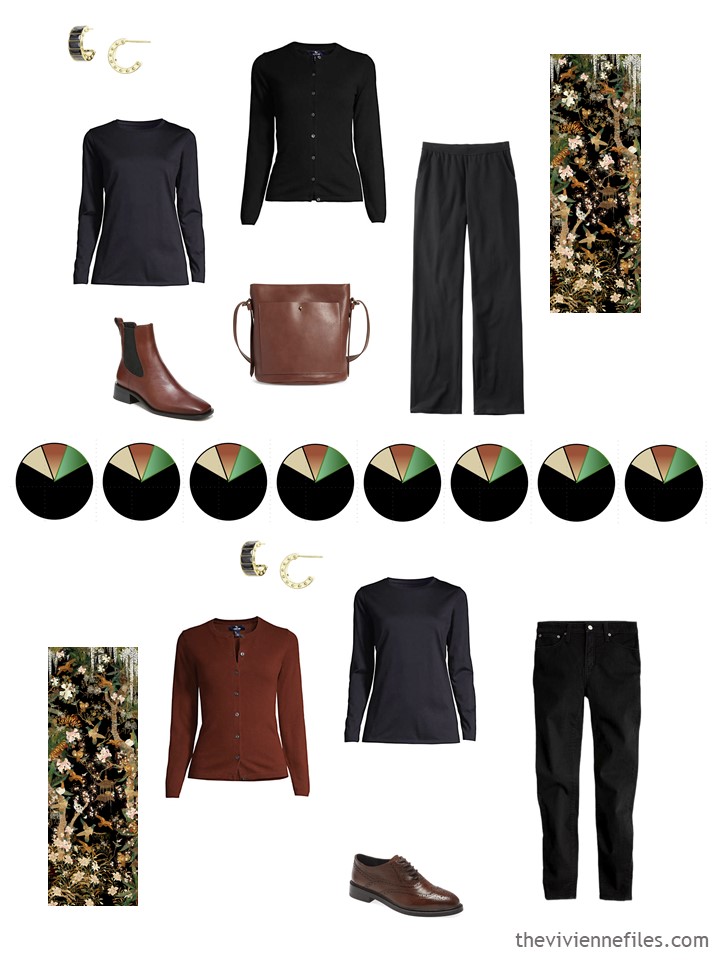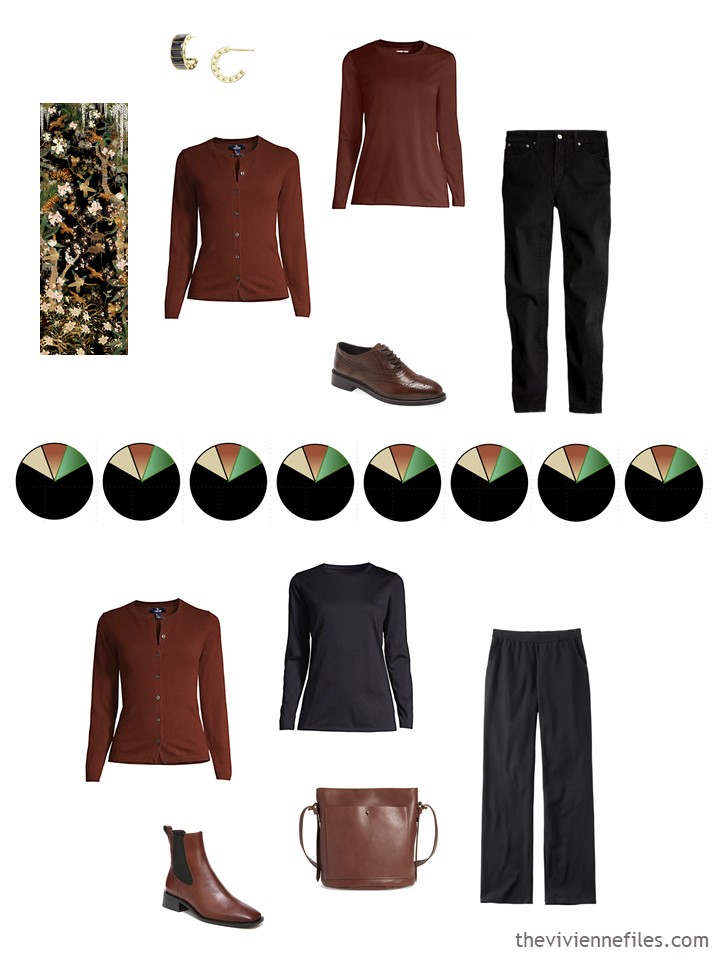 Next is our soft, warmly-colored wardrobe:
Since I couldn't find 5 beige garments, I opted to grab some ivory while it was available:
One does not HAVE to add a twin-set to this wardrobe – these 2 garments are as far apart in color as you can get!
A wardrobe that started out softly muted suddenly has some brightness!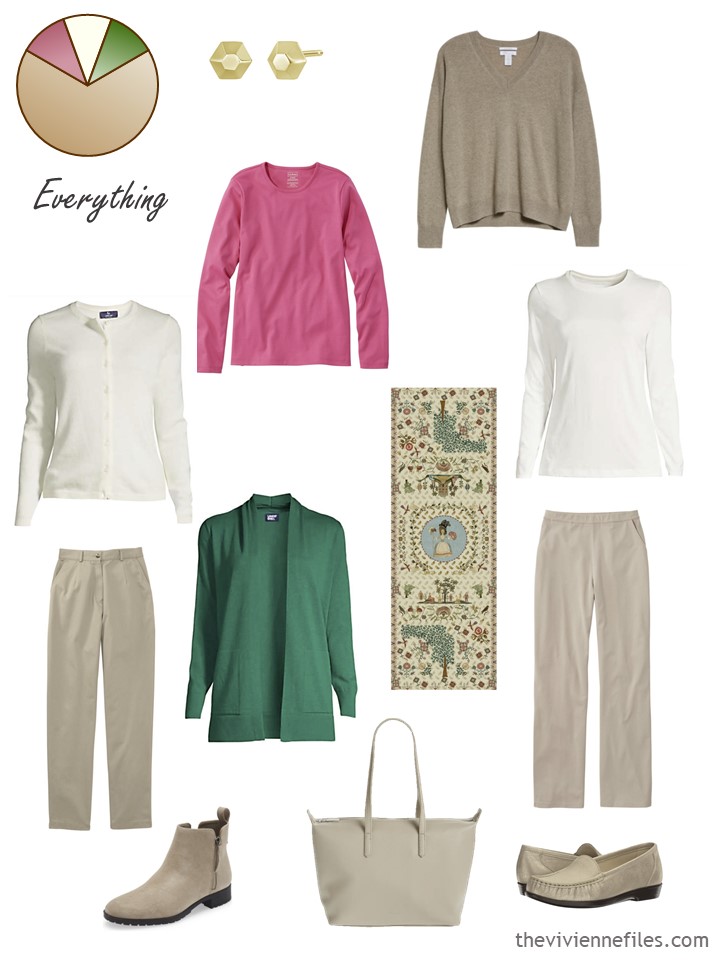 Now, this heroine can dress in subtle beige and ivory, or add some lovely punches of color: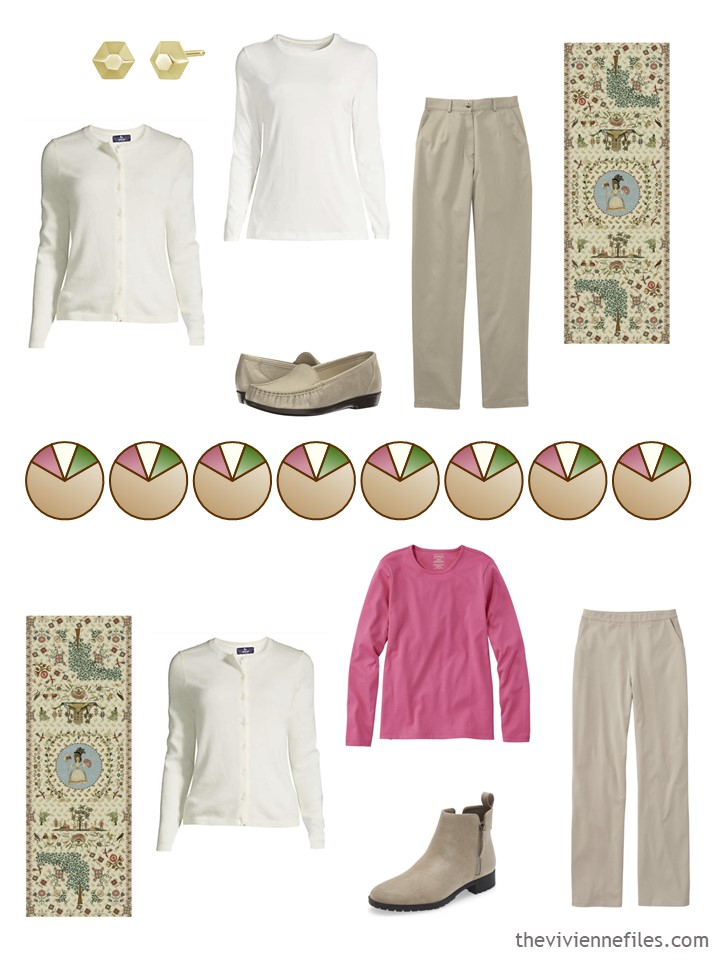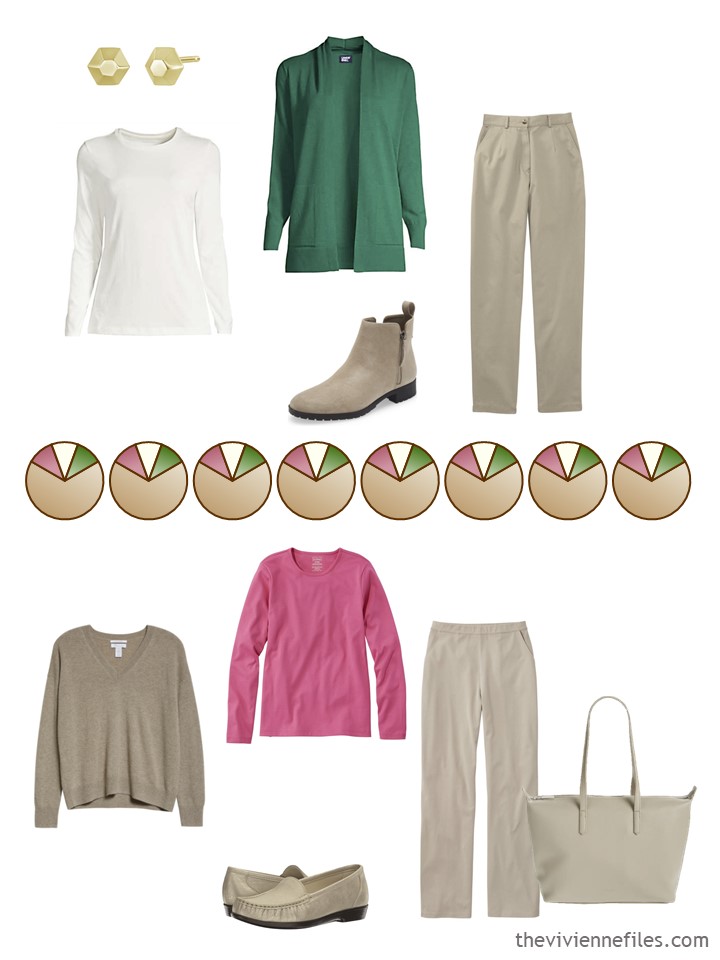 Time for some grey!
Doesn't the texture of this cardigan really stand out?
This smoky lavender is perfect with grey; I looked at grey leather goods, but they never looked quite right to me!
I could cheerfully take off for a long weekend with this in my bag!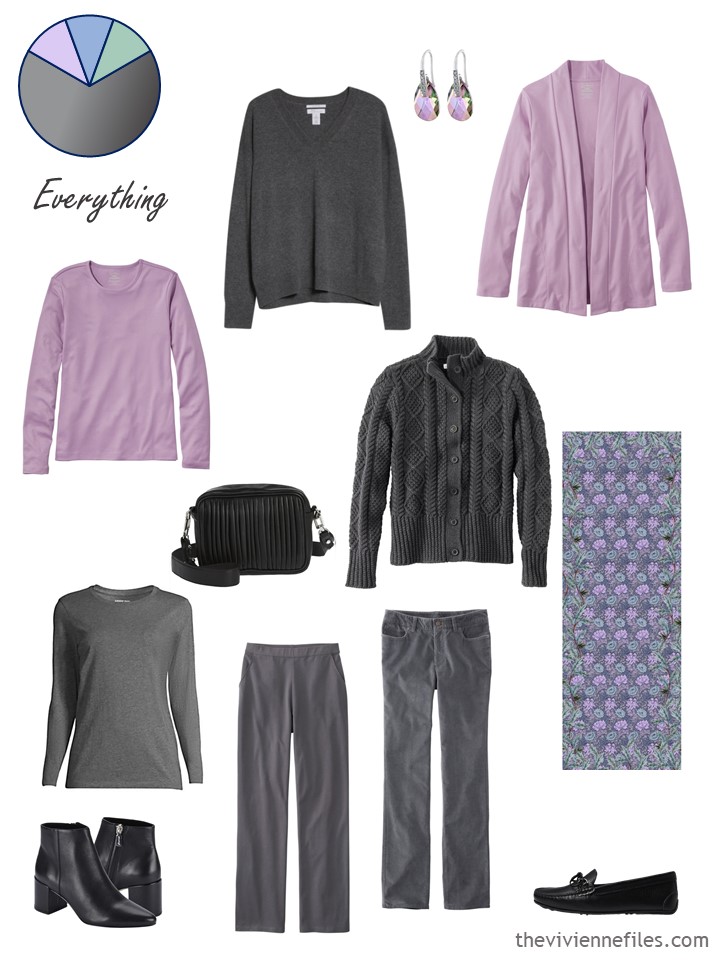 Nobody is going to be bowled over by the variety in your wardrobe during this wee trip, but is that really important?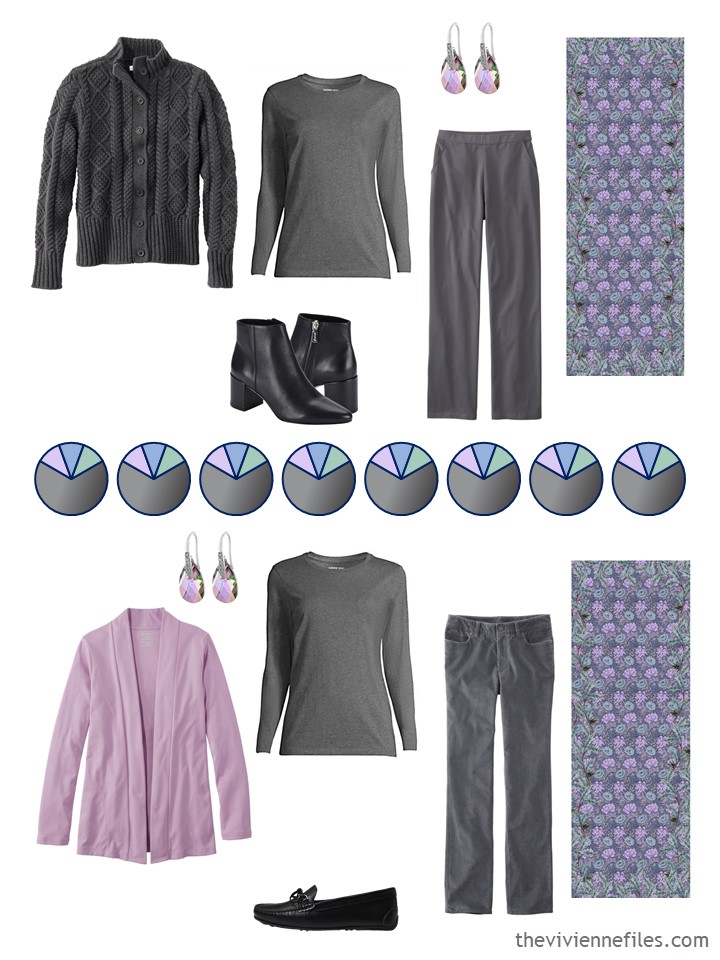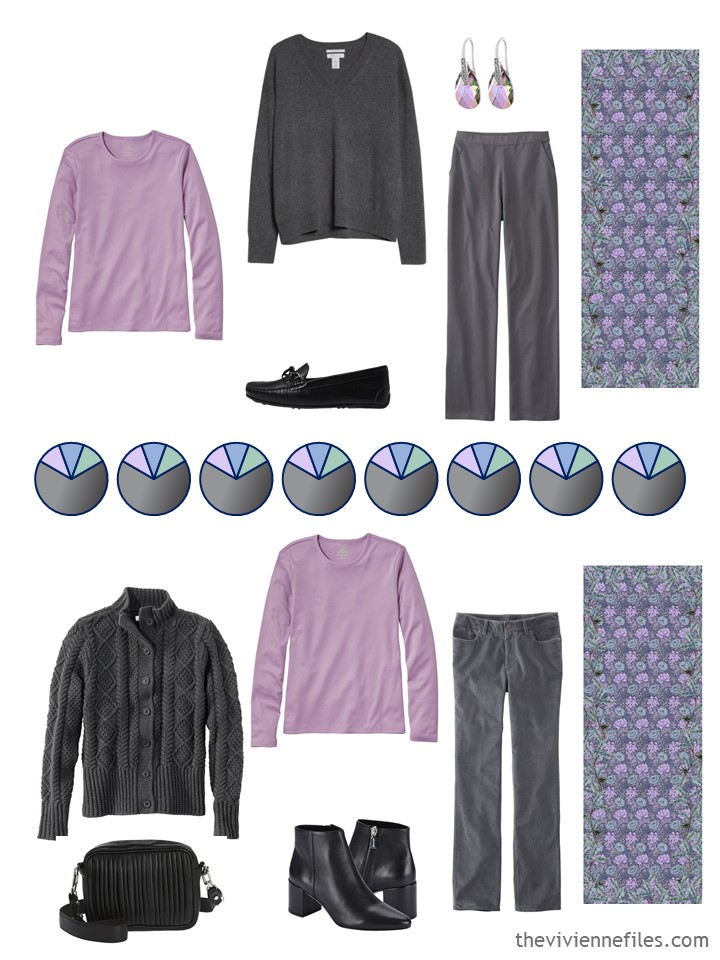 As always, I found olive difficult; I can see that I may add mauve to the accent colors, and change that deep teal to a range of shades from dark teal to the lighter eggshell blue…
Still, one could do worse than these 5 garments for going somewhere for a couple of nights…
Adding gold and teal to this wardrobe makes a world of difference!
Unexpected, but it works….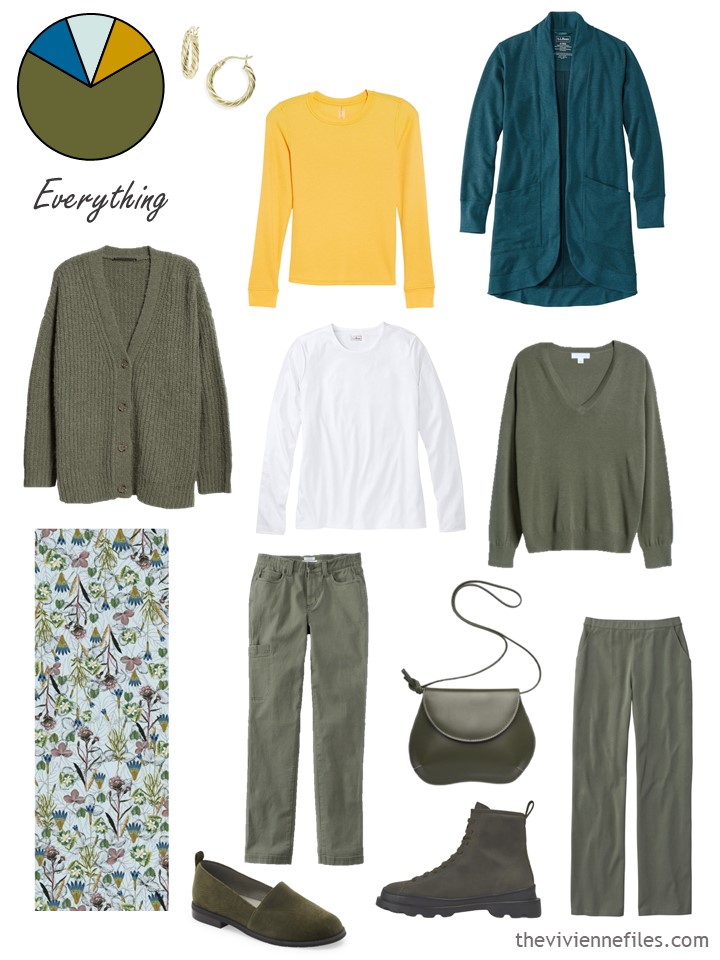 Here again, a heroine could wear muted colors or accent with strong brights; some of us like having this kind of options in our wardrobe.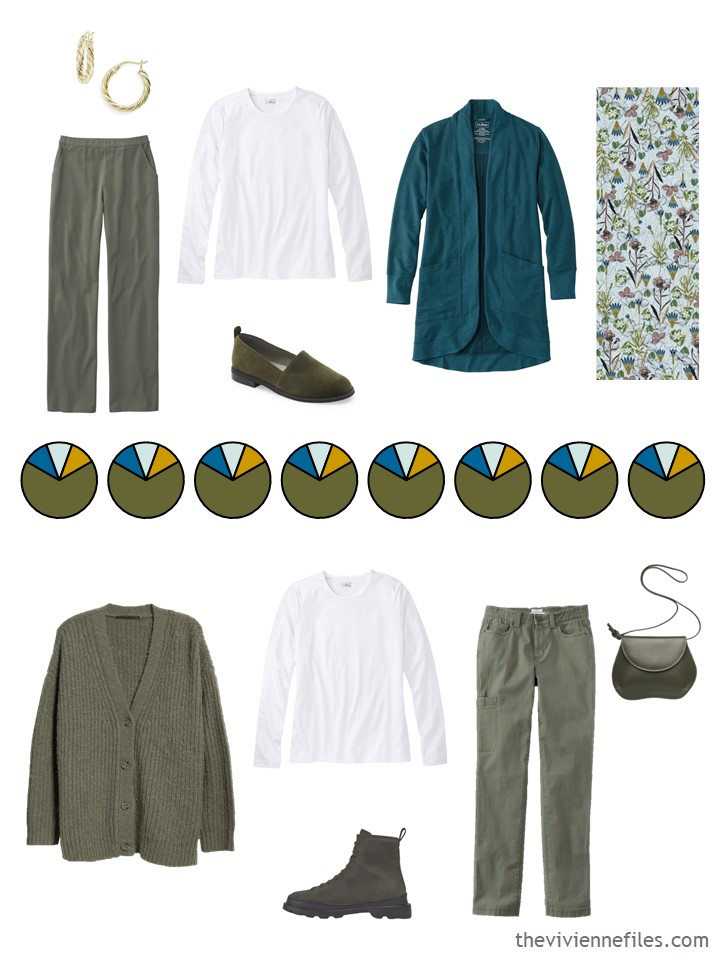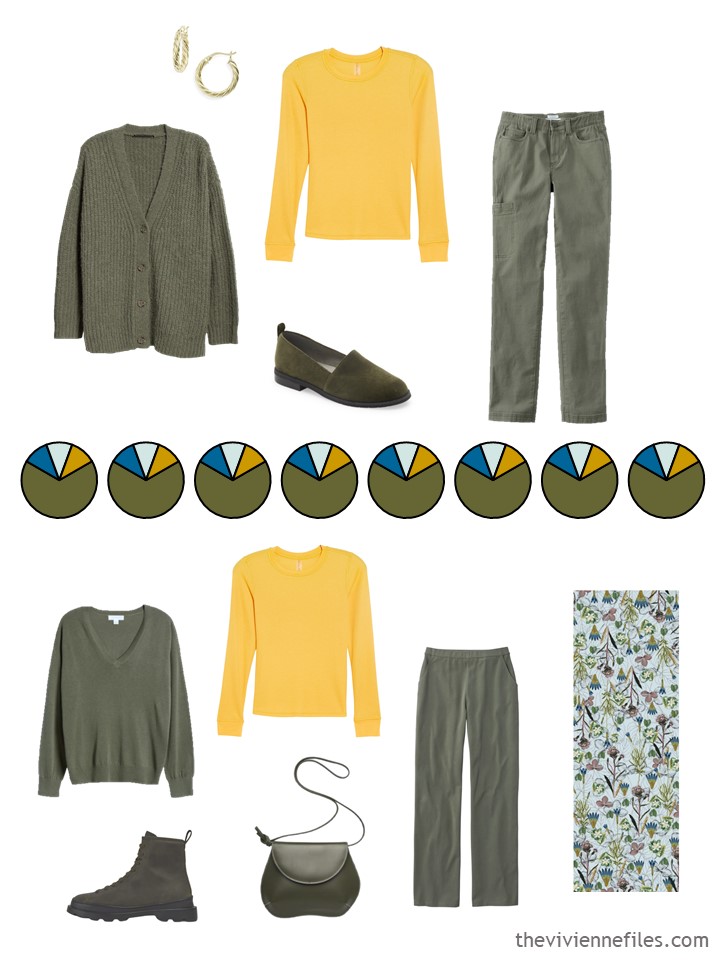 Navy and pastels – how nice is this!
Here again, a little bit of texture makes a big difference:
Pink is classic with navy…
And here again, I've chosen black leather goods rather than navy because I just wasn't seeing navy shoes that impressed me. Your luck may be better!
If you like this color "pink gale," click here and see what all is available…
This is another wardrobe that could get me out the door and down the street…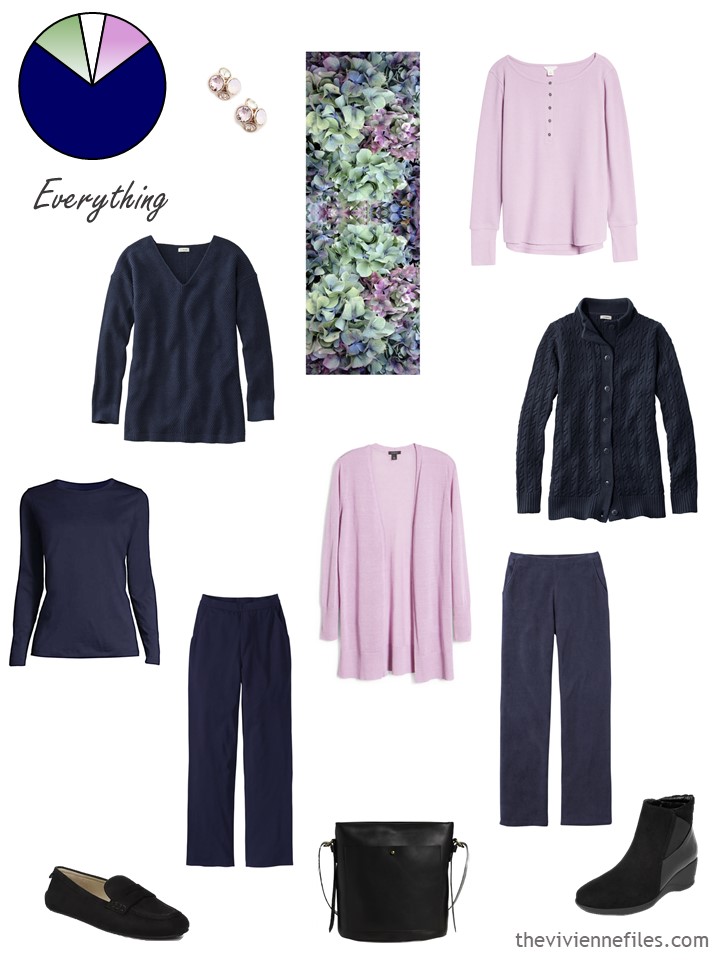 Nobody will be surprised by what you wear, but you will look lovely no matter how you combine these pieces: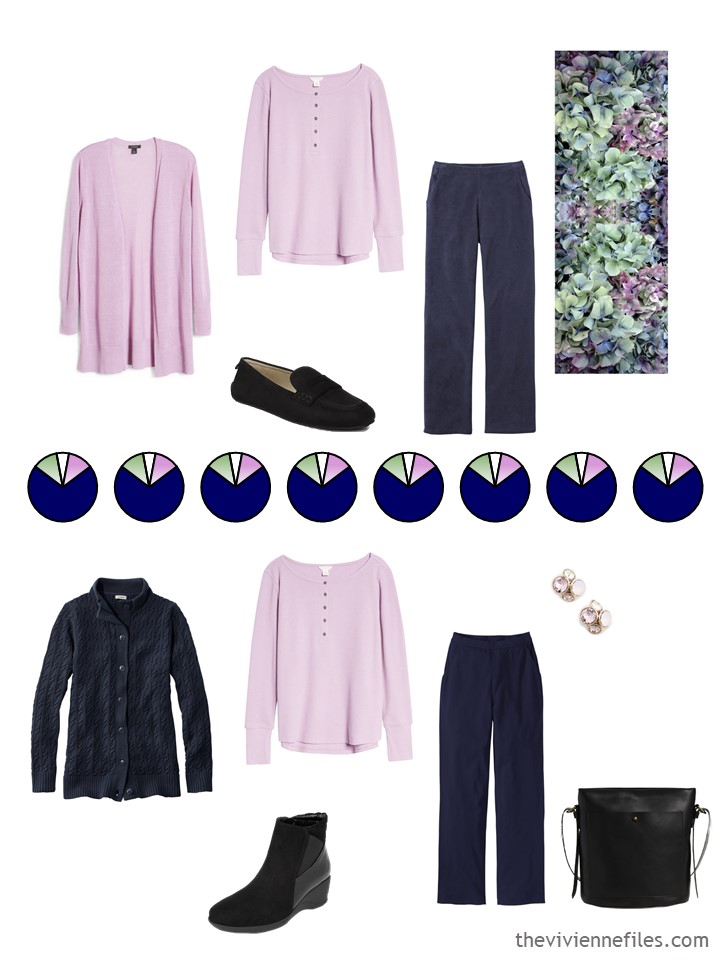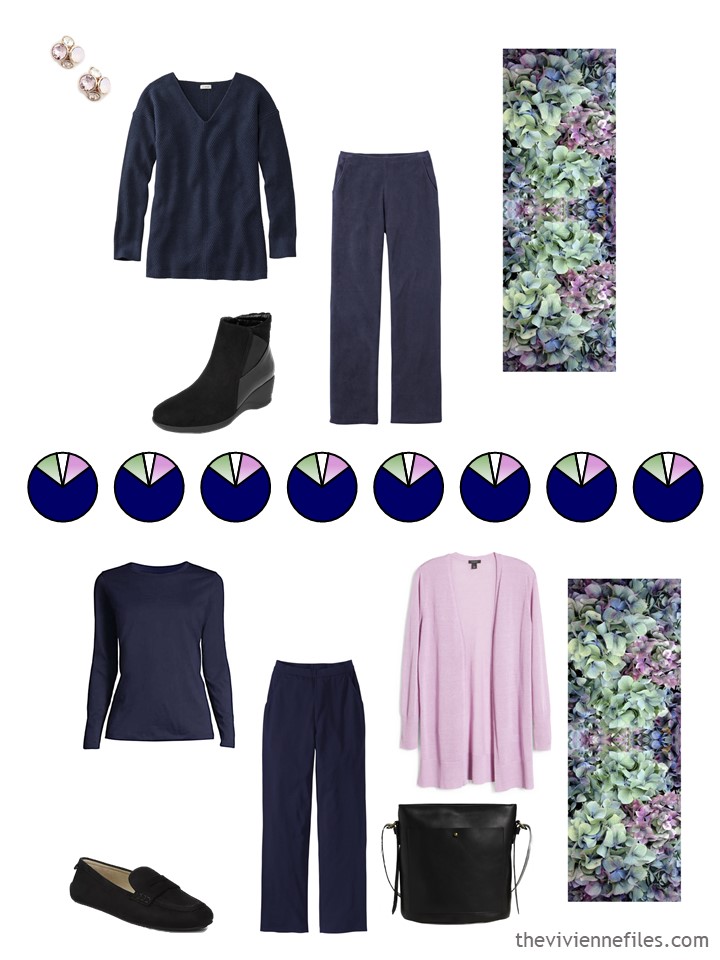 Here again, I'm going to expand my accent colors to include a wider range of yellow and turquoise; it's difficult to be really stubborn about your color choices unless you have a LOT of time and energy to look at tons of things!
I spend hours looking for a lot of things here on The Vivienne Files, and I have to conclude (sometimes!) that things I'd like to find just don't exist at a reasonable price, and in a reasonable range of sizes…
These brown pieces, with the simple white tee shirt and the gorgeous scarf, would go a long way…
Since I missed a brown tee shirt at the beginning of this wardrobe, I've chosen to add one now, along with the perfect gold cardigan, and ginko leaf earrings!
Yet again, our heroine has the choice of an all-brown outfit accented with her scarf, or of brown with strong gold!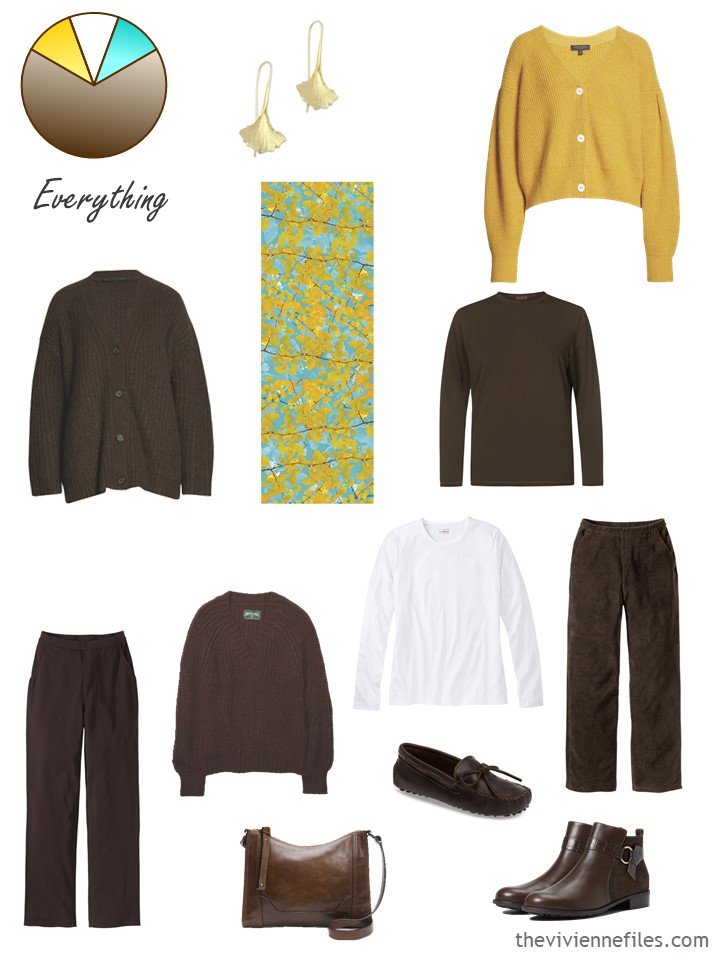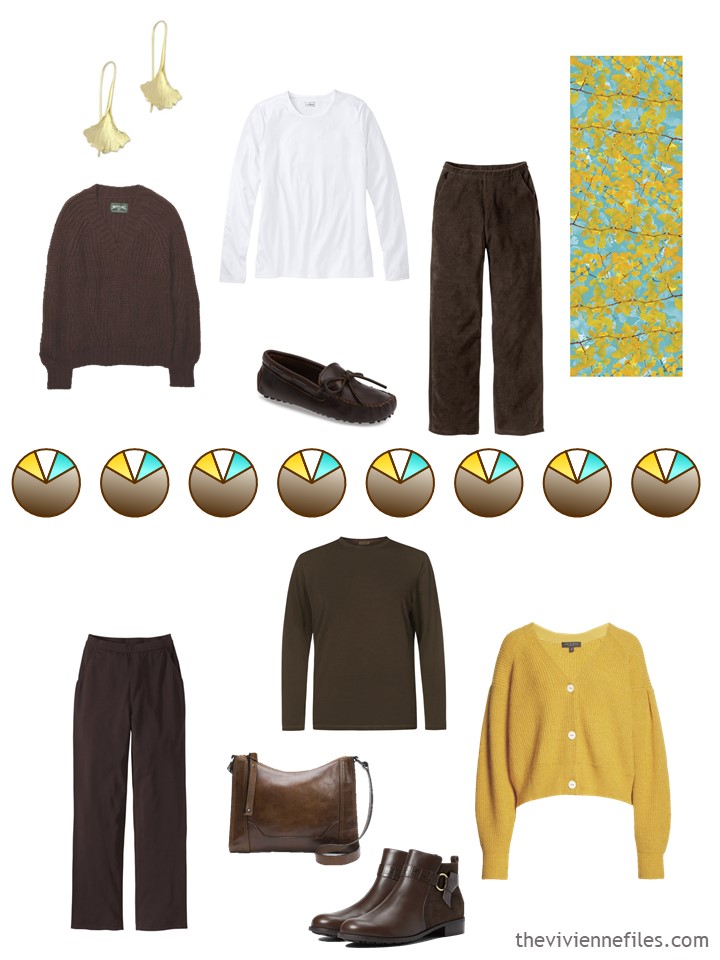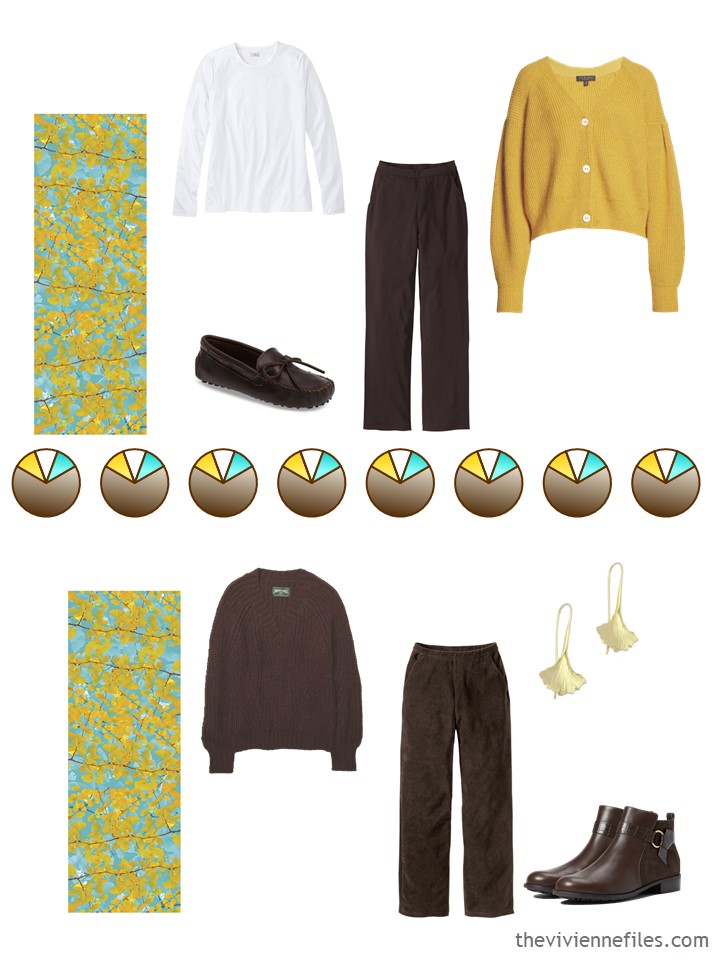 How are you feeling about our various wardrobes so far? I have to confess that I sort of like all SIX of them!
love,
Janice

p.s. I have a question – how often do you wear a garment (or multiple pieces) with a sports team logo on it? Recently, I've been inundated with sports stuff every time I search for almost anything…
I own an Ireland rugby jersey, which I've worn in the US, Canada, France, and Ireland to national matches. Maybe once a year I dig it out and wear it when we're watching an Ireland match on TV. But it's far from a core part of my wardrobe. Am I missing something?
p.p.s. NINE years ago, I shared what is probably the best advice I've ever given…