January 19, 2022
Some of you are planning travel, even though you might still be keeping a low profile to avoid viruses… Lucky people!
A few quite long trips are being organized, and at least 1 trip that I know of is from the Southern Hemisphere (in 4 or 5 months, which will be autumn?) to Europe. How exciting, after being kept close to home for so long…
A color scheme that has been requested TWICE is this general idea – navy and beige as neutrals, and any shade of blue to accent. I picture it like this: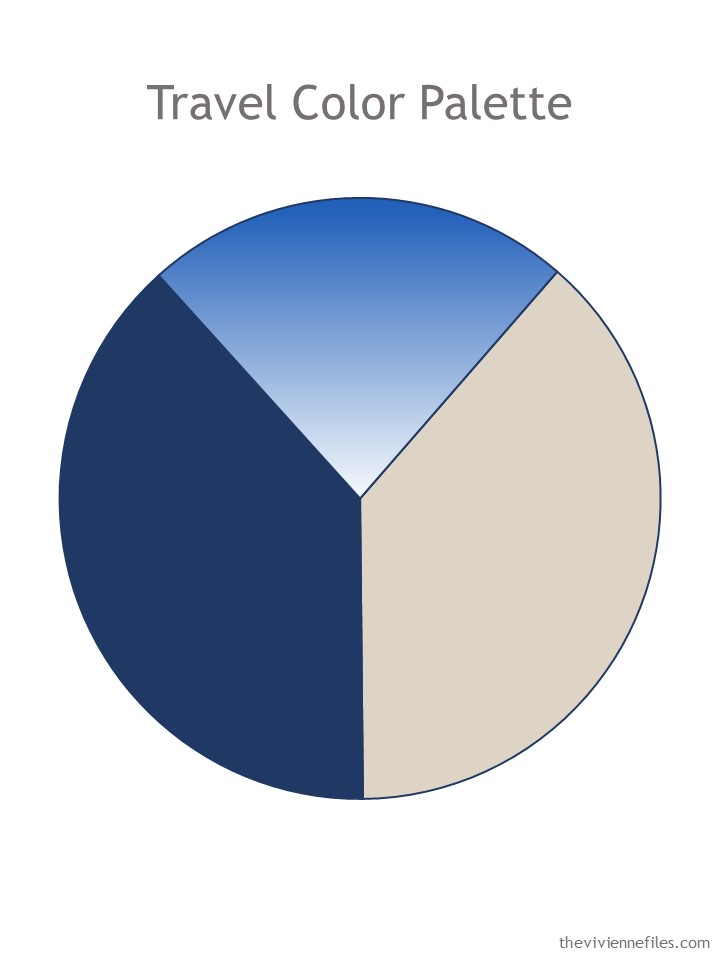 My dying breath might be spent telling everyone how important their travel outfit is! But it's true; you're going to spend hours and hours and HOURS wearing it, and it will be the first impression that you make when you arrive.
if you think that the French are rude, wait until you show up in a café for breakfast wearing pajamas bottoms…
In the absence of better information, I'm assuming that your departure weather will be quite cool, and of course I don't think I've ever been on a really warm plane… So a cotton turtleneck and a warm scarf will make quite a bit of difference for the time traveling:
Now here's the trick – most of us travel carrying some kind of tote bag – put a few things into that bag into which you can change at the airport! (you're going to have to wait for luggage, and also to get through Immigration – you'll have time to dash into a rest room for 5 minutes.)
Getting rid of the turtleneck and the cashmere scarf will make a ton of difference! Swap out your shoes and socks for a pair of sandals, and pull out your crossbody bag (because that's where your passport and Euros are stashed… which reminds me – don't EVER change money at the airport, or any place catering to tourists; you will be robbed in broad daylight!)
So before we've even really started to pack, we have 25% of our travel capsule wardrobe in hand – although if you don't want to count the navy turtleneck, you needn't. Unless you encounter really BAD weather, you probably won't wear it until your trip home…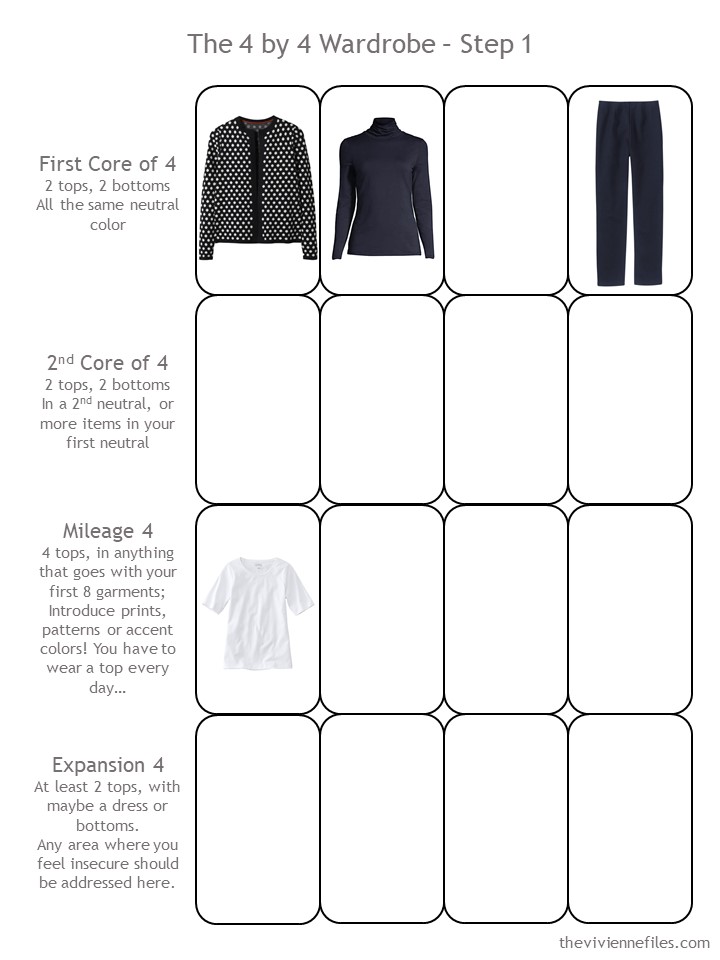 We have to start picking things to pack somewhere, so I'm starting with a small stack of tee shirts. You might prefer to begin with clothes in your 2nd neutral – there's really no rule about this. Just remember that everything you choose needs to fit into your overall plan:
With these 3 tee shirts, you've got your navy "Core of 4" completed! And yes, I would wear a striped tee shirt with the dotted cardigan in a heartbeat. While packing generally means bringing with you a fair quantity of useful neutrals, you don't have to be stone cold boring!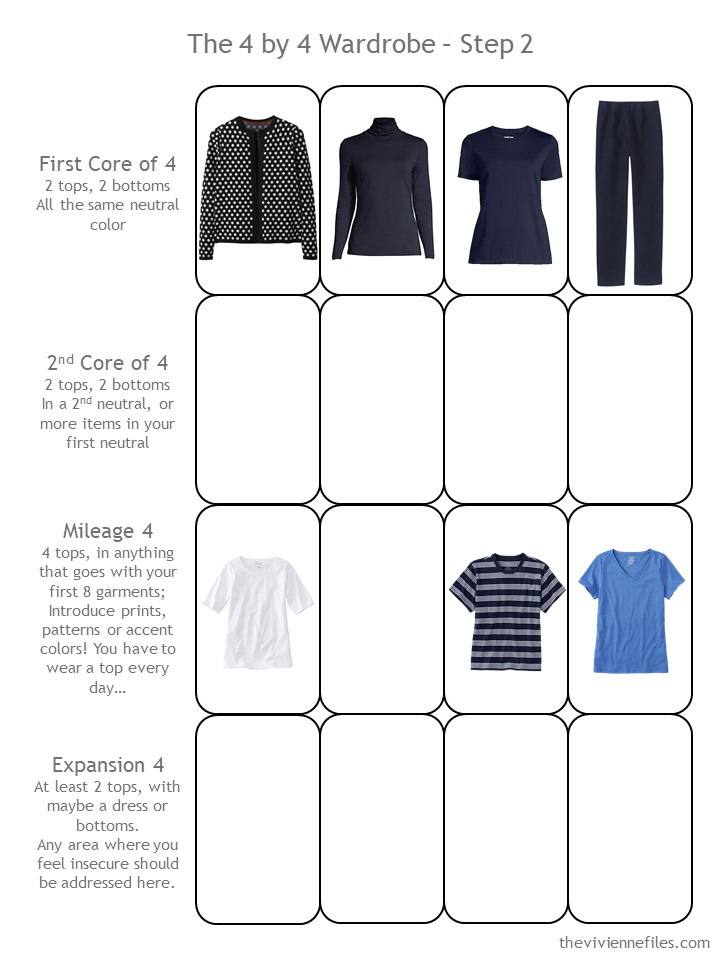 All of our heroines – without exception – have expressed a desire to pack a dress with them for a nice dinner or 2 – a beige one can be a nice break from rooms full of black! Another cardigan is essential, and beige pants in whatever length you like the most gives you a suit-like look:
This gets to past the halfway point of your wardrobe! It doesn't quite seem possible…
Next, because our heroines are traveling to a warmer climate, I'm going to toss in a couple of garments in white. If you're totally nervous about wearing white pants, you could easily substitute capris in navy, or a pair of shorts in 1 of your neutral colors, or a skirt…
And I finally decided to include another, more casual, dress. This dress could be worn with sleeves rolled or not, open over a tee shirt and pants worn as a duster, worn over a tee shirt; it has lots of possibilities!
At this point, you know that you're getting near the end of your clothing choices. It makes a lot of sense to take a good look at your planning grid and see how things seem to work: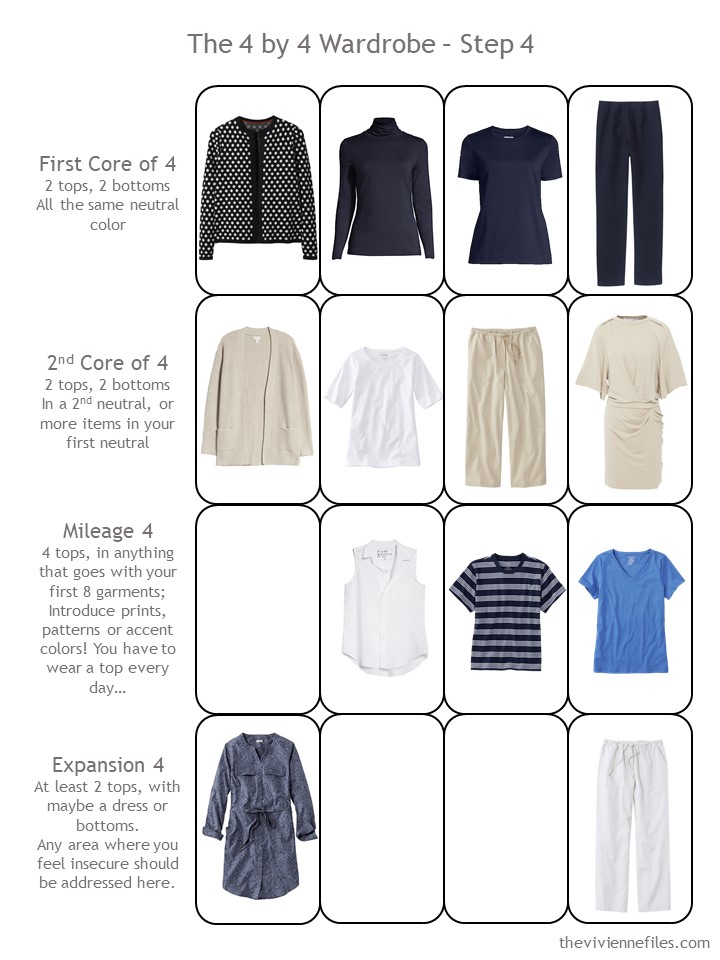 At this stage, I've decided that I'm not going to find a beige top that I really like (it might be too early in the season?), so I moved the classic white tee shirt up with the beige. Three pairs of pants and 2 dresses feels like enough bottoms for me, but if you want to grab a pair of shorts or another pair of cropped pants, now's the time to do it!
But I'm opting for linen tops. Long-sleeved linen shirts saved my gourd on a trip to Paris that turned out to be a LOT warmer than I expected! I had planned to wear them under sweaters, but instead, I wore them untucked with the sleeves rolled up, over cropped pants. Linen packs really small, and adapts well to a wide range of temperatures. Plus it lasts forever; my 3 linen shirts are at least 10 years old, and still in excellent condition. Highly recommended!
Whew! Where does this leave us?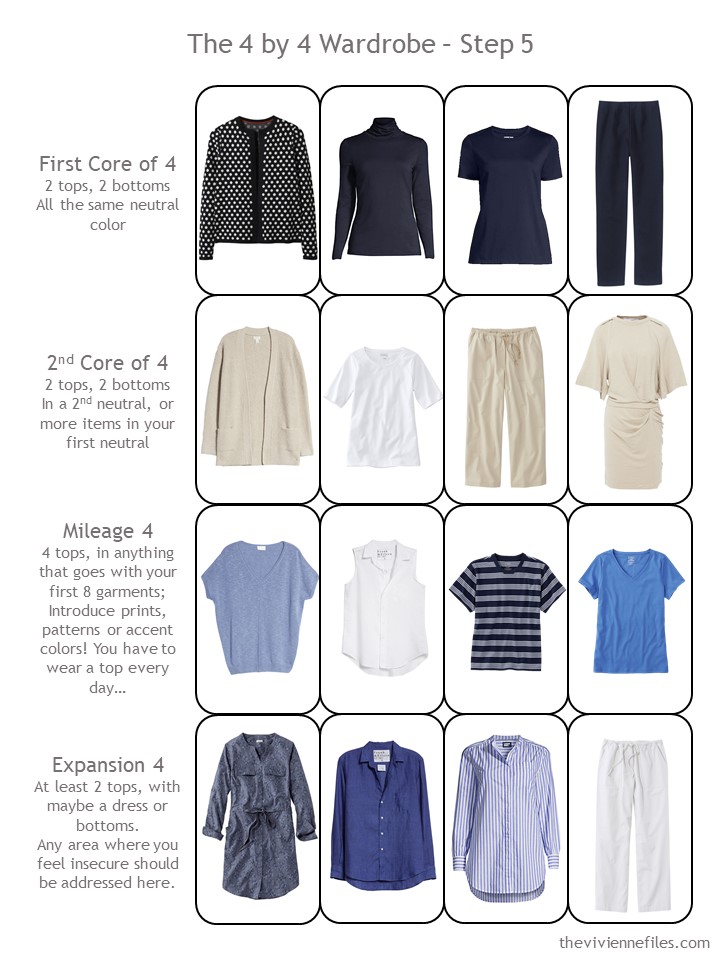 I think it's pretty obvious that there are lots of ways to pull outfits from this wardrobe, but I'm going to look anyway! And I'm not ever including the dresses; while the beige dress is kind of a "stand alone" look, the indigo dress could easily be part of at least a handful of ensembles.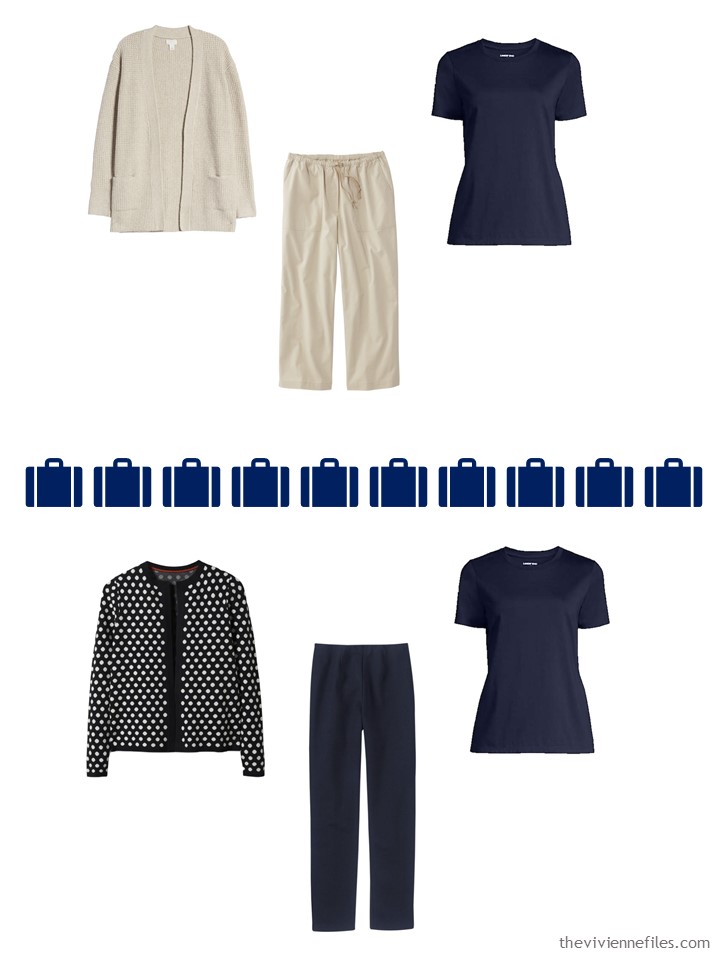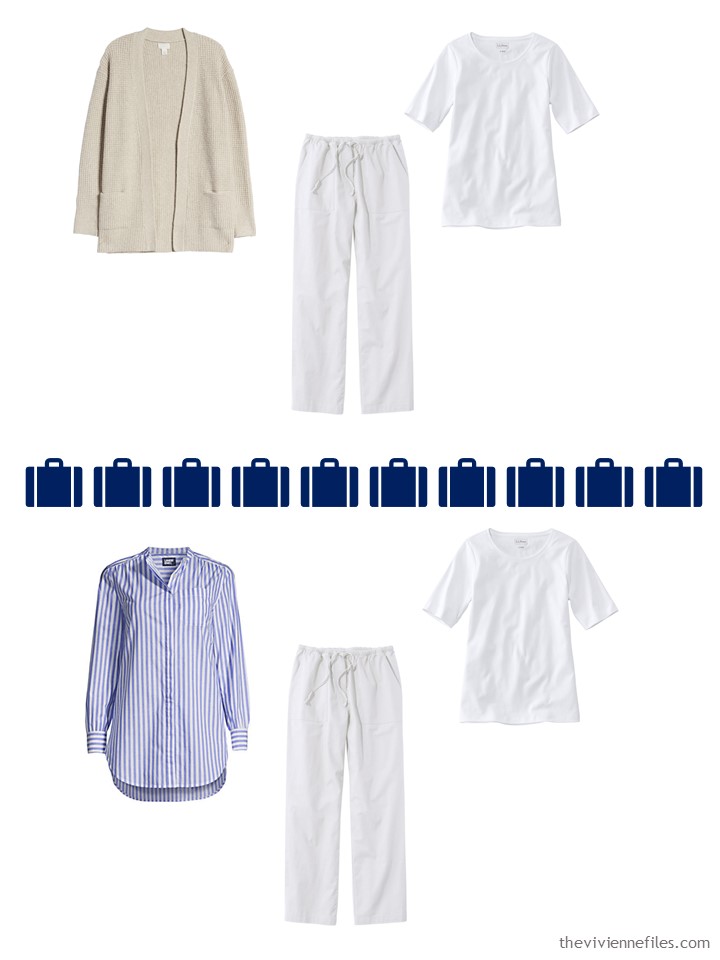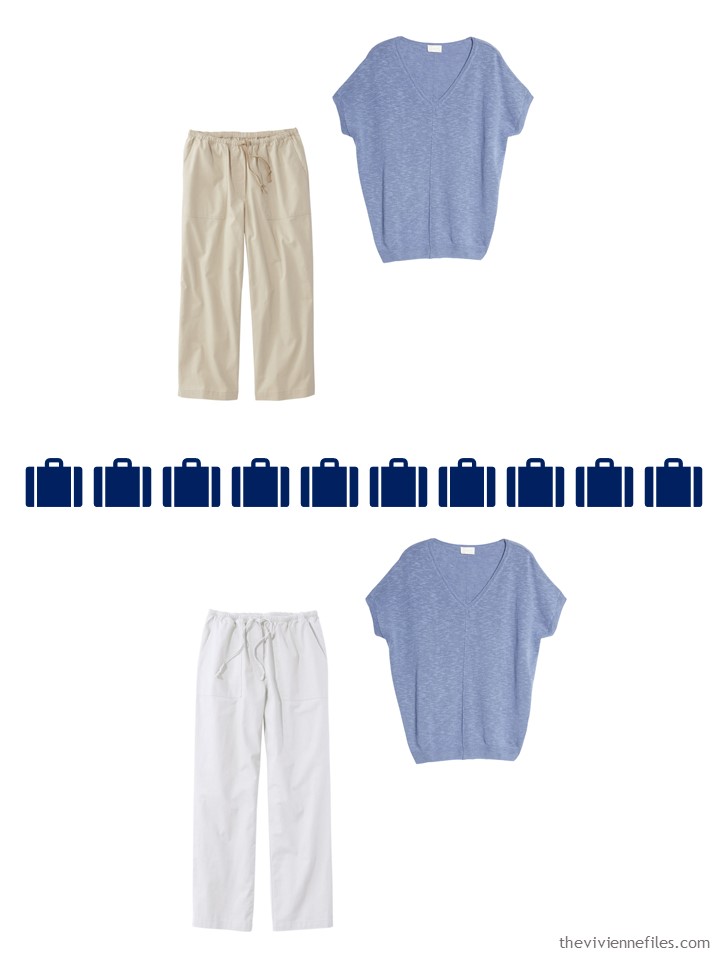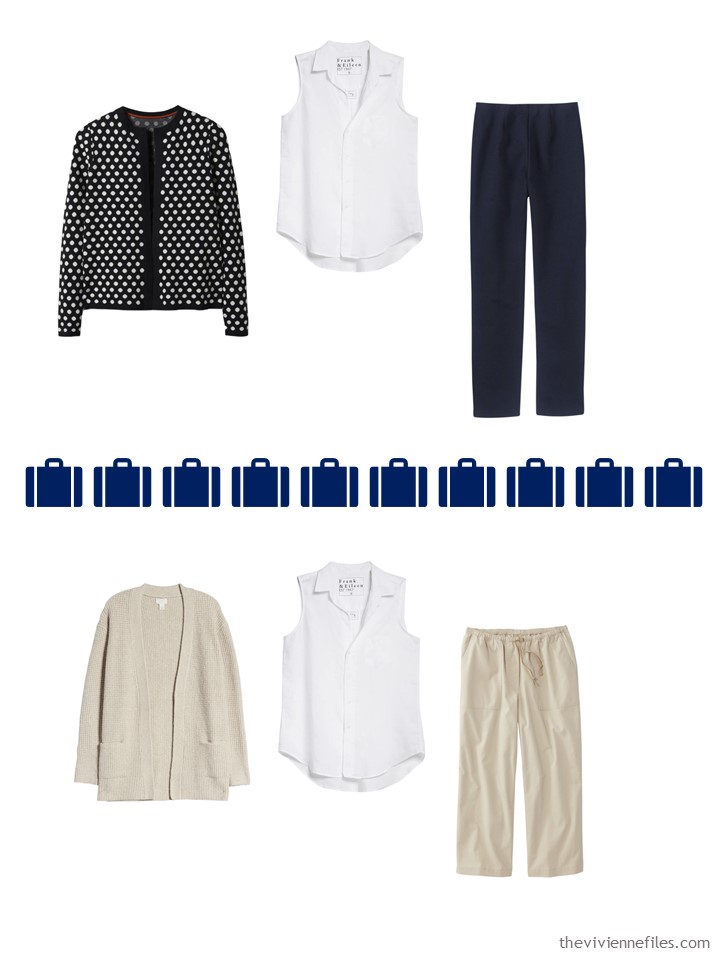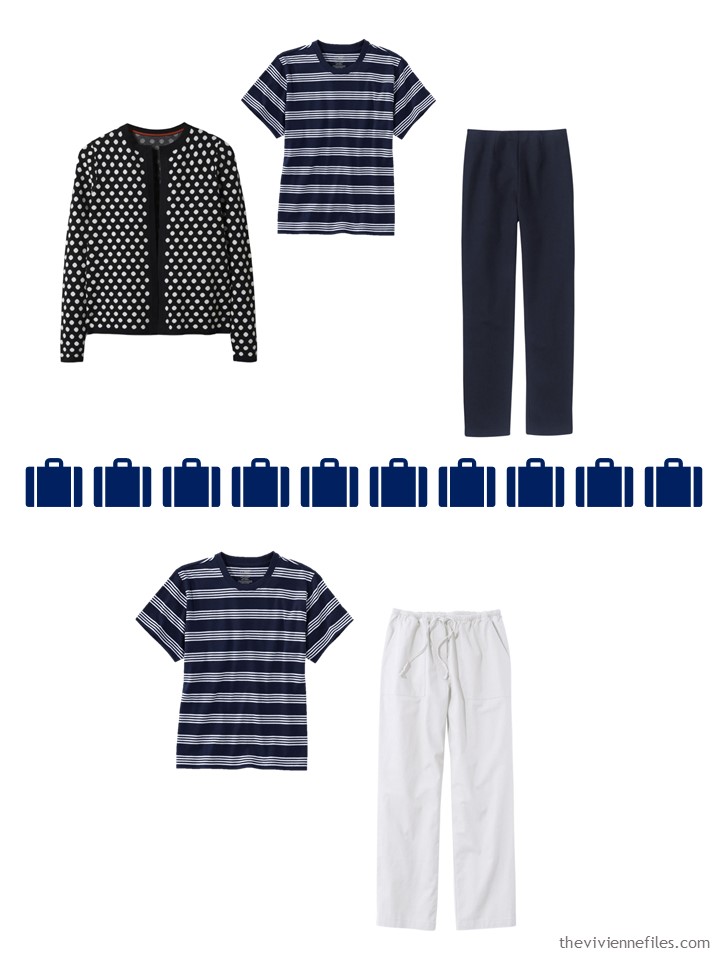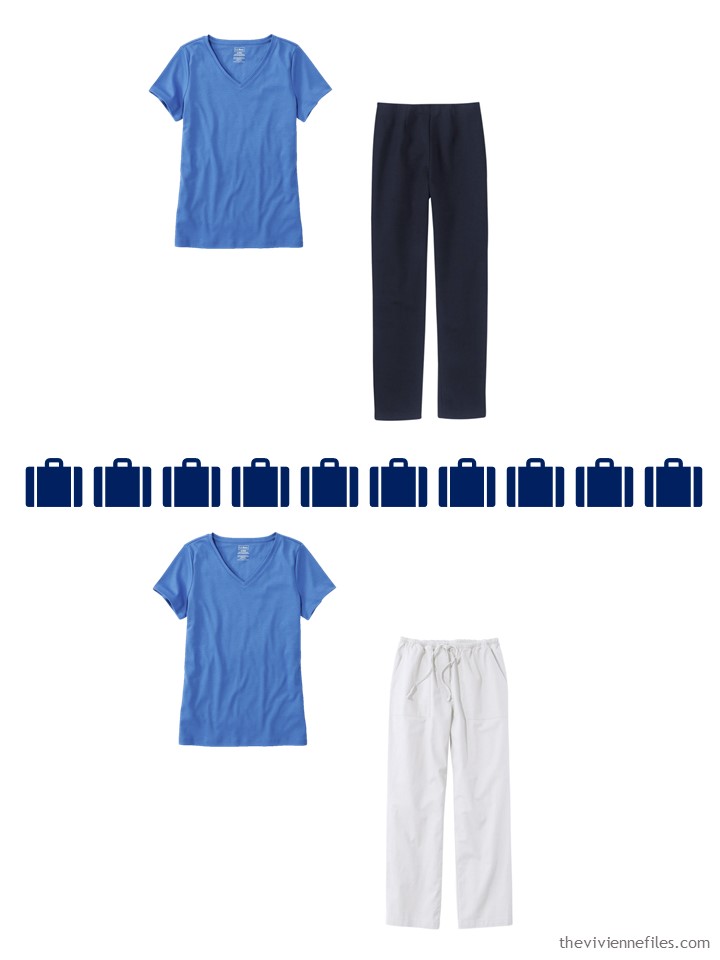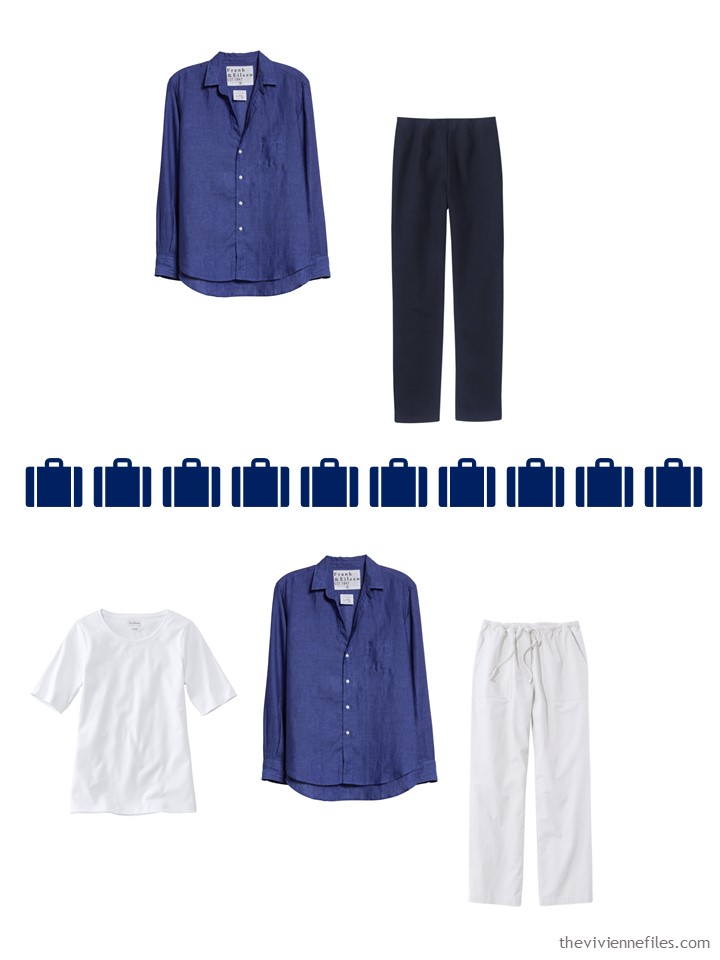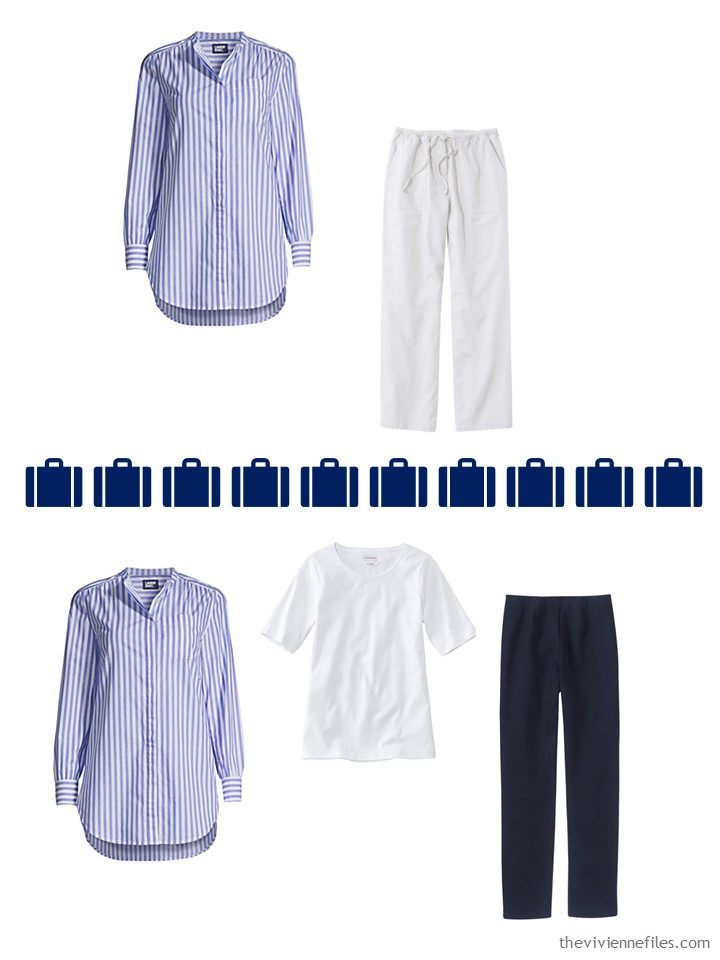 2 questions: is anybody else planning travel in the next few months, and do you want to see accessories for this wardrobe?
love,
Janice
p.s. Three years ago, I wrote about traveling from cool to warm weather for a relatively short trip! It isn't a crazy thing to think about, when winter really begins to set it…