January 28, 2022
I don't know where the specific number – 21 – came from; if someone can point me in the right direction, I will be thrilled to credit the inventer!
But I also want to pause for a moment to consider the real intent behind all of the various "# Garments for # Days" wardrobes that are in circulation.
To me, the whole point of these is to provide a clear structure in which – for a specific period of time – you can test-drive what it feels like to have a clearly delimited, reasonably small wardrobe.
It started – in a big way – with Project 333. 33 items total (with a handful of caveats) for 3 months. Lots of people who have tried this have come to realize that they don't need to have a huge wardrobe, and that a lot of what they own can easily be donated or otherwise repurposed…
It's a reasonable thing to try. If you can get comfortable with a small wardrobe for a small period of time, then you set the stage to be able to gradually expand the amount of time, until you find that you can happily live ALL THE TIME with a more concise wardrobe…
You also start learning what you really love to wear, and what you can cheerfully never see again!
So let's look at 21 – I love this number, for no good reason. Some people just love certain numbers…
I'm going to start with one of our heroine's 2 color inspirations, because I think it's prettier than starting with a grid or a list!
Who couldn't love this scarf?
So she starts to think – 21 is a great number – divisible by 3, so one could include a week's worth of 3-piece outfits…
And then?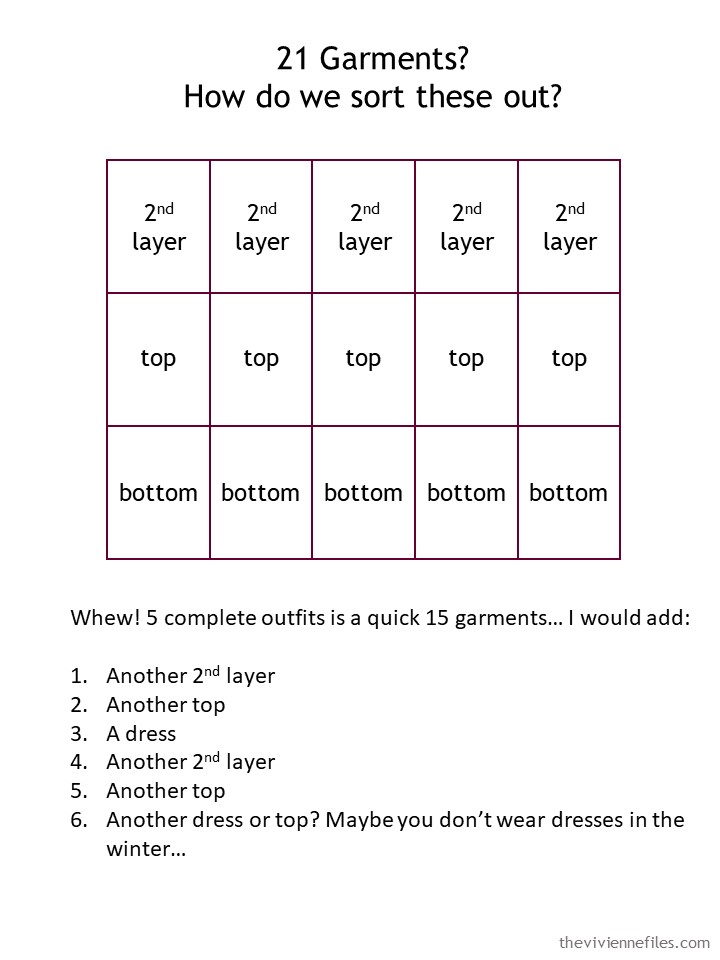 The nice thing about the number 21 is that it fits really perfectly into a grid that's nice on a standard page side: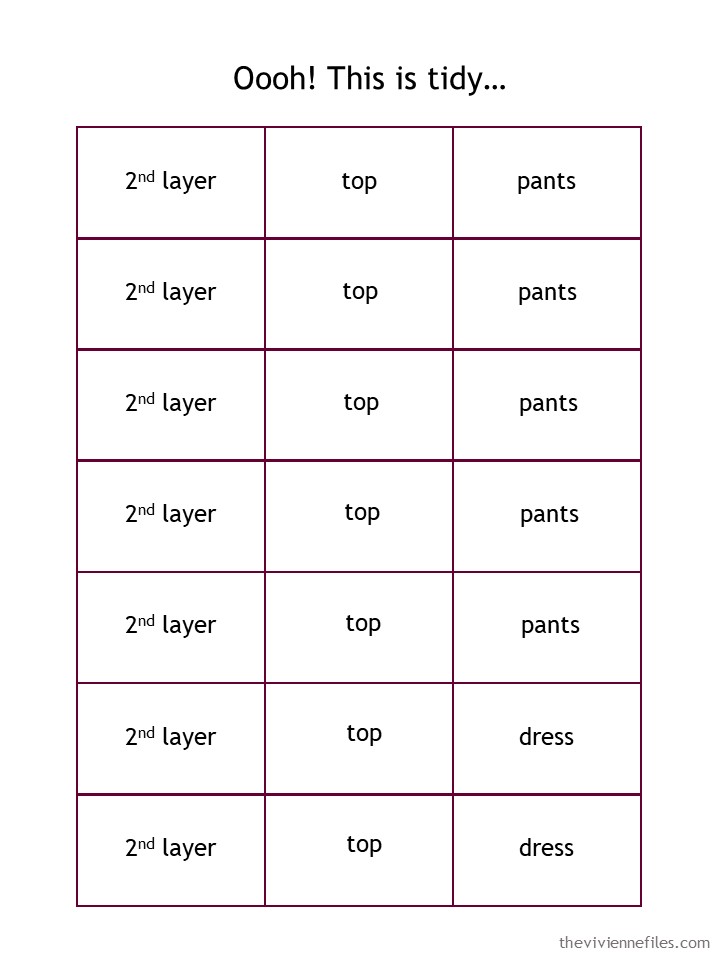 Maybe this is painfully obvious, but I think that the best place to start when you're limiting your wardrobe is to grab your favorite outfits first!
I think that our heroine could already conclude that she really likes her cashmere v-neck sweaters! This kind of exercise forces our heroine to see this preference more clearly than she otherwise might, in a crowded closet…
Now, she wants a few more tops to mix in with what she's already chosen:
The 10 garments she has already chosen would be great for travel – maybe with the addition of a black skirt?
But she's already chosen 10 things – almost halfway to her goal of 21. Time to introduce her 2nd color inspiration:
To me, it seems logical to choose your favorites from what hangs in the front of your closet (or from your laundry basket!)
And for me, I can't imagine getting dressed for any extended period of time without having a grey hoodie, chambray and denim! I think everyone might have an outfit that plays the same role in their life – their ultimate "go-to" casual clothes.
I think our heroine needs to really take stock of where she is, because her wardrobe limit must be getting close…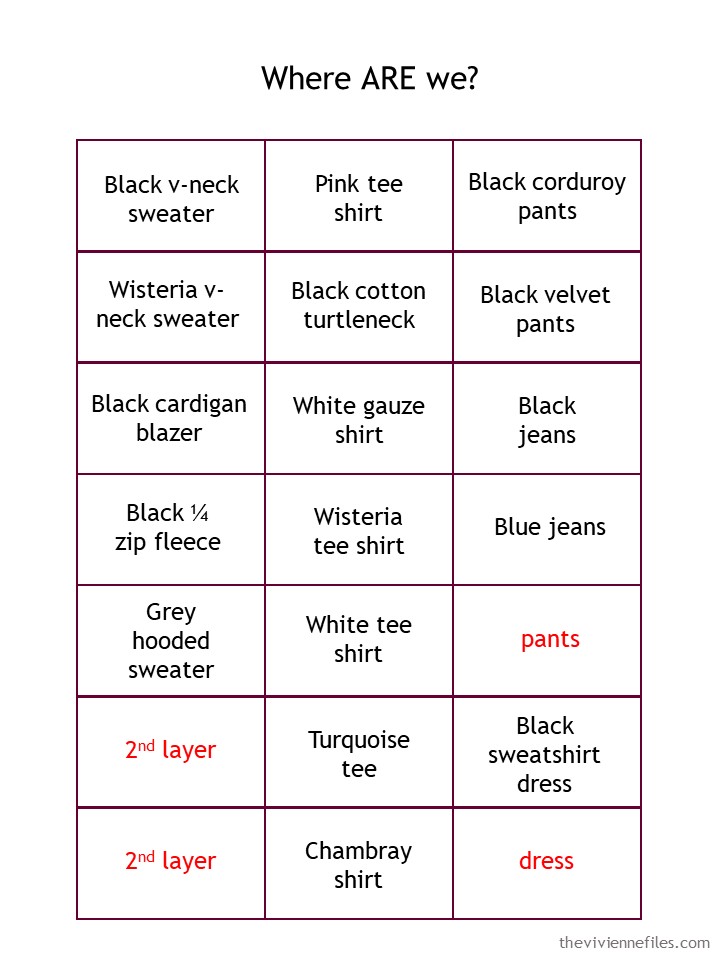 The last 4 pieces are probably the hardest; our heroine doesn't feel that sweatpants really belong in a wardrobe, but she wears them every week! Same with a simple black tee shirt – it doesn't really DO anything on its own, but it can be useful in a million different ways.
She has to pick up another bright accent to wear with her ImageDiary scarf, so she grabs her blue cardigan. And finally, a warm, casual dress – but STILL, it's a dress!
other participants might want to swap a dress for a skirt, another pair of pants, a jumpsuit…
Finally – 21 garments to wear for 3 weeks: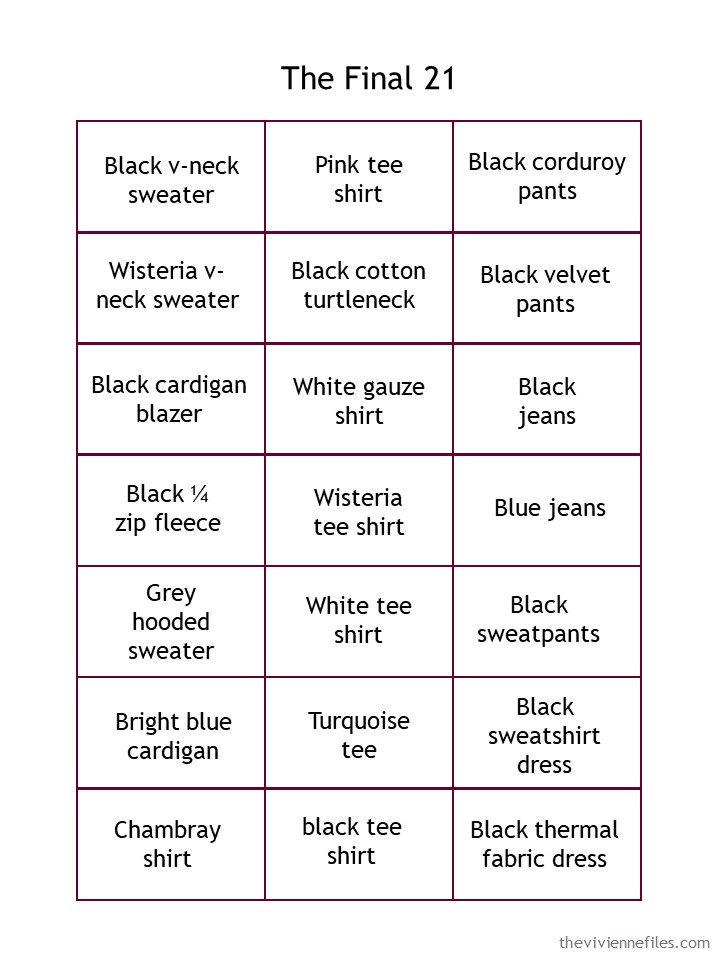 There's a fair amount of variety here in her accent colors: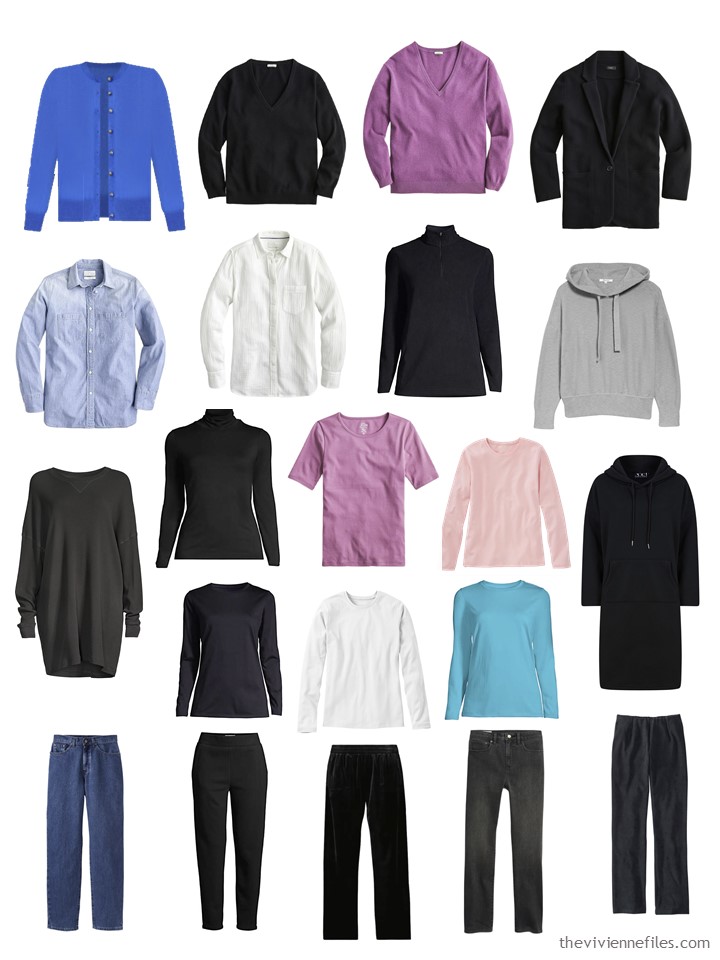 Assuming that she's going to wear her dresses at least once – probably twice, that means that she will need 17 or 18 outfits to get her through 3 weeks.
It takes less than 5 minutes to assemble 18 different outfits!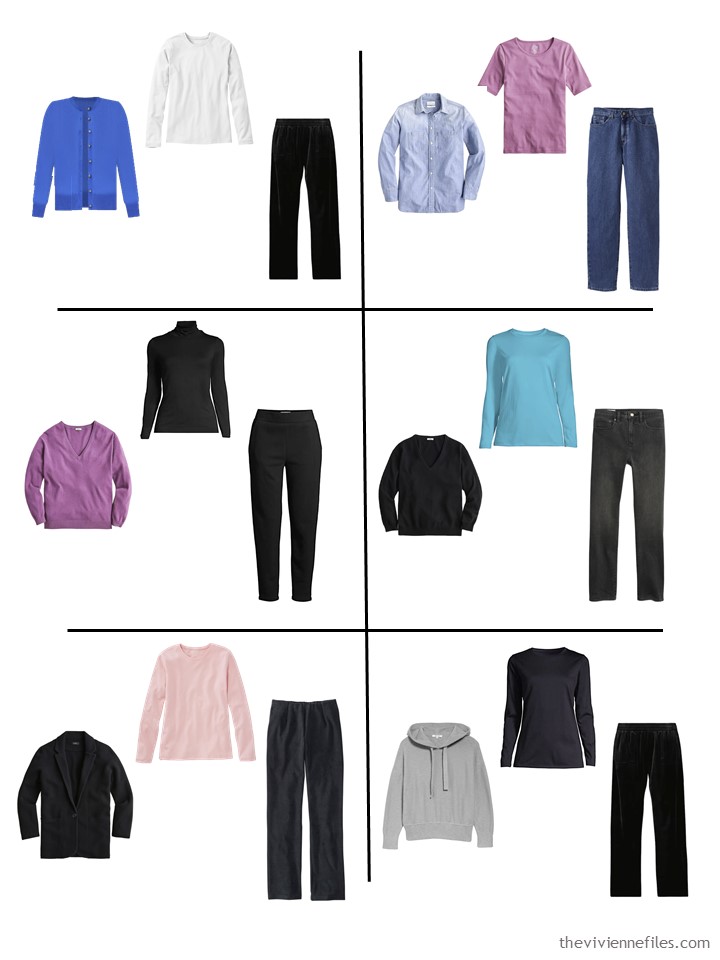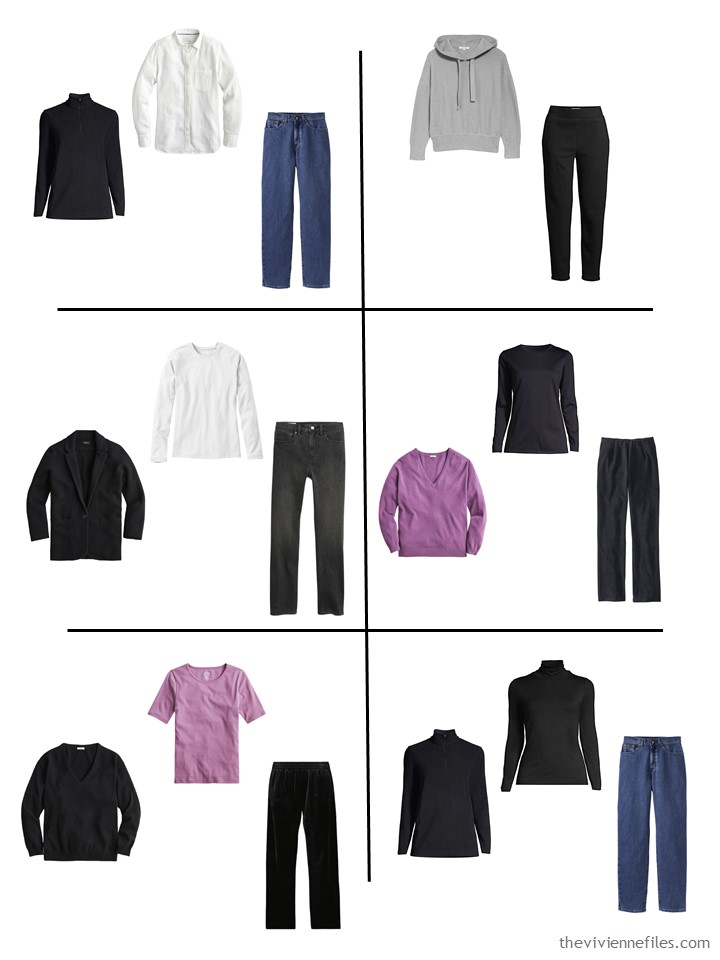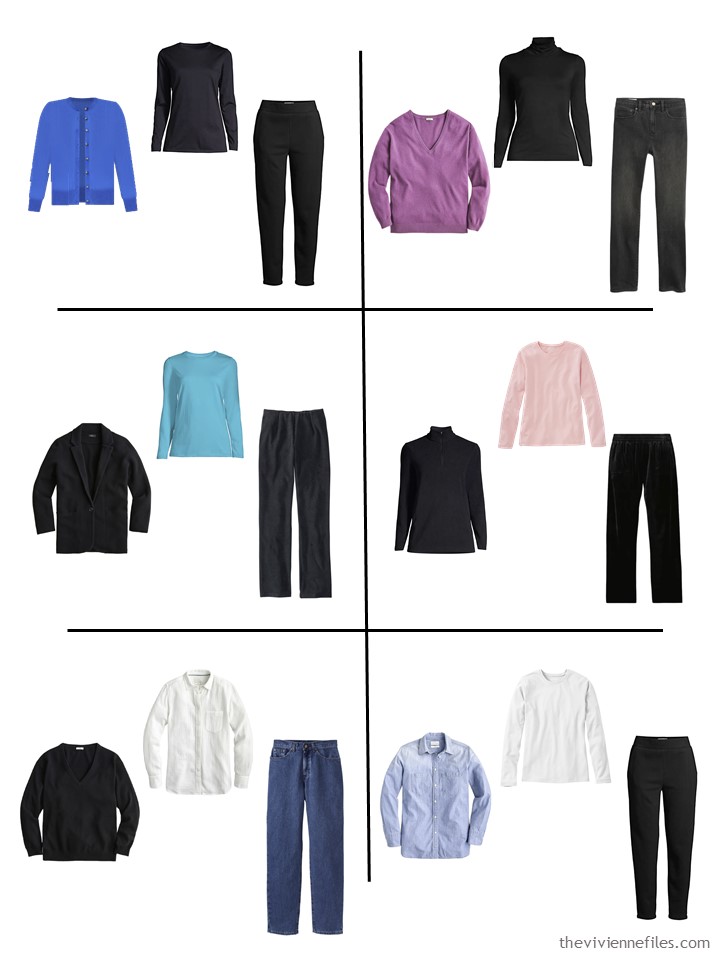 This kind of exercise can be useful for a bunch of different reasons. I'm considering this for the next few months, because my closets are STILL not sorted out properly, and I don't frankly have the opportunity to work on them.
If you're moving, and you need to segregate clothes that you want to keep available from clothes that are being packed, this might be a good approach.
And one could, of course, use this to plan what to pack for a longer trip…
Maybe, after 3 weeks is over, I will be able to look at my closet with fresh eyes and see some things that can be donated, eh?
love,
Janice
p.s. Eight years ago, I shared some of my thoughts and ideas about handling cold weather…