October 8, 2021
Life is almost back to normal; thank you SO MUCH for your patience, your kindness, your generosity, your lovely messages…
Before I jump in, I want to explain what I'm thinking with all of these white turtlenecks! But I really can't… I just kept feeling like each wardrobe needed 2 things – a bright accent color, and then a clean, bright neutral top to wear under it!
Many of us love accent colors that don't necessarily flatter us – this white turtleneck (or a white shirt with a collar) can change the impact of a color on your complexion dramatically.
And many of us find ourselves called upon to wear colors (because of work, sports, schools…) that aren't our very best. Breaking up the impact of something (like I used to wear ORANGE…) with some white makes a lot of difference.
That's all I can offer for an explanation!
You will notice that I took the "inspiration" scarf off of the outfit page, because it was all getting too confusing – just because a scarf inspires your wardrobe doesn't mean that it has to be worn with everything!
This isn't the first time that gold has been in this wardrobe, so the sweater doesn't startle when inserted into our heroine's closet: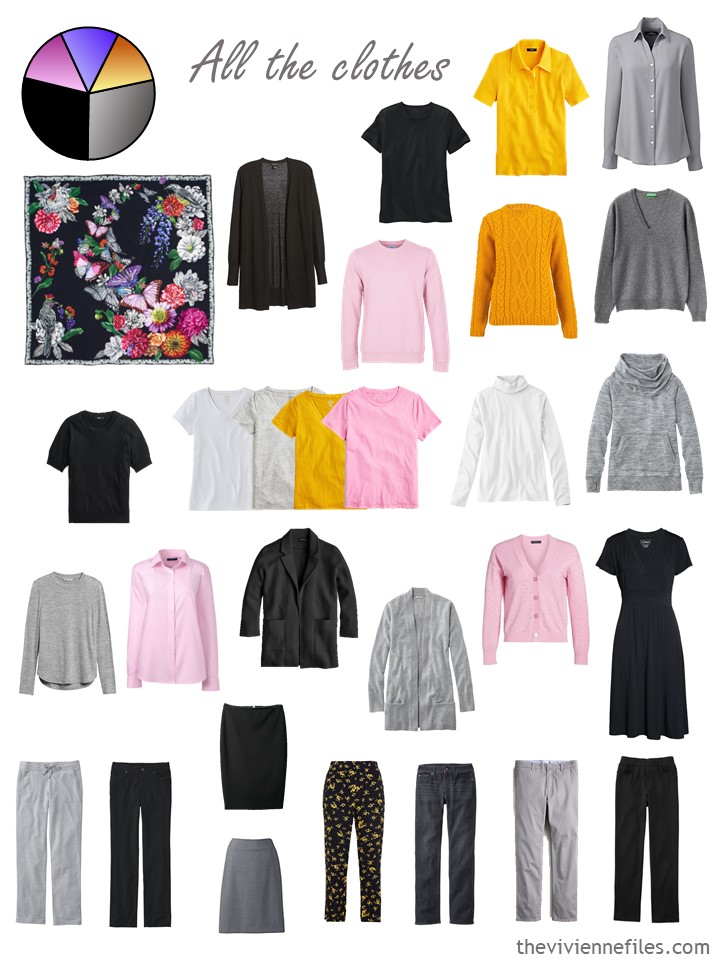 The Monarch scarf does stand out – but in a good way!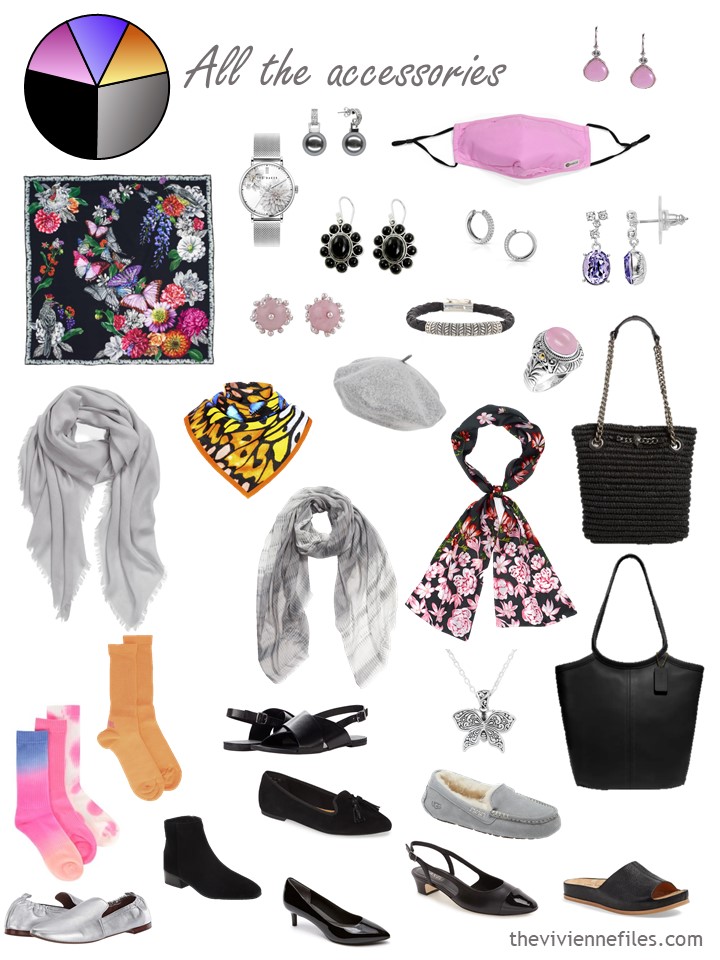 As always – if we're doing this correctly! – 3 new garments in a well-planned wardrobe makes it possible to pull together FAR more than 3 new outfits: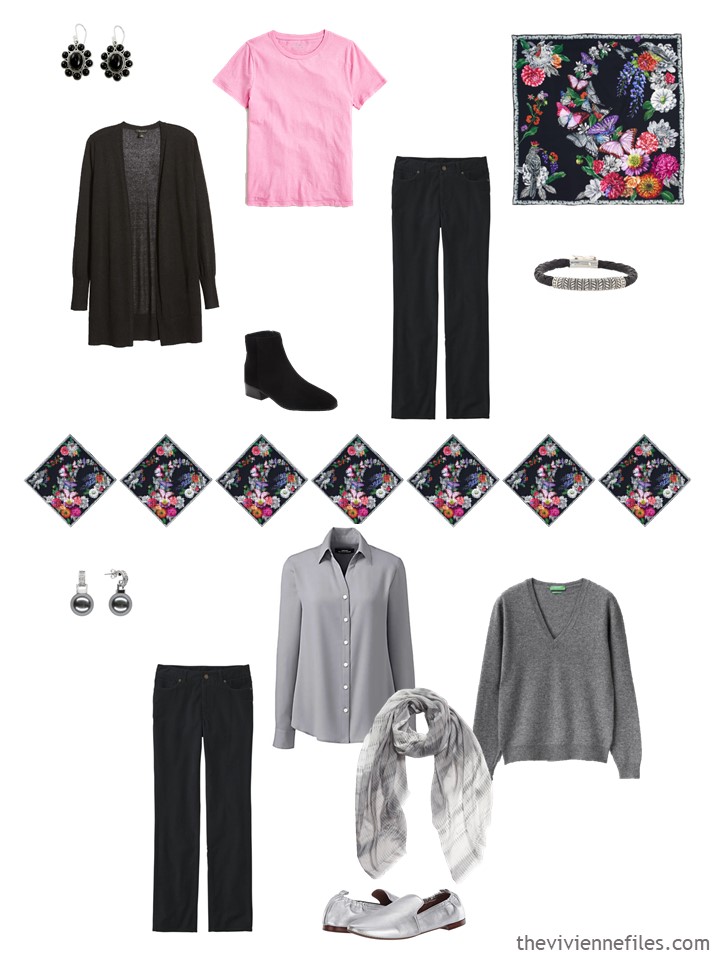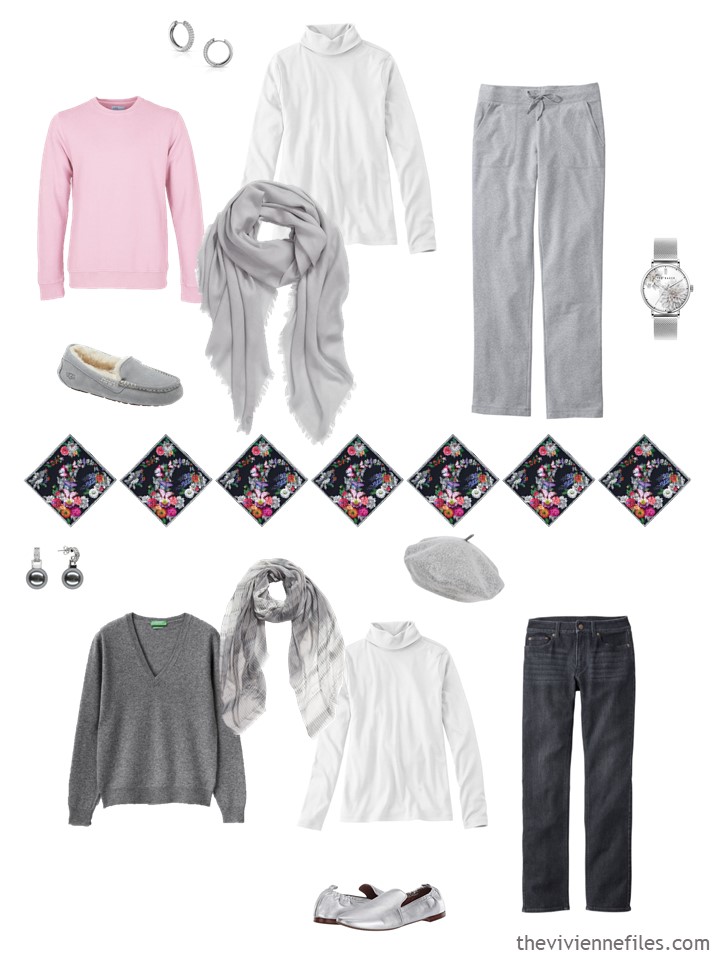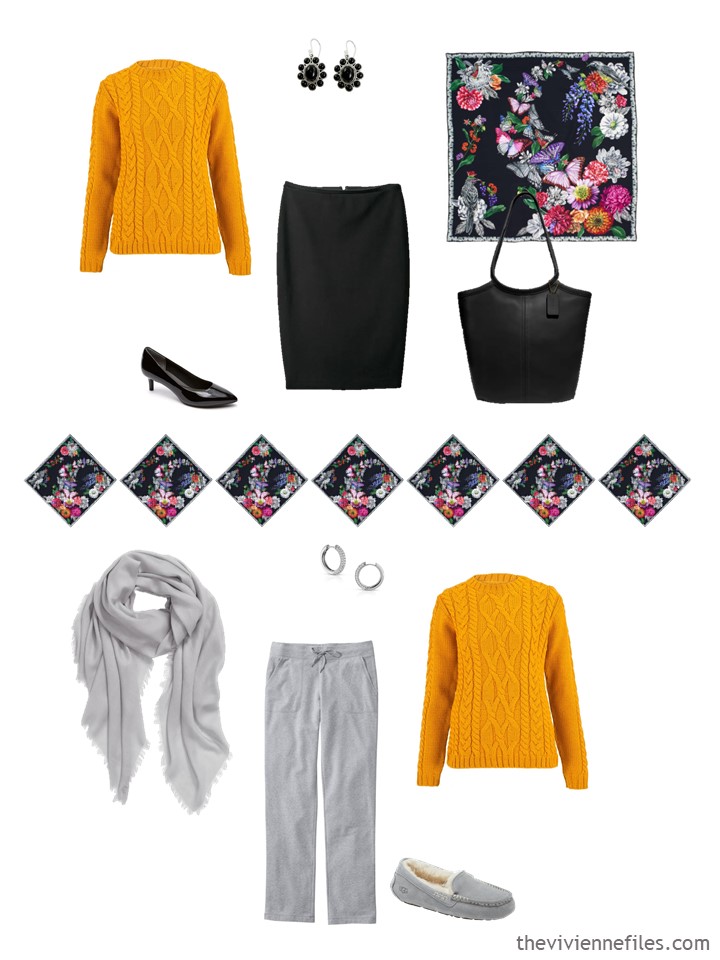 I've never done this before – this scarf was ALREADY in this wardrobe! But I keep finding that this scarf looks SO GOOD with anything that I add to this wardrobe… I can't ignore this kind of serendipity!
Coral wasn't a big part of our original palette, but the coral and yellow together are pretty significant…
The balance among all of the colors in this wardrobe is quite good – I'm always happy when things work out this way!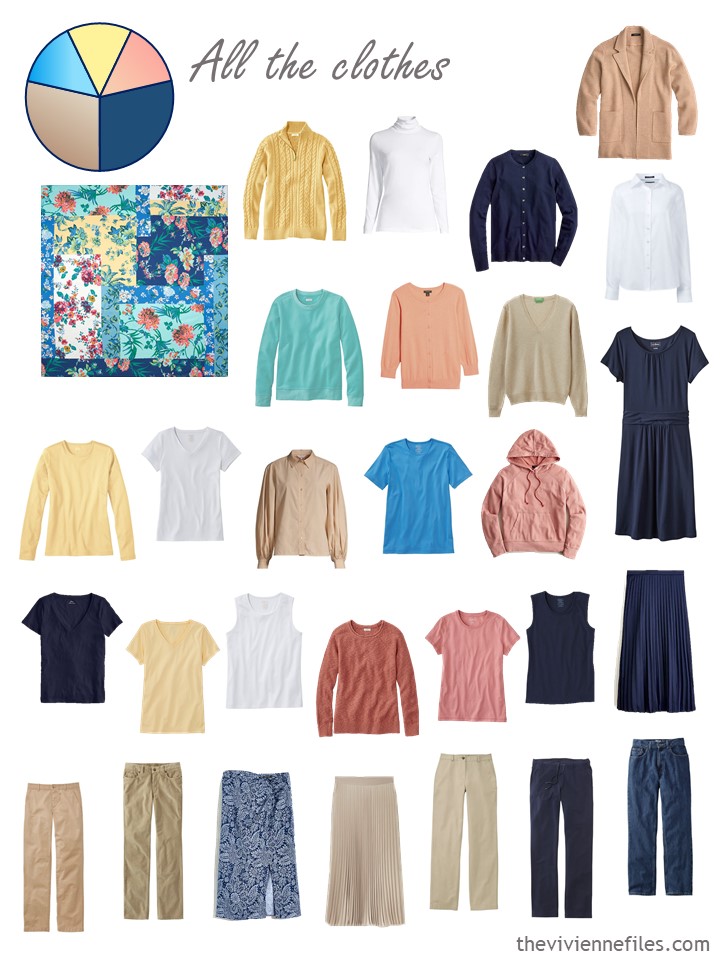 Yes, this wardrobe has 1 fewer scarf than the others, but when you have the PERFECT scarf, you don't need as many! (I keep telling myself this…)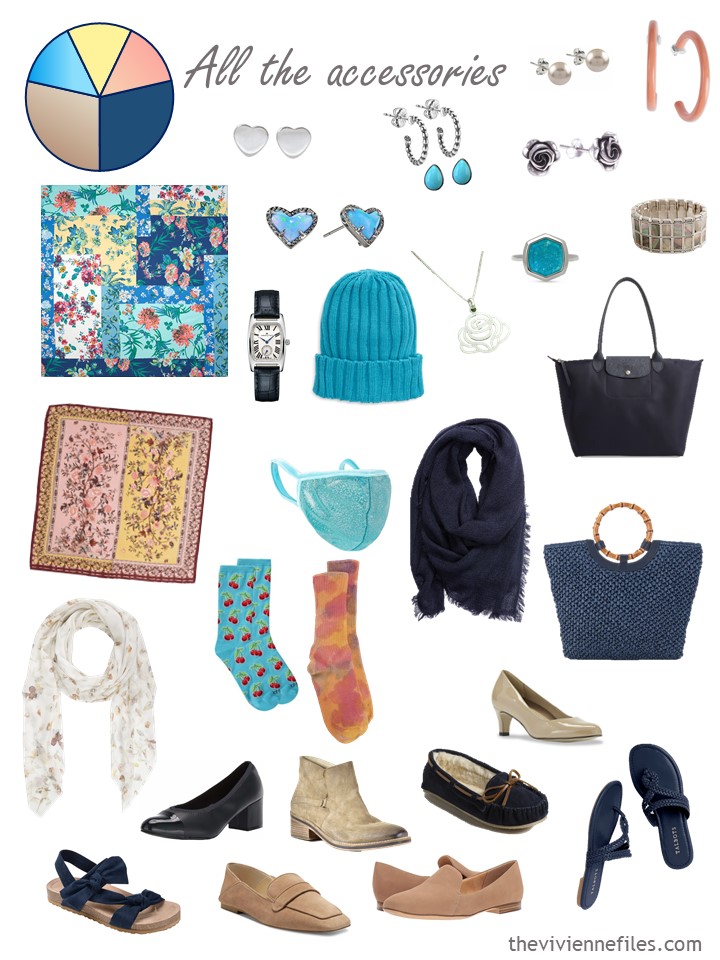 Our heroine's new outfits look like her – which is pretty much the perfect thing to be able to say about anything you've purchased!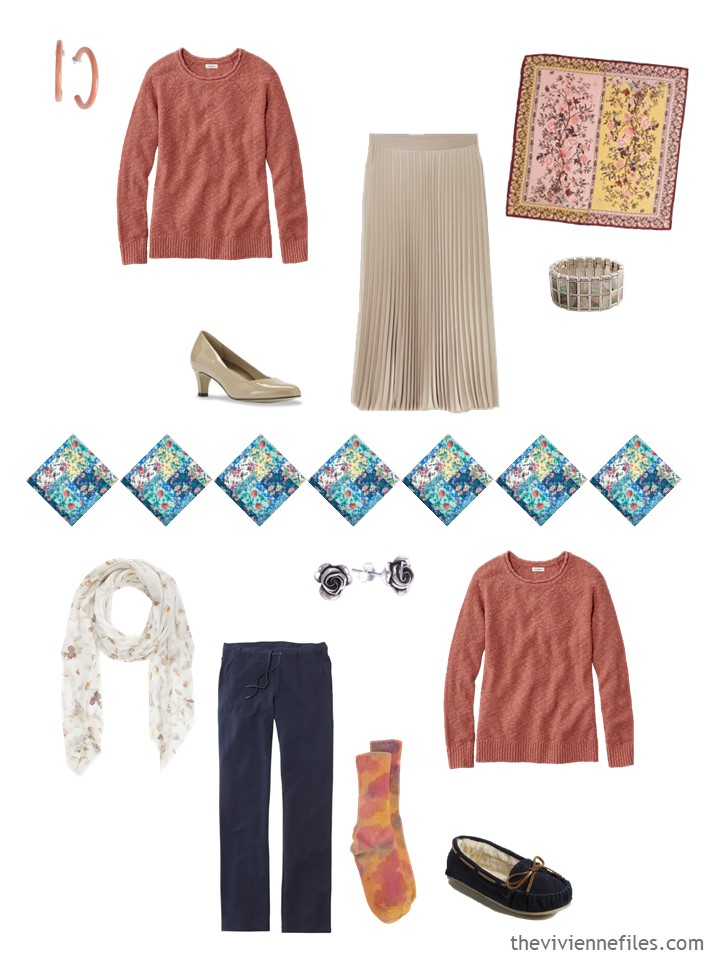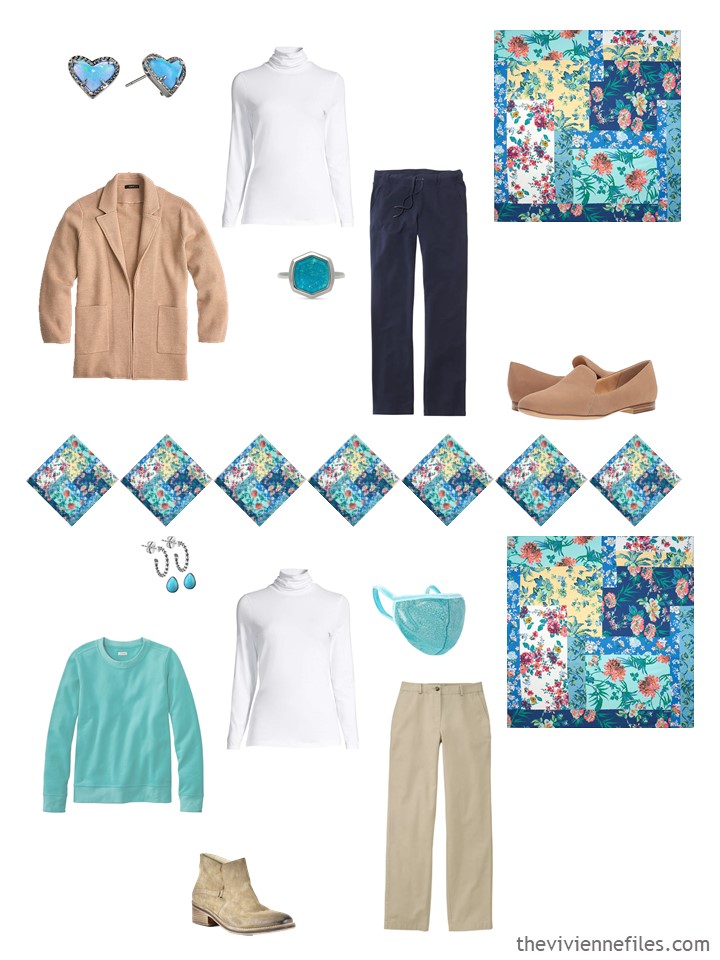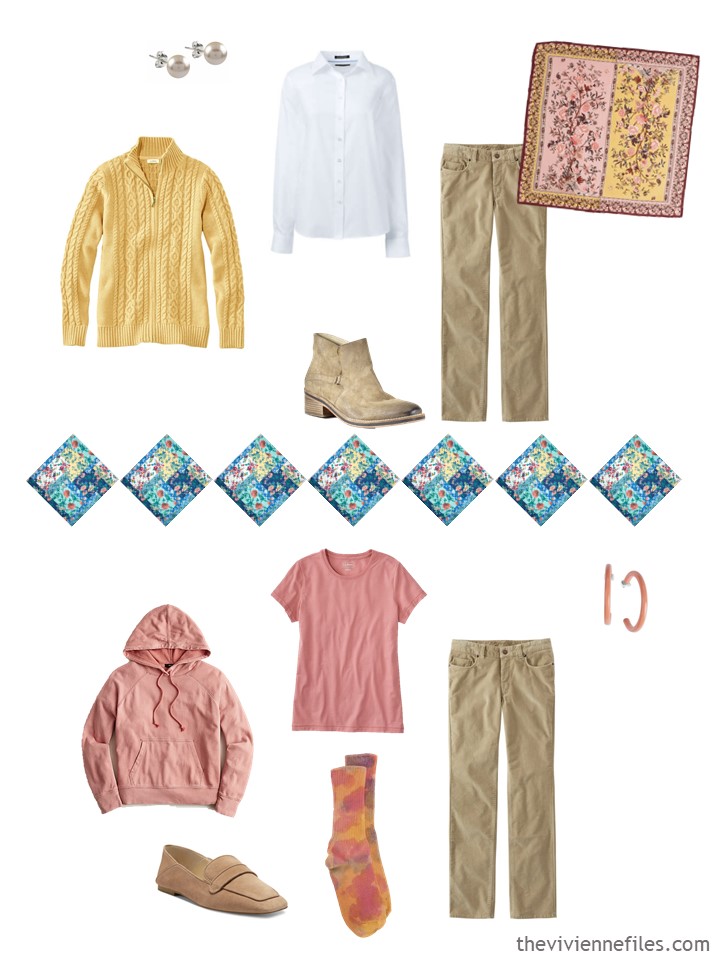 For a fraction of a second, I considered adding something other than purple to this wardrobe… but then I realized that it wouldn't be true to the emerging DNA of this closet, and this heroine!
I covet this sweater, and I do NOT need it; I already HAVE a purple cashmere crewneck sweater. But it's a different shade – that's different, isn't it?
sigh…
This ruana is lovely, but I couldn't have imagined how far down the purple path I would wander…
Honestly, if I had to start from scratch, this could easily be where you would find me!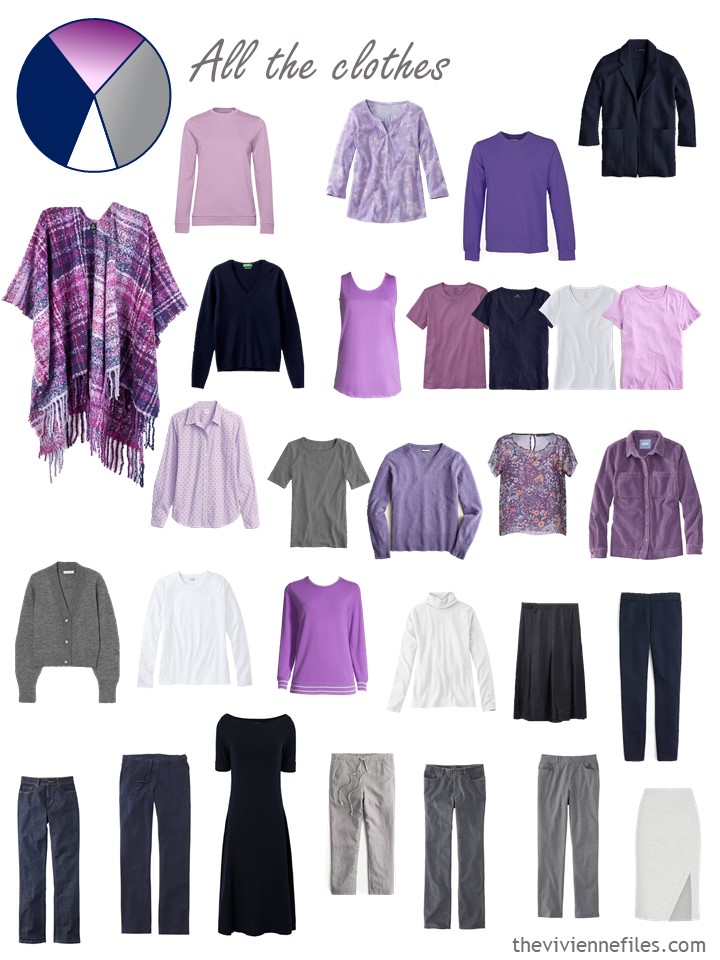 I may want this wardrobe just so I could have the scarves: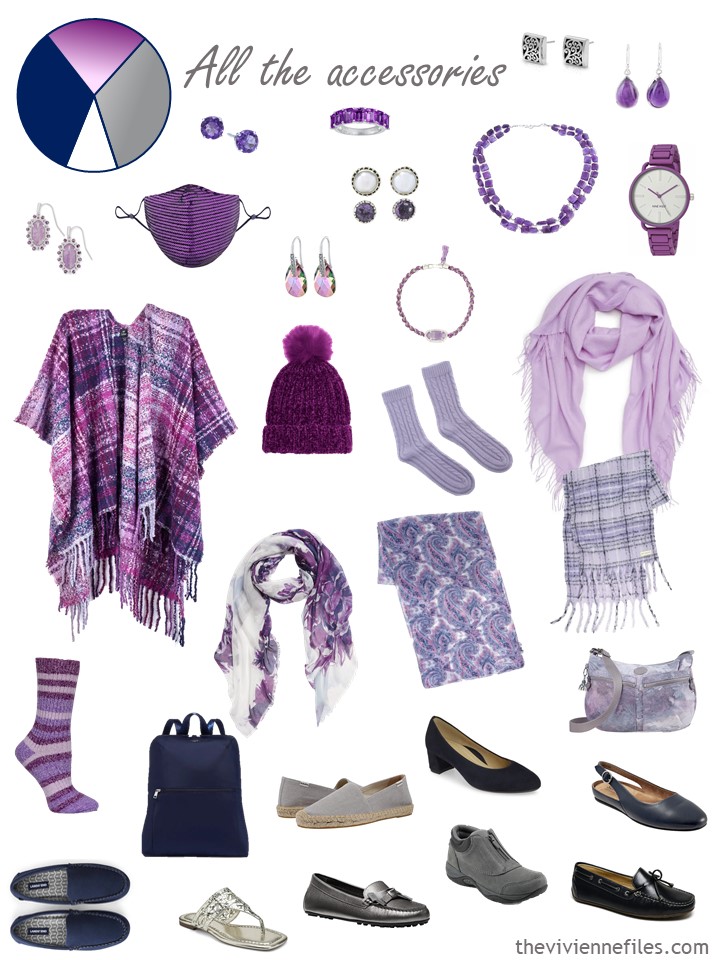 So long as our heroine has a solid base of navy and grey in her wardrobe, she can incorporate purple (lilac, lavender, violet etc.) accents 'til the cows come home…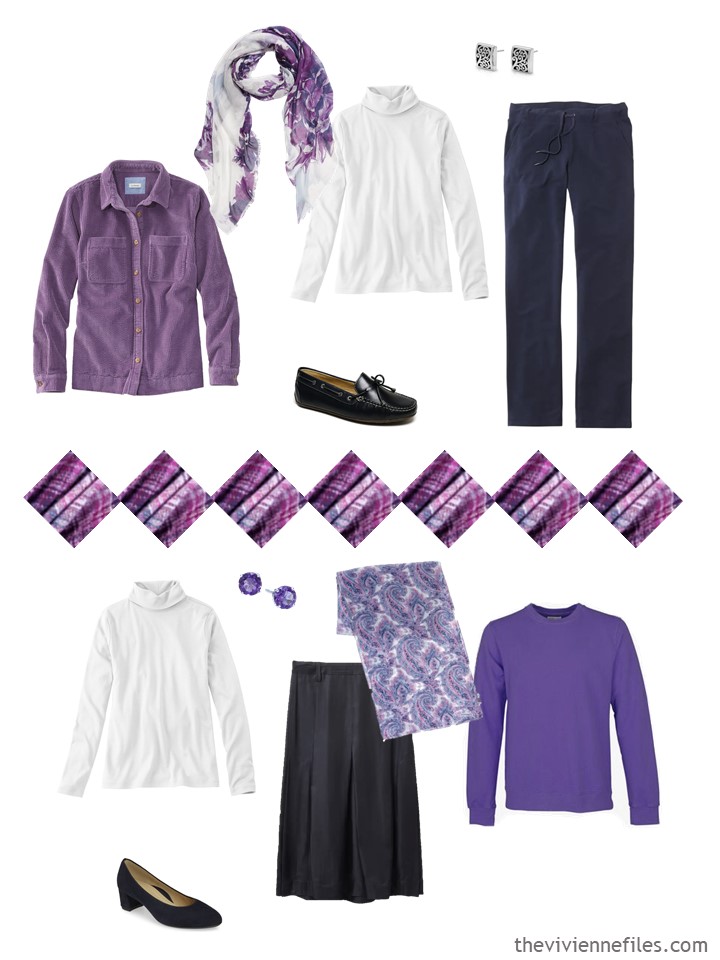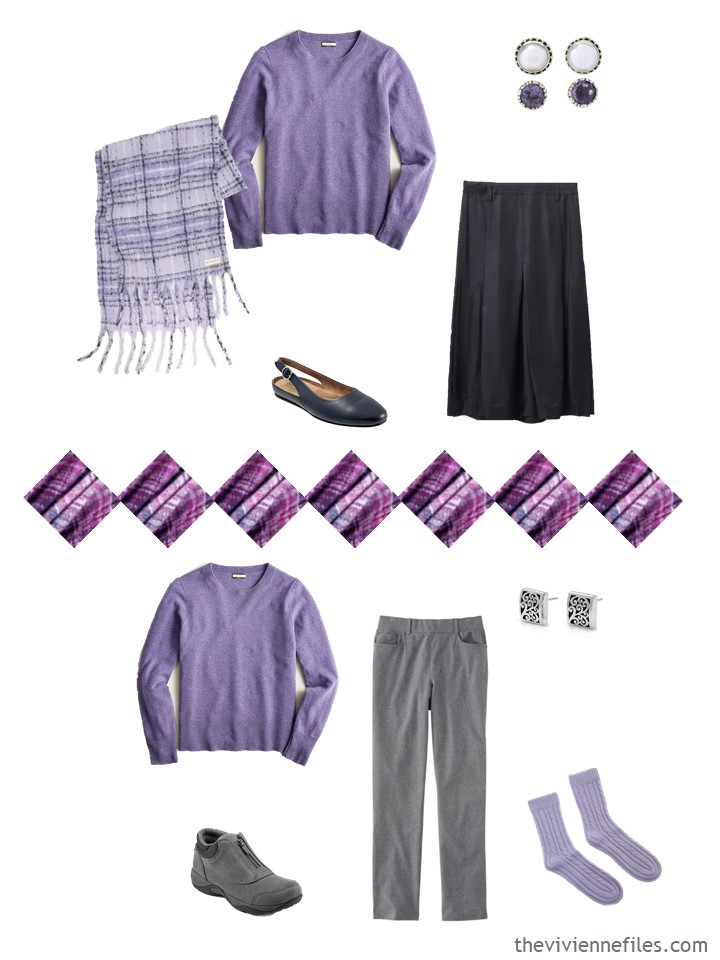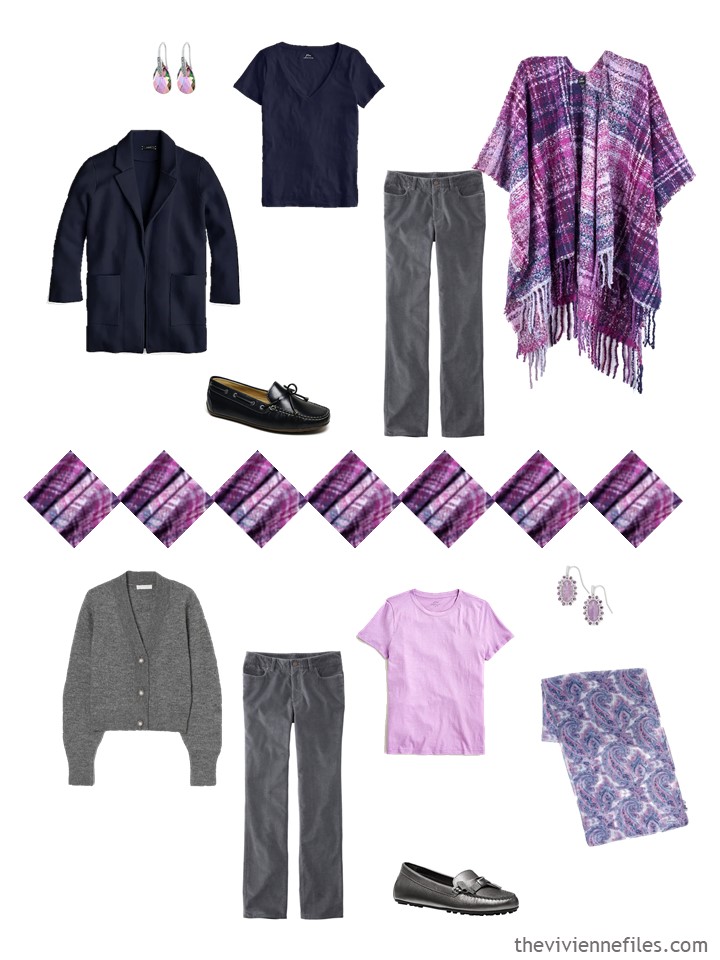 The original color palette for the next scarf has ALWAYS included a warm-ish pink; for some reason, finding this lovely scarf just made everything make much more sense!
There is indeed a bit of rose in this scarf. I don't think it's as pink as the sweater, but I also don't think that this is a deal-breaker!
While the pink sweater is indeed a new color in this wardrobe, it doesn't clash or scream horrible things at the rest of the garments…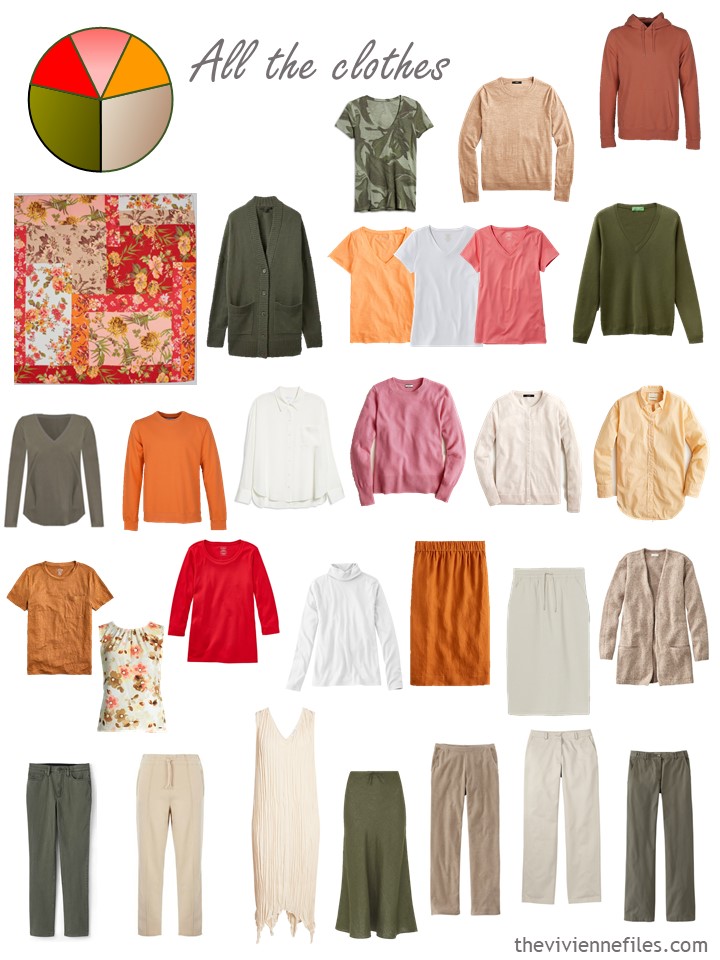 And there's lots of potential for the new scarf!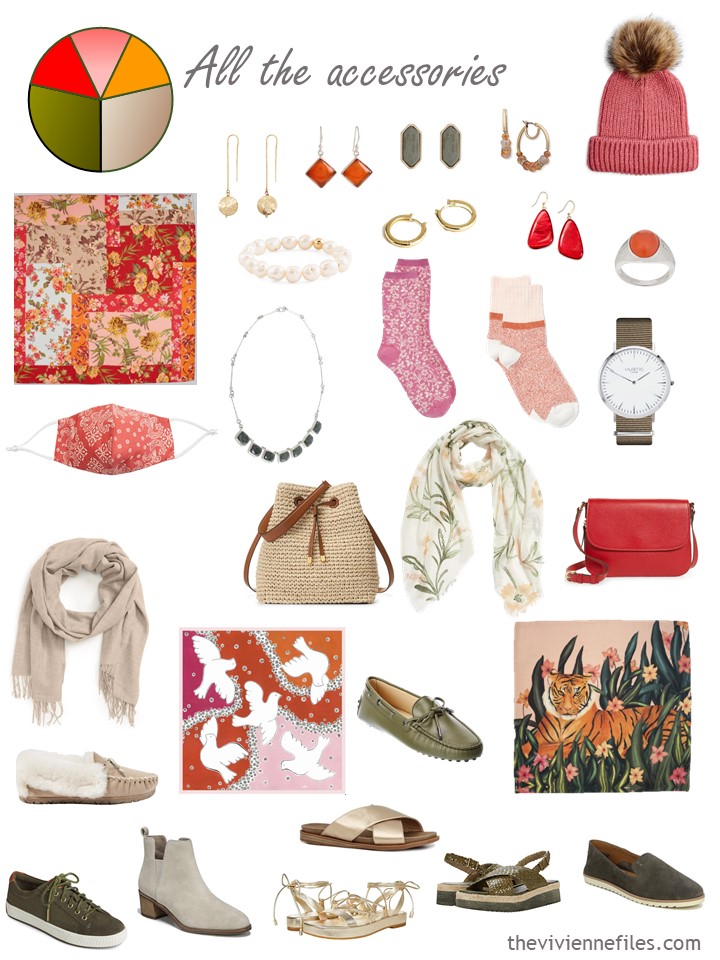 All of our heroine's new clothes work beautifully for her: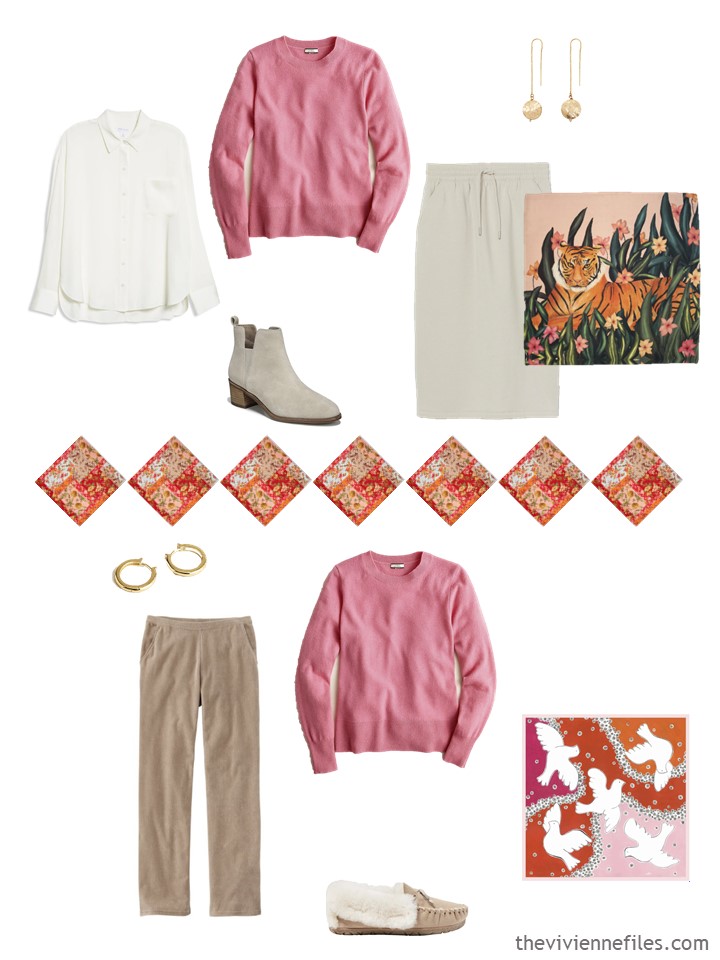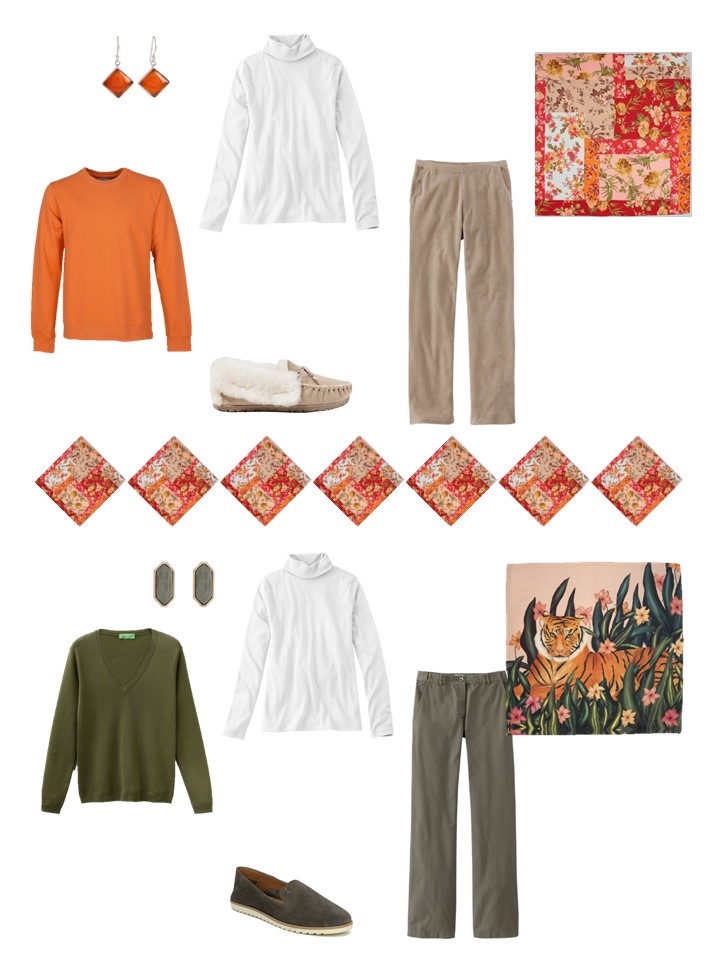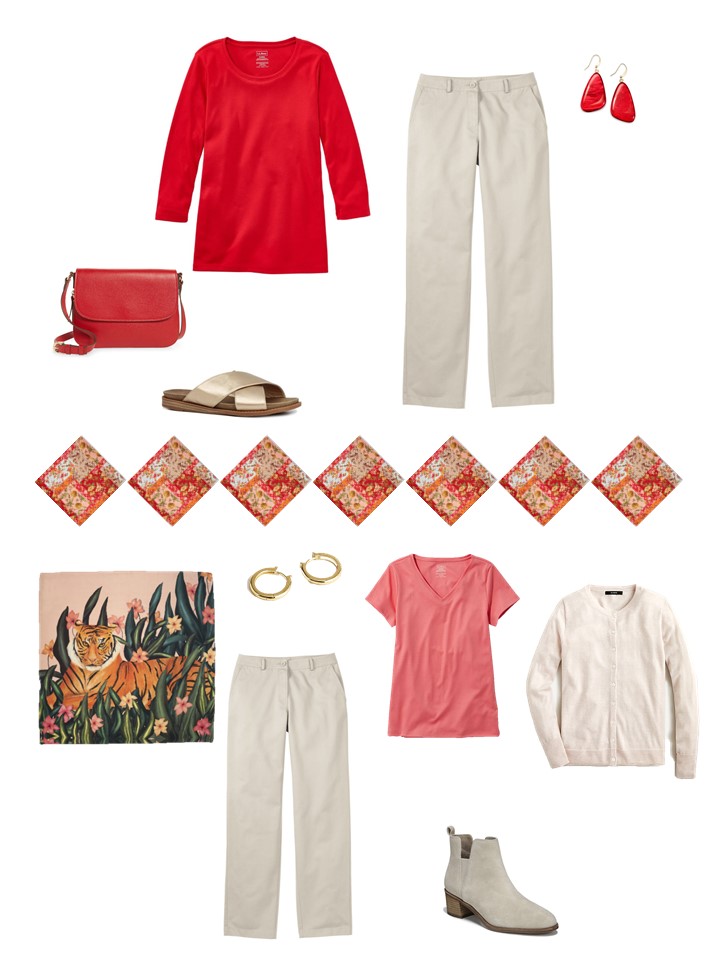 Brown! I FOUND MORE BROWN… And a glorious scarf, too!
Golden orange has always been in our desired color palette:
Maybe this wardrobe IS going to work out!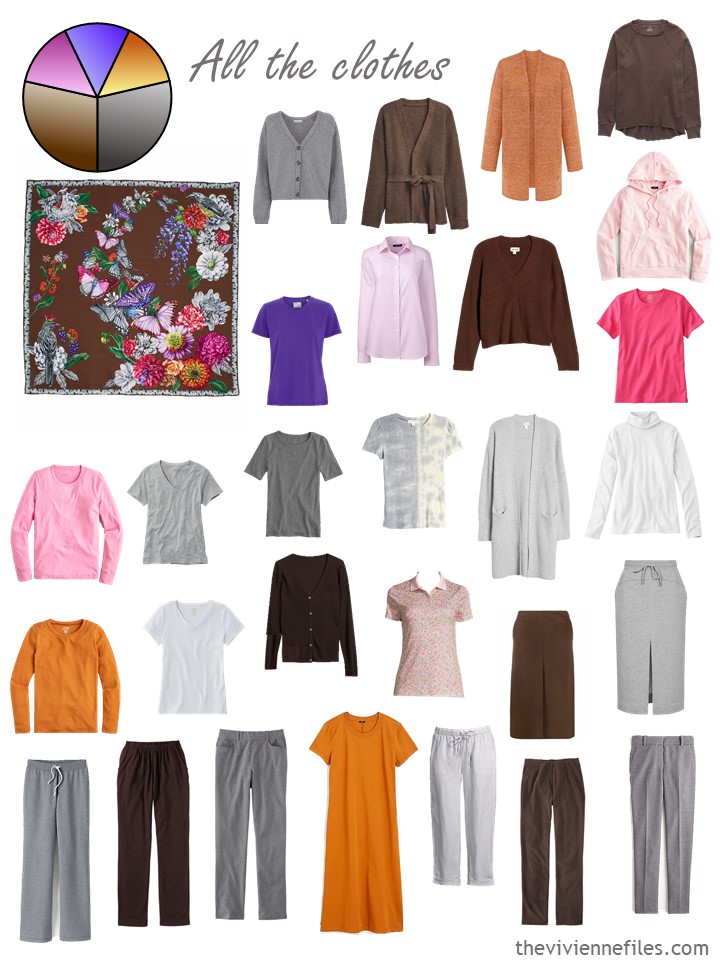 Maybe my biggest concern with 2 radically different neutral colors is that I feel like she could use more shoes… or that I might have done a better job choosing brown shoes that she could wear with grey? Men wear brown shoes with grey a lot, and it can look elegant and rich. But you have to plan…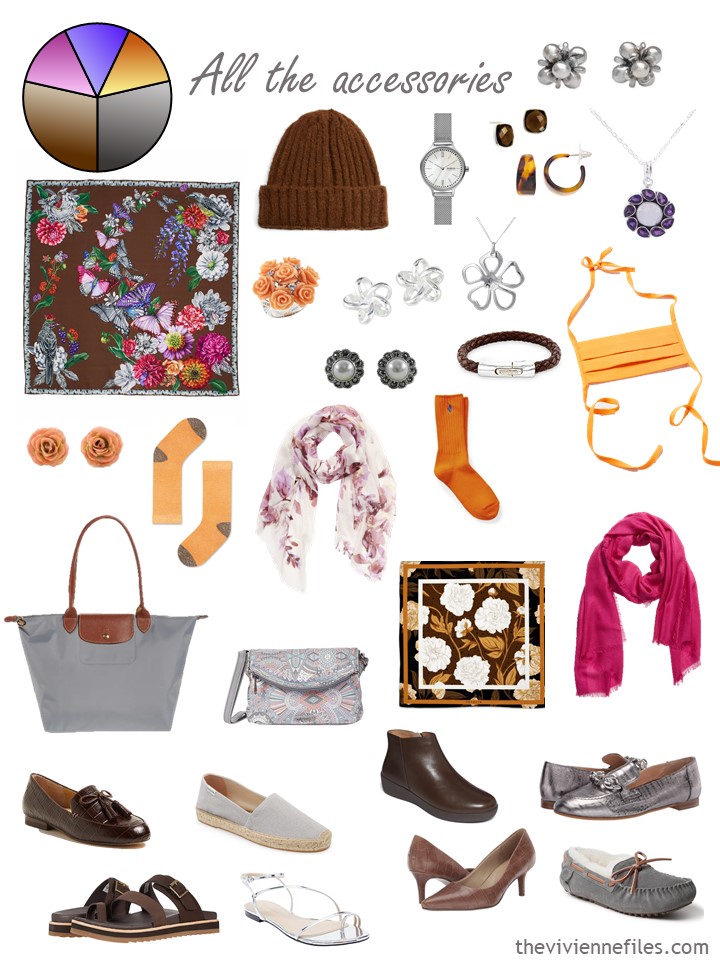 At any rate, our heroine has succeeded in bringing a LOT of new possibilities to her wardrobe: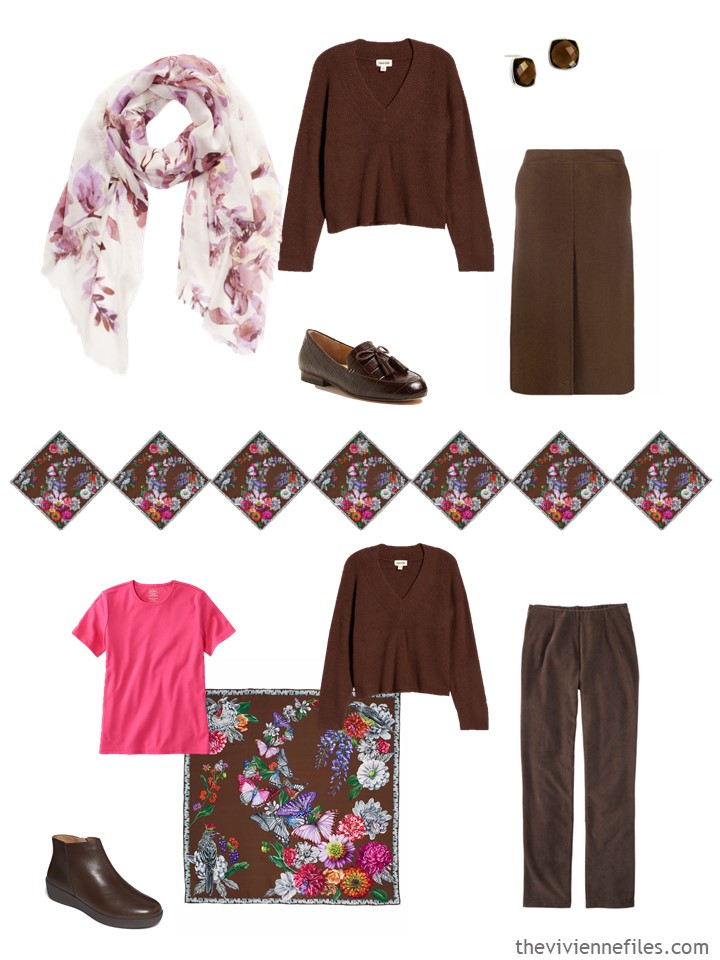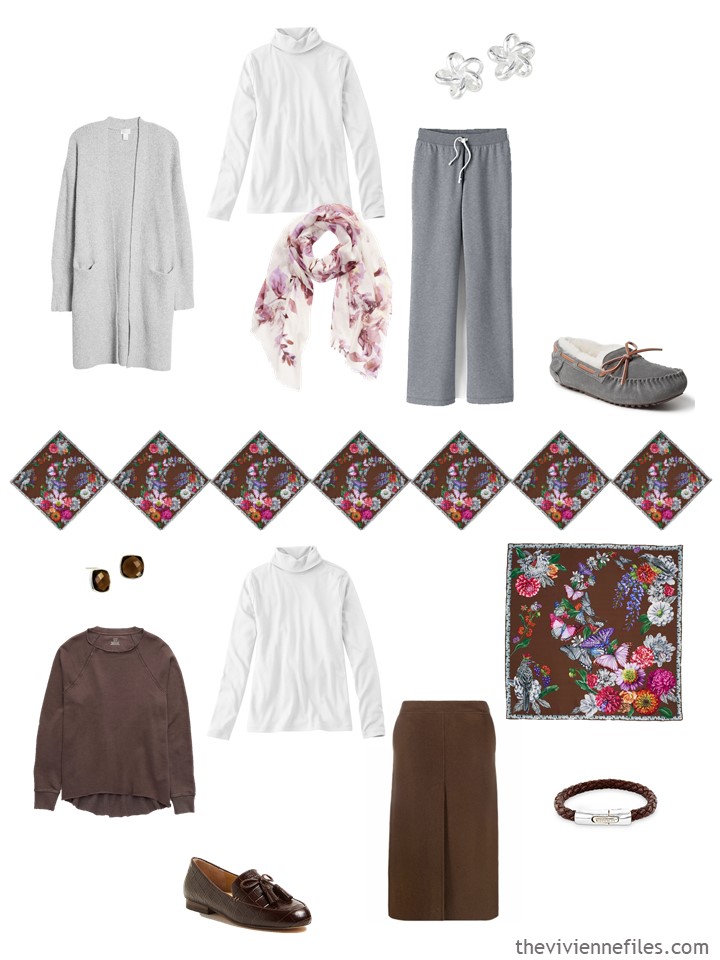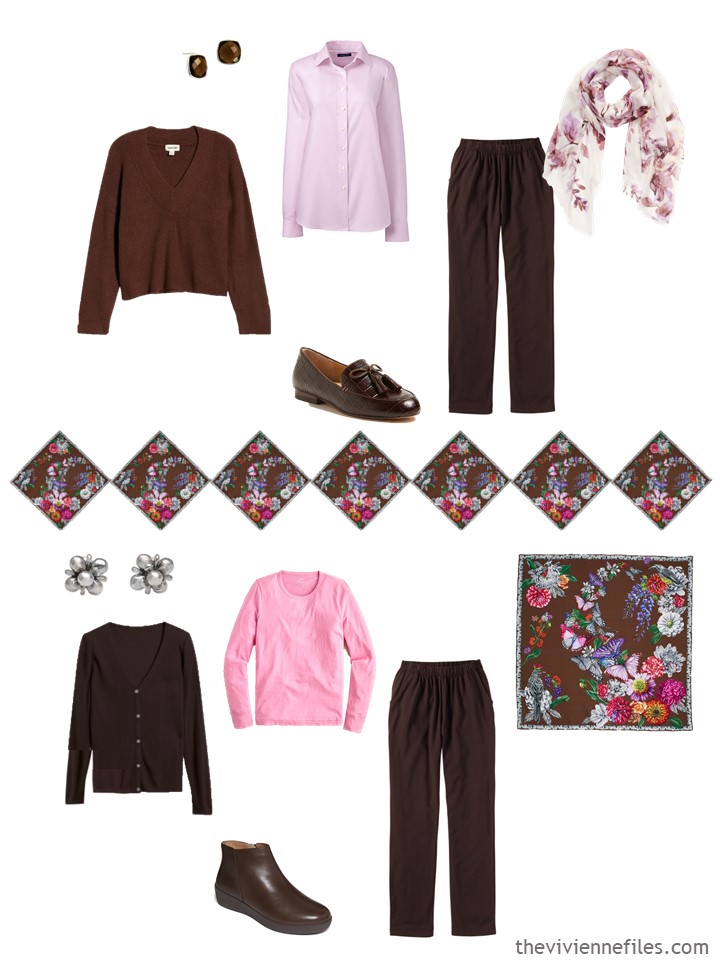 I really wanted to bring some green into this wardrobe – this sweater couldn't have been more perfect!
This color palette has proven to be wonderful, hasn't it?
While our new green sweater does NOT match the existing sweatshirt and tee shirt, it doesn't really matter – our heroine would never wear them together!
And it's so pretty….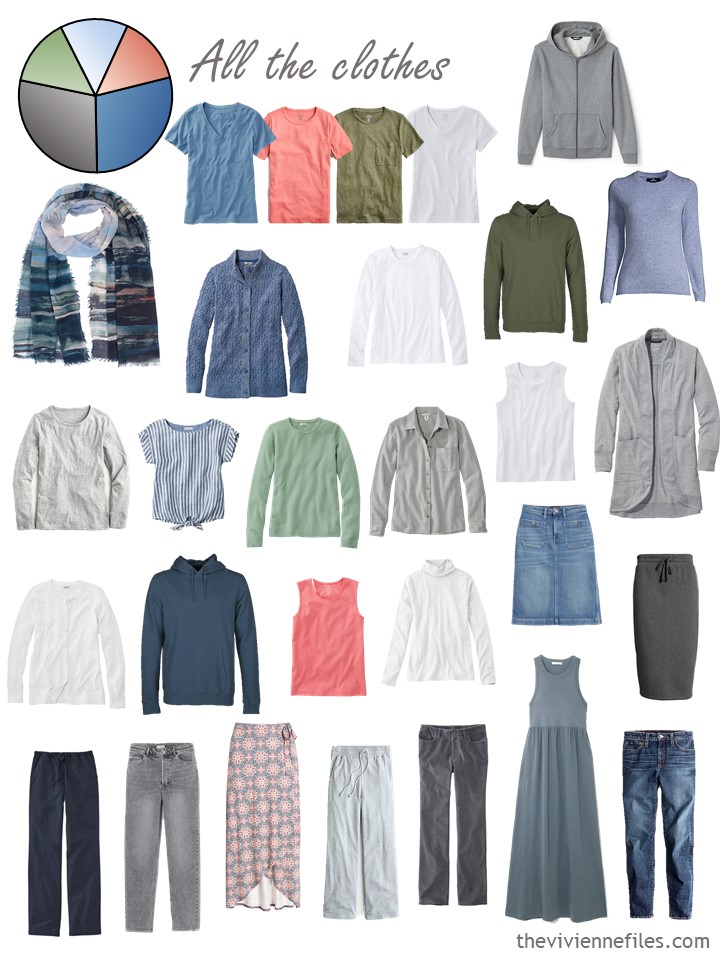 The green scarf and socks aren't a radical departure – they're just a new accent! You don't want to start adding accents that require you to buy a whole bunch of things to make the work, but I think this is pretty modest…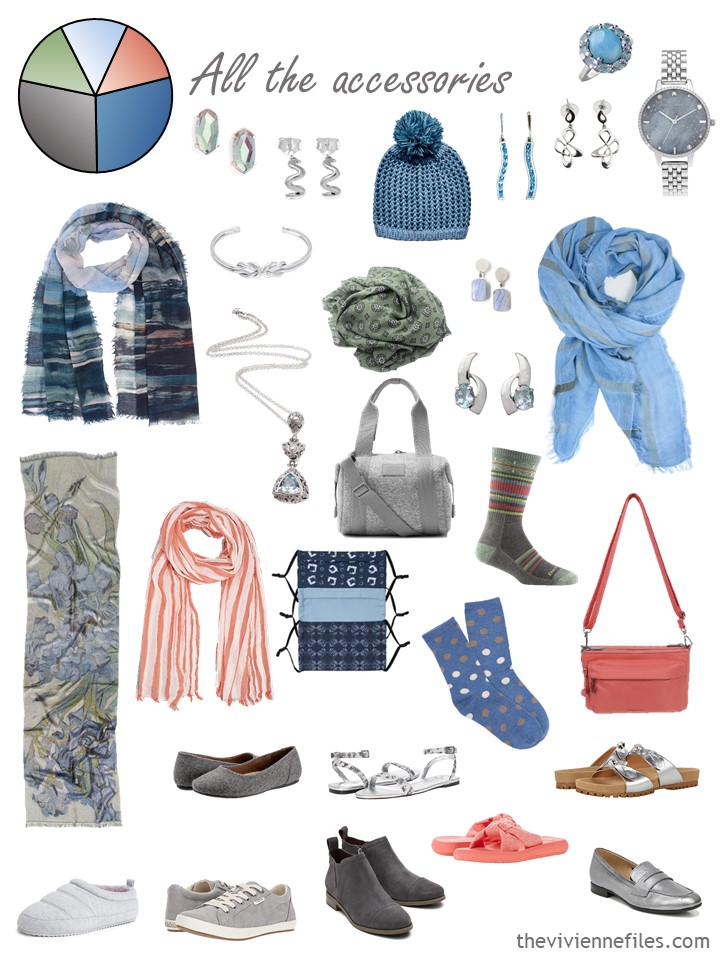 SO many new possibilities here…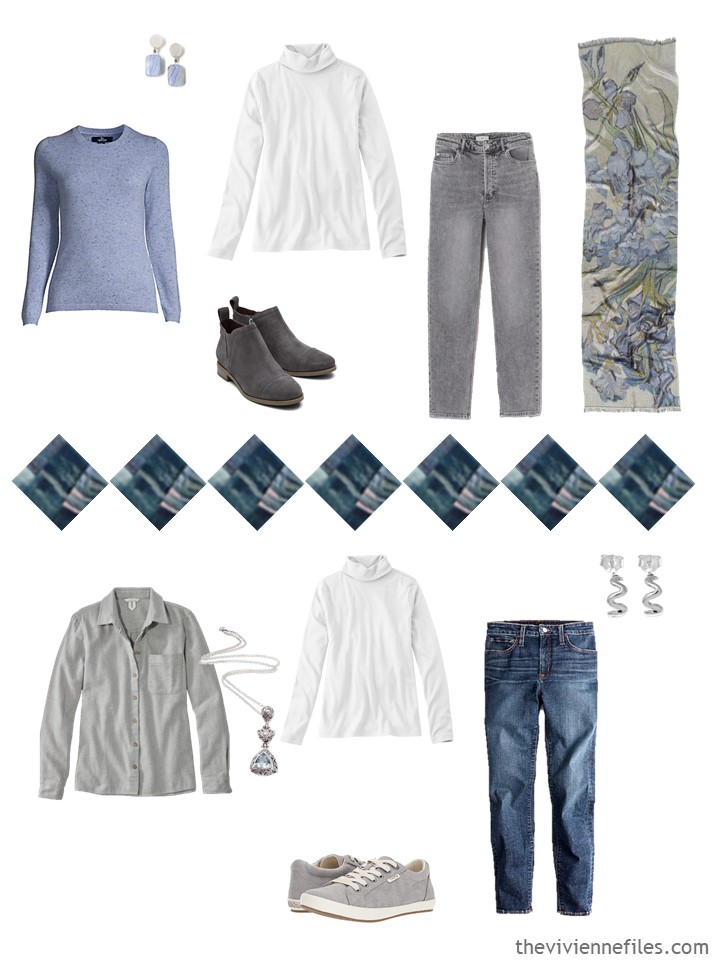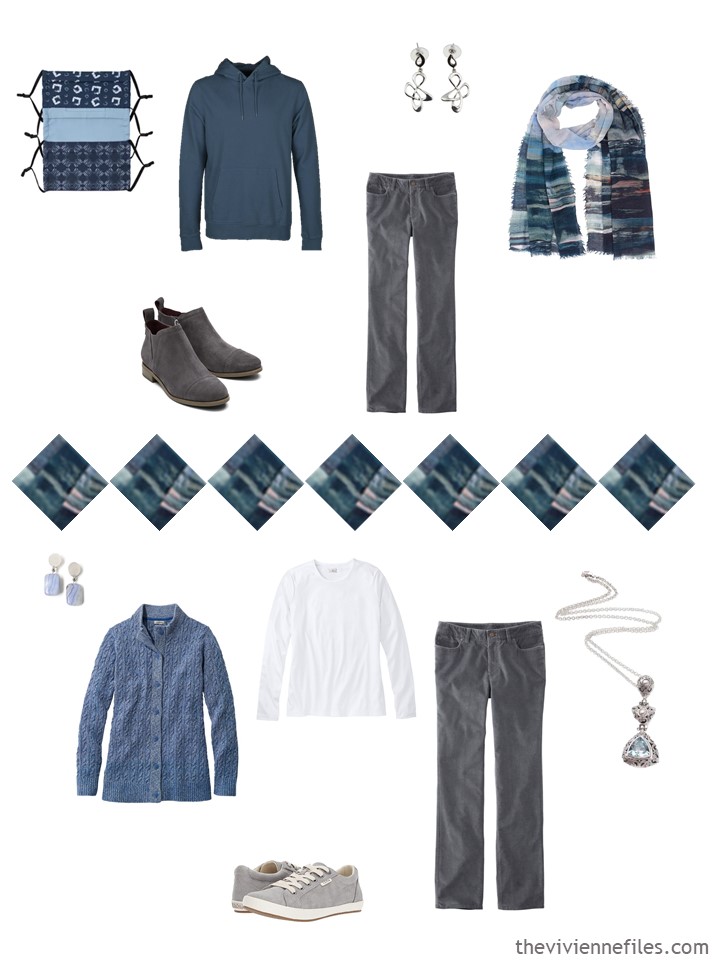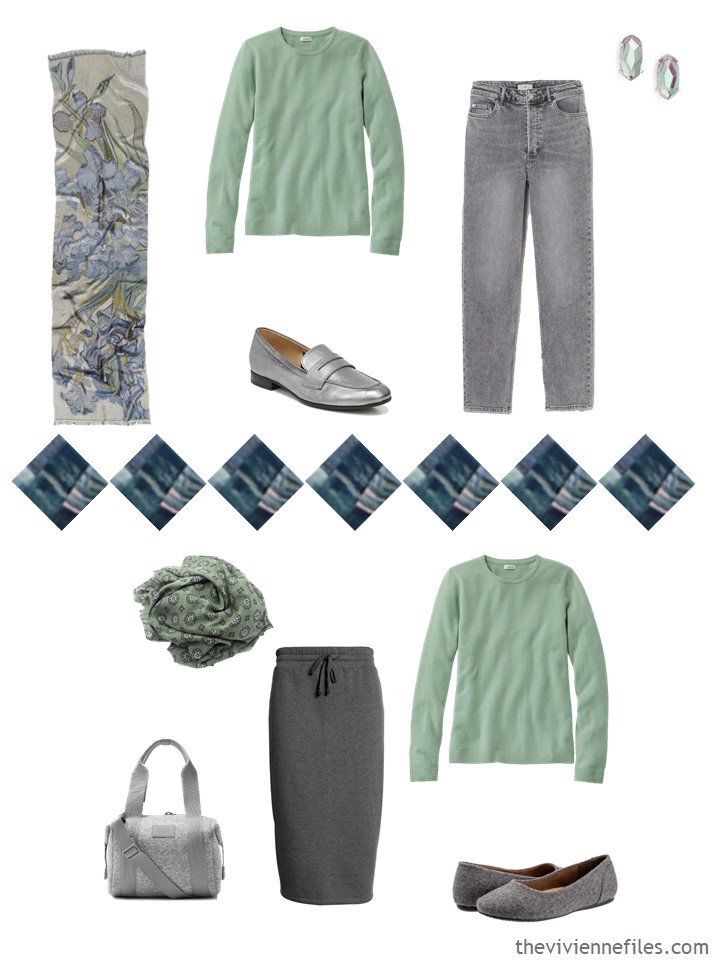 Maybe I'm infatuated with white turtlenecks because I'm looking for simplicity and clarity?
love,
Janice
p.s. Nine years ago, I was just back from Paris, and I was pretty fascinated by the way that women wore their summer dress LONG into the cool weather….