June 4, 2020
Today's interesting warning – if you're wearing a mask frequently, be ABSOLUTELY sure that you're washing both the mask(s) and your face every 5 minutes or so. I currently have a really painful broken-out face from mask irritation. It's both ugly and sore…
But let's look at helping one of our friends get some good use from a beautiful garment, eh?
This isn't the exact tunic, of course, but it's sleeveless, and includes the colors royal blue, black and white, just like our friend's tunic. So I'm hopeful that any advice I can think of will be useful!
With a little bit of thought, this top could be worn for most of the year – I know it's odd to think of wearing sleeveless things in cooler weather, but stick with me…
First up, the most obvious way to wear this tunic, to me, is to pair it with narrow cropped pants or capris. You can tell if pants are meant to be narrow if they have slits at the hem of the legs. But always check if you can get a good measurement for the leg opening size. This top, with the flared hem, might look odd with pants that are also flared…
In hot weather, one still has to wear long pants from time to time. Maybe it's a question of bugs, or of sun, but very lightweight pants can be important! The nice thing about wearing a tunic over white pants is that the tunic covers all KINDS of things you might want to cover!
2 thoughts about the accessories – I love the whimsy of the cat earrings! They're subtle – you might have to actually show them to your friends for them to see the fun…
And until and unless we all get haircuts on a regular schedule, having a pretty headband in our favorite accent color is just plain smart. It could prove to be your most-worn accessory of the summer!
It's definitely possible to wear a tunic with shorts! Just make sure that your shorts are longer than your tunic – nothing looks more peculiar than an outfit in which your "bottom" garment isn't visible! (of course, having your bottom visible isn't good either…)
Here's a way that you can carry this tunic over into cooler weather – wear it under a sweater! So long as the hem of the sweater or cardigan doesn't squeeze in and bunch up your tunic fabric, the print hem will hang out below the hem of your cardigan and look cool. Balance the printed hem with a necklace of some heft, and toss in some fun blue socks!
So with these 4 outfits, we have this little, very poorly-balanced, capsule wardrobe: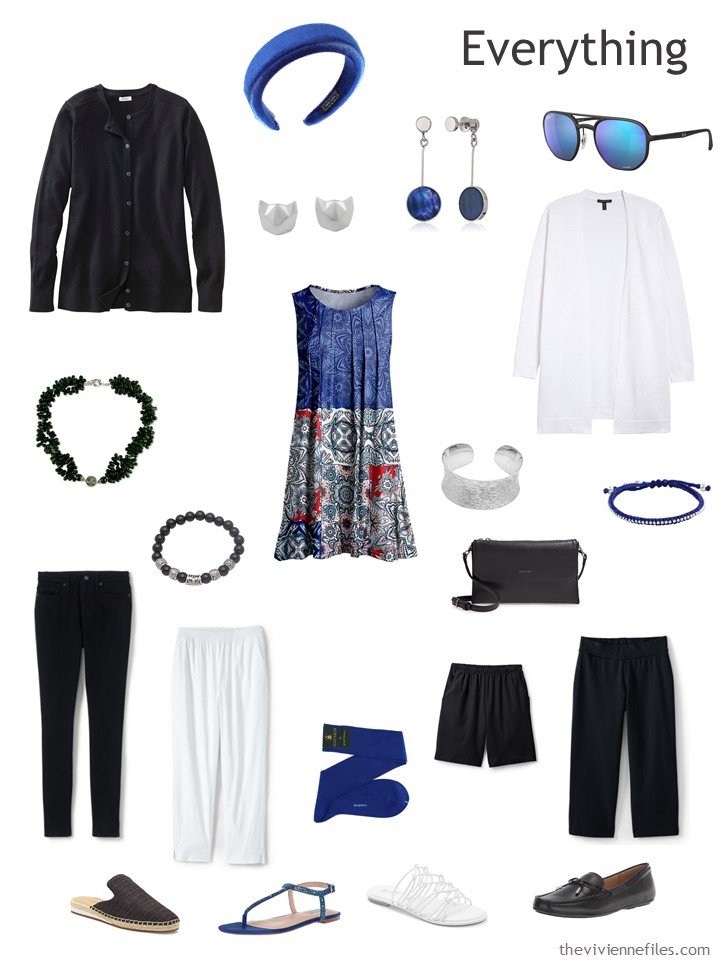 But this is a great base for a real travel capsule wardrobe – just add some tops:
NOW, this is a travel capsule wardrobe! I could toss this in a bag and go right now…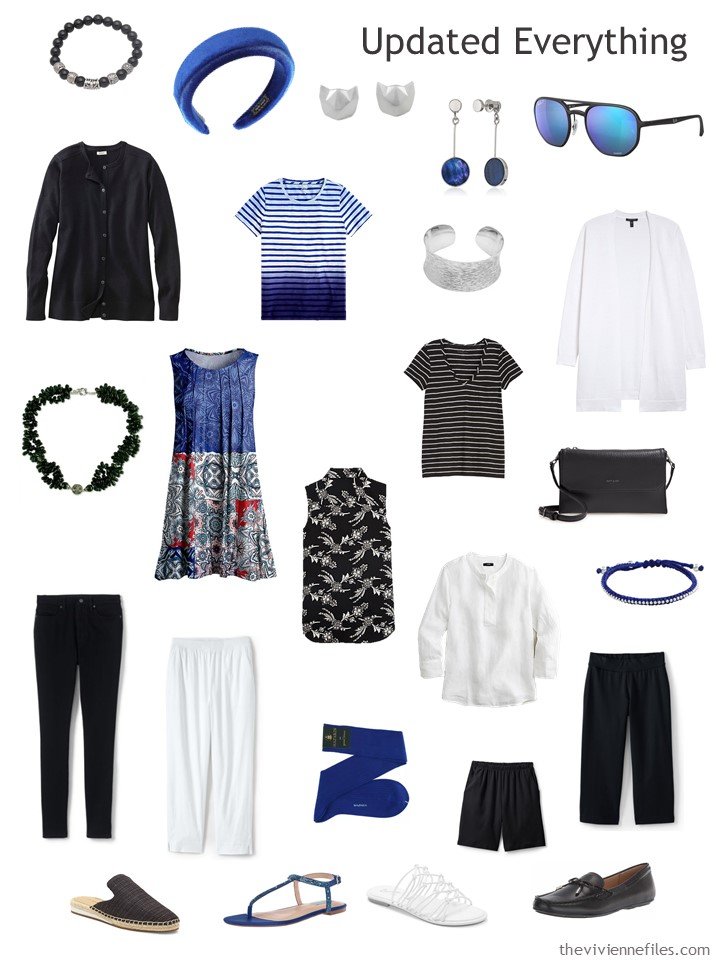 Of course, all 4 "new" tops are versatile: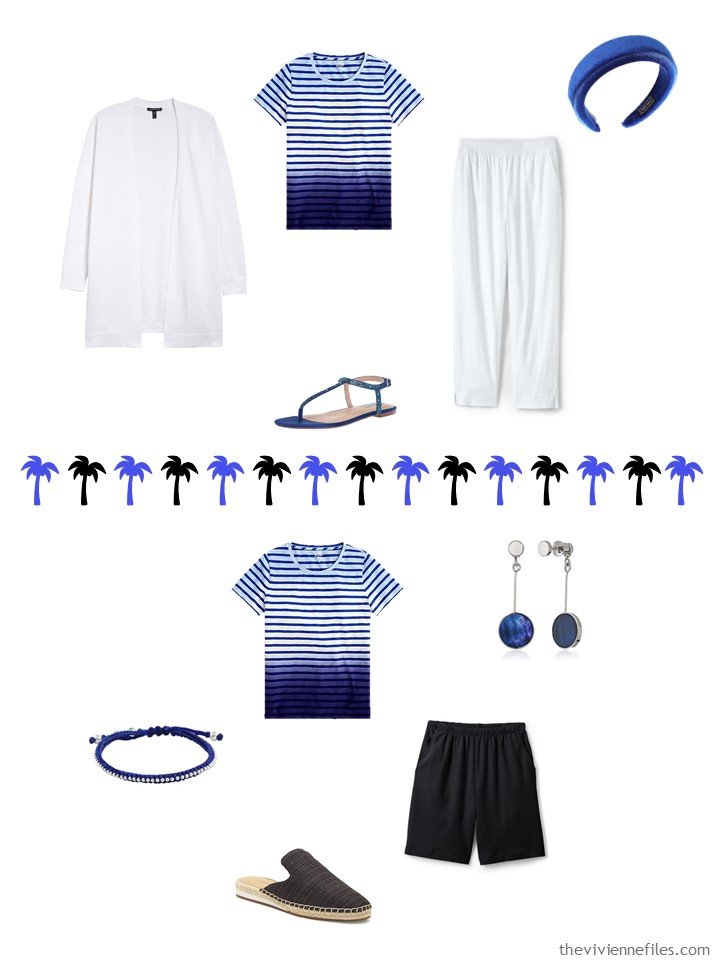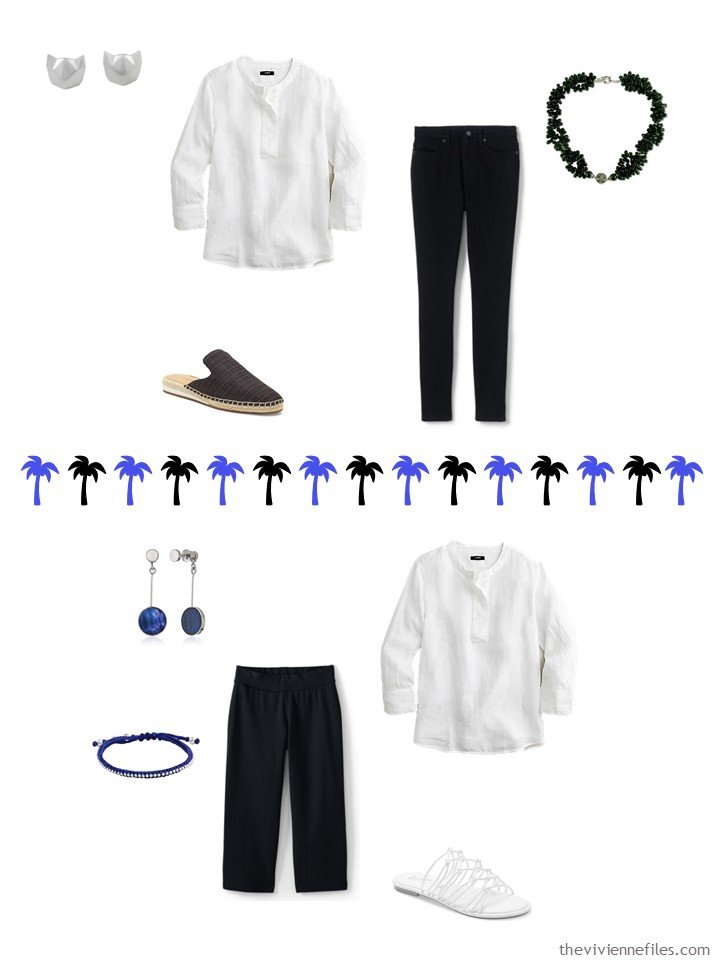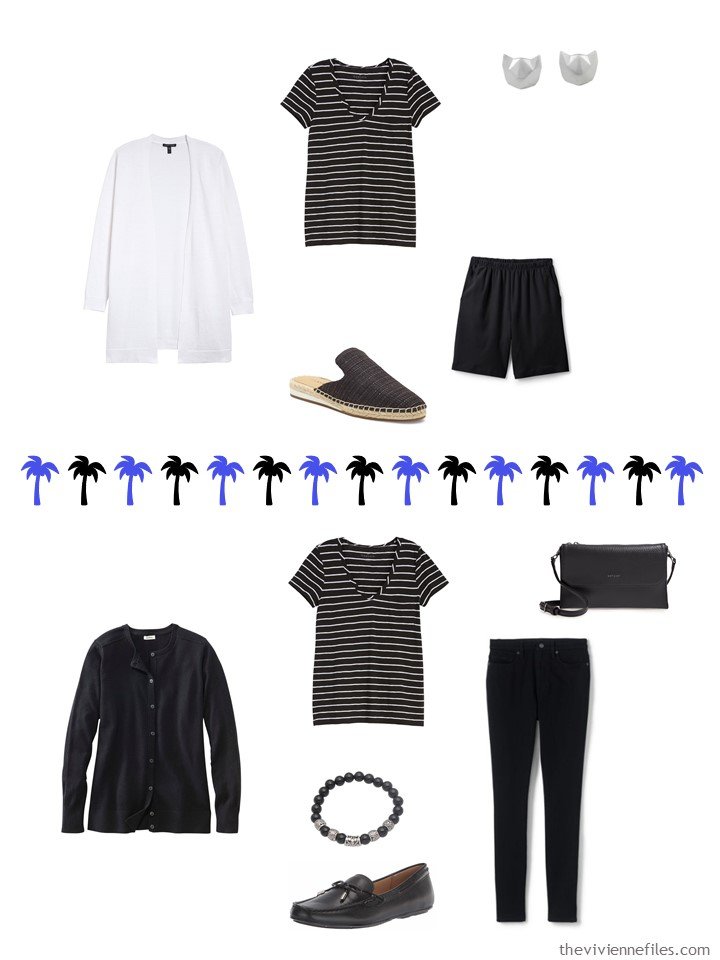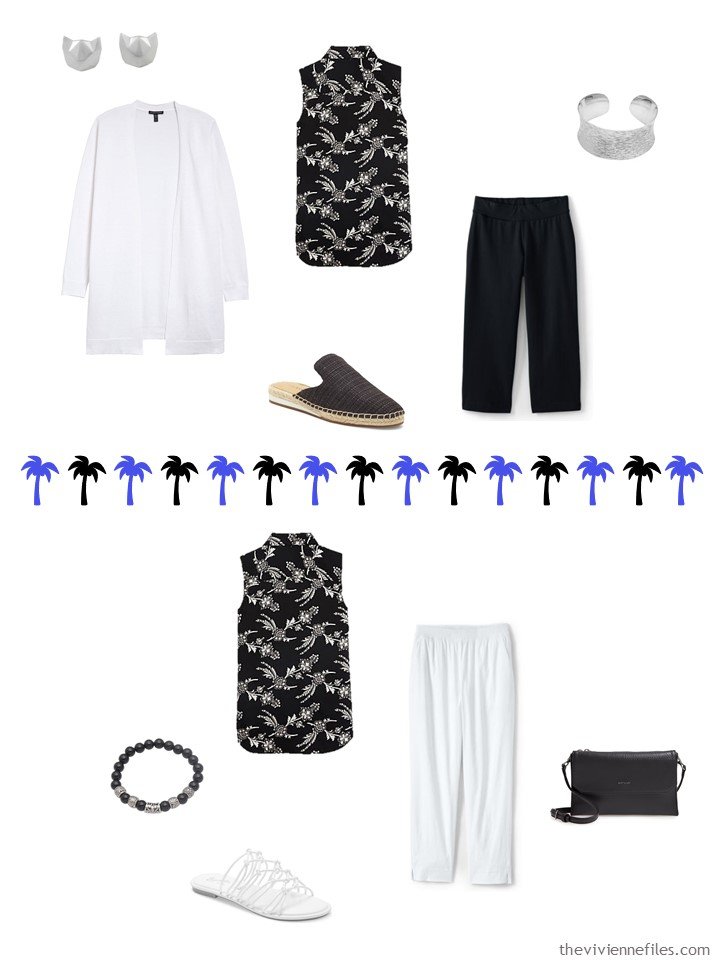 Do you have an neglected garment that needs a little bit of attention? Let me know…
love,
Janice
p.s. Seven years ago, I was struggling to get myself sorted out in the morning, but I DID have time to share one of my all-time favorite mottos!