March 23, 2020
Let's all take advantage of having a lot of time indoors to really clean out our closets and be ready for those warm days ahead…
Keep in mind: we're allowed (encouraged?) to go outdoors and exercise, or just sit under a tree with a book. We're not forced to stay in our homes! So being ready for warmer weather and long walks might be a good focus right now.
I'm suggesting a skirt, but you know that if you absolutely HATE skirts, there are lots of other possibilities. I personally will probably substitute a simple sleeveless black dress…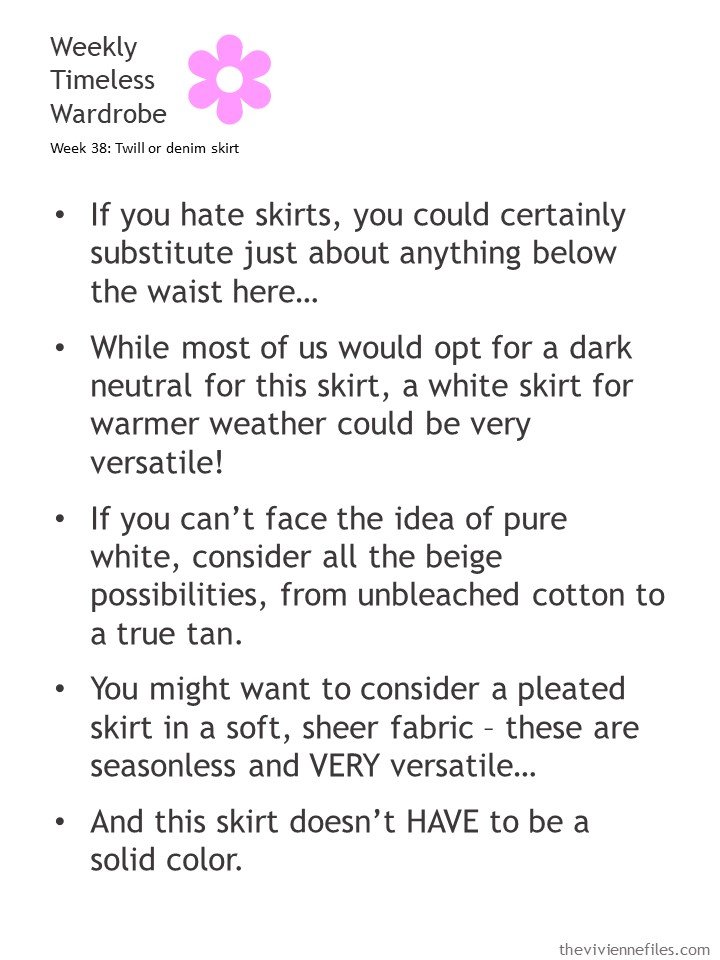 Although it feels a little bit like a "spill magnet," a white skirt always looks so good in warm weather. And EVERYBODY looks at least a little bit tan wearing white, right? (although what difference your skin color makes is lost on me; I don't tan, and I'm still gorgeous…)
You could wear a white denim skirt all year – just as you would wear white jeans! Imagine a cuddly bulky sweater, warm tights, your white denim skirt and a pair of flat leather boots…
If you can't face pure white, maybe a softer color that I think of as unbleached…
The balance of this outfit is completely different from what it was with charcoal grey pants. That's the joy of a print top – lots of different ways to wear it!
This skirt is a true indulgence, but it's SO beautiful…
One of the reasons that I can easily forego a spring skirt is that I already have my black pleated skirt that I bought for our anniversary trip. (CANCELLED…) If you're not inspired by the idea of denim or twill, soft pleats drifting around your calves might be more your style…
Blending soft neutrals with some gold accents will always give you a timeless outfit:
This wardrobe is finally pretty much ready for a warm-weather trip! If I EVER find the perfect pink tee shirt, the red one is going to go away…
One thing to keep us all optimistic – the days are getting longer! Pay close attention – see if you can feel the gradual shift toward spring and summer.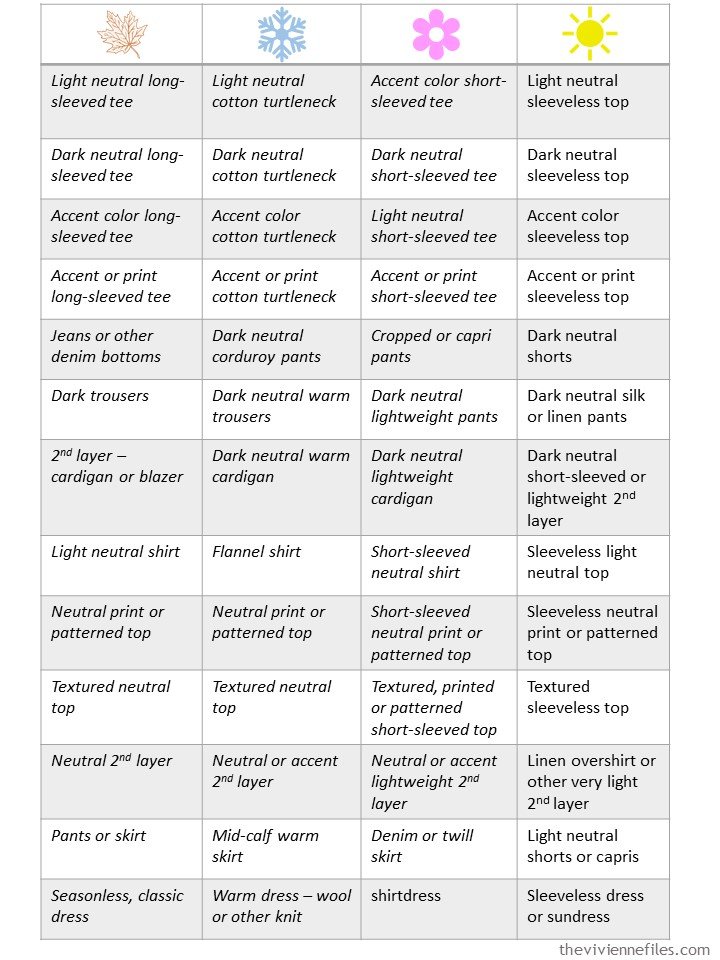 Is anybody else gradually cleaning out closets during their enforced time at home? I'm moving my winter clothes – one cluster a time – into a huge duffel bag in which they will spend the summer. Anything that doesn't get "clustered" is going to be analyzed VERY CAREFULLY to see if I really need it.
I've got the time!
love,
Janice
p.s. Four years ago, a reader asked for a relaxed but feminine wardrobe in beige, navy, pink and light blue….