January 6, 2020
It's time for some brightness!
Especially if you have a scarf that you want to wear more often, this is a good time of year to start looking for tee shirts in a variety of colors; they seem to have arrived in a lot of places the first week of the year!
For example…
A fast way to inject some new possibilities into your core wardrobe of neutrals in an accent tee shirt along with 1 or 2 other accessories in that same color. Earrings are obvious, scarves are my favorite, and don't forget the possibilities of accent socks!
Speaking of socks – be alert when you're buying them; there are all SORTS of weird things out there right now:
mesh socks, which in my day would have been considered "knee-high hose." Only they kind of sag down your calves and around your ankles… They're worn, with dresses (!!!) and heels. The look is not to my taste…
super-fluffy socks that are meant to never be worn with shoes. They take the place of slippers, I guess…
slouchy socks, aka they have nothing elastic to hold them up, and if you don't love them bunched around your ankles, you're in trouble!
And yes, I'm seeing even more of the "puffy sleeve around the shoulder" thing; if you are buying something to layer under sweaters or cardigans, these tops may not work well. All that fabric has to go somewhere, right?
These outfits? A glimpse of an accent color under your v-neck sweater! If you're somewhere with months of ghastly cold to come, don't rule out getting a long-sleeved tee, or even another cotton turtleneck!
If you broke down and grabbed this scarf, I am really happy for you! I'm still loving it… Happily, it does NOT go with anything I own. Saved by my own discipline!
I love this outfit; this scarf is a perfect "all year" accessory. And super-sparkly earrings are never a bad idea on a gray day…
A leafy scarf deserves leaf earrings, right?
I'm pretty certain that the background of this scarf is black, so I'm showing you a black sweater and jeans. This color would also be great with navy, or gray, or beige, or brown…
If you wear a lot of brown as your core neutral, don't overlook the possibility of a cool pastel accent color. The scarf here makes it all look perfect! (and the sweater and pants are a great base for any shirt, tee shirt or turtleneck you can find…)
For this sample wardrobe, I didn't see another accent color that looked quite right, so I got lazy and stuck with red. Is it lazy, or is it just a clearly-focused personal style?
Of course, most of us are NOT going to just have these 13 garments in our closets. But wouldn't this make a grand travel capsule wardrobe? Maybe THIS is what I'm packing for Paris…
So yes, I did in fact re-arrange some of this list! I suspected that I might…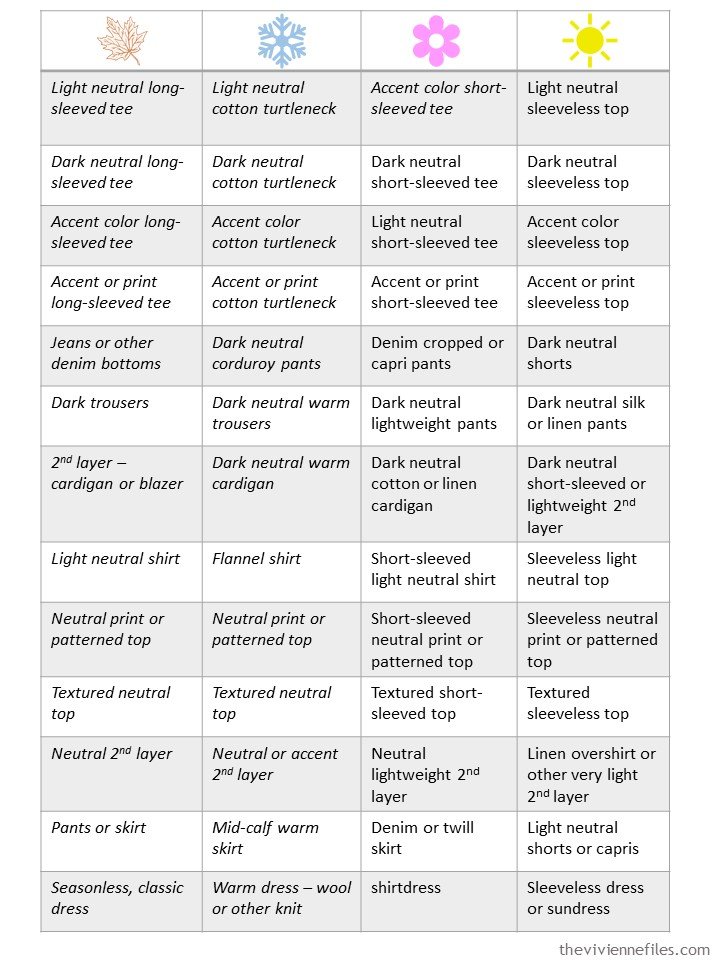 A little brightness or lightness in a wardrobe feels good, doesn't it?
love,
Janice
p.s. 3 years ago, we shared a wardrobe of a heroine who flew frequently for business. Her travel capsule wardrobe was based on a photograph of a black and yellow broadbill!