January 29, 2020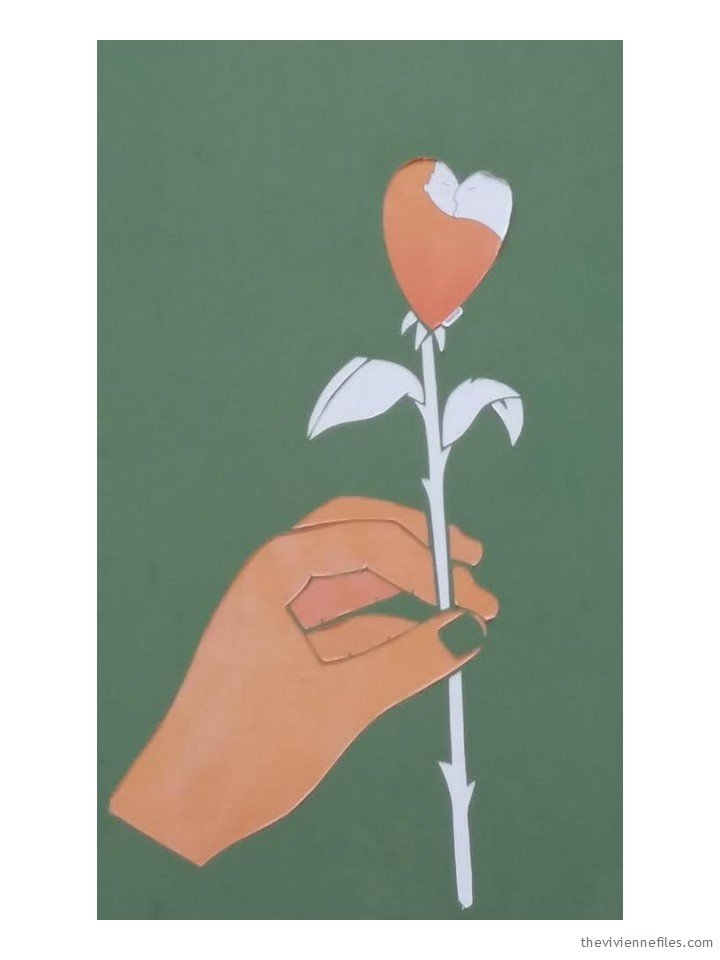 I'm back! And it was glorious… Any time I get to spend that much uninterrupted time with Belovedest is going to be great, but this trip was truly special. Today and Friday I'm going to try to share some of it with you. If you're planning to go to Paris any time soon, I've got some suggestions, and if you can't make the trip, travel along in your imagination!
We left mid-day Saturday, with stunningly cheap tickets on Aer Lingus, the Irish airline. This of course meant that we connected through Dublin, which was quite simple. The most difficult part for me was wanting to just stay in Ireland! But Paris beckoned…
What did I wear for this epic 2 day trip? Why, my argyle cardigan of course! (This isn't the one I have – mine is about 15 years old, but it's still lovely…)
I've said it before, but your travel outfit (if you're going from the US to Europe) is critical – you're going to be sitting in it on the plane(s), but moreover, you're probably going to spend much of your first day of your vacation wearing the same outfit! Make sure you love it…
What did I pack? Well, I wanted to make it as easy as humanly possible for myself. Since my fibromyalgia can be pretty tiring, and walking 10 miles a day in Paris can be pretty tiring (!), I wanted to have a pretty much brainless travel capsule wardrobe. I don't know that I can get more simple than this:
I literally packed all of my tee shirts and turtlenecks in a travel sleeve, in the order in which I planned to wear them. Each morning, I could just grab the top tee shirt, the sweater and pants (or dress) that were up in the rotation, and then have a conversation with my feet about what shoes to wear!
And then I grabbed a scarf…
(okay, I only had 1 of these scarf rings…) I folded the scarf on the bias, tucked the 2 long ends of the scarf through the scarf ring, and I was done!
On the days when I wore my argyle cardigan again, I wore my sparkly black scarf with it. But I did indeed wear SIX DIFFERENT Hermes scarves within 8 days. I was very happy; other people might have thought I was nuts, or overly "status-y," but I enjoyed every second of it!
First Trend Spotted
You may wear athletic shoes almost anywhere. The majority of people we saw outside of the law/finance neighborhoods were wearing Adidas, Veja, Nike – you name it. I wore mine frequently, and I believe that Belovedest wore his every day. At no point in time were we inappropriately casual.
And yes, it was fashion week…
Second Trend Spotted
Paris has embraced the fabric tote bag in a big way – we saw relatively few paper shopping bags, almost NO plastic bags (except some knuckleheads packing produce into them in groceries…), but hundreds and hundreds of canvas or lighter cotton bags. When we made purchases, everyone asked if we wanted bags, and reminded us that we paid a few cents for the bag if we took them. Hallelujah for small steps of conservation!
Where We Stayed
Belovedest is enamored with the Marais – on the north side of the Seine, north of the Centre Pompidou and including the Picasso Museum.
So we chose the Hotel du Petit Moulin, which honestly used to be a bakery.
Our room was on the 2nd and a half floor – seriously! We took the elevator up to the 2nd floor (which would be the 3rd floor in the US, but whatever…) and then climbed a handful of stairs to our door.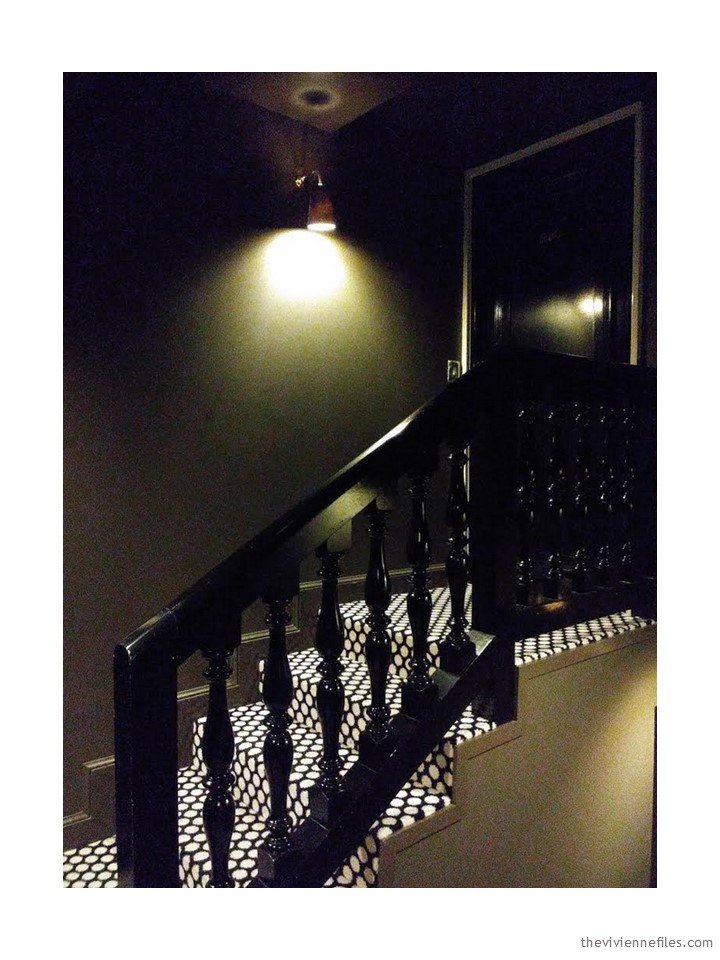 These are views of our room – the "painting" is a pair of sliding panels that took the place of curtains. THIS is an idea I'm going to steal in the years to come!
And the vintage mirror in the modern bath was genius. Another idea I might shameless copy…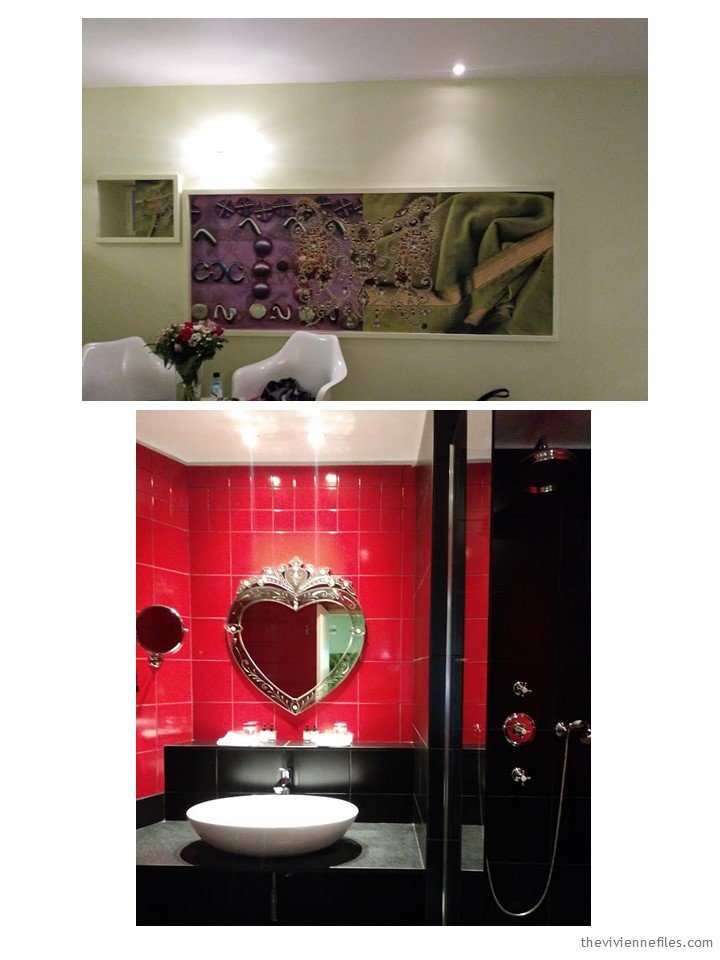 It's a great area in which to stay during Fashion Week, because dozens of brands open up "pop-up" showrooms for wholesale buyers to see their stuff. Even though we mere mortals can't technically get into these shops, we can sometimes wander in for a second or two (until we're very politely told that it's not for us…) or just gawk into the windows. And we get to see all of the buyers scurrying about. Most of them are attractive but reasonably normal-looking young people. Some of them, however, are style statements of amazing… daring? Boldness? Individuality? Nuttiness?
Ours is not to judge…
If you're interested in staying out of the center of Paris, I can warmly recommend this hotel – the staff was lovely and helpful, and our room was a real delight. Having a comfortable haven after being out all day makes a lot of difference for a vacation! It's especially important to me these days, as I often need to nap for a bit every afternoon…
What We Ate The First Day
As soon as we had left our luggage with the staff at the hotel (they are used to this – millions of tourists arrive before the OTHER million tourists have checked out of their hotel rooms, so all hotels are continually managing the luggage overlap…), we made a bee-line to the Rue de Turenne, and to one of my favorite cafes in Paris, The Royal Turenne.
A special shout-out to Dominic and Abdul… They were SO kind to us, on mornings when we were so jet-lagged and in need of caffeine that we could barely open our eyes.
There are literally dozens of cafes like this all over Paris, and I've never been into one that I didn't enjoy. They are very much a part of their neighborhood, with lots of regulars who stop in for a quick coffee, or a very slow glass of wine. Find one very near your hotel and make it your second home when you're in Paris! After the 2nd or 3rd visit, the staff will start to know you and might even slip you the occasional extra croissant or cup of coffee…
We stayed relatively close to our hotel for much of the day – we took a break in the middle of the afternoon to check into our hotel room and put our feet up. A nap and a face wash made it possible to go back out for dinner without falling on our faces in the street!
After our break, we were hungry, and had NO dinner reservations! But we made our way back down the Rue de Turenne to the Cafe des Musees, home of some of the best boeuf bourguignon in the world…
Yes, snails. They're like tender pencil erasers, doused in a ton of garlic and butter. You can use up a half a baguette sopping up the butter…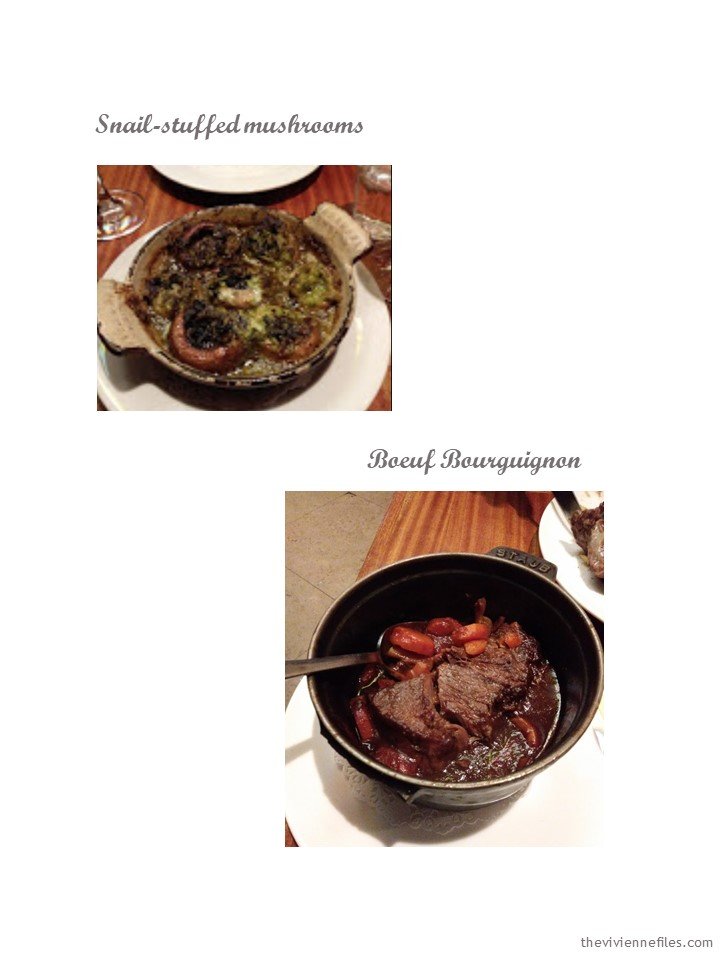 After these delights, and quite a bit more wine that might be wise when one has jet lag, we staggered to bed!
Day 2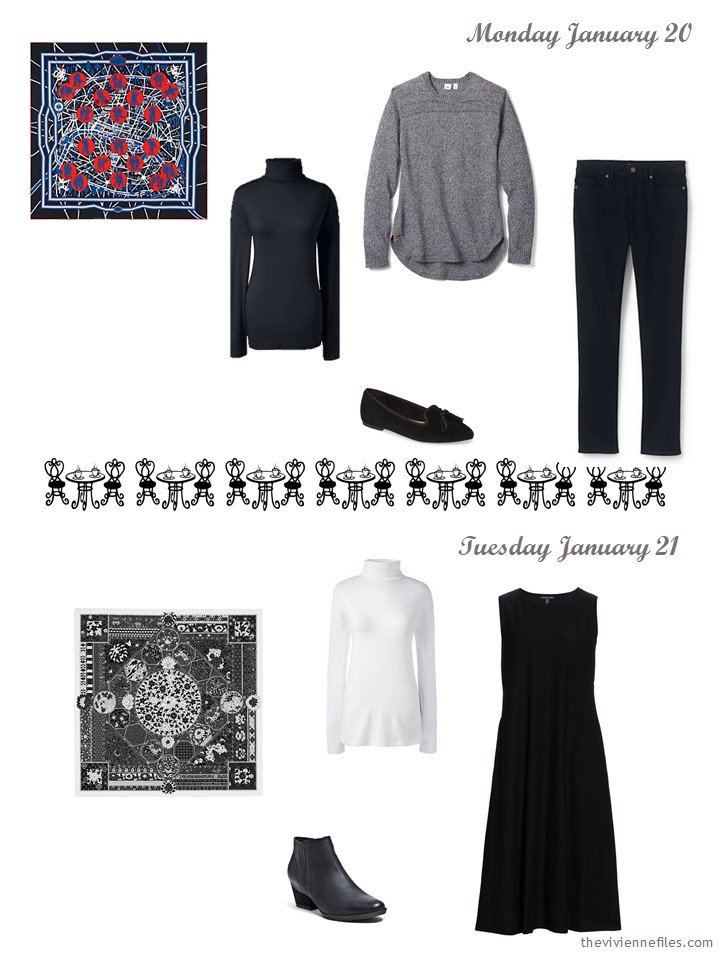 (see how easily I was able to get dressed?)
What We Ate The Second Day, Part 1
Monday morning, we got up and hiked well into the 10th Arrondissement for some breakfast at a great place called Holybelly. They have 2 locations on the same street, and I'd go to either of them every day if I was in the area. Nice people, good food..
This glorious array is a trio of donuts with dipping sauce, some exceptionally tasty ham with bread and mustard, some cheese with some kind of thin bread, and scones with walnuts and something else tasty. The menu changes all the time, so don't fuss the details. This, plus some tasty coffee, was our breakfast…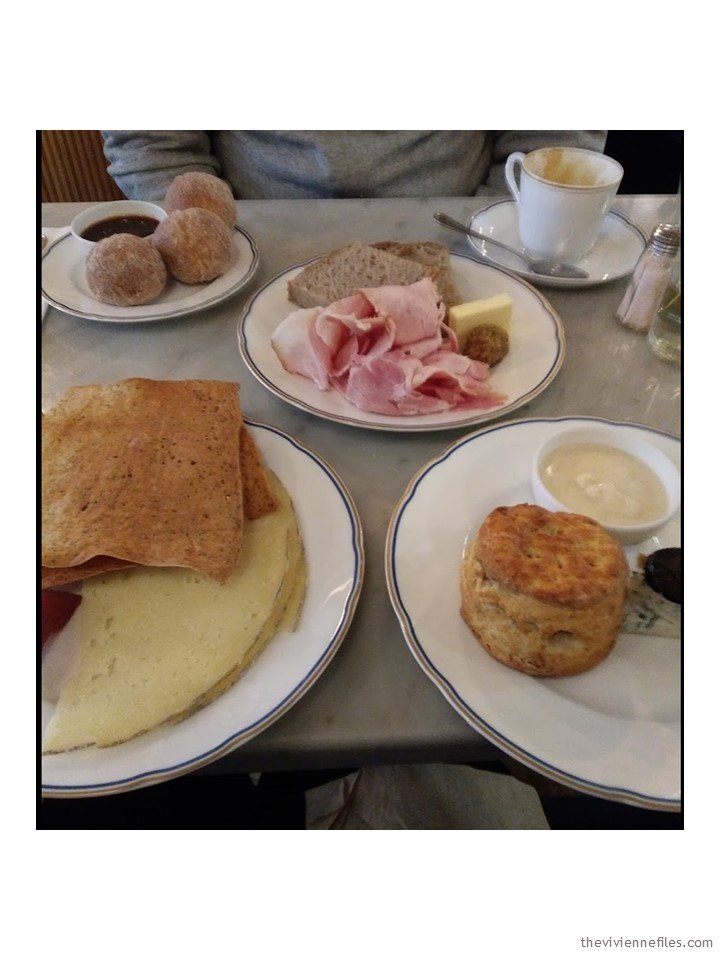 Monday was the day of dumbness, at least on our part. We headed over to one of our favorite museums, the Musee Guimet. It's Asian art, and it's seldom busy, and it's ALWAYS amazing…
And it's not open on Mondays… IDIOTS!
So we decided that we would walk up to another of our favorite museums, the Musee Cernschi, which is just on the edge of the Park Monceau. It, too, is mostly Asian, and always has special exhibits that are breathtaking. They also have one of my favorite Buddhas in the whole wide world there…
And they're closed until MARCH! IDIOTS!!!!
We walked a lot… Le sigh…
But I did find a handbag that insisted that it had to come back to Chicago with me. Have you ever quarreled in public with leather goods? It's embarrassing…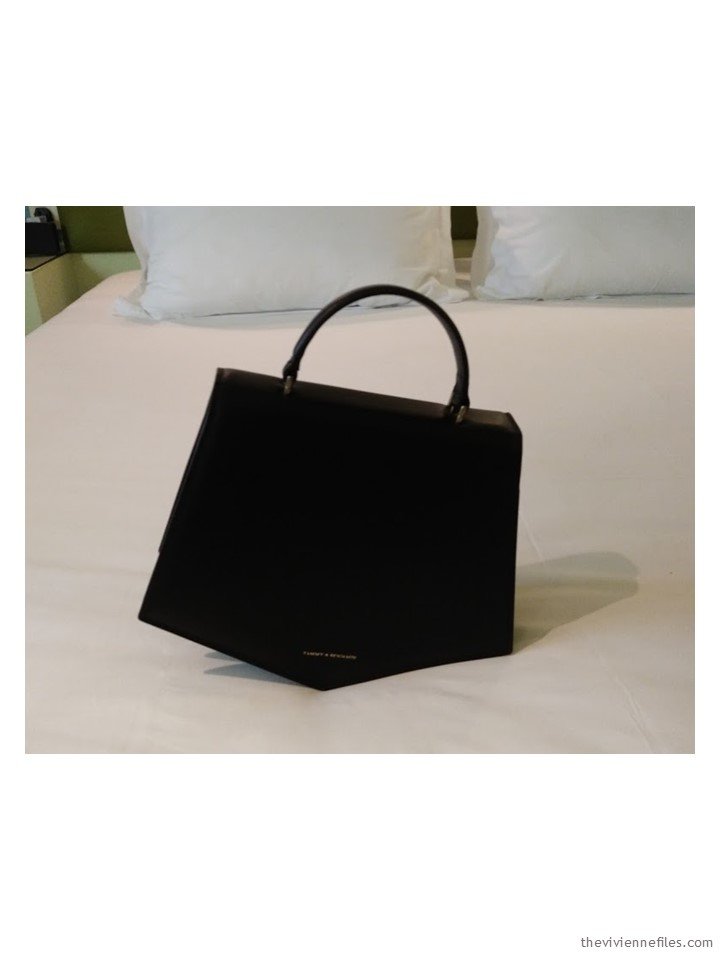 What We Ate The Second Day, Part 2
Happily, we were staying in the neighborhood for dinner. There's a small chain of restaurants owned by a group called Big Mamma, and we went to one of their outposts called Biglove. I had absurdly good pasta with mushrooms…
Be advised, ordering Italian food from a staff member who speaks French can turn into quite the jumble of confusion. It's entertaining to struggle to figure out what something is when the best explanation you get for an Italian word you don't know is a FRENCH word you don't know…
But my pasta was excellent, as was Belovedest's ravioli. We swilled large quantities of sparkling water, because the jet lag was catching up to us…
Third Trend Spotted
Wide-legged cropped pants. On men, on women, on children. They look a little big like split skirts, if the pants are wide enough. Yes, lots of glimpses of bare ankle sometimes, but often worn with socks that covered the lower leg, or tights that made a longer monochromatic line.
I have velvet pants in this kind of cut, as well as really cool Eileen Fisher lantern pants. I'm feeling better about them…
Day 3
After the museum debacle of Monday, we took a day off from trying museums and chose to go to the Galleries Vivienne for a while…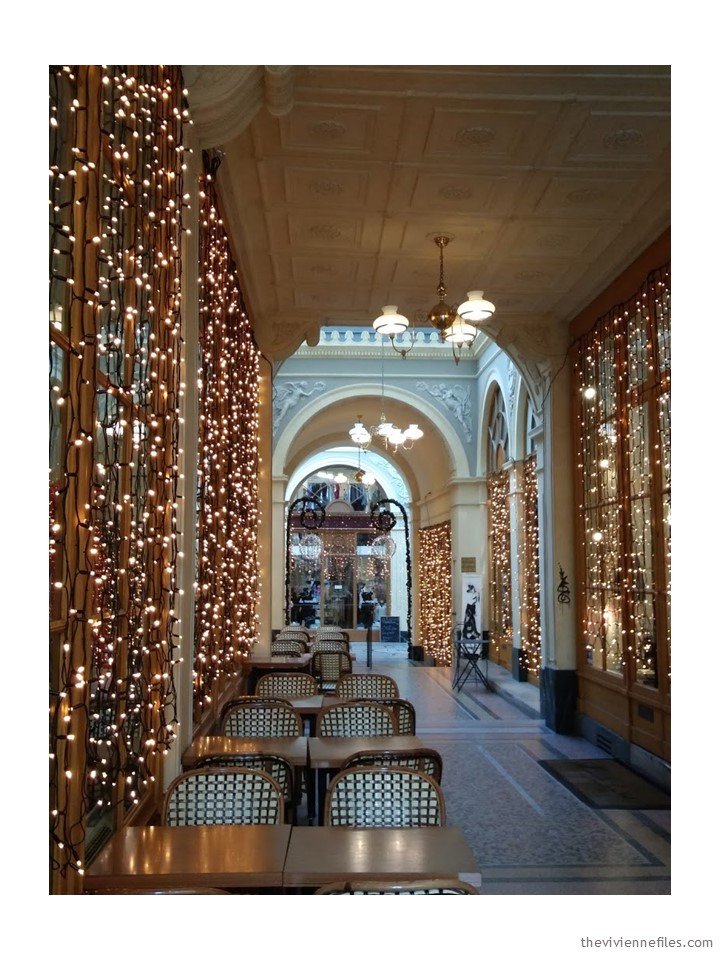 Something that I particularly enjoyed this trip was finding that a lot of holiday decorations were still in place almost a month after Christmas! On long, dark winter nights, or even on grey, overcast January days, this kind of decor really made life a bit brighter. I'm pretty certain that a lot of people were doing the same in their homes – we saw lots of Christmas trees that were just beginning to be taken to parks for recycling this week. There's no reason everything has to come down on Christmas Eve (in retail…) or New Year's Day, or even the 12th day of Christmas. Why not call it winter decor, and live with it for a while?
What We Ate
There's a Le Pain Quotidien just a few blocks from our hotel, so you KNOW that we would be there. I'm a big fan of LPQ, in any country…
I'm struggling to remember where we ate dinner. Seriously! I'm writing this the morning after we got back, and I'm just drawing a blank. If it was amazing, I will write about it later…
Fourth Trend Spotted
Poodle coats. This could appeal… And plaid coats, still. In fact, the entire coat world seemed big and bulky and roomy and cozy as heck. I was wearing a Barbour quilted jacket that I've had for ages, and I looked quite compact and almost svelte next to a lot of these giganto-coats.
With that, I think I should take a nap and tell you all of the other goodies on Friday. I've made an unusual decision about my own wardrobe, which I'm eager to share with you!
love,
Janice
p.s. Two years ago, I tried to see how versatile the 2018 color of the year (Ultra Violet!) might be…