November 13, 2019
By the time you read this, I should be back from a long weekend in Paris. Yes, 4 days… (in fact, literally the moment I was getting ready to walk out the door to the airport, I was SMACKED to the floor with back spasms, and have spent the entire time since then sacked out in bed, or sitting in the jacuzzi in my building, trying to recover… sigh…)
It was somewhat impromptu – friends were going there, and we talked so much about what we might do if I was going to be there too… I'm weak!
This painting sings to me. It feels like black, white and denim, which is my entire wardrobe right now! (I've lost interest in accent colors for myself – I can't explain why!)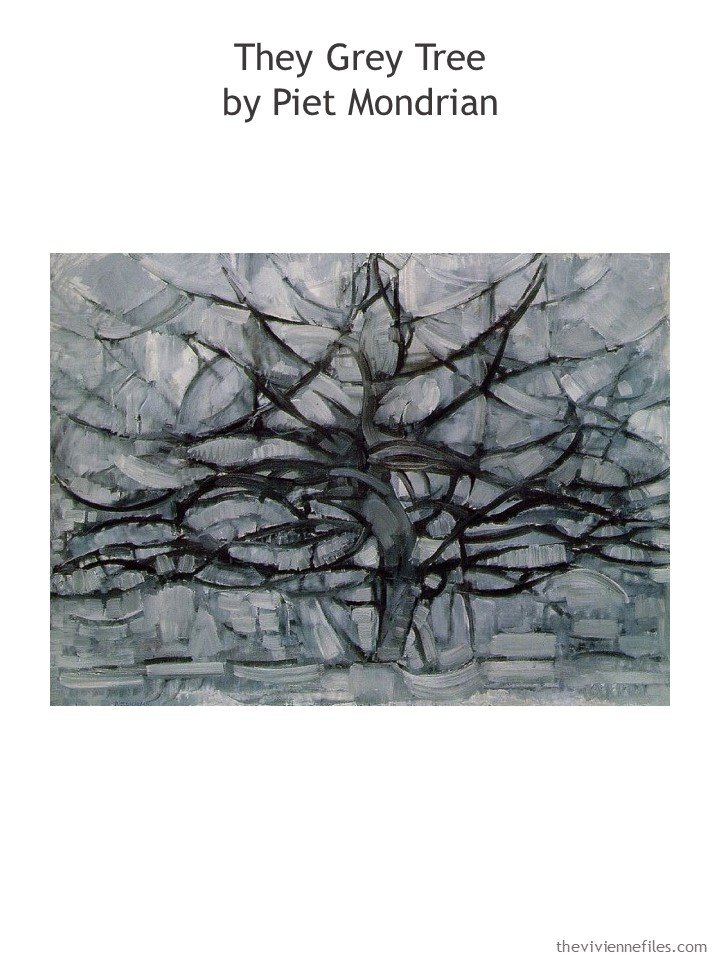 My original plan was to pack all dresses, but then I realized that there was a rugby match that I might attend, and that changed everything! Once I decided that I needed to pack jeans and sneakers, I decide to just pack all pants and sweaters…
These, of course, aren't exactly my clothes, but you could pick me out of a lineup based on what I'm sharing with you…
Got to have some stars, right? And I really like these lantern pants! They are indeed short, but with black socks and my (VERY water-resistant) Blondo boots, they are cool. I enjoy the occasional cool break from tradition!
I have to wear stripes at least once a week or my heart shrinks…
And I'm still in the middle of a big crush on this cardigan. This outfit screams to me of sitting in a cafe taking notes on what catches my eye in the crowd…
The "normal" rules for Paris have changed – athletic shoes are fine. Jeans are fine. You still don't want to look like a total slob, but you don't have to worry about getting dressed to the teeth anymore.
I always toss in a couple of extra shirts when I travel. If I'm stranded for a few days in Paris (a woman can dream, right?) I will be ready!
This wardrobe might bore the socks off of most people, but I find it thrillingly complete and concise. After looking at colors SO MUCH OF THE TIME, black and white comforts me and gives me a personal clarity that I need.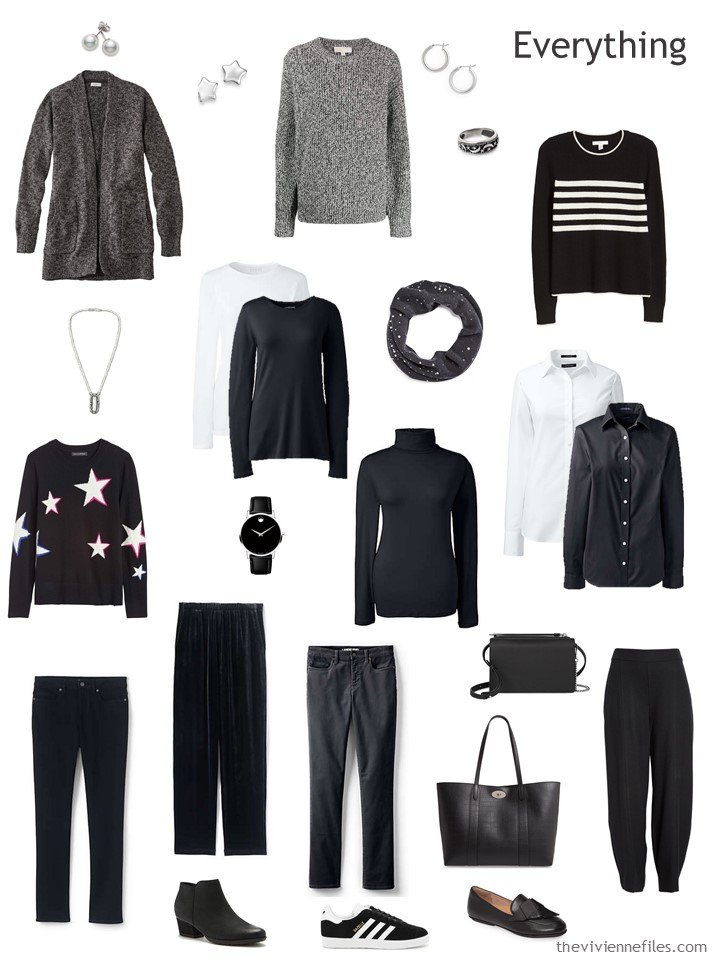 This is, as far as I can tell, a completely foolproof, "get dressed in the dark" wardrobe. There might be different combinations that I prefer, but really nothing is off limits!
While on paper (pixels?) it looks dreary to have 4 pairs of black pants, in "the fabric," these are all quite different – denim, corduroy, velvet and boiled wool. These are the kinds of subtleties that keep me from getting bored, but that are hard to "feel" on a computer screen.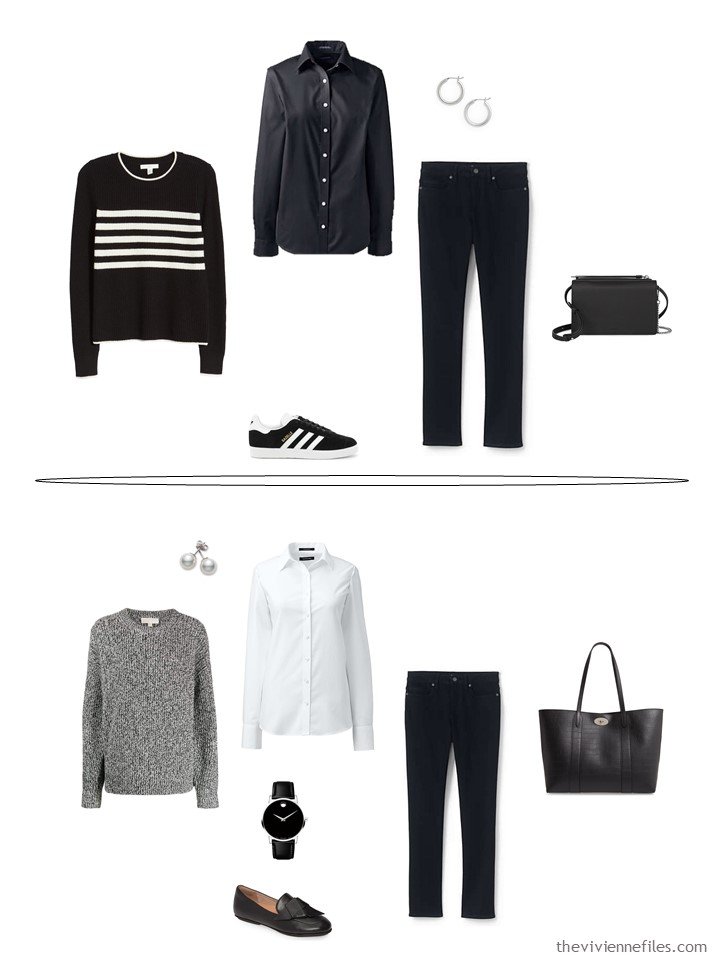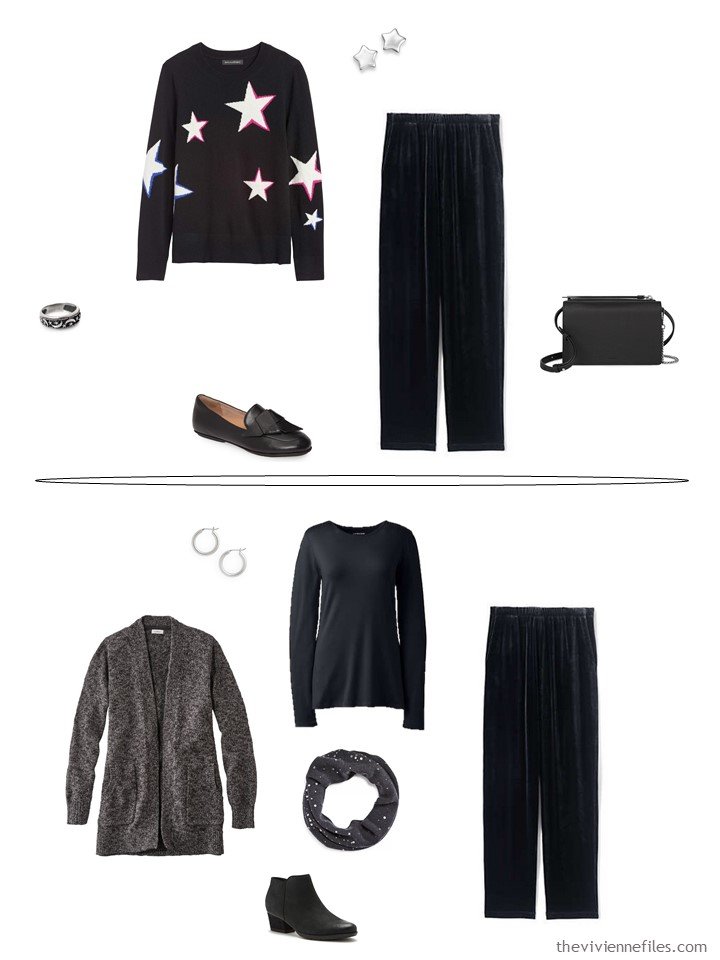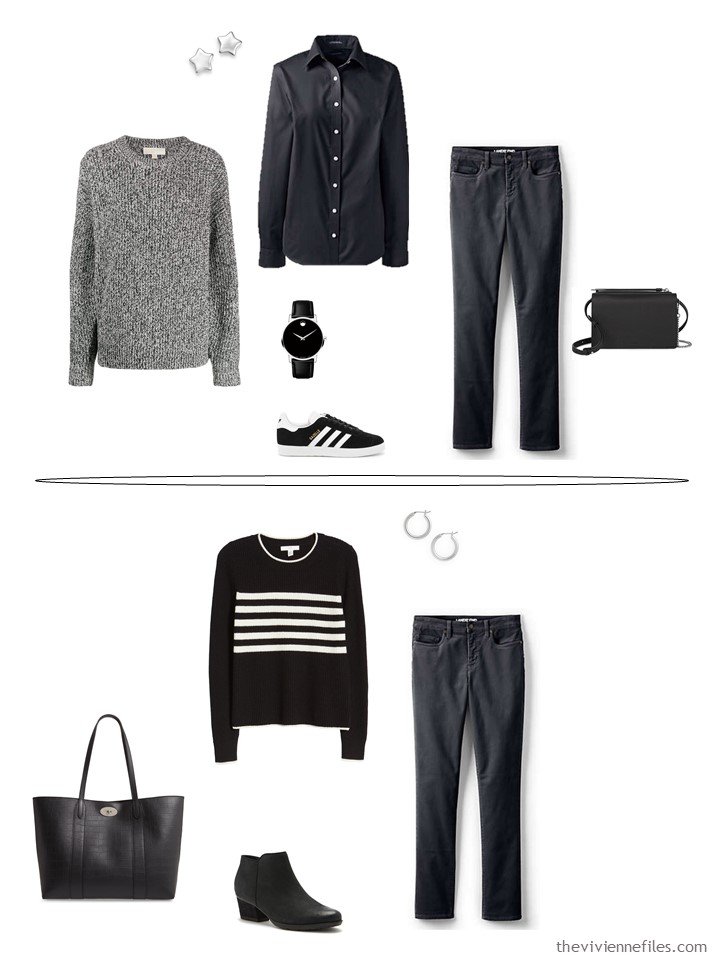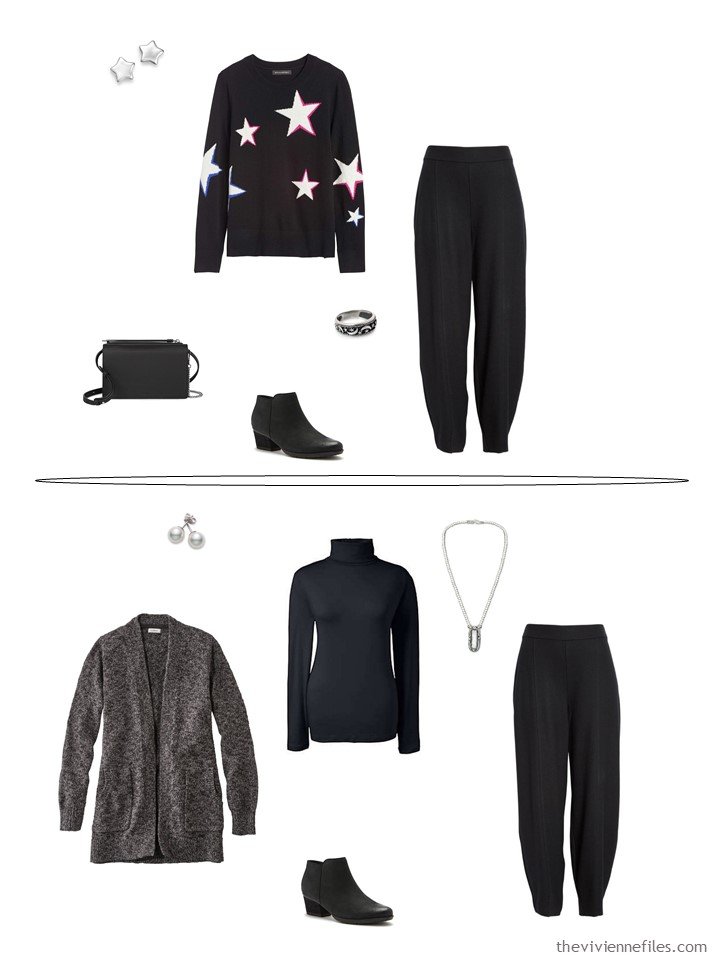 I'll have some other jewelry with me, and a couple of Hermès scarves, which will add a bit of interest to these outfits.
Friday I will share a bit of what I saw there!
love,
Janice
p.s. 2 years ago, we looked into the possibilities of a fool-proof suitcase in navy and grey, with purple accents… For all of you looking for a wardrobe for a casual trip, this is worth a re-visit!