November 13, 2017
A very dear reader is going on an exciting trip soon – with friends! – for 12 days. The weather could be cold, or it could be moderate and pleasant. What to do?
Plan, plan, plan…
Let's start with something that might be her travel outfit, and build from there:
I know that her jacket is purple, and that she wants to wear navy and grey. From that, I developed these guidelines. Your choice of motif could be floral, or paisley, or plaid, or whatever strikes your fancy (I'd probably try something with stars, knowing me…)
Washable fabrics are logical for travel, and the idea of being able to layer is sort of inherent in our whole project, but still important to remember as we work our way through this. These kinds of guidelines might seem like over-thinking things, but I find them useful!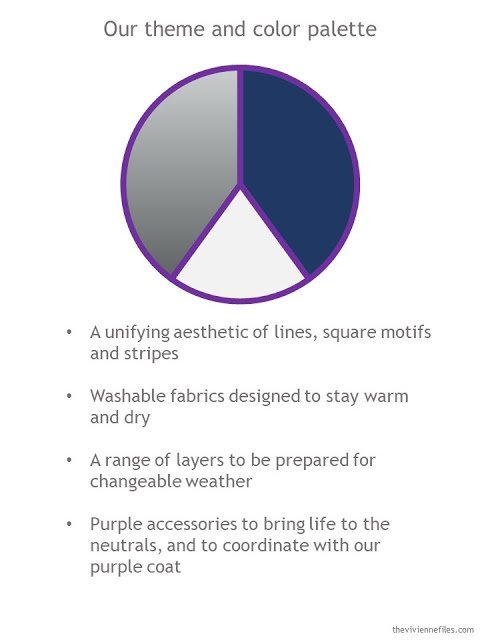 Since my goal is to make this wardrobe as foolproof and interchangeable as possible, I'm going to keep all of the pieces organized in a "Whatever's Clean 13" template. I've added the guideline at the bottom for temperature – the garments to be worn on temperate days will be more to the left, and the pieces for wet and nippy days will be on the right.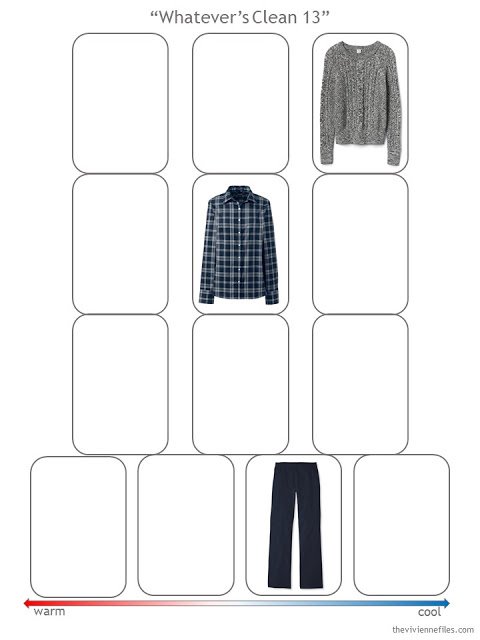 I'm thinking that it's generally easier to find grey clothes for cold-weather rather than warm, so I'm going to make the snuggly clothes choices in grey. In the rush of packing, make sure that you don't forget a warm hat or headband, and some gloves! The merits of whimsical socks are worth considering too…
After this first step, this is the template. At this stage, you could literally get dressed in the dark without problems, which is one of my goals!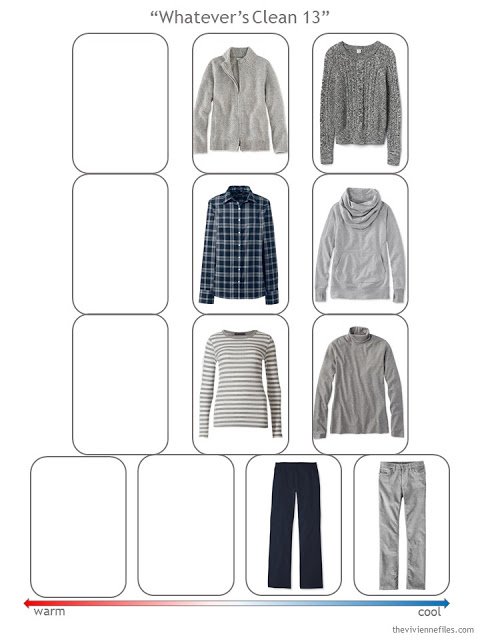 We're not really needing things for out-and-out HOT weather in this capsule, but a few options for days when it's sunny and pleasant. This longer cardigan would be a nice change of pace from the purple jacket on a day that permitted….
Never forget your sunglasses, no matter WHAT time of year!
(often, J.Crew pieces are available through Nordstrom, just in case they are among your favorite retailers…)
Here's the final template. Maybe layering a plaid shirt over a striped tee shirt would give you a headache, but it's certainly possible! And a velvet skirt might be a bridge too far for some people, but a skirt in a different fabric can give you a nice change from endless pants, as well as give you an option for a relatively dressy evening out.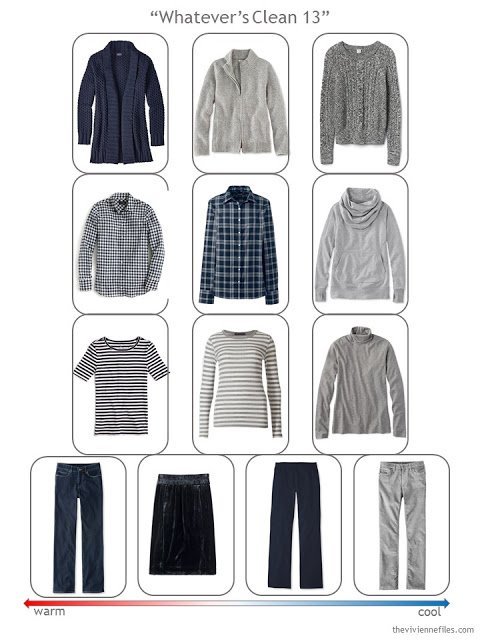 This is how it all stacks out with accessories. This of course doesn't show undergarments, toiletries, or nightwear. Warm tights and a set of long underwear wouldn't be silly at ALL…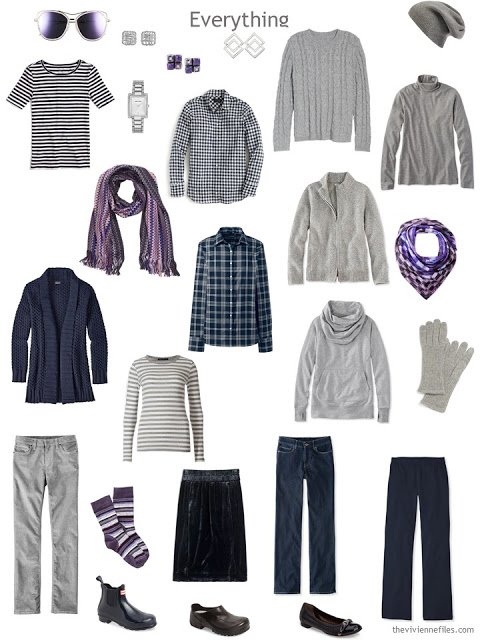 Here's where the wardrobe rubber hits the vacation road! Can everything work together to give a range of outfits suitable for whatever Mother Nature throws at you?
Heck yes! If it didn't work, I'd re-do it before you saw it!!!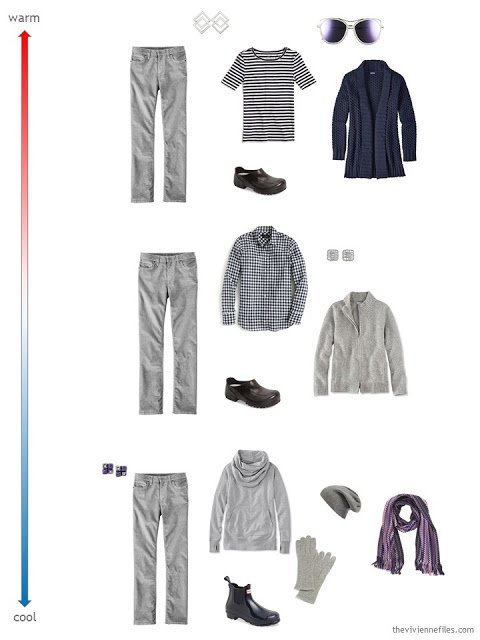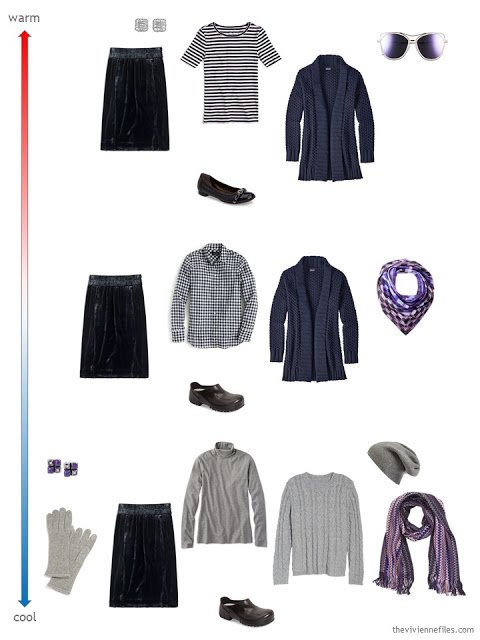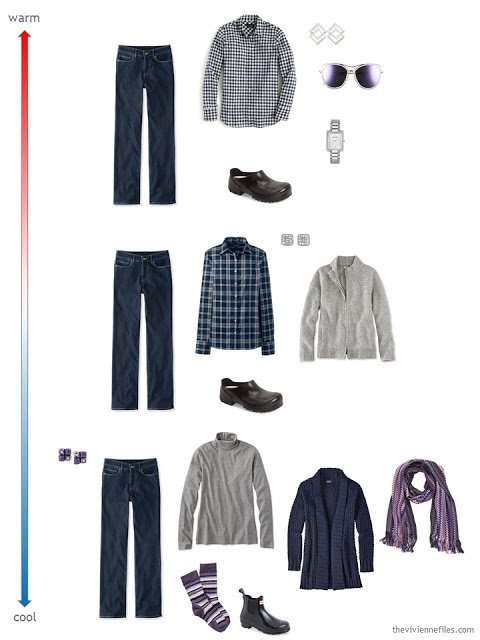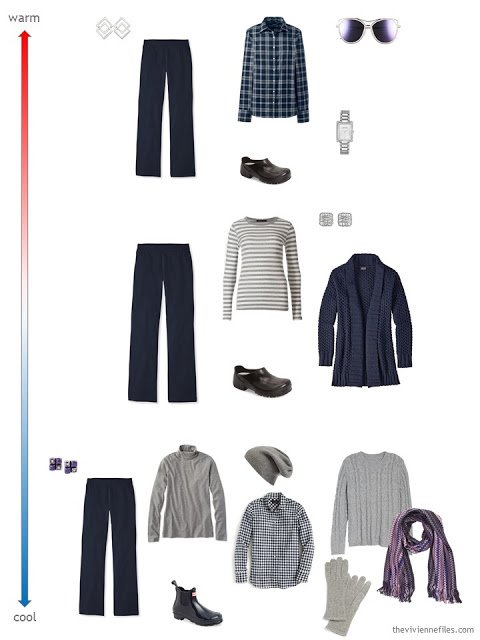 Of course you don't have to be planning a trip in order to think in these terms when you're organizing your closet and making purchase decisions; being able to fill in your own "Whatever's Clean 13" template from your own clothes can help you see what you could really use during the upcoming seasons.
love,
Janice