September 16, 2019
I love skirts – they're well worth considering as an alternative to relentless jeans and pants. With opaque tights and comfy shoes, they can be as comfortable as anything else you wear…
And if I was in the market for a skirt right now, this would be a leading candidate:
When you choose your skirt (or pants, if you prefer), make sure that it is lovely with most of your shirts and sweaters; in a simple, neutral-colored, timeless design…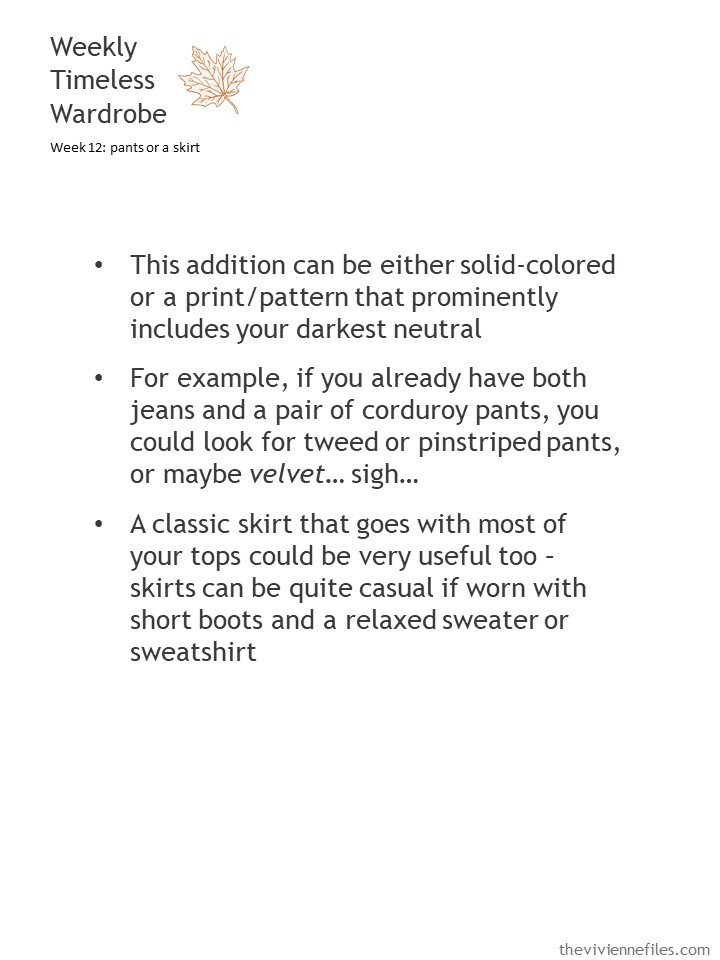 A denim skirt can be appropriate in a lot of places…
This dark brown skirt could be a perfect base for sweaters and tops in all shades of brown:
A matching skirt and sweater can be the base for all kinds of interesting accessories…
Your black cashmere turtleneck is perfect with a black tweed skirt; a black tee shirt, black blouse or black shirt would also be an easy morning outfit…
This could be a nice warm, but dressy, outfit for a winter work day…
And if you absolutely NEVER wear skirts (and I know there are some of you who feel this way), you can always dress up with fabric. I have velvet pants that I adore, and that I wear a TON in the cool weather… (although I do NOT have a bag like this!)
When the streets are really slushy and wet, a skirt can make more sense than pants; you can't splash the hem quite as easily, right?
love,
Janice
p.s. 2 years ago I was packing for Paris… It seems that I'm always packing, doesn't it?