September 15, 2017
THIS IS A SPONSORED POST. You almost never see that from me. Because I don't show pictures of myself every day, a lot of retailers assume that they don't ever need to send me clothes or credits of any sort… silliness! Talbots very generously gave me free reign on their site to pick a couple of pieces, and I had great fun choosing…
Belovedest and I leave for Paris on the 20th – we try to go somewhere lovely to celebrate his birthday every year. This seemed like the perfect opportunity to choose a couple of pretty, somewhat romantic pieces that would integrate really easily into my "mostly black" travel plans…
This is what I chose:
The bow on the cardigan is really a pin – which is great! I'll probably use the bow somewhere else – on my black cardigan? – and wear this cardigan without a pin. The cardigan is amazing – the four buttonholes on the cuffs are REAL, which is practically unheard of in this day and age!
The lace top has a velvet tie at the neck, and a small velvet band on each sleeve where the sleeve releases into the slightly flared cuff. I love the sleeve length here – I can wear a simple bracelet, and still not be dragging anything through my dinner plate…
When you fly to Europe, you have to be comfortable on the plane, of course (but it's only about 8 hours – sort of like a normal work day?) but you also have to be prepared to wear the same clothes through most of the following day. Typically, you can't get into a hotel in most place until mid-afternoon… We're staying in the Marais neighborhood, where jeans and New Balance sneakers are practically a uniform; I'll be fine!
I'm packing for this trip with quite a few constraints – we're staying in an apartment that will be (a) small, and (b) up quite a few flights of stairs, so I'm going with a really small suitcase. Our location is within a block of a "Cinq a Sec" same-day cleaners, so we'll be able to have things laundered without a lot of effort. B doesn't want to pack a ton, so we're both going to deliberately try to keep things to a minimum. I have a desire to see how many different ways I can wear a pretty small number of garments…
So in the interest of small suitcases, I'm wearing BOTH my jeans and my athletic shoes on the plane…
This first cluster is the "dressing pretty" grouping. Ideal for dining out, but still appropriate for museum-ing and cafe sitting. Our vacation is going to be very relaxed, without the break-neck hiking and sight-seeing that sometimes overwhelms us…
Since the first cluster provided me with a skirt and a pair of pants (as well as the jeans in which I'm flying), I'm going to now add a couple of sweaters and a couple of shirts – all of which can be worn together or on their own…
And finally I'm packing a couple of dresses, as well as a coat that will probably be carefully folded into my backpack (unless I find that I need it before we leave!). These dresses – especially the sleeveless one – are workhorses…
This should all fit easily into my suitcase – I'm going to maybe take 1 outfit for walking a 5K (I've been forbidden to run on my bad knee!) while B is running… And I'll probably take more scarves at the last minute, and a small metric whack-ton of jewelry…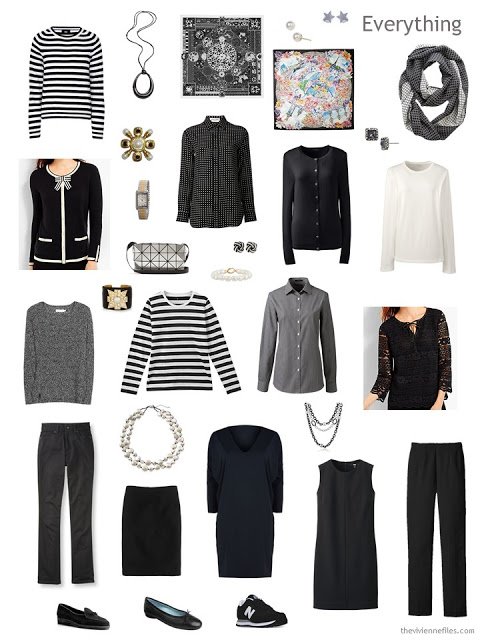 I've got options – many more than are shown here!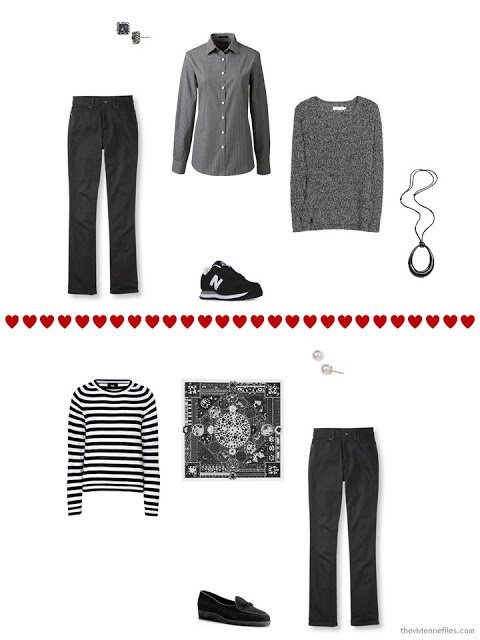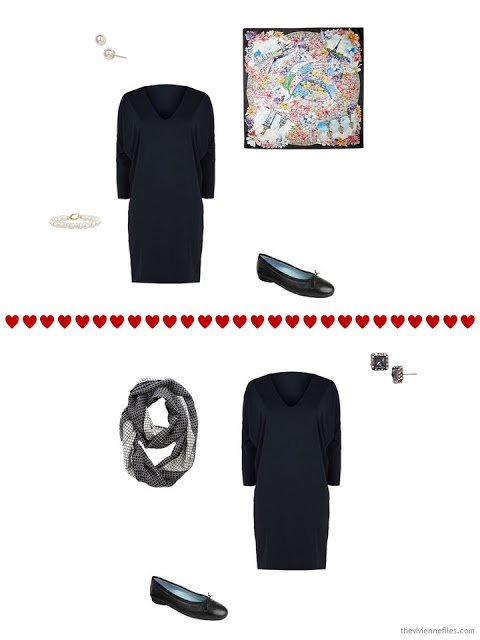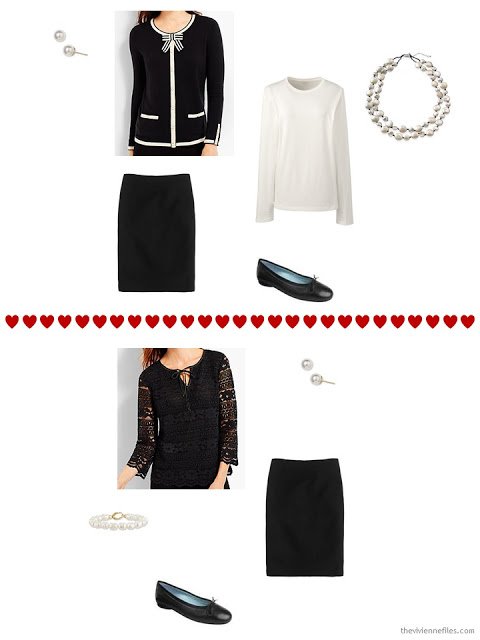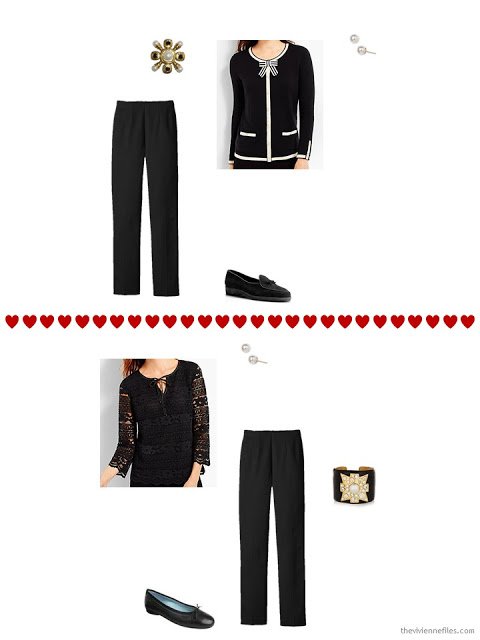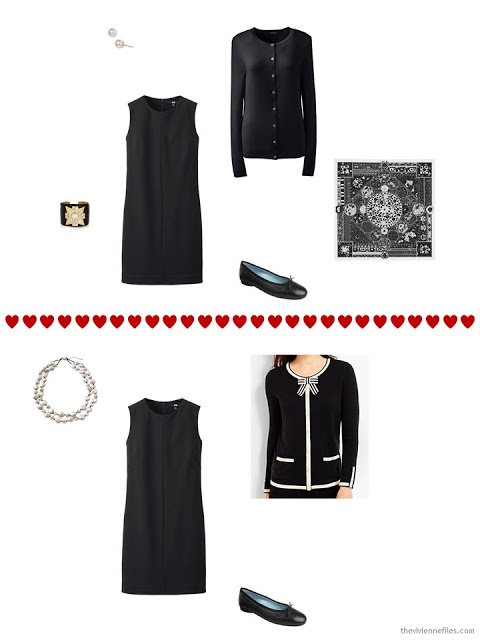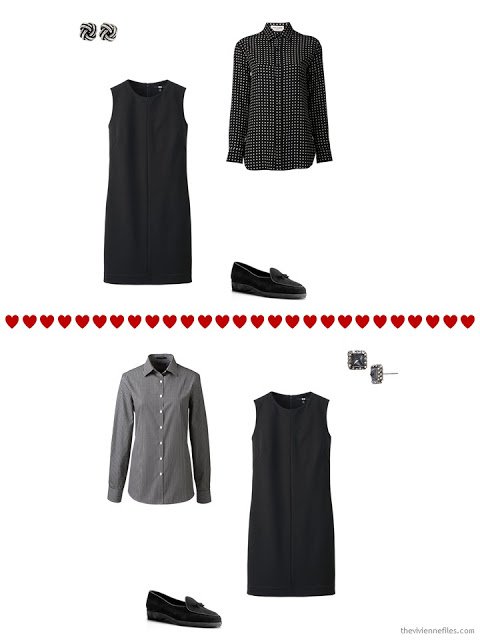 In addition to Instagramming lots of scenery, food, and other lovelies, I'm going to try to remember to show my outfit of the day every day… We arrive in Paris on the 21st, so be sure that you're following me on Instagram if you want to see the sights with us!
love,
Janice