July 22, 2019
Maybe bright, maybe a soft pastel. Heck, maybe the SAME color as last week, in a different neckline or fabric! Wardrobe accents are where you get to show your preferences, so listen to your heart!
As always, owning this garment is NOT a life requirement – think of this rather as a suggestion for building a wardrobe that makes life easier, and makes you look better…
And yes, we're going to get some patterned, printed or textured garments before the Autumn segment is finished! These early pieces are to help ensure that you've got the basics covered – both literally and figuratively!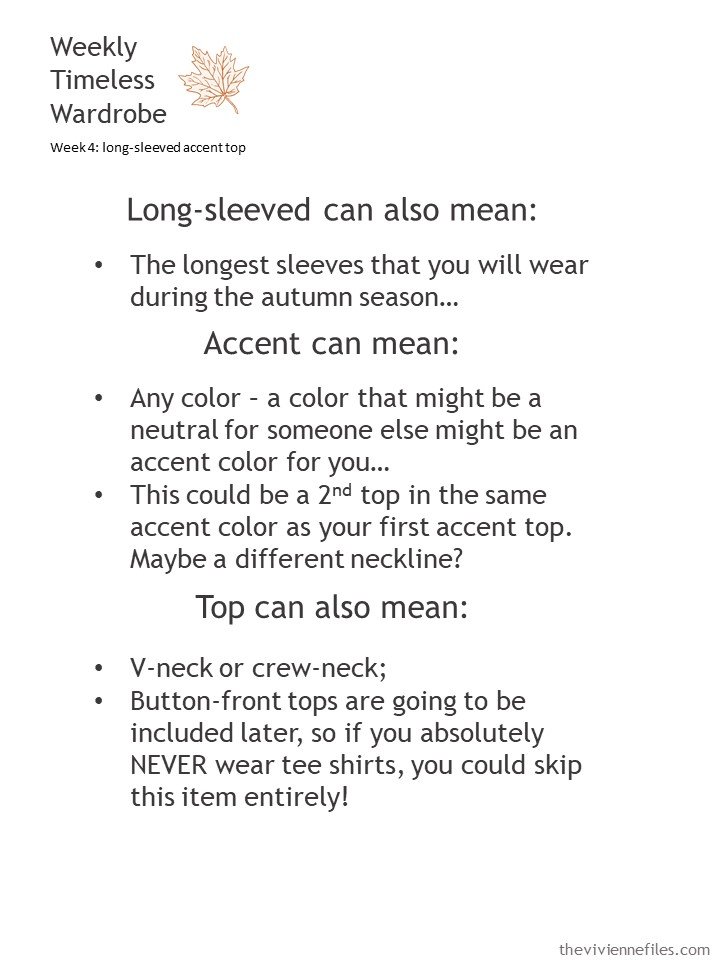 For many of the following outfits, you might notice that I've used much of the same pieces as our heroines were wearing last week. Yes, that makes my life somewhat easier (never to be scorned!), but it also shows how versatile simple garments can be… Getting your money's worth out of a purchase should be kept in mind, eh?
If I owned this necklace, I would want to set a simple background for those pearls….
I'm starting to really be convinced that all colors look good with grey! If the scarf doesn't appeal, some silver jewelry with a blue stone might be a nice touch…
Autumn colors! Tiger eye is so lovely with brown…
Maybe you wear a lot of navy because it's appropriate for your work, but you would like to bring a warmer autumn color into your outfit:
Beige is not just for warm weather…
This last outfit includes a cardigan and tee shirt that are NOT from the same company, but which appear to blend nicely together! Don't forget that when you have 2 different textures of fabric, the color won't ever "scan" the same way anyhow… And there are no color police to penalize you for blending rather than "dye-lot matching" your garments…
Have it occurred to anybody else that a 13-week "season" will give us 13 garments, which sounds suspiciously as if we are building a "Whatever's Clean 13" Wardrobe? I have to admit that I never imagined that the number 13 was going to be so important to The Vivienne Files. But I have always, when packing, assumed that I would wear 3 garments, and for some reason the idea of packing 10 things just seems tidy and easy to do.
Hmmm….
love,
Janice
p.s. 4 years ago our heroine retired from corporate life, and built a 4 by 4 Wardrobe in lovely shades of brown, beige and pink…
p.p.s. If you struggle to find shoes that accommodate your "tall" feet (i.e. the top of your foot is often irritated by shoes that are too "flat"), I suggest these. They're blindingly expensive, but look as if they would be very comfortable. And they were designed by the owner of Hanig's shoes, so you KNOW he knows what he's doing…