March 25, 2019
When I was younger, I seldom wore a denim jacket; I had one that had belonged to my husband, but it got donated somewhere along the line… For so many years, I wore suits or suit-y clothes that were too dressy to wear with a denim jacket (I thought).
But about 6 months ago, I bought myself this jacket, and I've been so happy with it…
It's deliberately built to be roomy, which I personally love – I might very well want to pile on a shirt and heavy sweater under here, and I don't want to tear the sleeves off of my jacket trying to get it on!
I tried to think of what good guidelines might be to choosing a versatile and timeless denim jacket: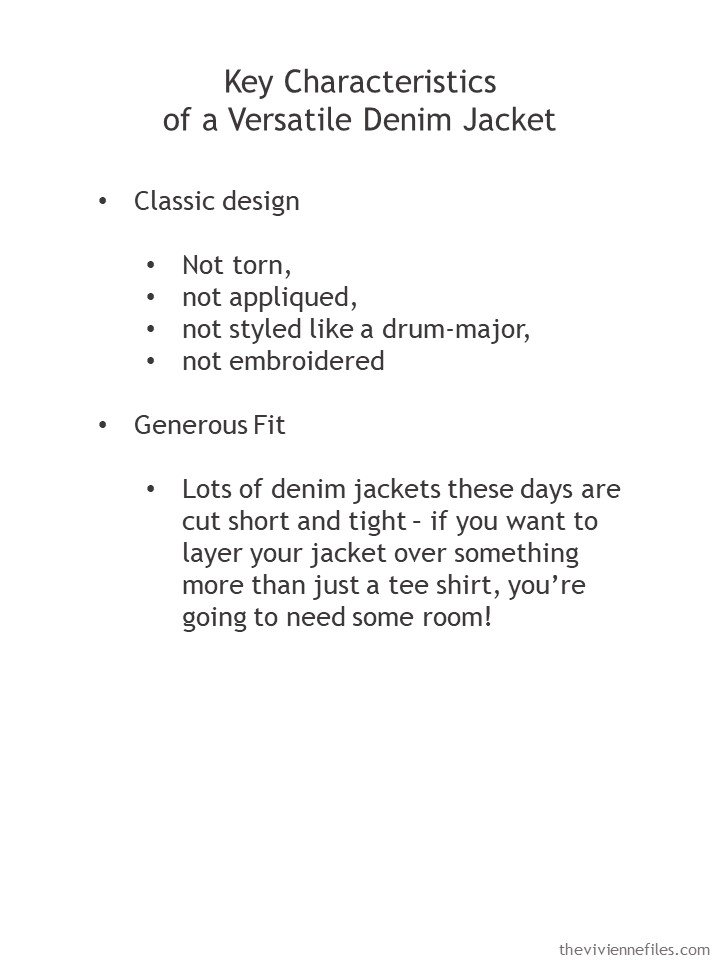 Fast forward to someone asking me last week if it was okay to wear a denim jacket over a black dress. Of course my response was a resounding yes! And that got me thinking about how VERY many ways a denim jacket might be worn…
If your dress feels too dressy, a denim jacket is the perfect way to ease it down into a more casual setting…
If your outfit feels very bright, denim is a good way to calm things down just a bit:
Of course, if the weather is a bit cool, your jacket can help keep you warm in your strappy summer dress:
The simplest outfit can look more complete when you layer something over your shirt or sweater. Khaki and white can be the base for any color in the rainbow, by the way!
Black and white doesn't look quite so stark when some denim is added to the mix:
You can tone down the "wow" of a bright top with some denim…
You might have to dress amazingly for your work, but you can relax your look just a bit with denim for your commute…
A somber outfit in a dark neutral feels more lively and relaxed with denim added…
And a solid column of a neutral color can always serve as the base for accessories and denim!
I'm going to see how many times I can wear my jacket this spring (before the temperatures soar!). I haven't even begun to consider how handy this jacket might be for travel…
love,
Janice