January 25, 2019
What if your trip is by car? And what if you're going to take your time, and drive from the single-digit temperature fun of Chicago to the balmy deserts of the Southwestern United States? And what if you're going to take your time – every day in a slightly warmer place?
I'm thinking…. Pack separate, but closely related, outfits for 4 different kinds of weather. That way you're prepared for each warmer day, and at the same time the "relatedness" of the outfits gives you options for interchanging your garments to adapt to unexpected conditions.
A basic application of this idea would look like this:
When you start out, you're going to need to be warm, so a couple of layered jackets, and a warm scarf, will take care of you. Later, when the weather is warmer, you can wear any of these pieces, as needed…
The second day, you might still want a warm sweater, as well as long pants and "real" shoes, but you might be able to toss you jackets in the back seat…
That 3rd day, when you wake up and you're on TOP of the covers, you know that you're somewhere much warmer. (or in a really over-heated hotel room…) Maybe not ready for shorts yet, and you're always going to want a cardigan in case you stop for lunch and the air conditioning is paralyzing. (sometimes, we drive with the windows open, even if it's not 100% warm… fresh air is hard to resist!)
As you near the end of your trip, you can start acting like the weather is GOOD!!!! I've included the red tunic with the tank top and shorts, because some of us don't like to show our upper arms all the time… When you stop for lunch, you can pull the tunic on and feel more appropriate, as well as ready for air conditioning.
Including your 1st day outfit, but NOT including your jackets, this is the wardrobe you have: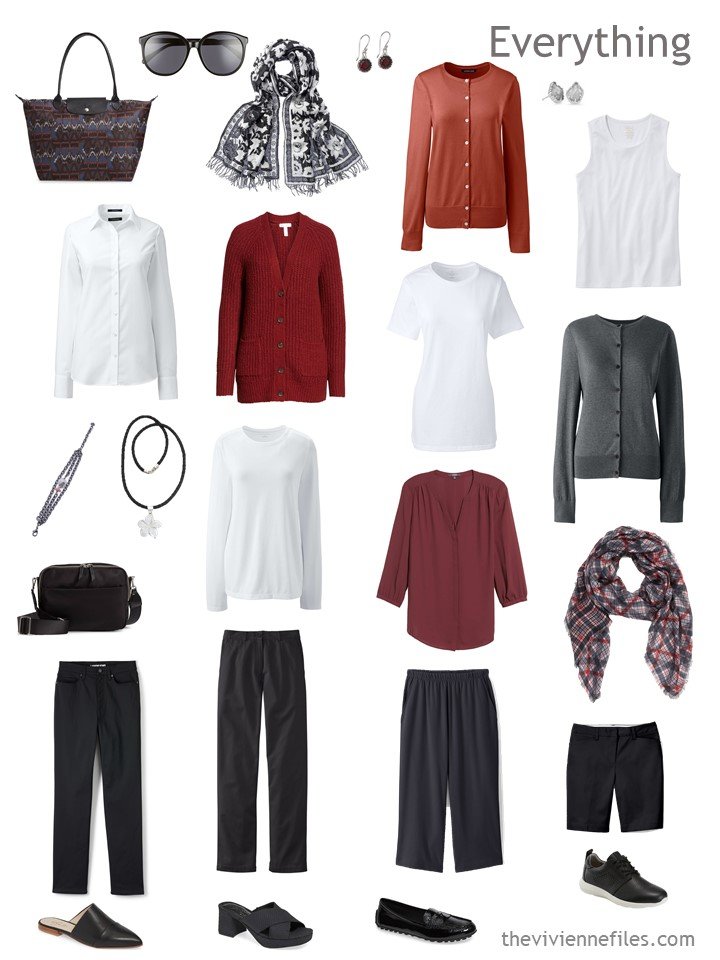 Of course I want to see how various outfits can be found within this assortment! But I was thinking that the options are very organized – structured, even. At least in theory, each of the white shirts can be worn with each of the black bottoms; you could "table" it to look like this: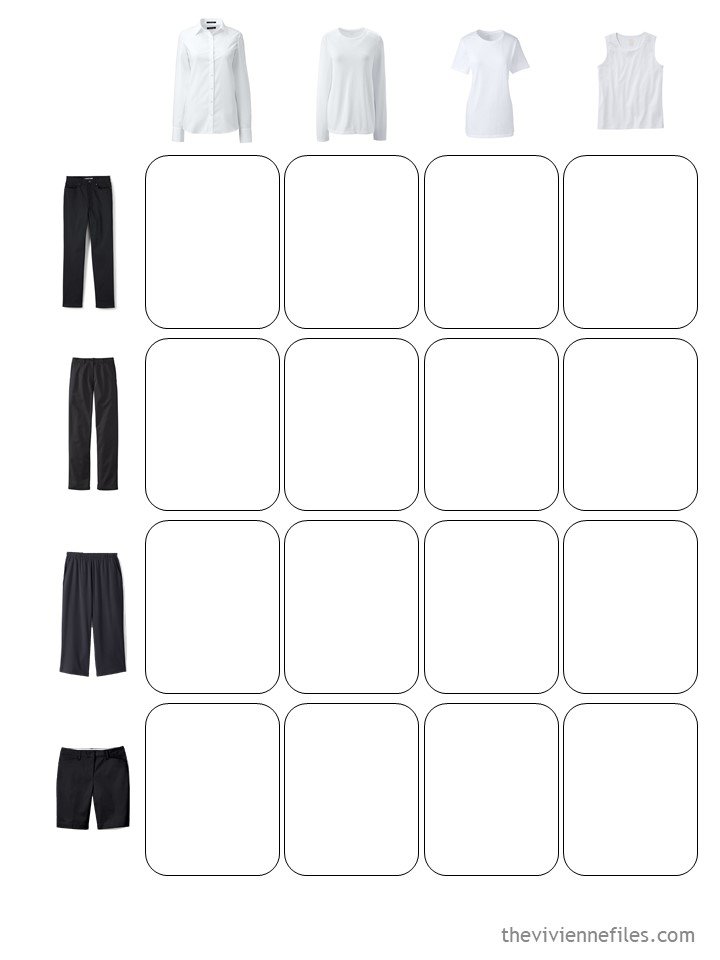 Let me expand this into 4 pages, so we can see the possibilities in more detail. A long-sleeved tee shirt, with the sleeves pushed up, can certainly be worn on a cool-ish day, with shorts. And your long-sleeved button-front shirt can double as a shirt-jacket over either the short-sleeved tee shirt or the tank top. All of these outfits might now appeal to you, but they are all possible…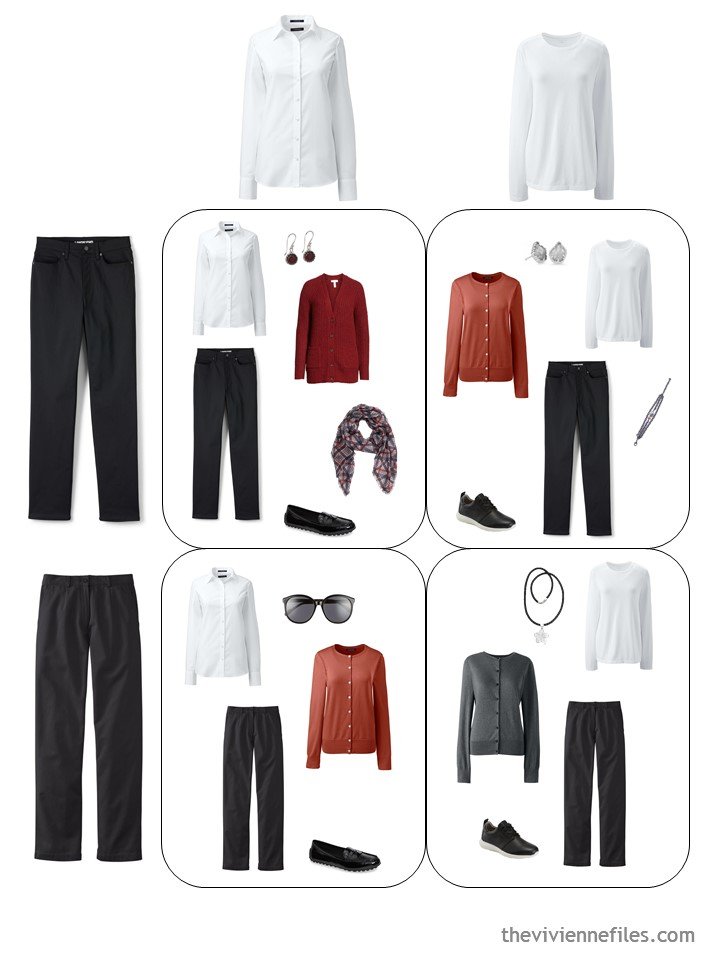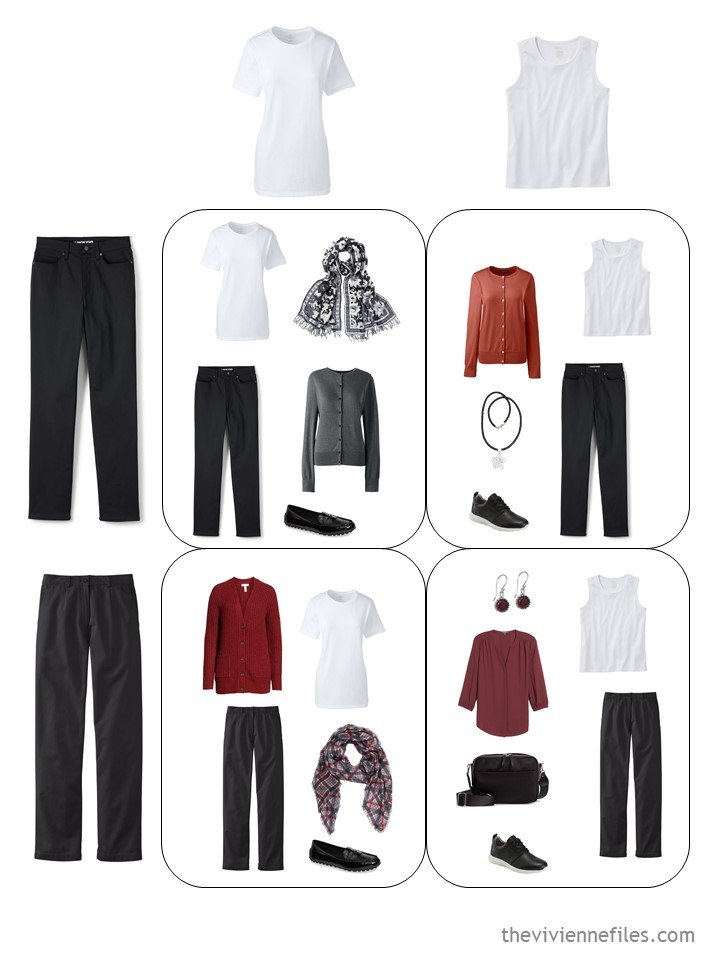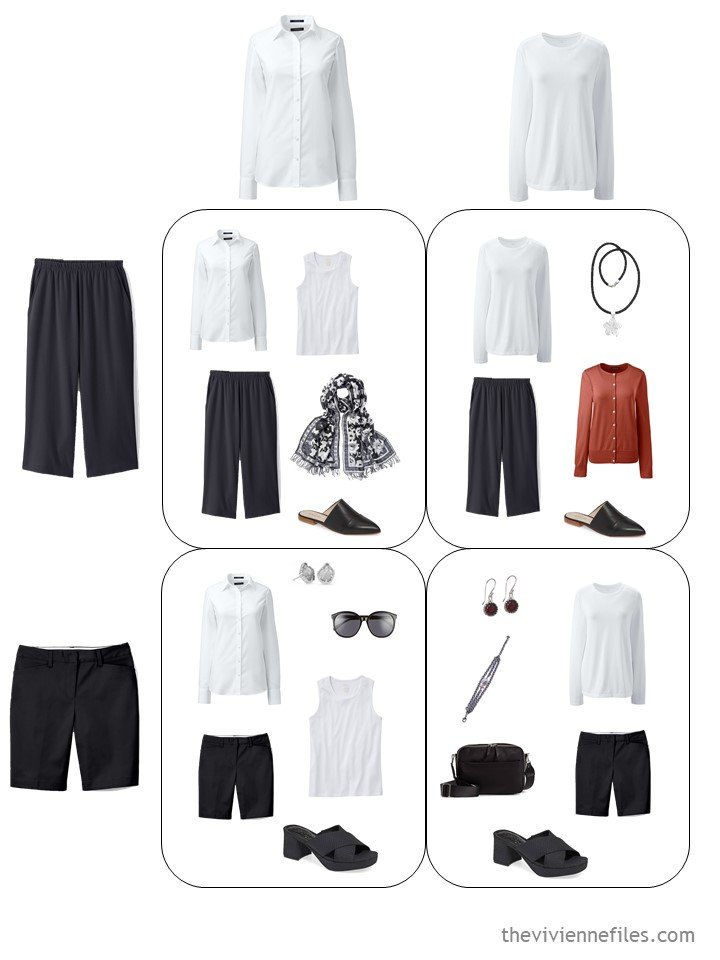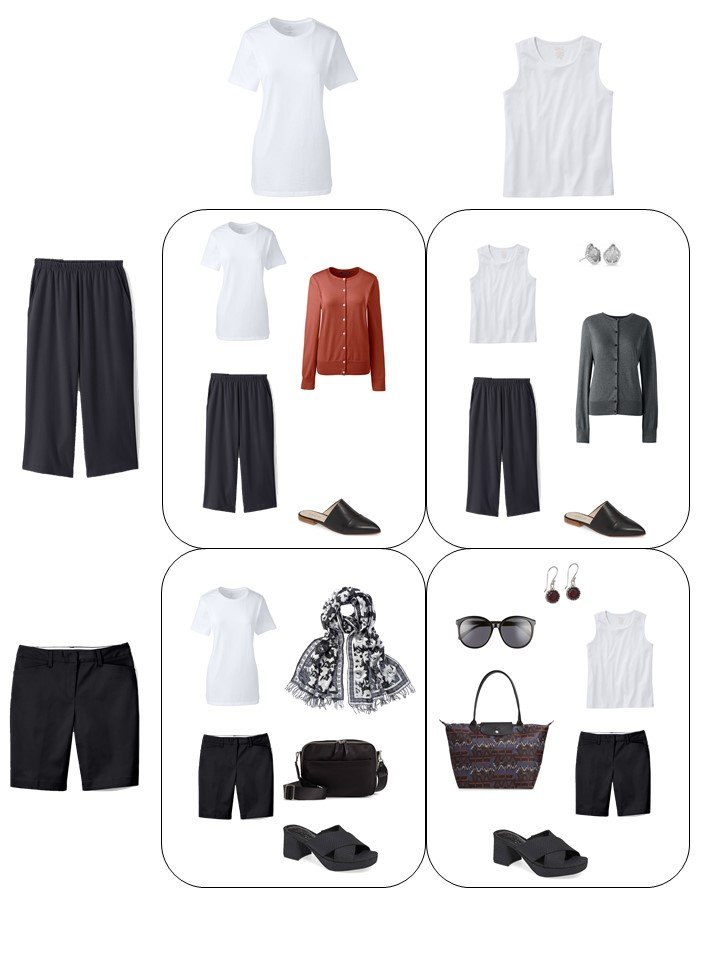 It is worth noting that the "reds" here don't all match. I could have used 4 cardigans in 4 different colors… maybe red, bright blue, dandelion yellow and amethyst purple? When you start with this black and white core, your options for accents are extensive!
If you're going to spend a lot of time at your destination, you will of course want to pack more "hot weather" clothing. And if you plan to spend a few days somewhere along your route, just pack another day or 2 of clothing in the appropriate weight. This idea could be very flexible…
love,
Janice