January 30, 2019
On New Year's Eve, I made the brave commitment to not purchase any clothing during 2019! My plan for managing this is to have 4 5-piece clusters each month from which I will get dressed. Because I spent so much of January in Florida, my normal wardrobe didn't really apply (when I'm there, I wear a lot of gym clothes, and just the occasional "normal" outfit…) and so I only put together 2 clusters for January.
But now, moving into February, I'm going with the original plan. Four clusters, 20 pieces of clothing. From this, I'm going to pack for 10 days in Ireland!
Two of these clusters should look pretty familiar:
This last cluster is for getting dressed up – we won't be in Chicago for Valentine's Day, but I'm sure I'm going to need to get prettied up some time in February!
(a warning about velvet tee shirts – if you get a really inexpensive one, you might end up feeling like you're wrapped in plastic wrap! Some of these fabrics do NOT breathe, and if you layer a cardigan over this kind of shirt, you will melt…)
I considered going through these 20 pieces and seeing how many combinations I could make, but I realized pretty quickly that it was going to be a big number! At this point, let's all just assume that I will be adequately dressed in February, eh?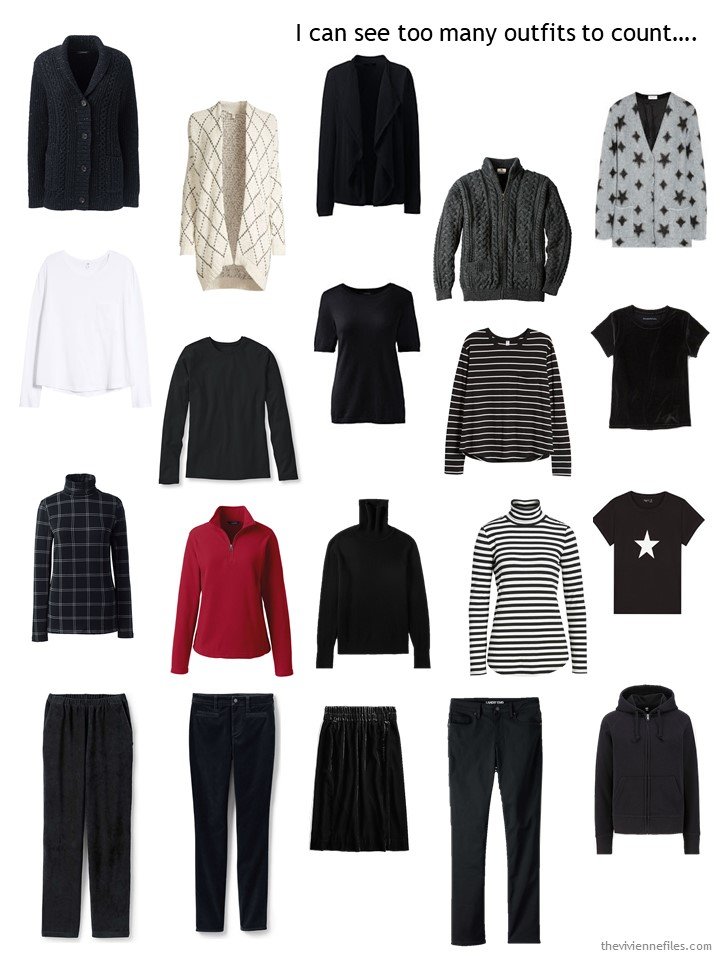 But let's think about TRAVEL!!! This is what I plan to wear on the plane to Ireland:
(a note on the earrings – they are sold in SINGLE earrings, so if you want a pair, you must order 2. What a world!)
I will be wearing this parka constantly on this trip! And that's glorious, because my (12 year old) version of this coat has Velcro-closure pockets which hold EVERYTHING I need for a day. No handbag! When we're out tramping through historical ruins, having my hands free is a good thing…
What am I packing? Not a ton; we're going to be in an AirBnB for most of our trip, so laundry will be available:
Warm and layerable are my 2 biggest criteria for this trip! My hiking shoes are shockingly ugly, but they are warm, water-resistant (maybe even water-proof, but I don't want to find out!), and comfortable. That's going to be most important for our adventures. The flats will be great to wear in a pub, or in town on a dry day.
This is everything from which I can build outfits: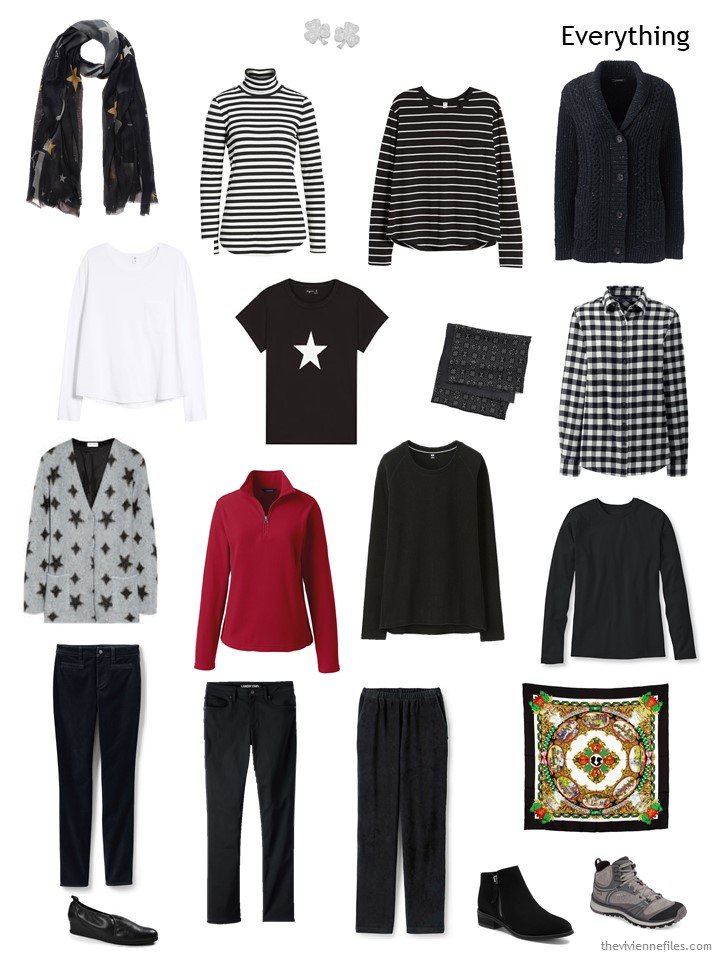 My primary concerns on this trip are to be warm, to stay dry, and to be appropriately dressed when we are with other people. I don't need variety, or a wide range of colors. The weather will be consistent, so I don't need to worry about that either! I think I'm in good shape with these pieces…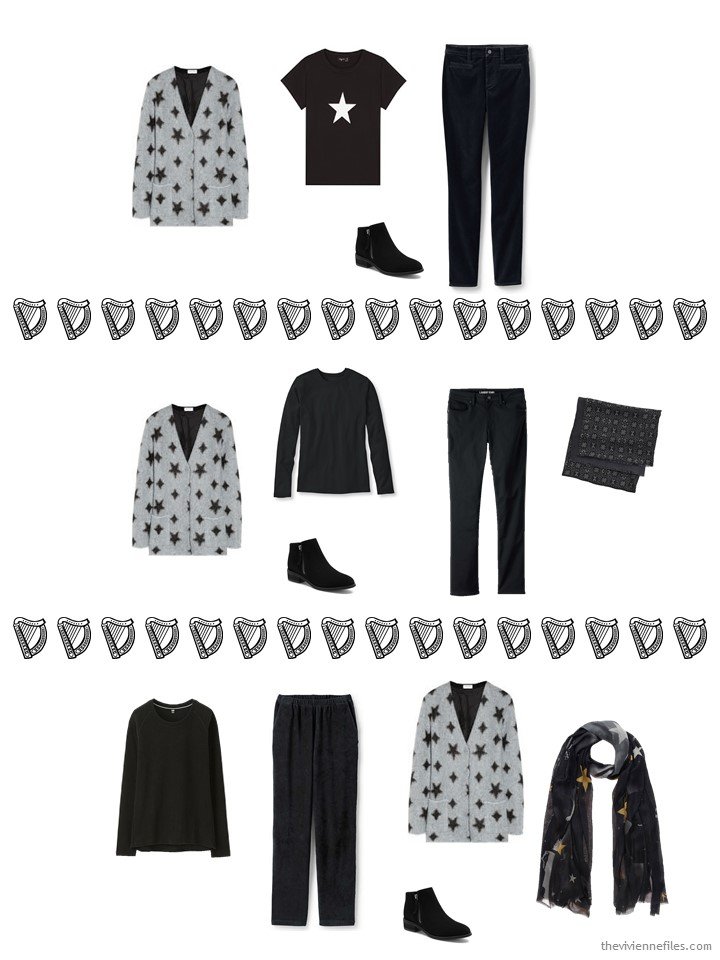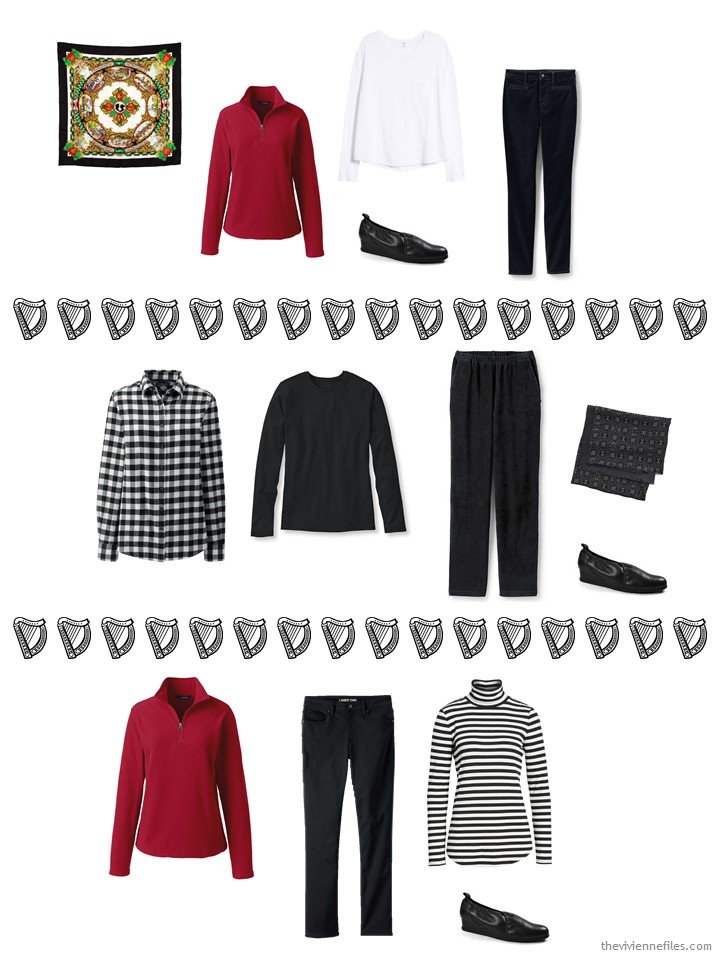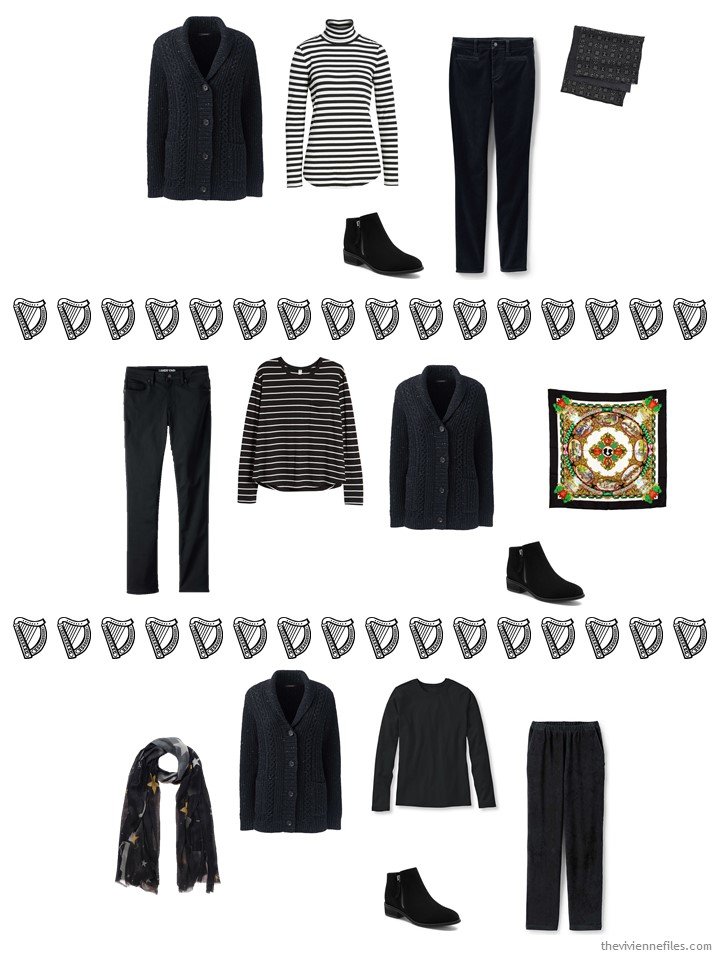 And I'm packing a bright green Ireland rugby winter hat! We're going to a match in Galway, and the team color there is green… Must support the local club!
love,
Janice