December 21, 2018
Yes, my trip was lovely…
I made 1 serious miscalculation when I packed – my coat that I wore wasn't quite warm enough! But I knew that Uniqlo carries quite nice long underwear, so I dashed in and grabbed another couple of shirts; that's not really an extravagance when you live in Chicago – I'll be able to use them a lot through the winter.
I had packed the printed top and the black pants to wear as pajamas – they worked out really well. The morning that I left, I had already packed everything except my backpack. I was able to smash my pajamas into a tiny ball and cram them into the bottom of the bag – my toiletries went in on top, and I was good to go! I had purchased the tights in Chicago before I left, because I packed a dress, and knew that warm tights would be key to being comfortable…
Every company seems to have their own brand name for the specialty fabric that they use for base layers. Don't get too concerned about who calls their stuff what – the key is that these are all synthetic fabrics that are both absorbent and breathable, as well as insulating.
But what was everybody ELSE wearing? The thing I noticed most was a lot of splashes of a bright goldenrod yellow. Here's what it looked like in a couple of store windows (excuse the rotten photo quality – reflections are insidiously hard to avoid!)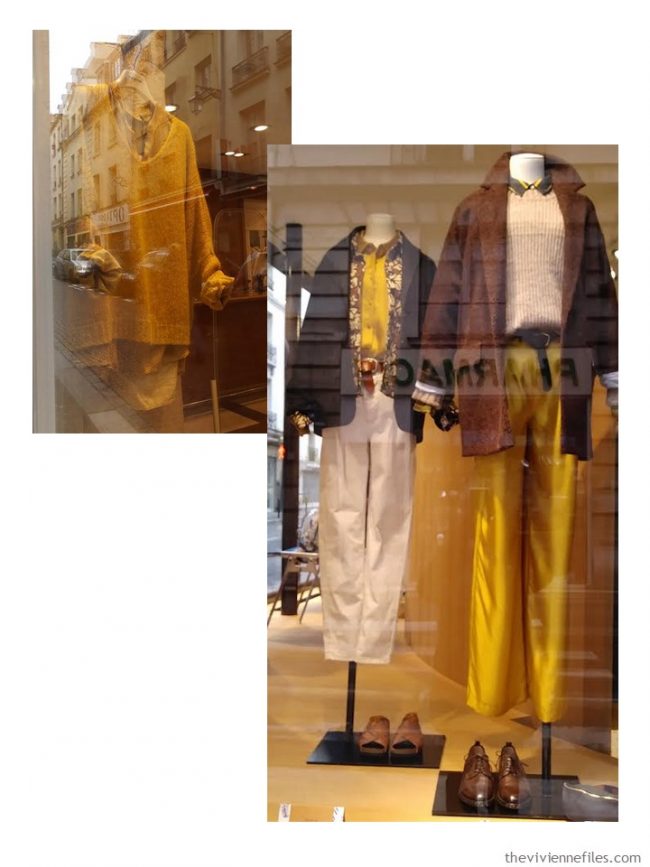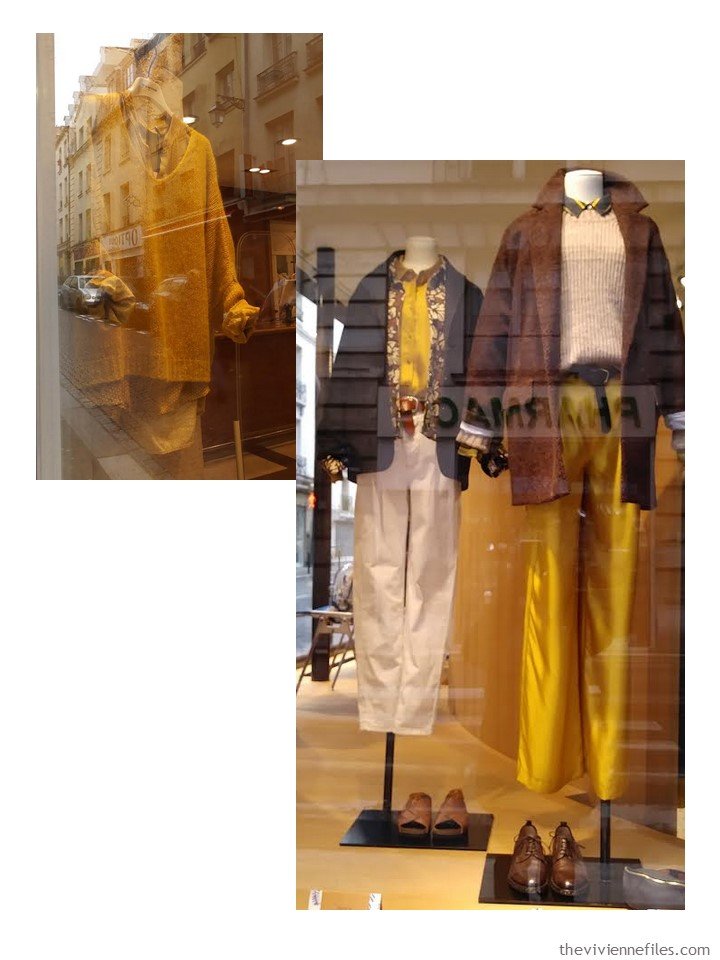 If I were shopping, this would be the kinds of garments that would really tempt:
I could see the logic of grabbing good sandals early and being ready for spring… And that velvet jacket just makes me weak in the knees… sigh… (yes, that yellow sweater is one of those $60 cashmere sweaters that are such nice quality!)
Just a piece or 2 of this color would be enough, maybe…
A lot of women were wearing those bouclé coats that have a texture like a stuffed animal – they are, in fact, often referred to as teddy bear coats! They looked much more modern and relaxed than the "real" furs that I saw.
Since it was cold when I was there, it was easy to observe the patterns and trends in outerwear! One thing that I saw a lot – especially on students – was duffel coats. (I love to see a truly classic garment coming back into the mainstream…)
Most people seemed to wearing the ones that have both a zipper AND the toggles, and they would wear them with the zipper zipped but NEVER with the toggles fastened. Of such odd details are trends made!
This next trend was a blast from my past – high-waisted pants! For those of us who are short-waisted, these are not welcome… But if you're long-waisted, or if you just don't like your pants sagging down around your… hips… this is a BIG improvement. The nice thing about this being a new trend is that a lot of companies will edge in this direction by making normal pants with the waistband just an inch or 2 below one's natural waist. Quite an improvement over a pair of pants with a 2 inch zipper and a 5 inch "rise!"
While I think the pants are a long-term style direction, these pleated skirts felt a LOT like a short-term trend. I saw dozens of pleated skirts – the kind of thing that we once referred to as crystal pleats. Most of these skirts were solid colors, maybe with some metallic or sparkle in the fabric. But I also saw people wearing them in plaids and prints. Whether or not they last until next year is an open question, but if I wanted something to quickly update my classic garments, I'd grab one of these in a heartbeat!
The other thing that I saw peeping out from below winter coats was soft fabric skirts with a bit of swing and movement – these were NOT pencil skirts. The lengths were all over the map, but the sense of fluidity was the common ground.
At this point I must mention that I saw lots of women wearing hosiery. Nude hose – I'm not going to assume that they were pantyhose, but they looked a lot like what we wore back in the '80s! Plenty of sheer black hose too, as well as lacy and fishnet stockings. I saw virtually nobody wearing a skirt with bare legs; I don't know if that's more of an club/late night thing, or if it has fallen out of favor in Paris. Maybe just a function of the weather?
And lastly, a lot of the dresses and outfits that I saw in shop windows had a brooch pinned high on the shoulder. It was surprising to me – although it is easy to find a million brooches in Paris, I don't often see them ON the clothes in shops…
Seriously, I wasn't going to show ALL of these brooches, but I found that I couldn't choose which ones I liked the most, let alone figure out which ones you would want to see. So I just decided to show a whole bunch of them! I could easily imagine buying a new brooch every holiday season and accumulating a whimsical collection…
Of course I have more photos to share with you – both Christmas Eve and Christmas Day will be dedicated to the odds and ends of Paris that caught my eye and my heart!
love,
Janice
p.s. Do any of you know of a lovely painting that is predominantly navy, grey, pink and yellow? I'm looking for a specific wardrobe, and coming up empty handed… please leave a comment if you have a suggestion!