December 7, 2018
Every time I'm leaving Chicago, I check my pockets (mentally); if I have my passport, my wallet, and my prescriptions, I figure that I'm good for almost anything!
I then look down at what I'm wearing and wonder what I would do if my luggage were to absolutely, positively, forever disappear…
When I'm going to Florida, I resign myself to probably borrowing clothes from my mother, except for buying some gym clothes and shoes.
But going to Paris? That would be an entirely different story! (yes, I'm leaving Monday, for a week…)
So what if I packed in the same way that I might shop for a few bits, to get me through a week in Paris in December?
First, the very important travel outfit! One must remember – if traveling from North America to Europe – you're probably going to wear this outfit for 2 solid days. I'm not going to hang around until I can get into my hotel room in Paris, so that I can change clothes! I will leave my bag with the people at the front desk, and I'm OUT THE DOOR until after dinner. First day in Paris – NOT to be spent in the hotel… (yes, waterproof boots can look nice and can be comfortable enough to wear on a plane… And my pants have an elastic waist, which nobody will ever see. They're comfortable, but they are NOT pajamas!)
After a day or 2 in this outfit, the first thing that I'm certain I will need is a change of shirts! I will probably want a change of shoes too – there is a point beyond which you just don't want to walk for miles a day in the same shoes, day after day.
And let's toss in another pair of earrings, because they're tiny, and weigh almost nothing!
For the next step, it's a tough choice! I'm probably about ready to heave these corduroy pants out a window, but in terms of changing the way my outfit appears overall, a new sweater will have more impact. And yes, I'm perfectly happy layering a striped sweater over a striped shirt or turtleneck. I'm fearless in the world of black & white patterns!
Maybe the only thing I'm MORE tired of than my pants might be the scarf… Time for a new scarf! And a star bracelet is a touch of fun for very little luggage volume or weight…
Hallelujah! I'm definitely going to take these velvet jeans with me – both warm AND snazzy… And yet another scarf can come along, as well as a star brooch. (Yes, at this point I really considered my star cardigan, but it's SO bulky I'm going to do without…)
I don't think I've traveled in cold weather in the last 18 years without taking my black cashmere turtleneck. I can wear any scarf, or any jewelry, with either pants, and I'll feel like a million dollars. This sweater just does that for me!
If I'm ever going to pack festive accessories, this is the trip. Holly is so pretty – better in a brooch because it won't die!
I really could use 1 more "bottom layer" at this point… Hmmm…
For six days (a "week" away in Paris is actually only 6 nights there – that stinking night on the plane spoils everything…) I have enough clothes. I'm staying in a hotel very near a same-day laundry, so nothing will have a chance to get too disgusting…
So why not a warm dress? With super-warm tights? Yes!
Now that I have clothing sorted out, what else do I need? I'm packing long underwear to wear as pajamas – if the weather turns bitter cold, I will also wear them under my clothes! But what other bits and bobs do I always take with me?
Why the Mio drops? Get a bottle of milk, put in drops, you have an iced latte! Vastly better than any coffee you can get on a plane or in an airport! You can even mix it with water if you're in a spot – the drops have caffeine…
I've been on 1 flight to Europe on which there was absolutely no drink nor food service. The turbulence was so severe for almost the entire trip that the flight attendants had to stay strapped down. It became a food and toilet… emergency… for some people. I actually had quite a bit of food with me, and I was the heroine of my row…
If I wear 3 garments and pack 6, these are the clothes I'll have with me: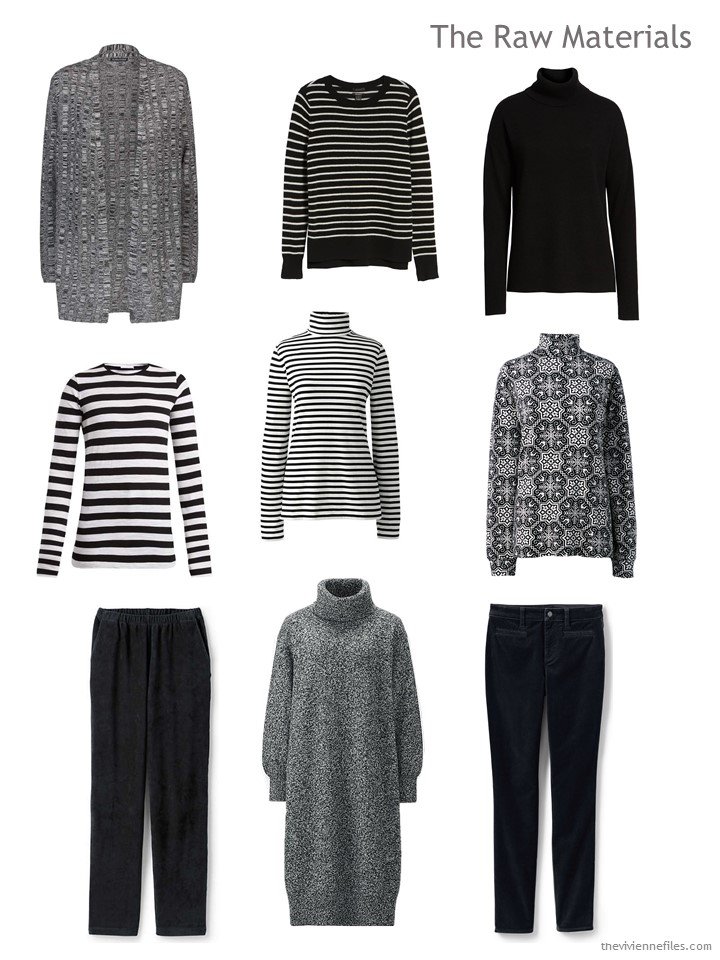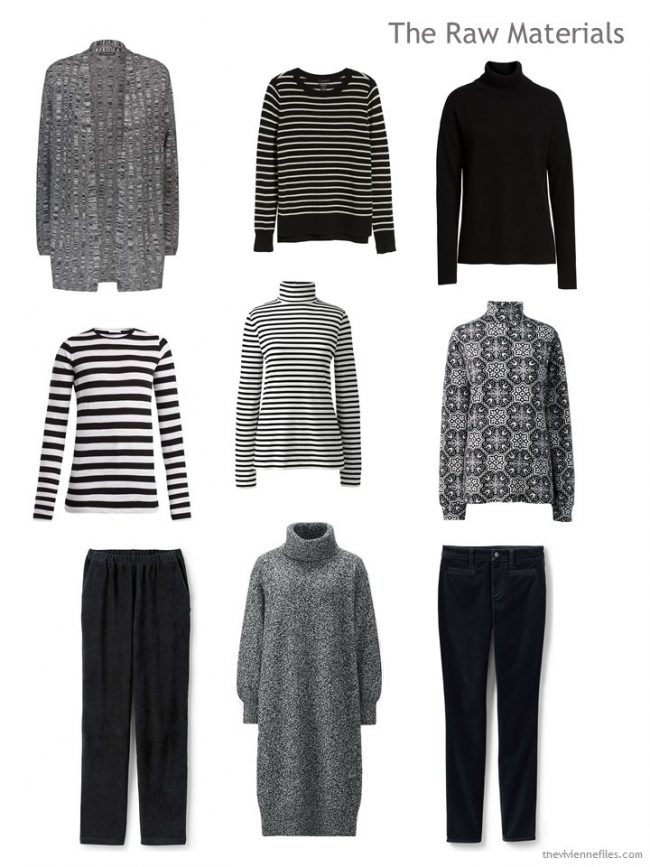 Will this give me enough outfits for 6 days? I think so: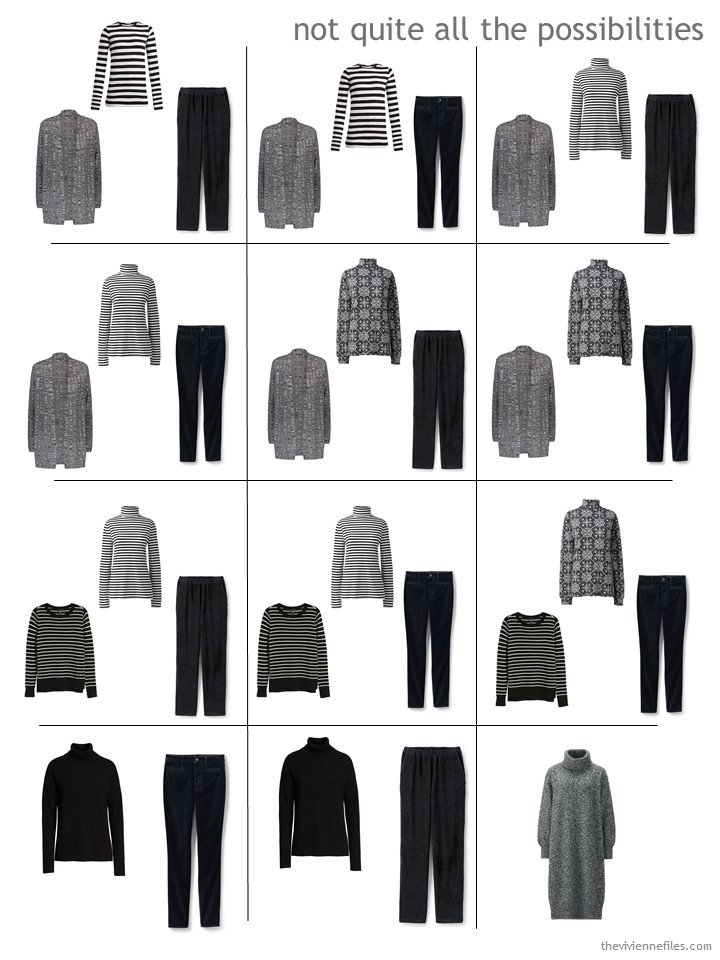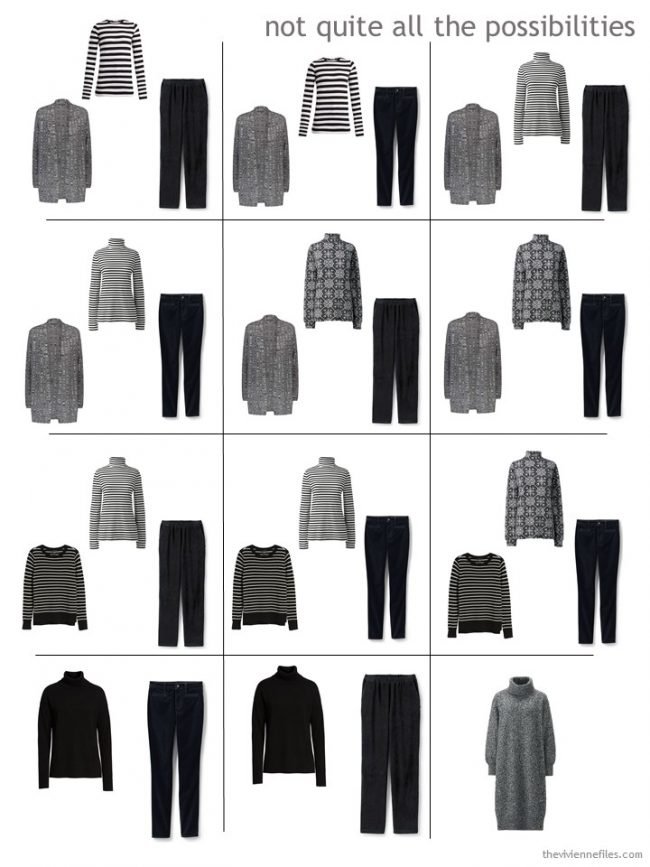 With absolutely no guarantees about what weather I will encounter, this is sort of how I plan to dress while I'm there. After that first day in the same clothes for a REALLY LONG TIME, I think wearing a dress is going to feel really great!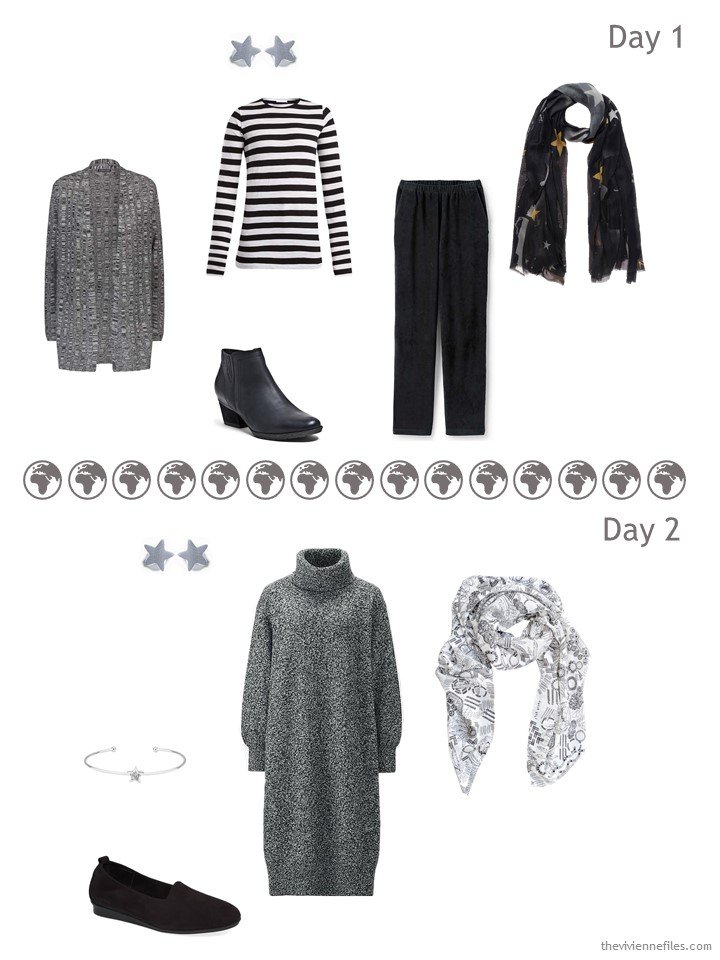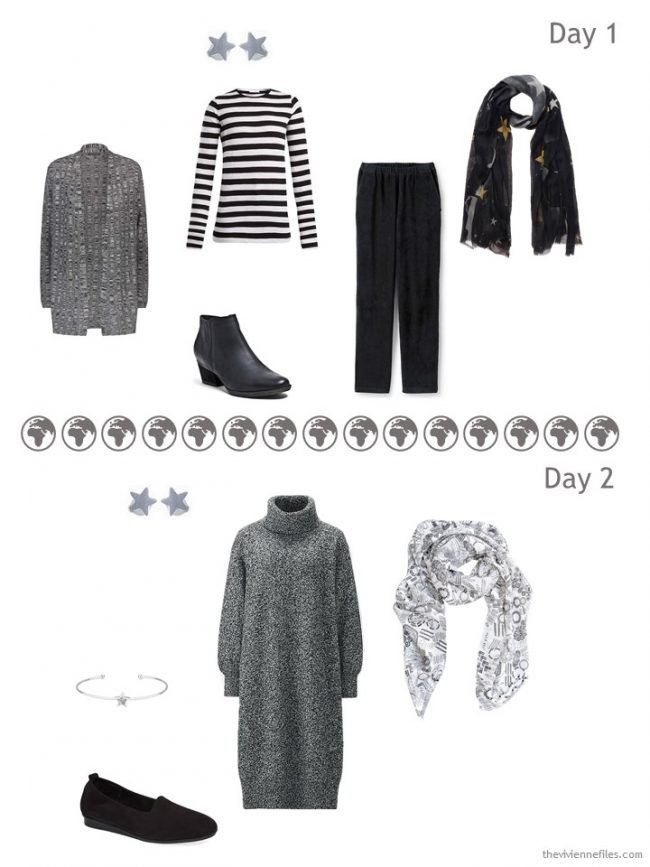 For the middle of my little trip, a layered outfit, and then my luscious turtleneck…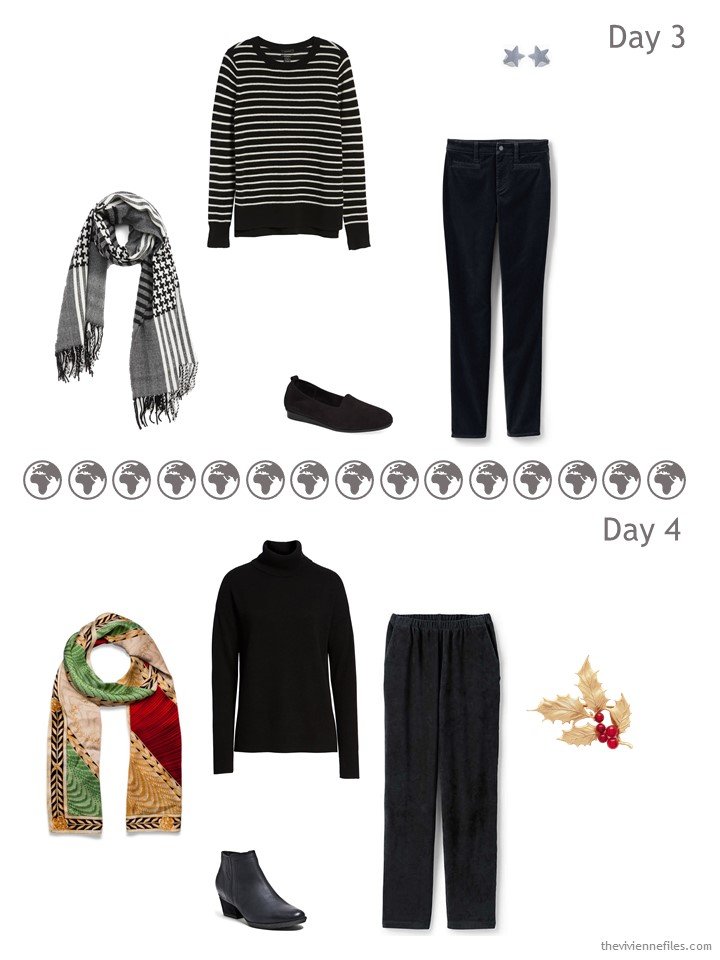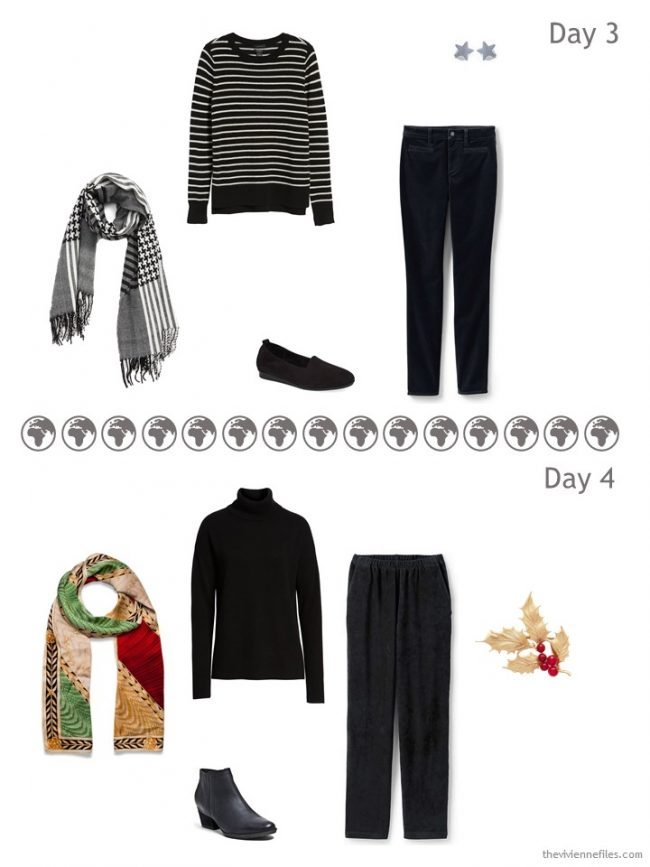 Another day out in my cozy dress, and then back in layers for the long trip back to Chicago!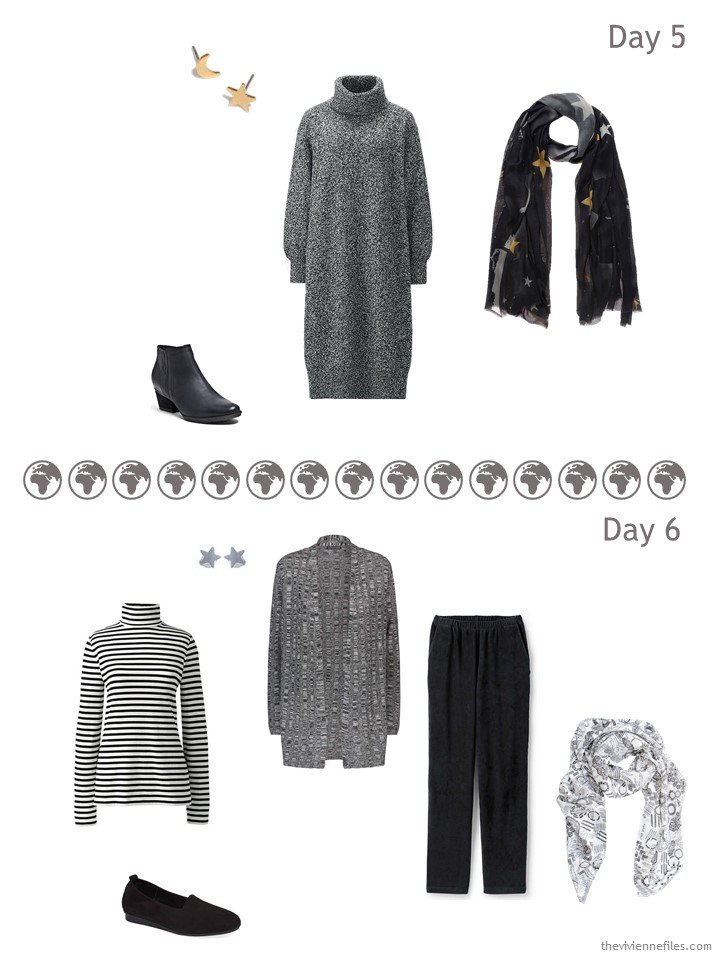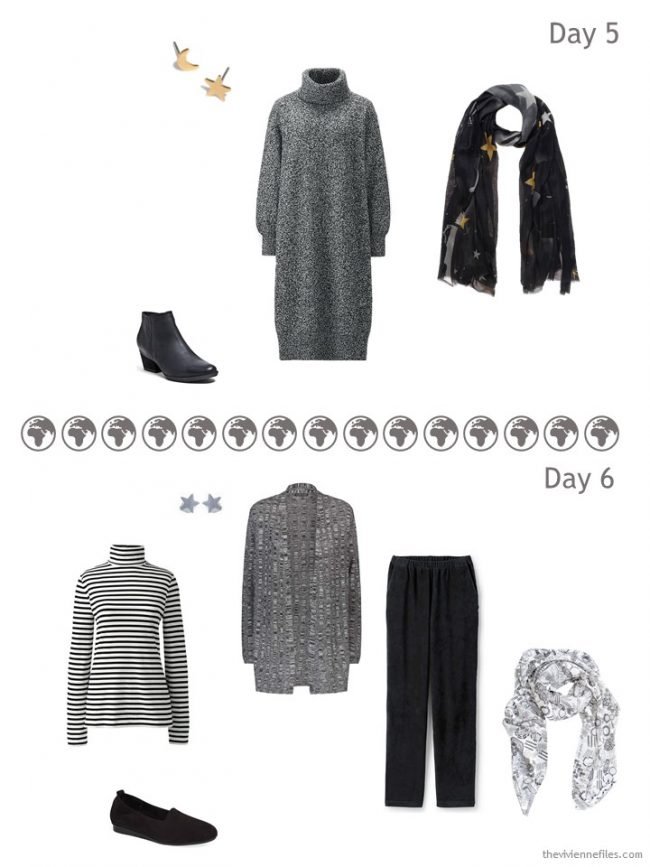 These aren't exactly the same garments as mine (except for the velvet jeans, and that wonderful dress…) but they're so similar that you can still pick me out of a crowd. Any time you see someone doing slightly demented things with black and white patterns, it just might be me!
love,
Janice