December 25, 2018
To those of you who celebrate today, I sincerely wish you peace and happiness, today and in the new year. And to all of the rest of us, we can still enjoy the day with our friends who celebrate, and enjoy the beauty that the winter holidays offer to us all!
Paris goes somewhat over the top decorating for Christmas and New Years, and I say HALLELUJAH to that. Chicago feels quite drab in comparison…
The top left photograph below, with the adorable little reindeer, was in the window of a store that sells light bulbs! Yes, bulbs. They used their merchandise nicely to give this window an old-fashioned feeling.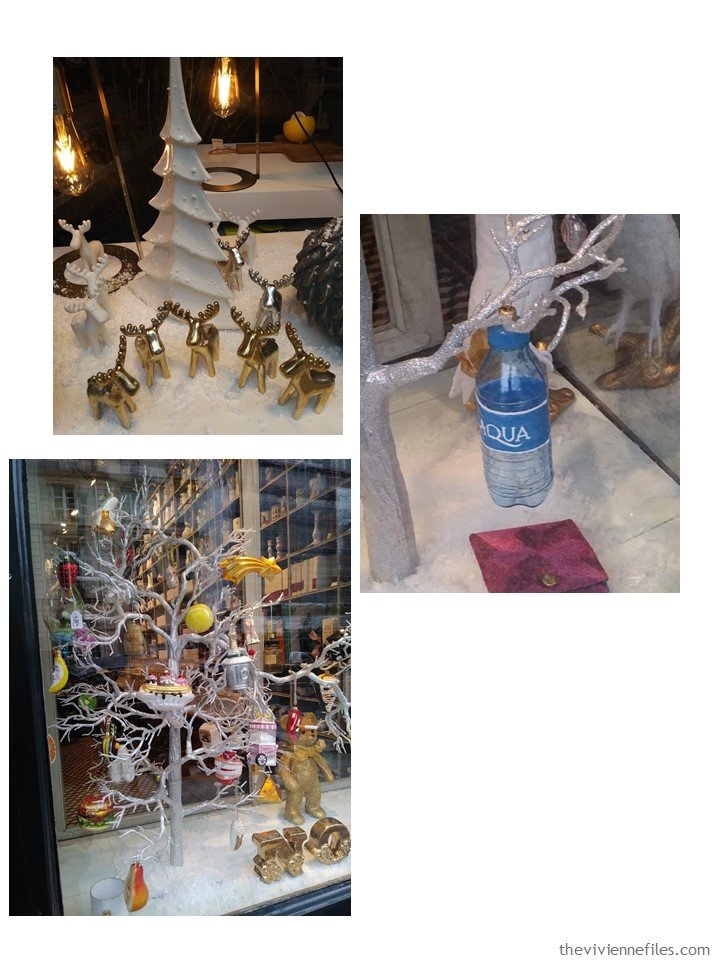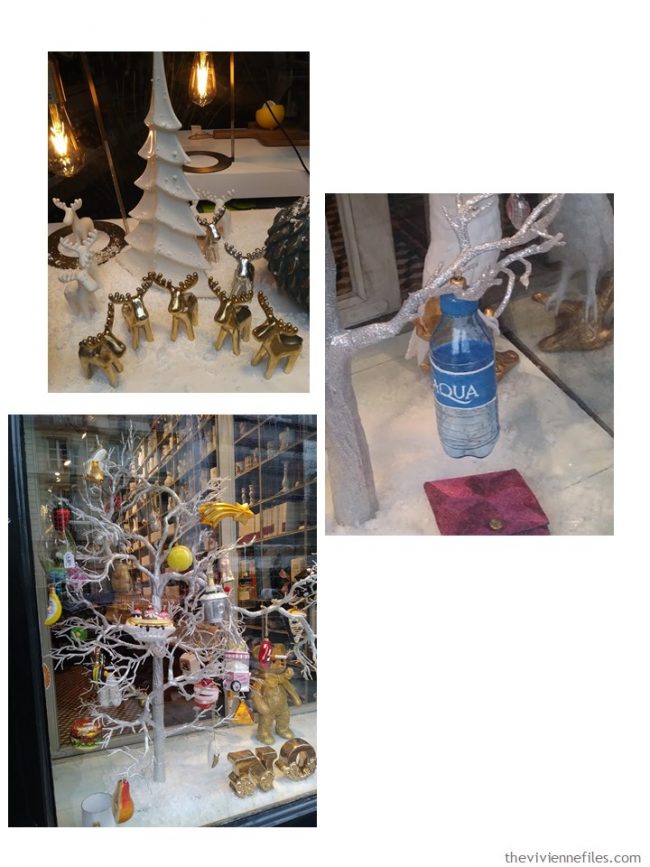 One of the last days that I was in Paris, I found a shop that sells ANY kind of blown glass ornament that you might imagine. Name a hobby, or an interest, and they'll have something to suit you. I was amused to see that even water bottles now have been commemorated by a glass ornament…
Christmas trees were everywhere! The picture at the top, shown below, is in the window of a store that sells parquet flooring. The tree is made of stacked pieces of wood!
I wasn't able to get a photograph of my favorite version of a tree; a publishing company took a stack of books, arranged them from largest on bottom to tiniest on top, arranged them so that they were NOT neatly aligned – they "spiraled" them so that they resembled (very slightly) a tree. They then draped tinsel on this, set a star on top, and called it a day! There was always someone sitting RIGHT BESIDE this tree marking up documents when I went past, so I couldn't photograph it. Imagine with me…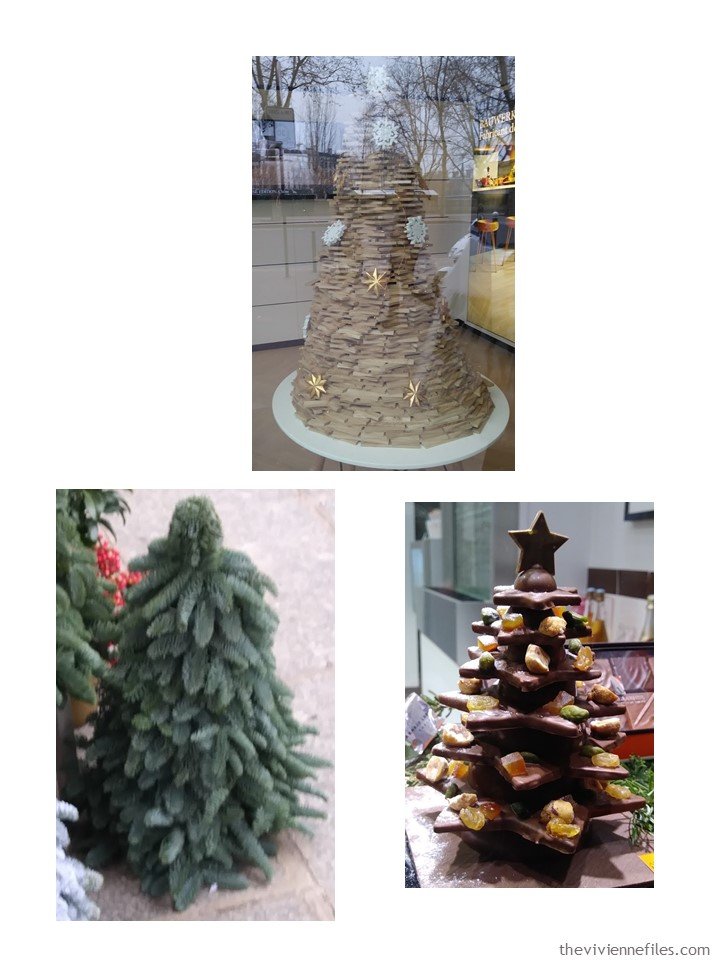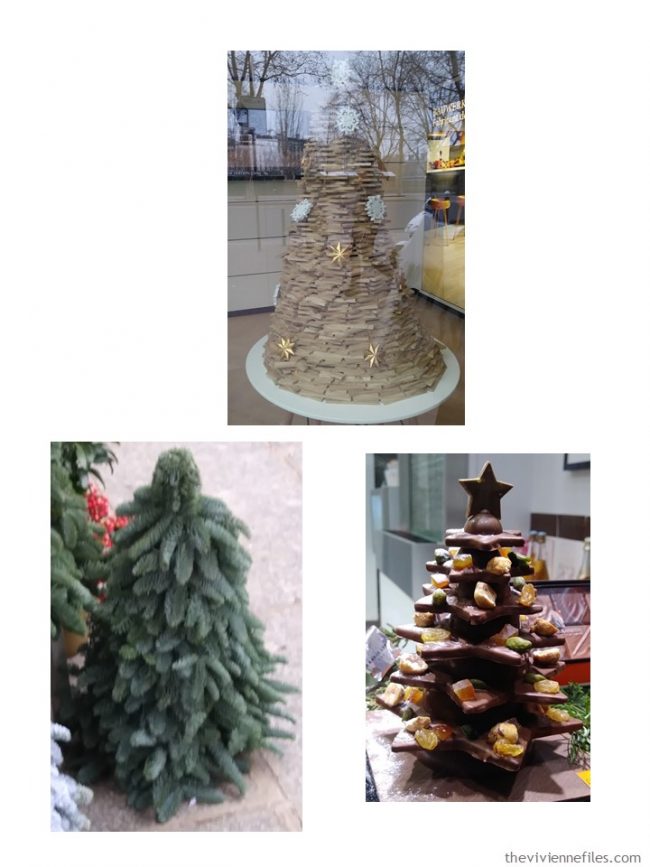 The bottom left tree might be a foot tall – perfect for the tiny Paris apartments!
Maybe the most practical is the bottom right tree, entirely made of chocolate, and decorated with nuts and dried fruit. I suspect that I have a friend who could make one of these… (all the tiers are star-shaped, fyi Madame Photographe…)
Sometimes, you just spray paint a bunch of branches and arrange them above your door!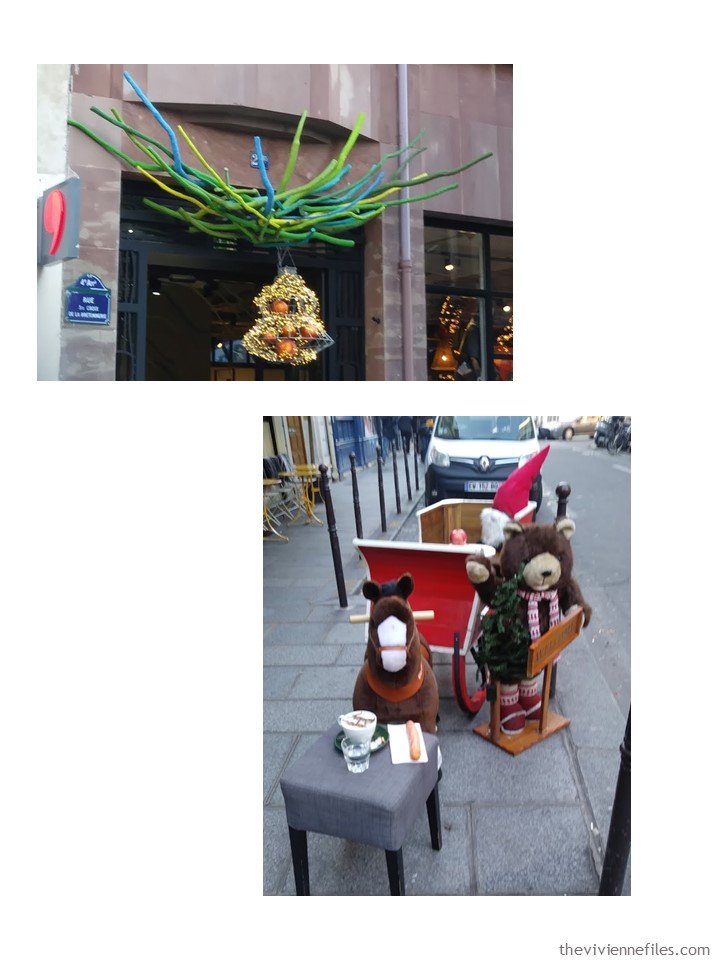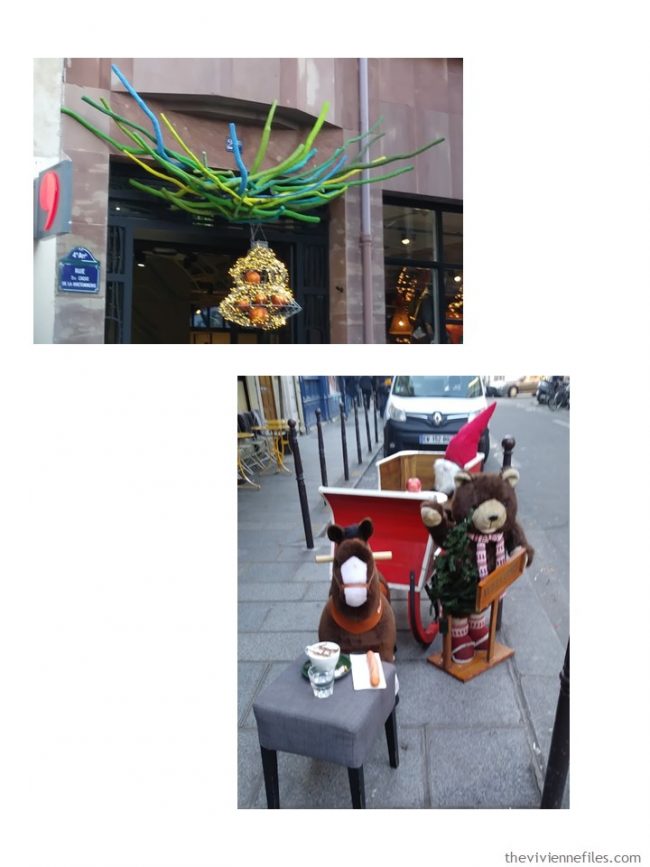 Or you get an elf in his sleigh, (complete with reindeer) and a friendly teddy bear, put them out on the sidewalk outside your cafe, and delight all of the neighborhood children!
Belovedest and I are partial to moose…
And some of the clear glass balls in the top right photo below have little snow scenes in them! These are easily 8 or 9 feet off the ground, so everyone stands below with their sore necks and big smiles…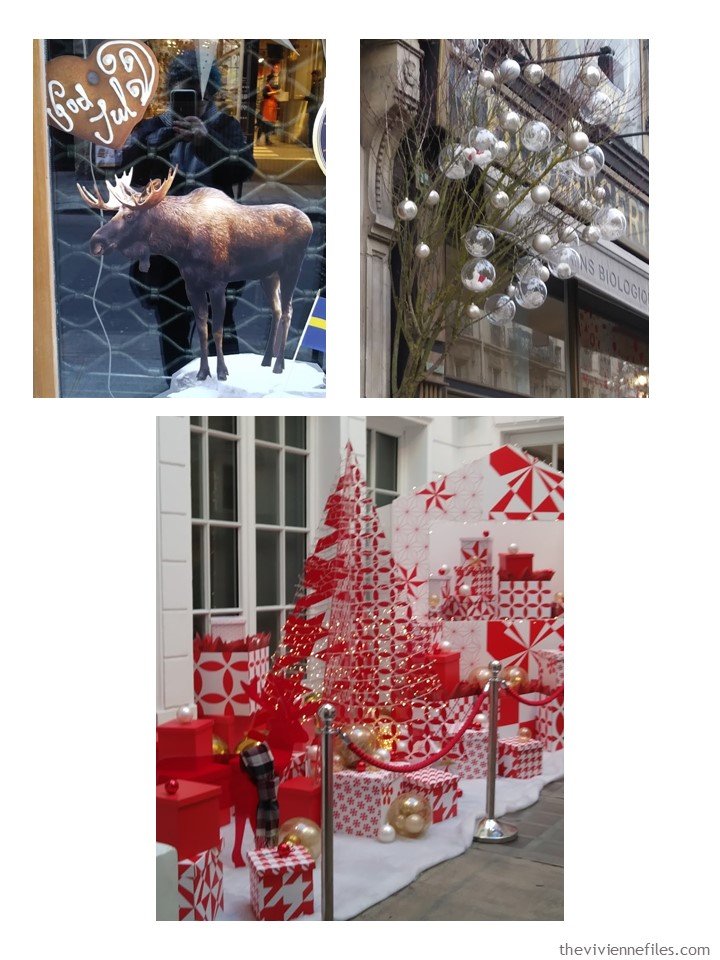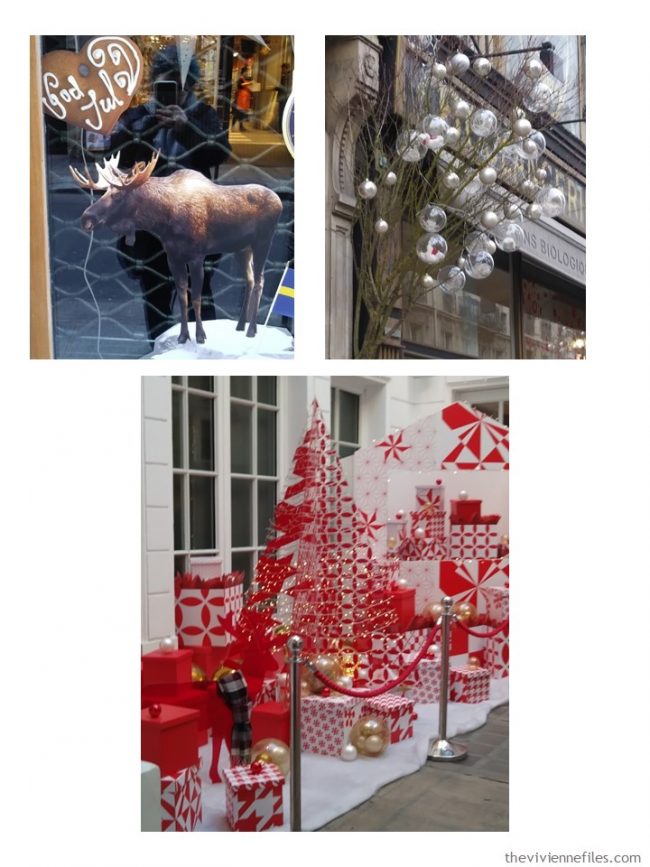 The Uniqlo in the Marais has a courtyard entryway – it usually is filled with mannequins. But NOT in December… They did this amazing mixture of red and white prints, with a "scarfed" plastic reindeer that clashes with it all.
Every shop seemed to have at least a touch of something festive in their windows. This chocolatier seems to have determined that the wise men brought chocolate-covered nougat to Bethlehem!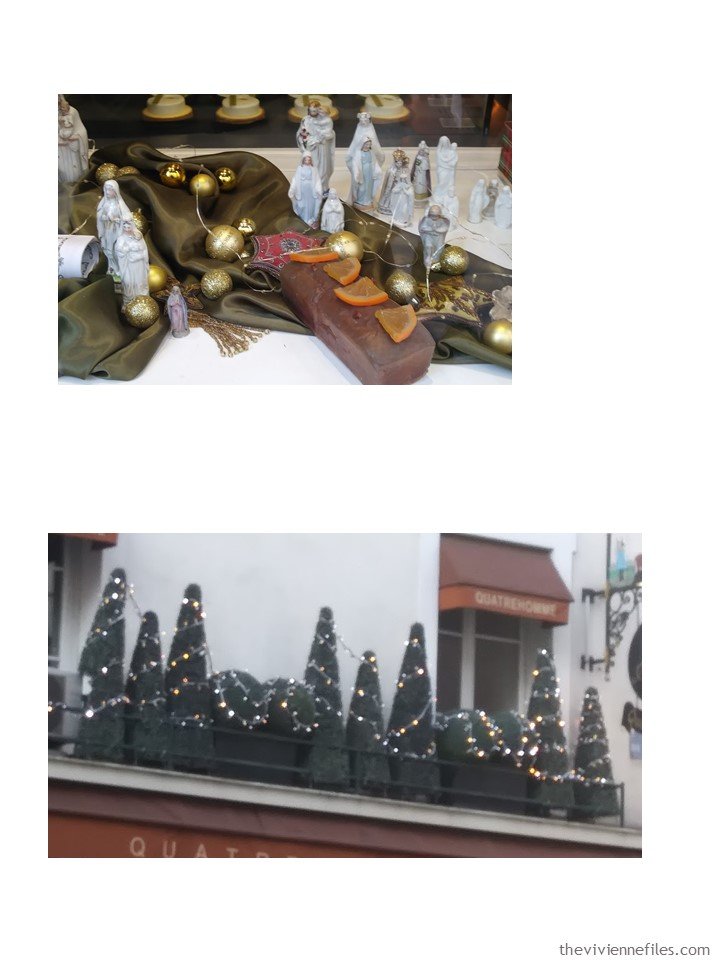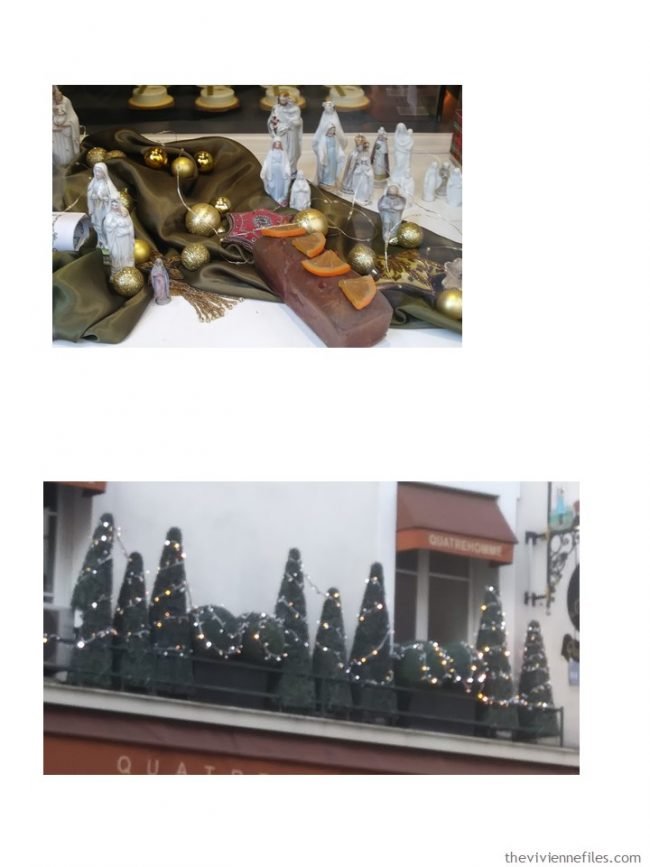 The trees above are on a ledge above the canopy outside a cafe. Use the space you have, eh?
The trees below were tucked in a doorway in a posh retail area… Understated but lovely.
And the photograph below is the doorway of a hotel. I've never seen anything quite like this before. Walking under that would feel like walking into a magical cave, to me.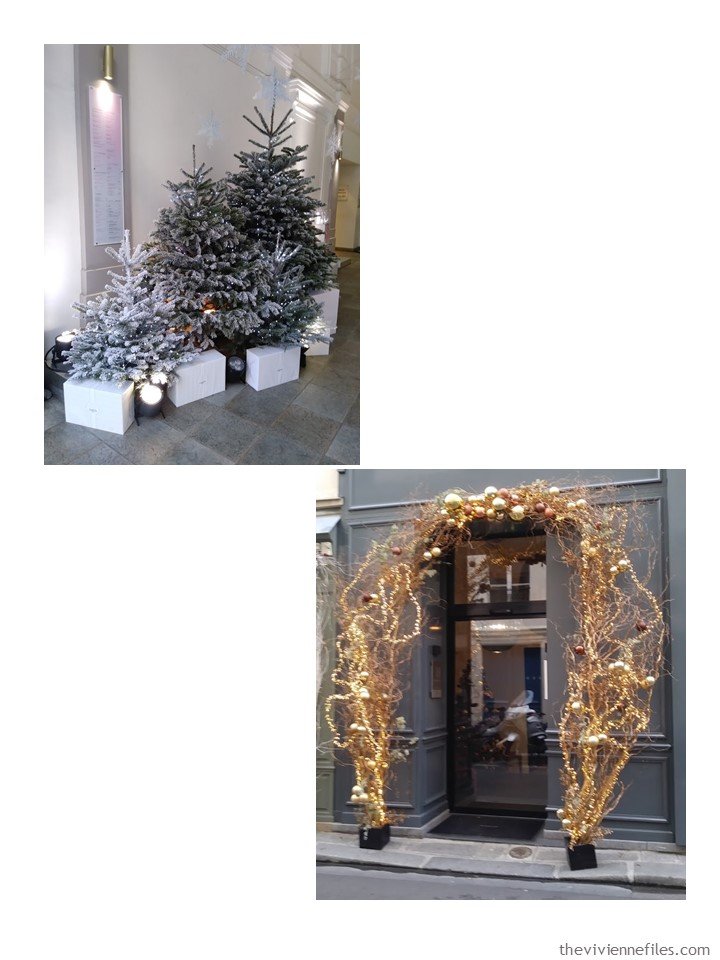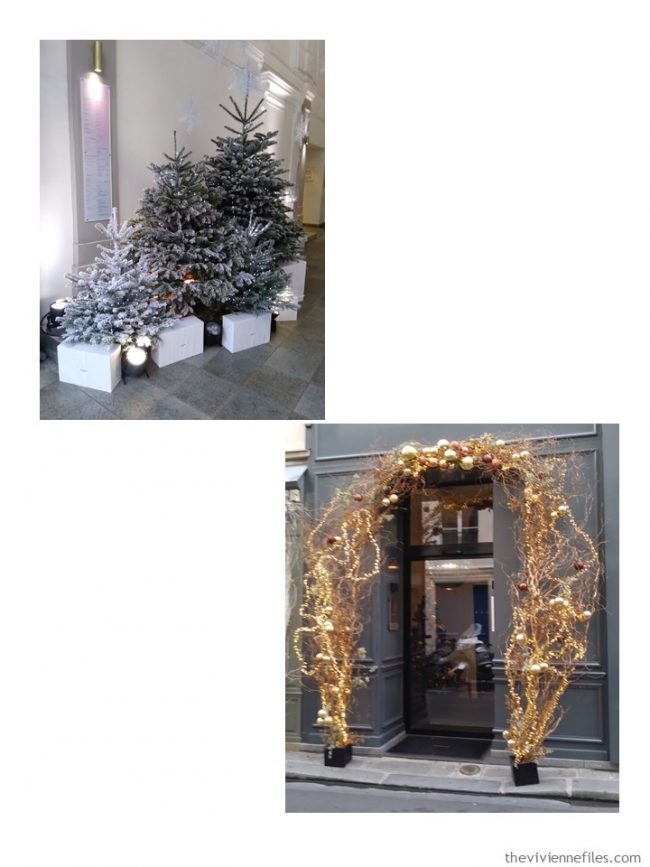 The department store Bon Marche hung their trees from the ceiling! This was magical to see…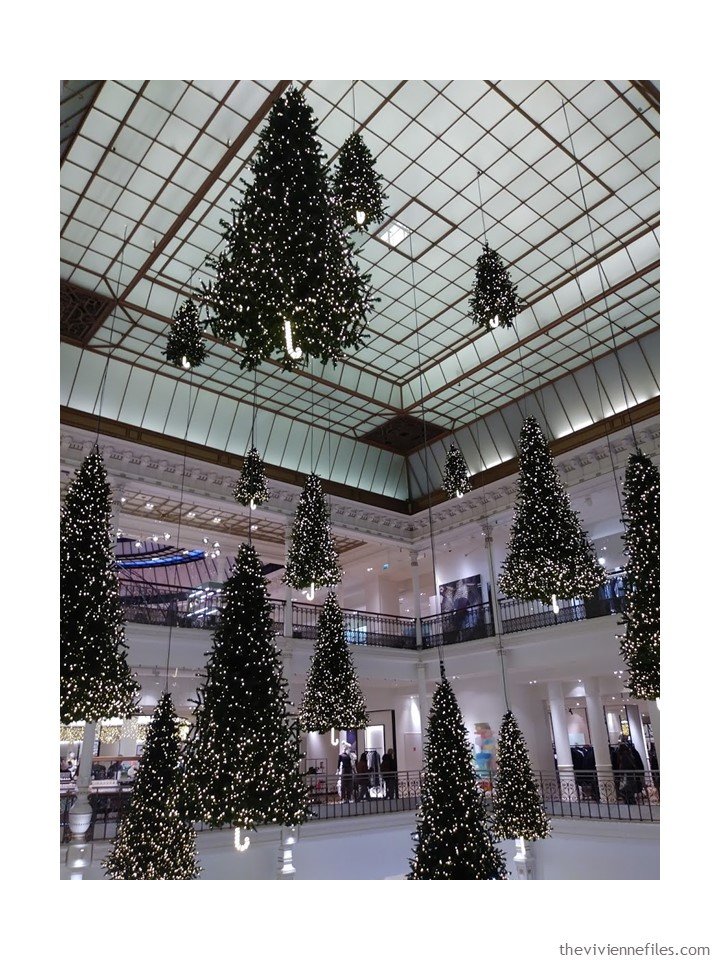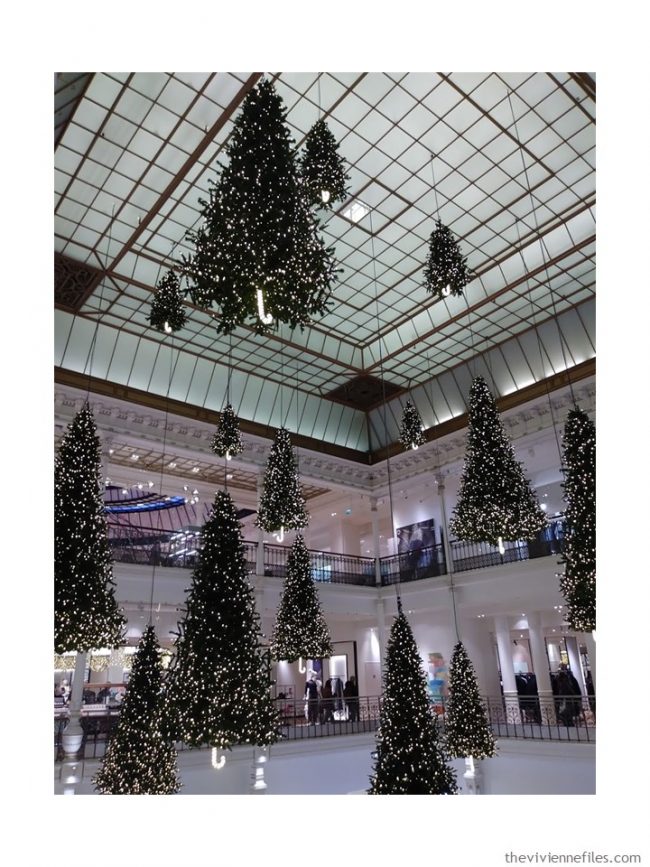 After dark, anything illuminated takes on an additional feeling of wonder. These trees are arrayed in front of the Pantheon, on the side that faces the Eiffel Tower. My photograph isn't the best (cold hands, fibromyalgia, and just using a phone camera) but you get the enchanting idea, I'm sure.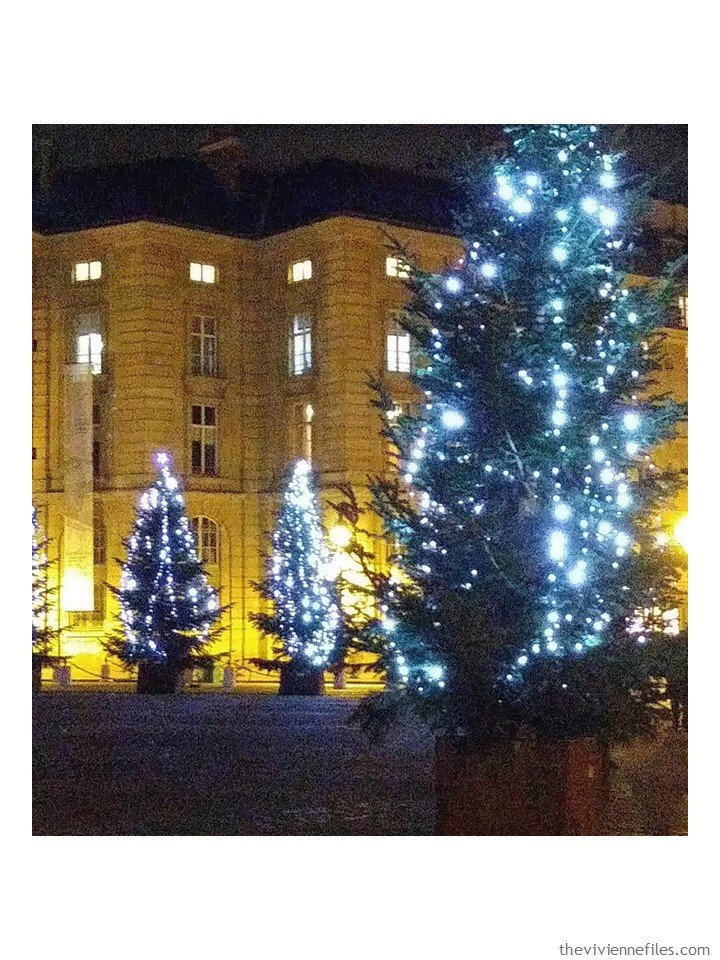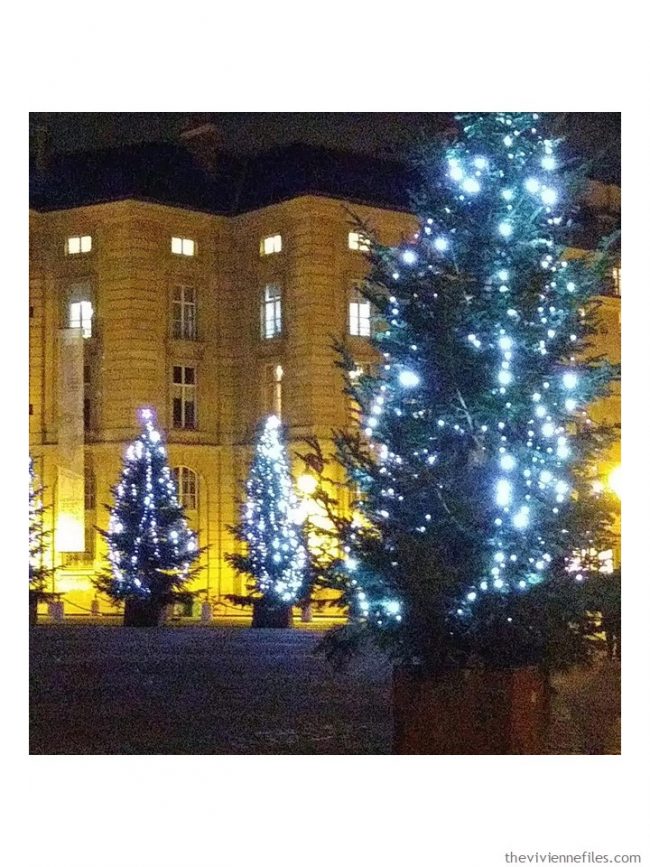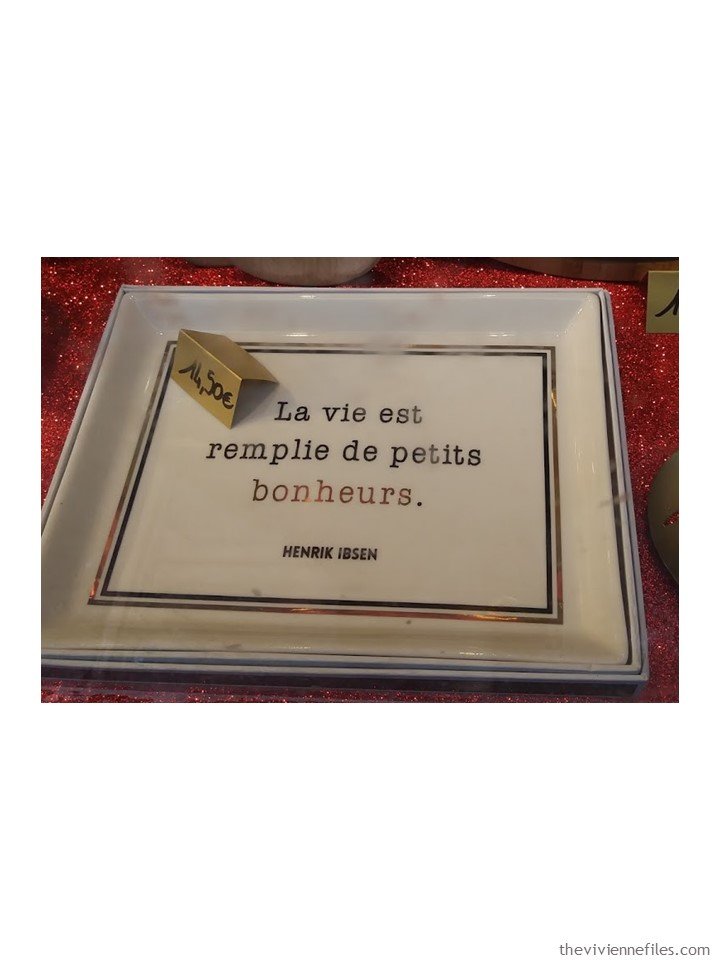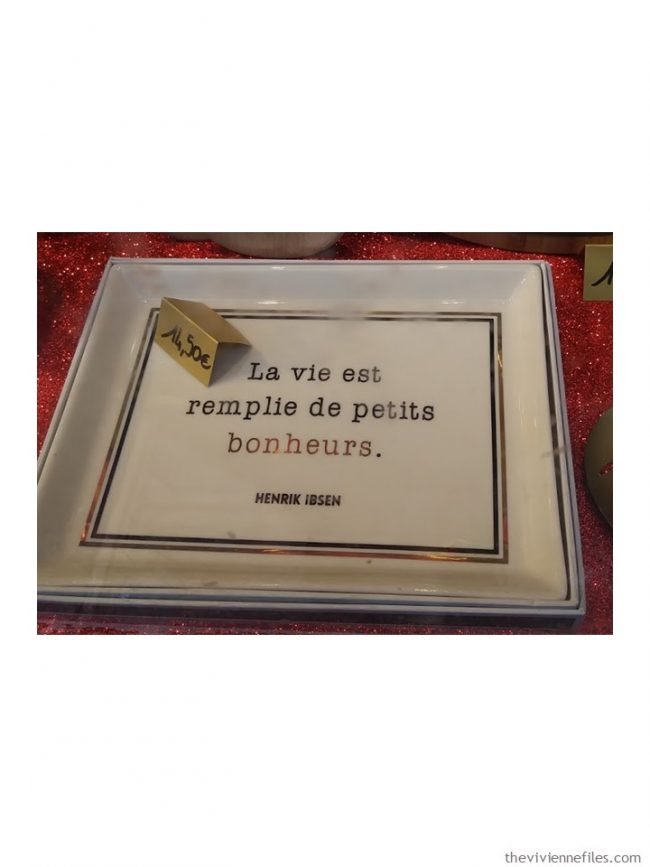 Life is full of small pleasures. You don't need to buy a little ceramic tray to remind yourself of this truth, do you?
So I'm remembering another lovely week in Paris. This is the view from my hotel room (well, it's the view if you step up onto the tiny ledge that passes for a balcony, and look to the right!).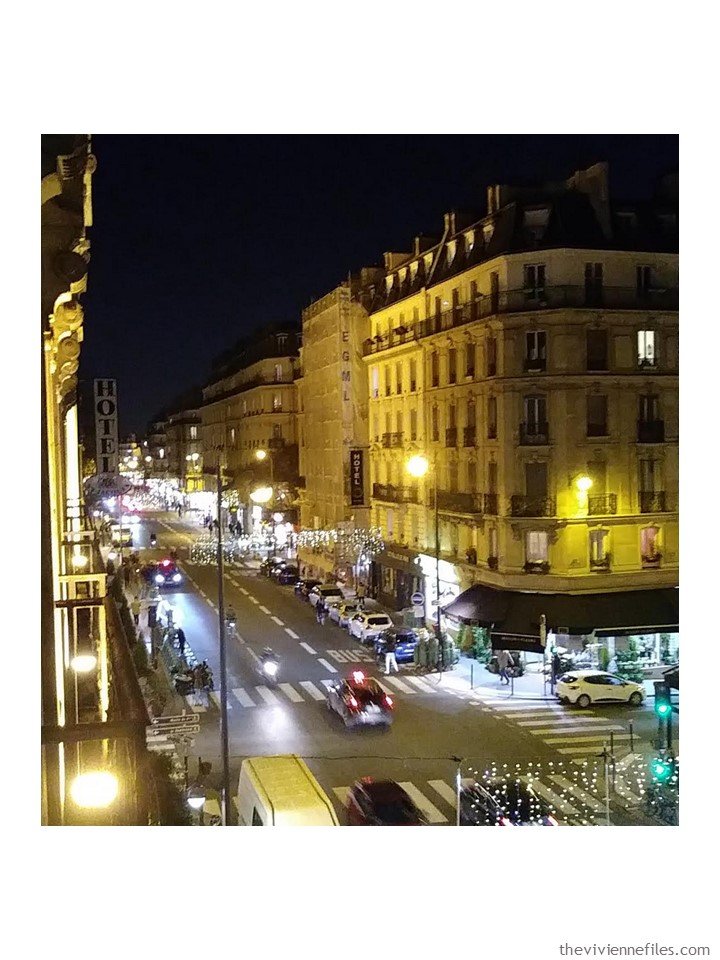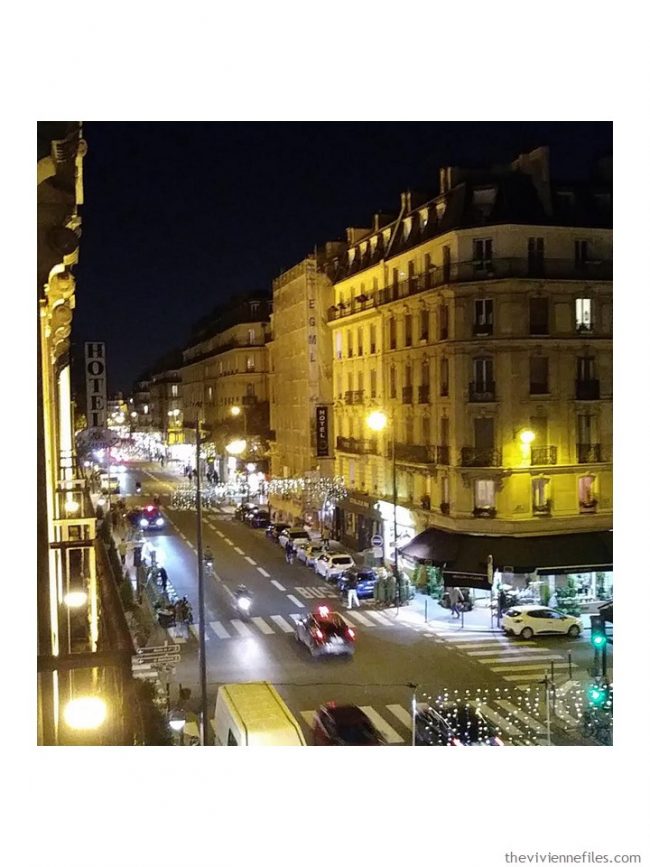 And I leave you with warmest wishes, expressed here in French: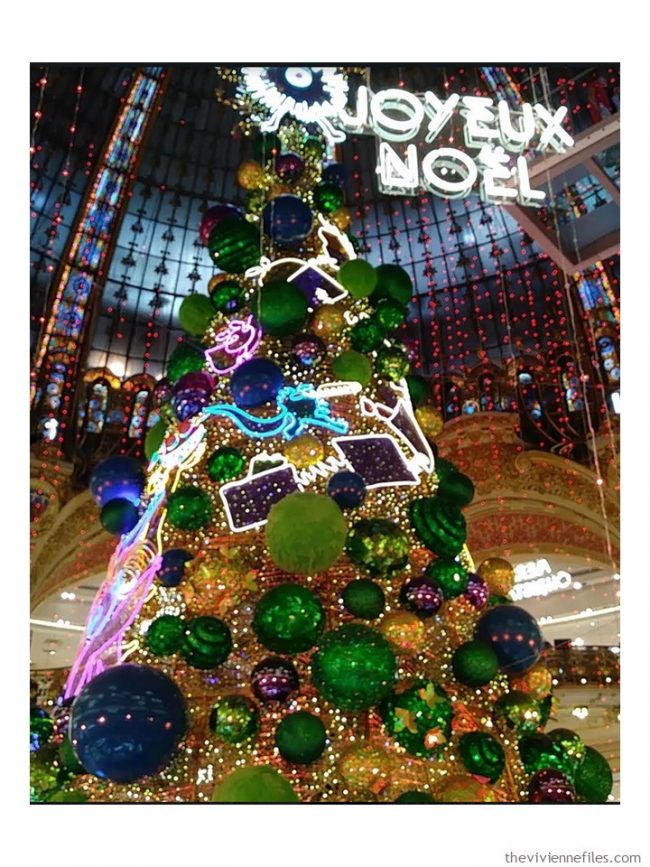 Love love love,
Janice