December 31, 2018
It becomes too clear this time of year – I don't need anything, and when I see things that I want, about 5 minutes of intelligent self-talk reminds me that the purchase would be… wasteful, at best.
I'd rather travel! And I do travel a lot. When you become accustomed to living for a week or 10 days or longer with just the contents of a suitcase as your wardrobe, you learn that you can manage – happily – with relatively little.
So I've got a plan! (of COURSE I have a plan – you're shocked, right?)
Clusters!
I'm going to be in Florida for part of January, but for the rest of January, I'm going to limit my wardrobe to 10 garments – 2 clusters of five…
This is my first cluster – these aren't exactly my garments, but you could easily identify my cluster from these photographs!
I'm trying to strike a balance here between something that I could wear out to lunch with friends (the nice cardigan, and either the tee shirt or the turtleneck) or something more relaxed for grocery shopping or walking around the city. (the fleece top with either striped piece under it)
My second cluster starts with my corduroy pants… My cardigan actually has reindeer on it – it's very Nordic in feel! Some people wouldn't wear it after Christmas because of the deer, but I think that's a little bit silly – it's not like it has a big picture of Santa on the front! I chose this cardigan because I really like it, and because it combines black, white and red just like my happy reindeer cardigan – it gives us exactly the same functionality as my old favorite…
So these are my 10 garments for the Chicago segment of January:
I'm going to be in Florida for 13 days, so I really only need cold-weather clothing for 18 days. Factor in at least a few days in which I don't get out of my gym clothes, and I should be in good shape!
How do I see 36 outfits from 10 garments? Methodically…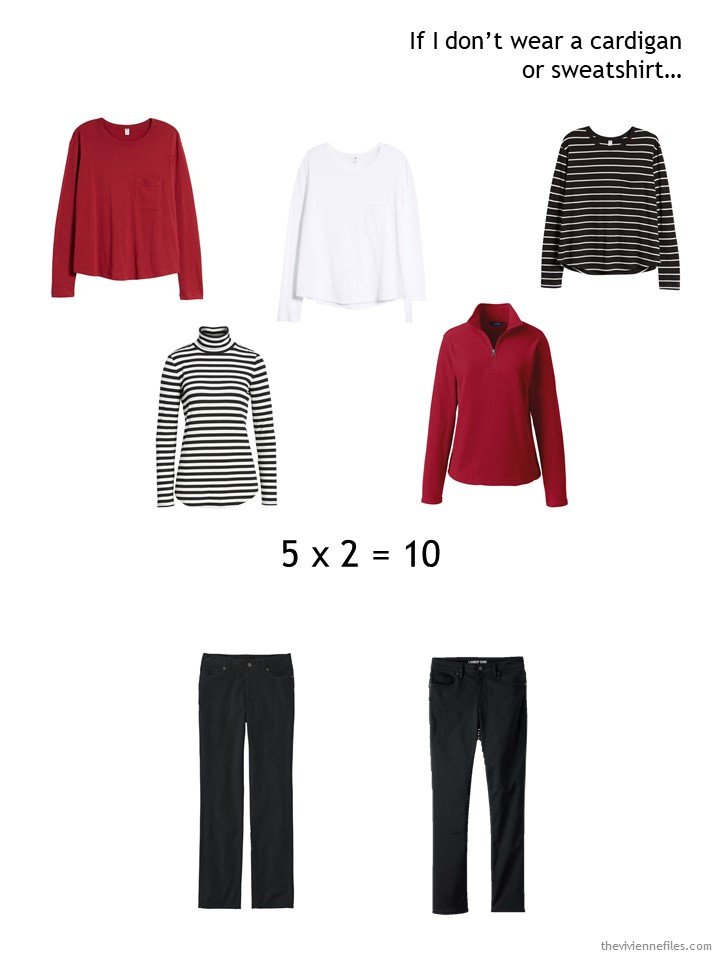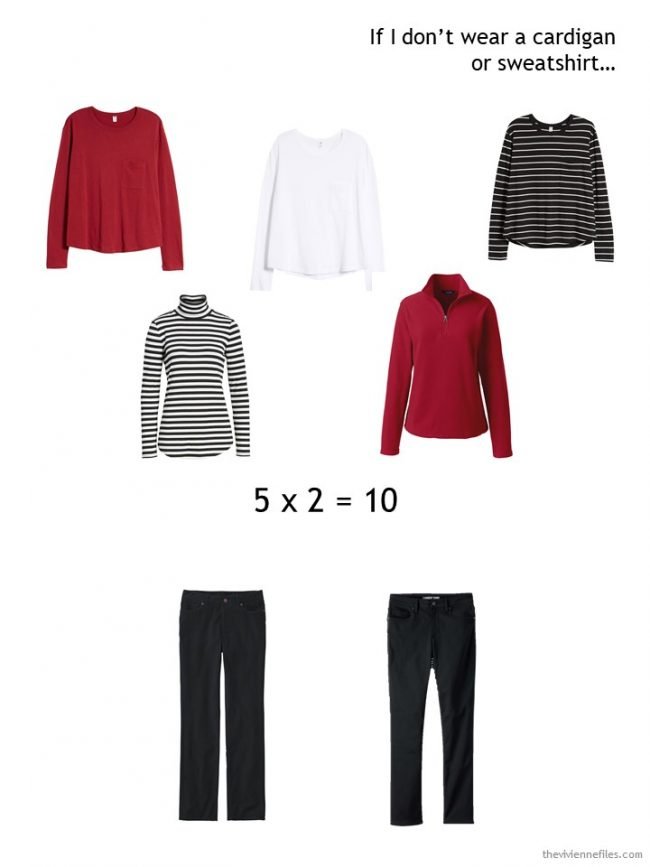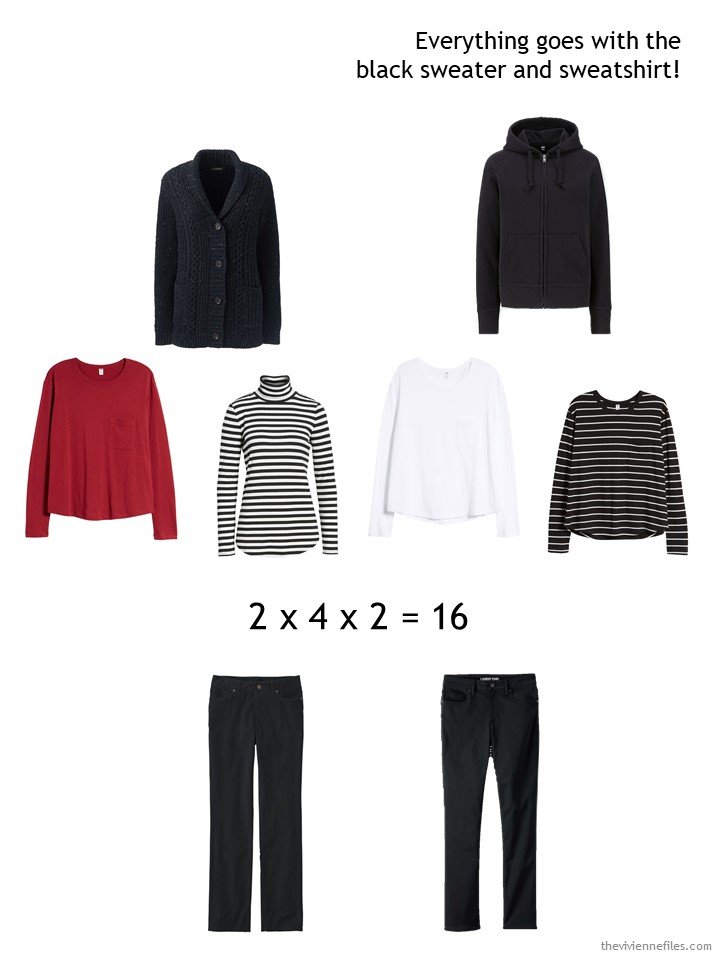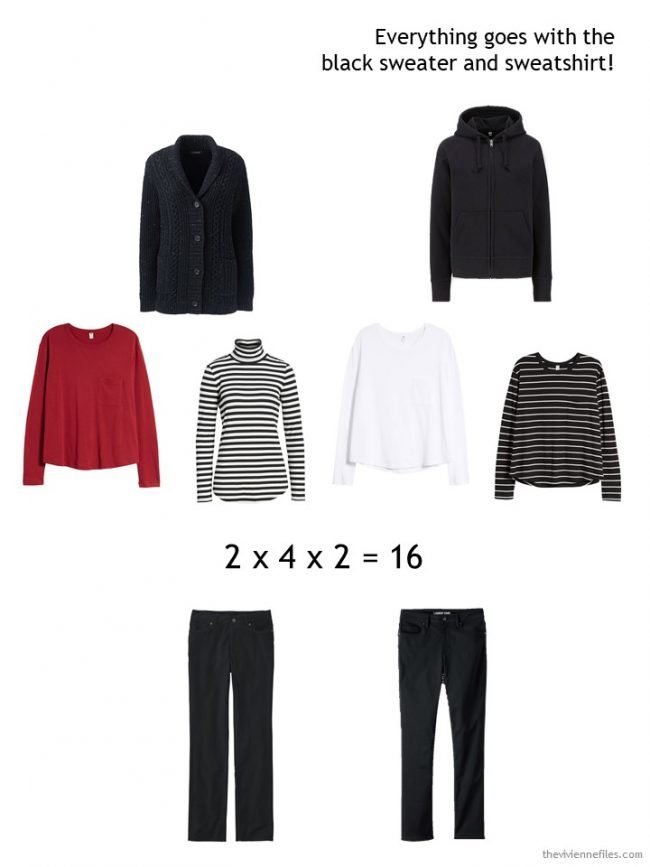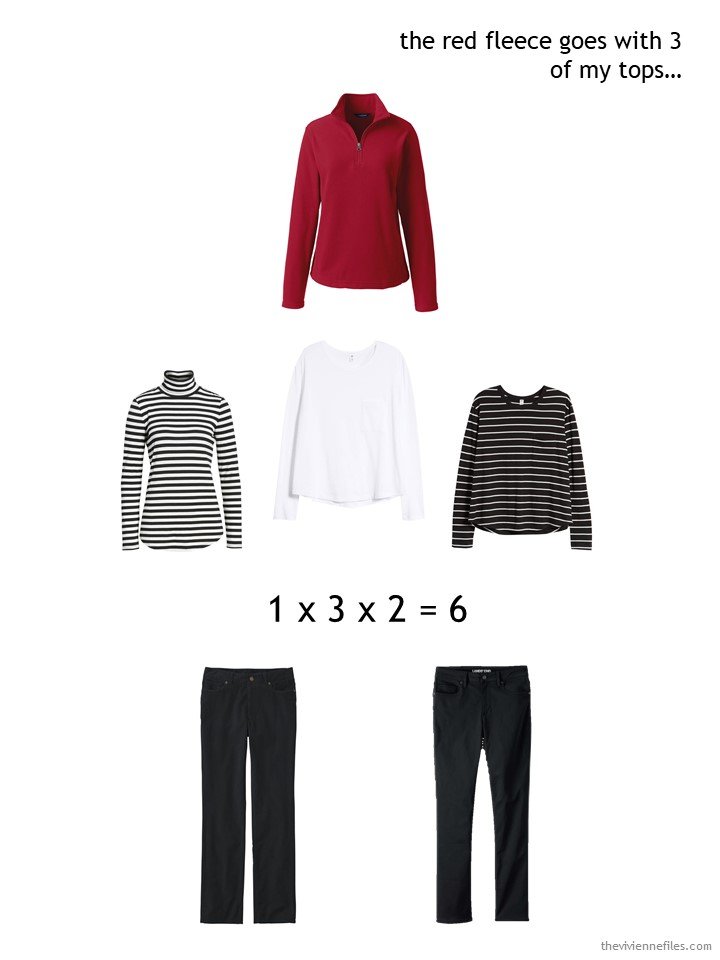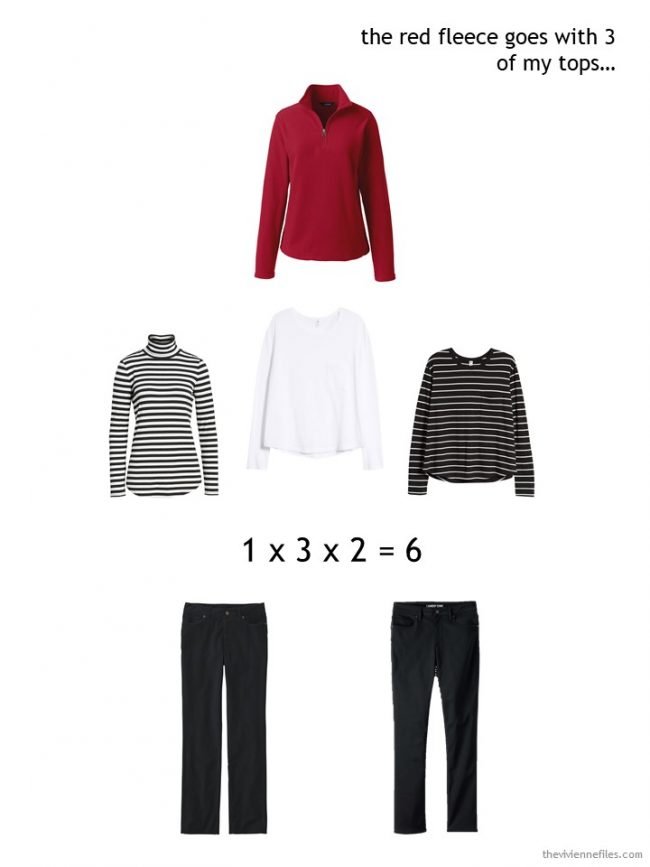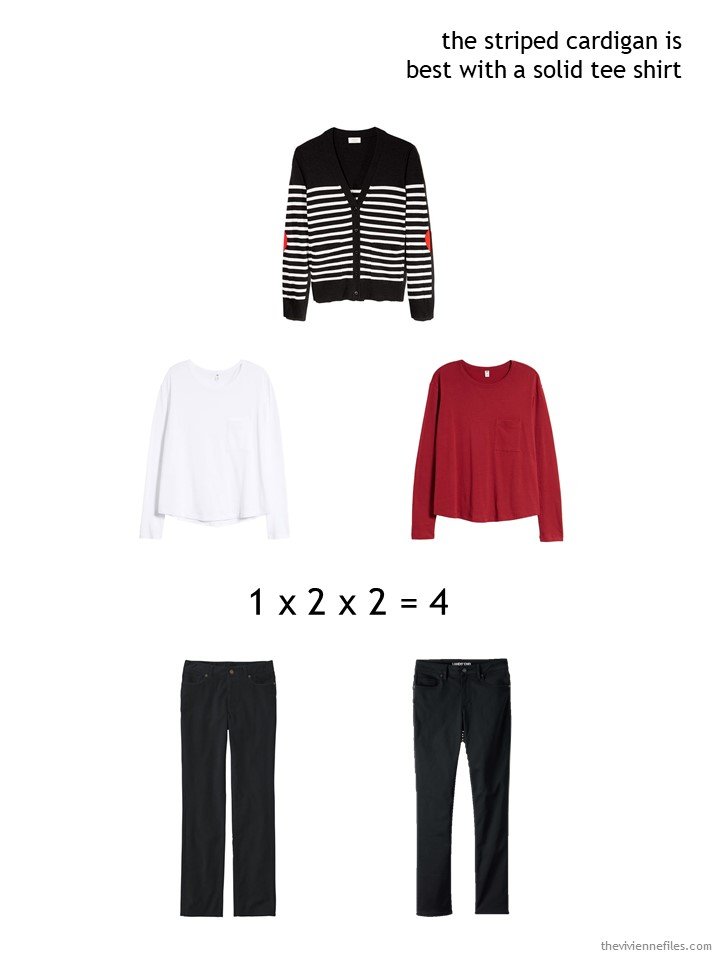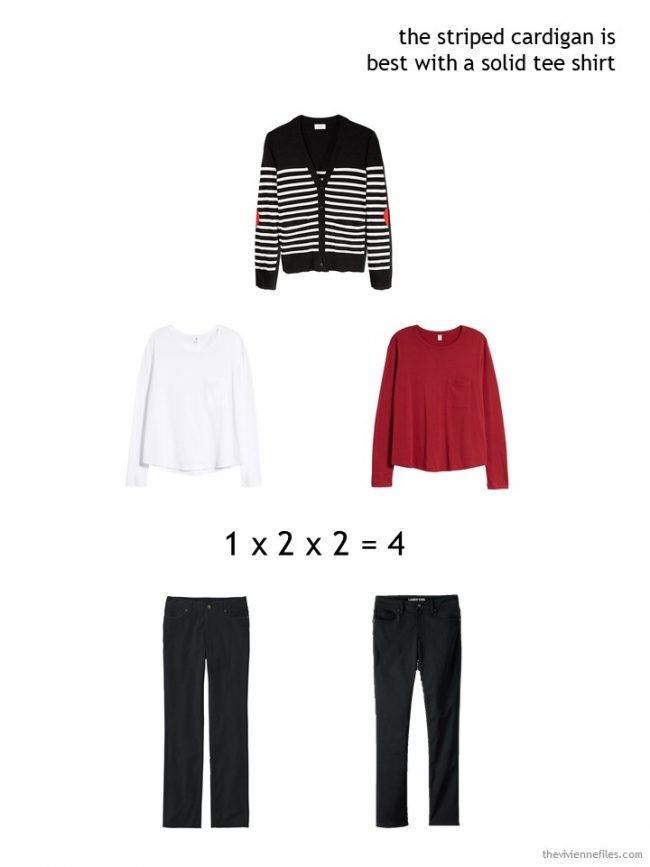 Just for fun, and to make it possible to show how these simple garments can be accessorized, here are a few accessories that are really important to me! The waterproof boots are GENIUS. No cheap, but worth every penny I spent…
The printed scarf is actually a very stylized photograph of Dublin, with stars drawn in above the skyline! How cool is that?
Okay, so realistically, what outfits are you likely to see me wearing around town?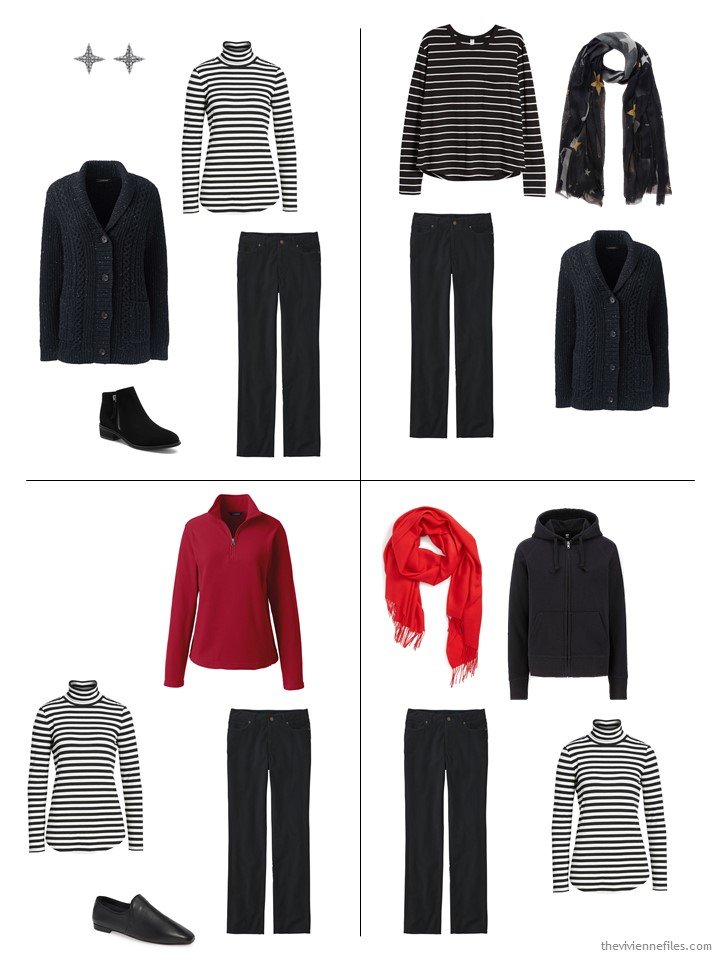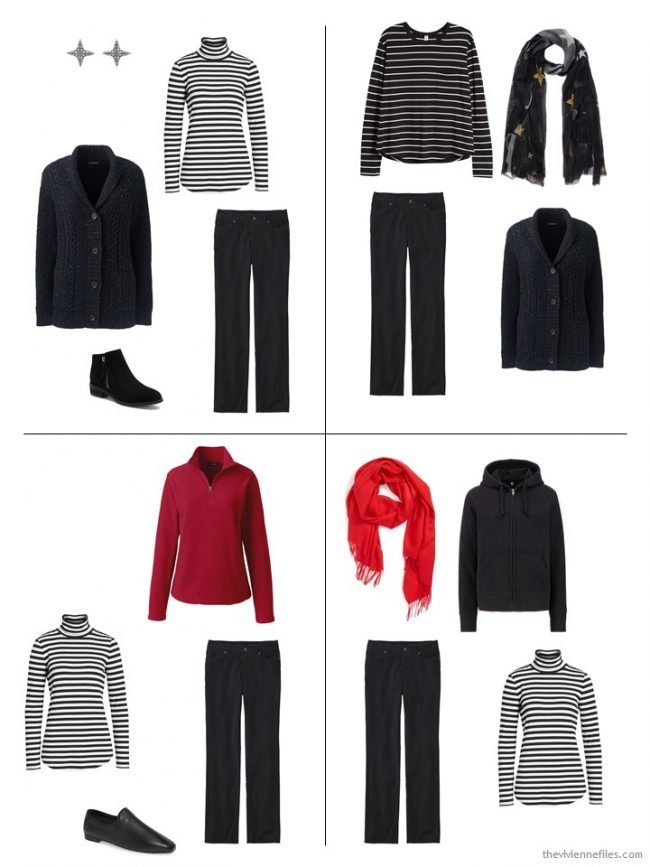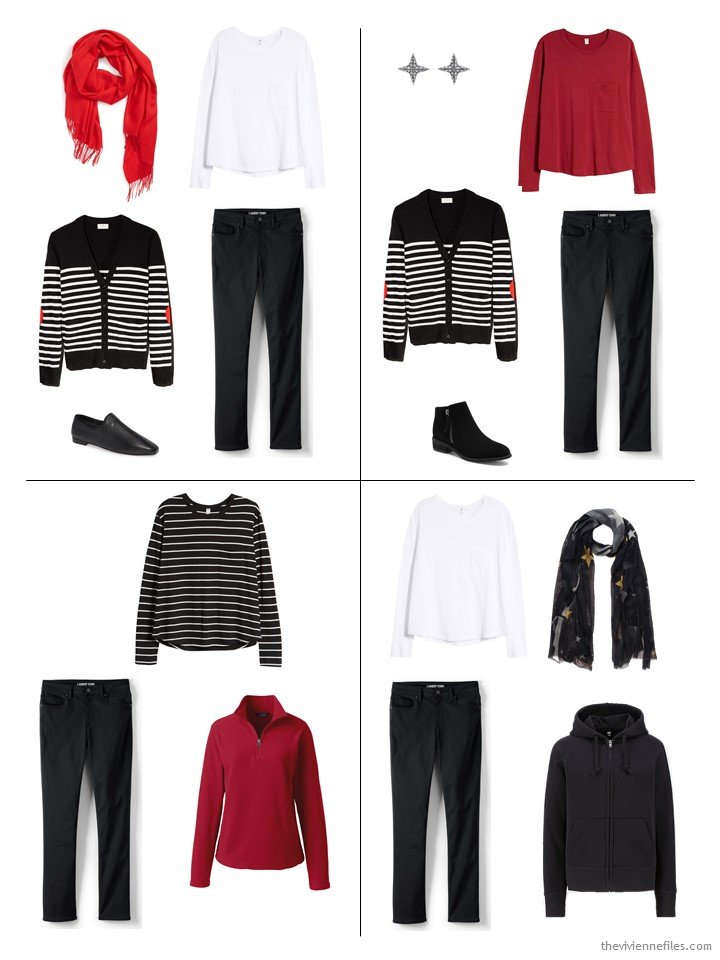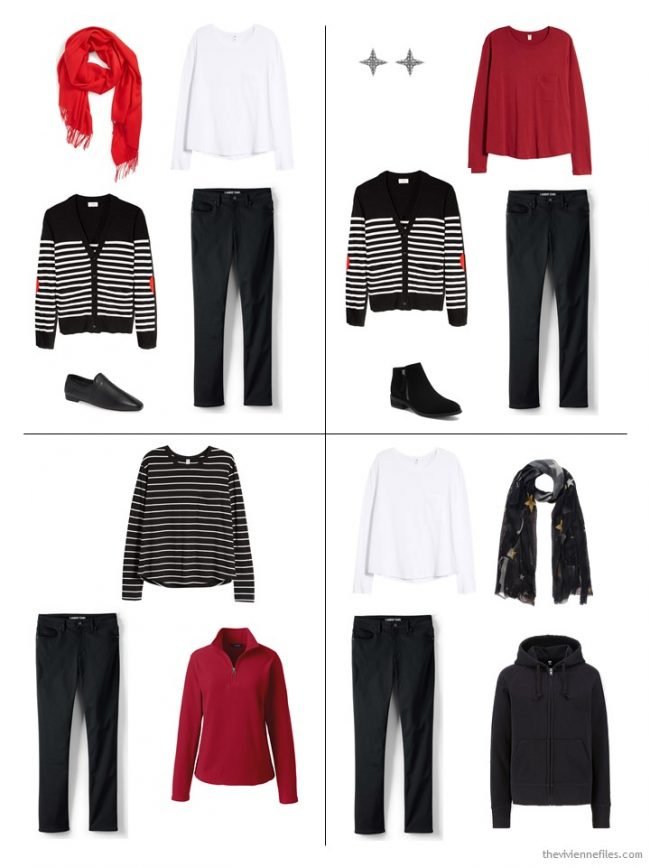 I'm considering taking photographs of my "outfit of the day" every day, just to keep myself honest. Maybe I can show them when I report back at the end of the month on my success?
love,
Janice
p.s. Yes, Wednesday we will see new Hermes scarves and the "January outfit" to start the "Year with a Scarf" posts! I'm excited…
p.p.s. My personal rules for "no shopping" means that I still get to spend gift cards that I receive, and that I am allowed to replace anything really critical that goes to pieces. (I'm thinking of socks and bras, most likely!)