December 3, 2018
Our heroines are getting holiday outfits! It might not be what they most need, but it's almost December, and in many of our lives, that means parties are coming thick and fast…
When I looked at this first wardrobe, I realized that our heroine didn't have a black cashmere cardigan! (I know, billions of people make it through life without one, but a wardrobe heroine certainly can make a case for one…)
And yes, I'm going to show you velvet jeans a lot – I am currently wearing a pair, and I'm smitten. They come in eight colors, including emerald green, a stunning bright pink, amethyst, sapphire, and lovely gold. I sized generously but not insanely large, and they fit wonderfully…
This outfit is dressy by virtue of the mix of lovely fabrics, and the "statement" necklace and shoes. You don't have to be absolutely paved in sequins and beads to be dressed appropriately for most parties – at least you don't in my world!
This is what her wardrobe looks like at the end of the year: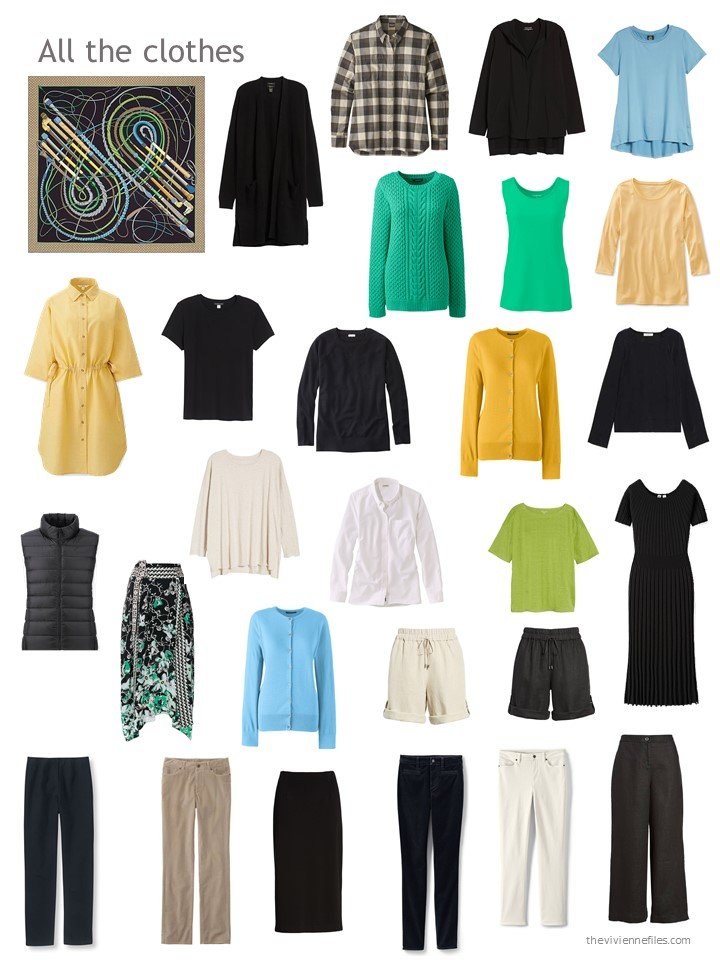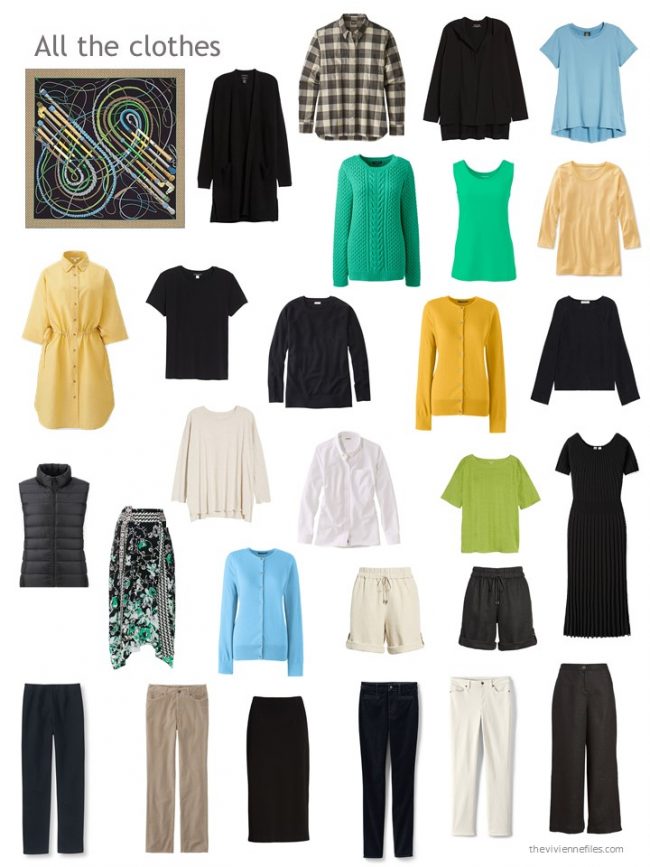 And this is her accessory collection!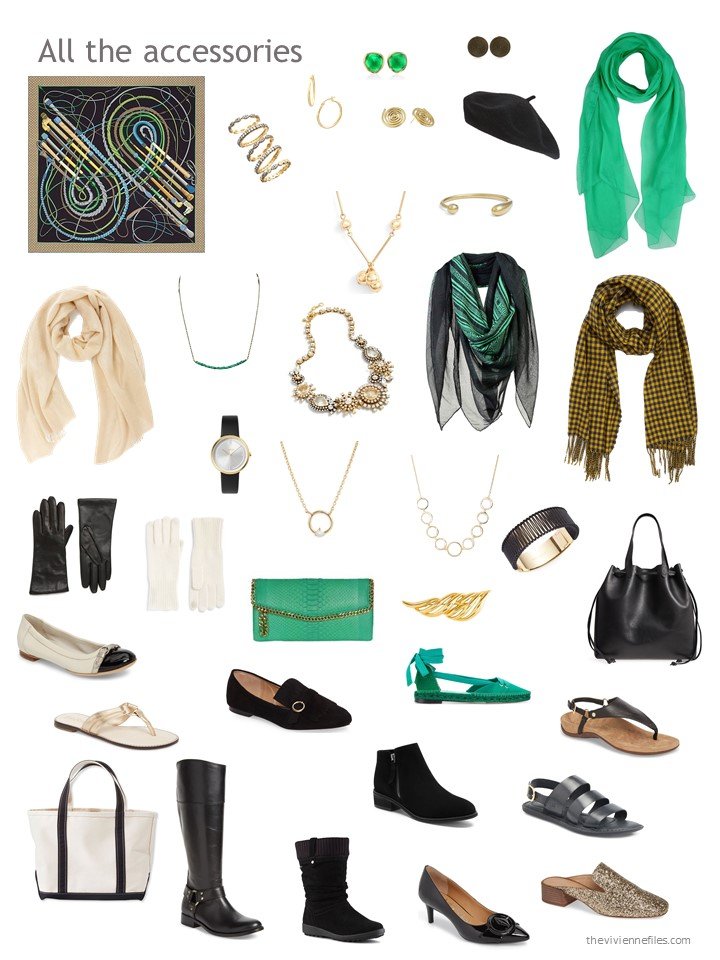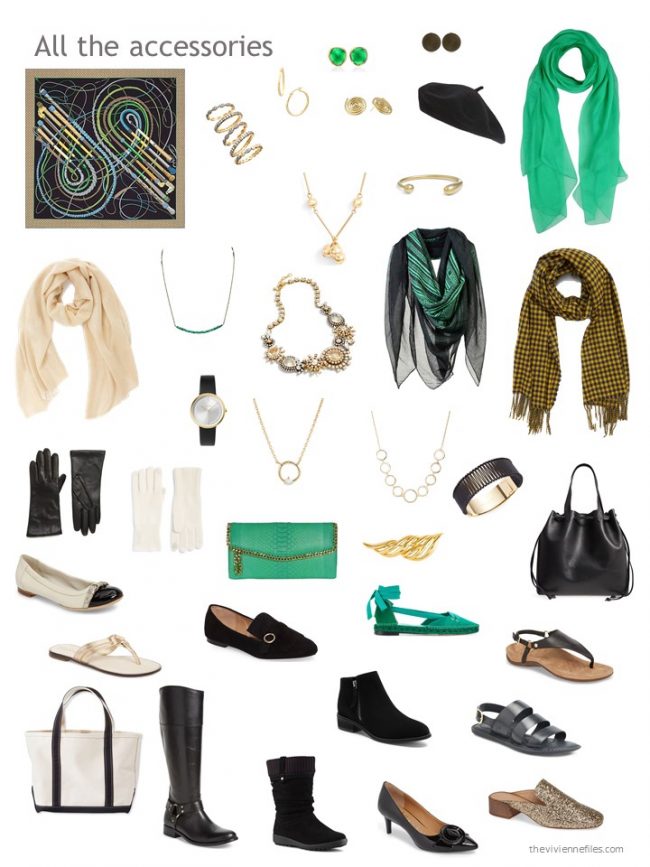 As always, I'm going to be sure that she has some additional ways in which she can wear her new garments. This serves 2 purposes: 1. she can avoid buying something that's not going to get used often enough to be worth the price, and 2. she can wear her existing garments in a wider variety of ways. It is always wise to think about what other ways you can wear a new outfit…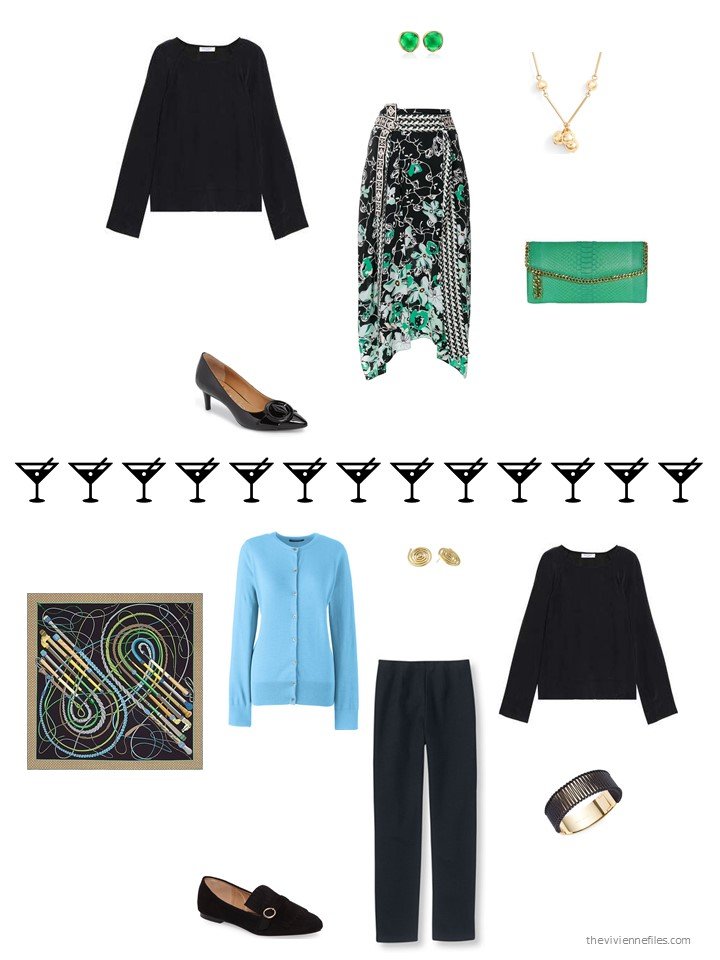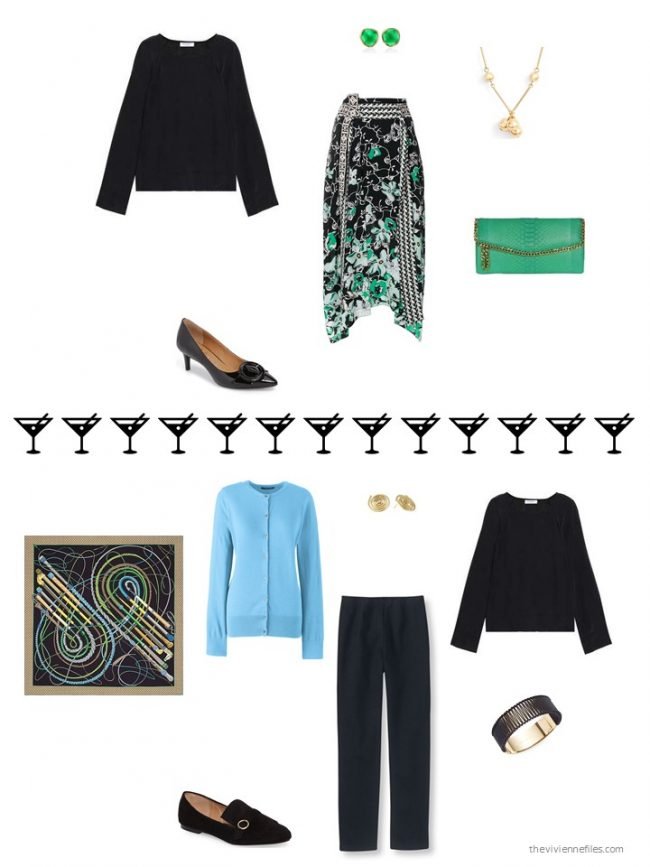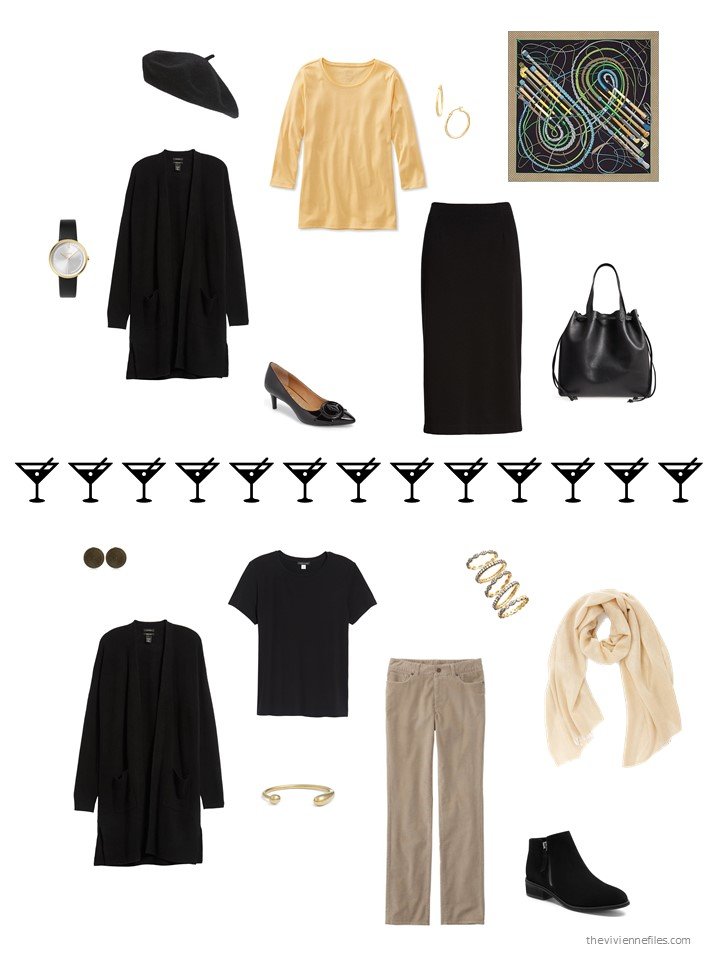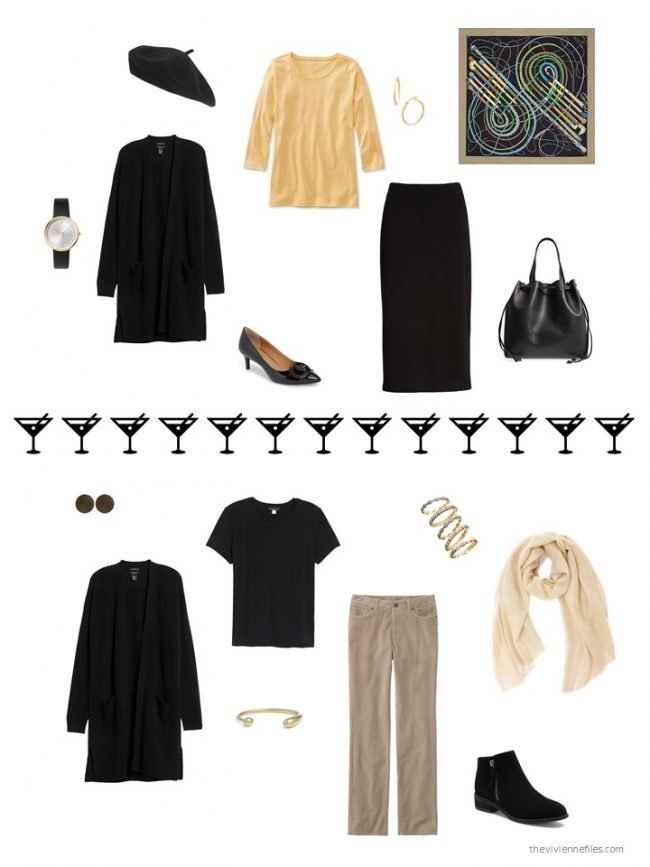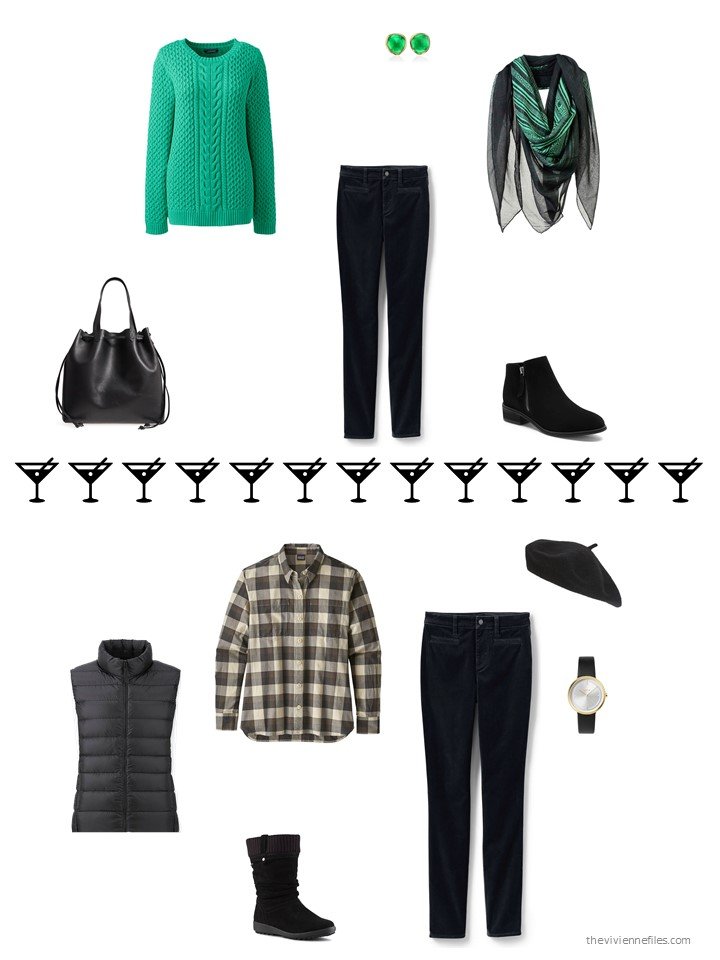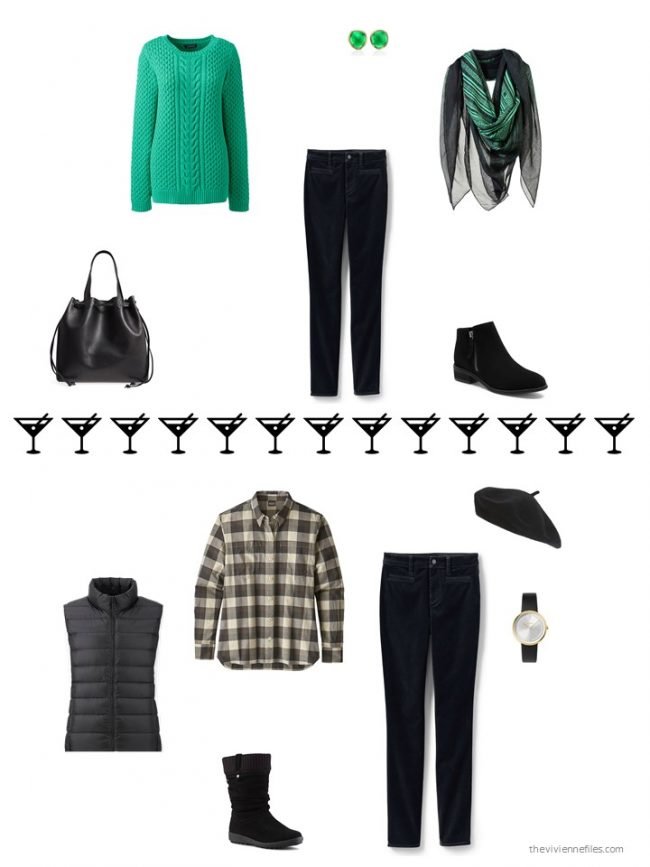 I've been looking for a good excuse to show you this sweater for a couple of weeks – I love this knit!With a gold skirt, it is a holiday outfit that will NOT blend into a sea of black!
This is such a pretty wardrobe… Her dry-cleaner must love her, or maybe she lives somewhere without constant worries about dirty city things?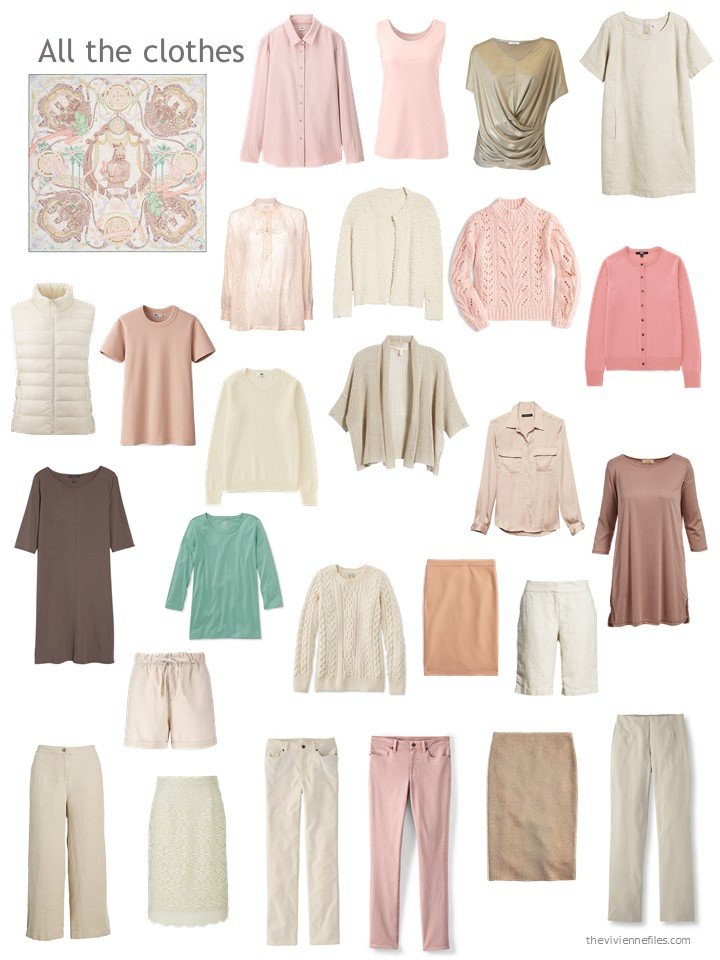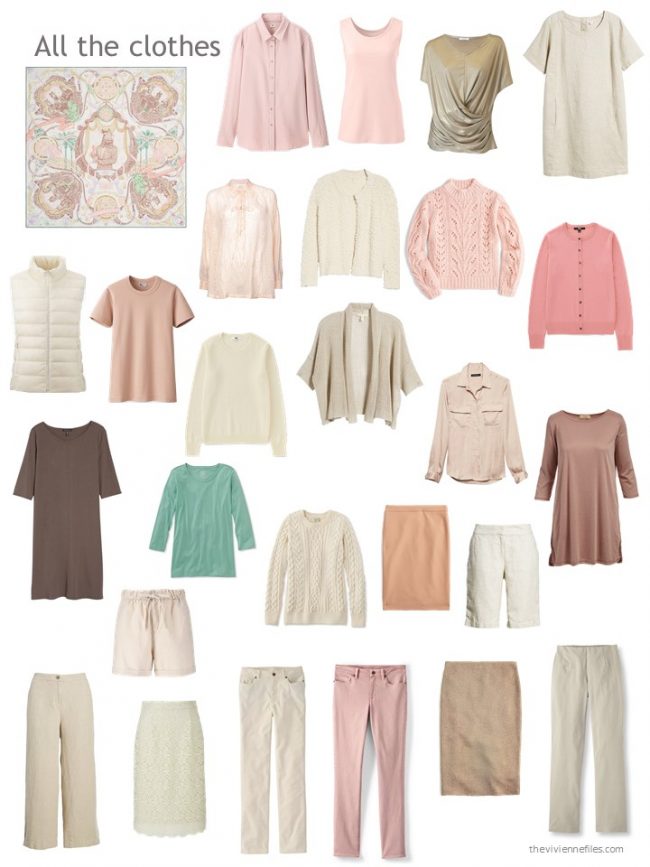 And her accessories aren't bad either, are they?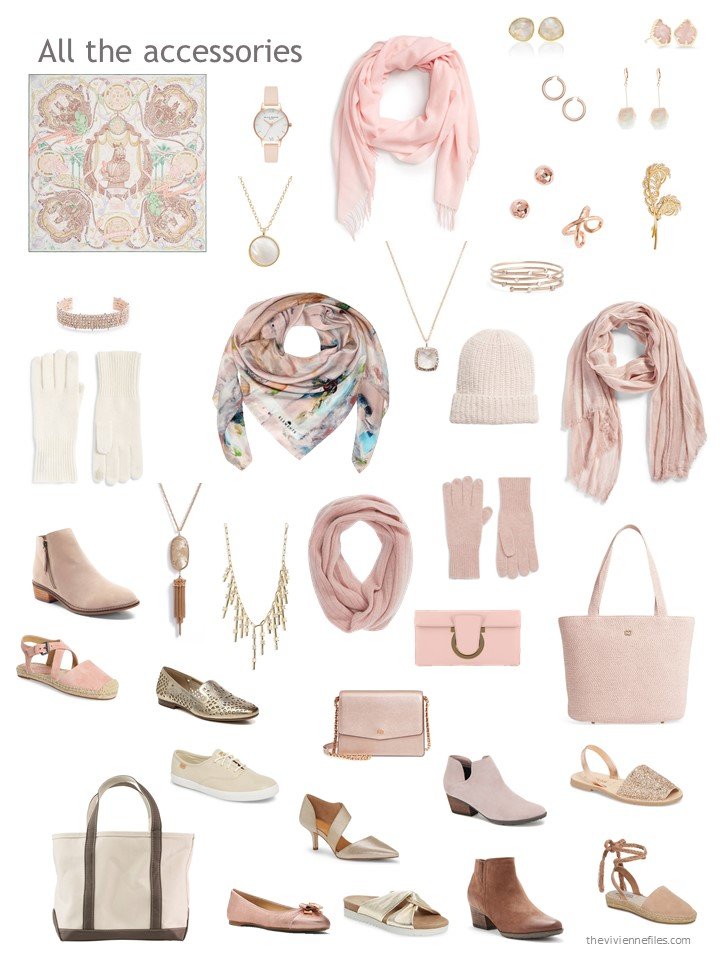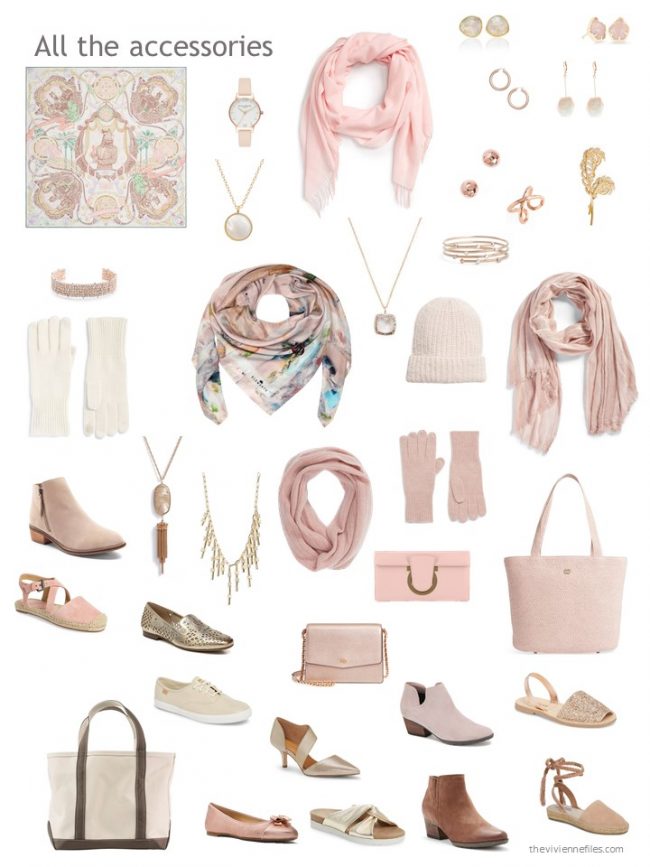 Her new holiday acquisitions work nicely with the rest of her wardrobe; I can't imagine her settling for anything that didn't blend in seamlessly with the rest of her clothes!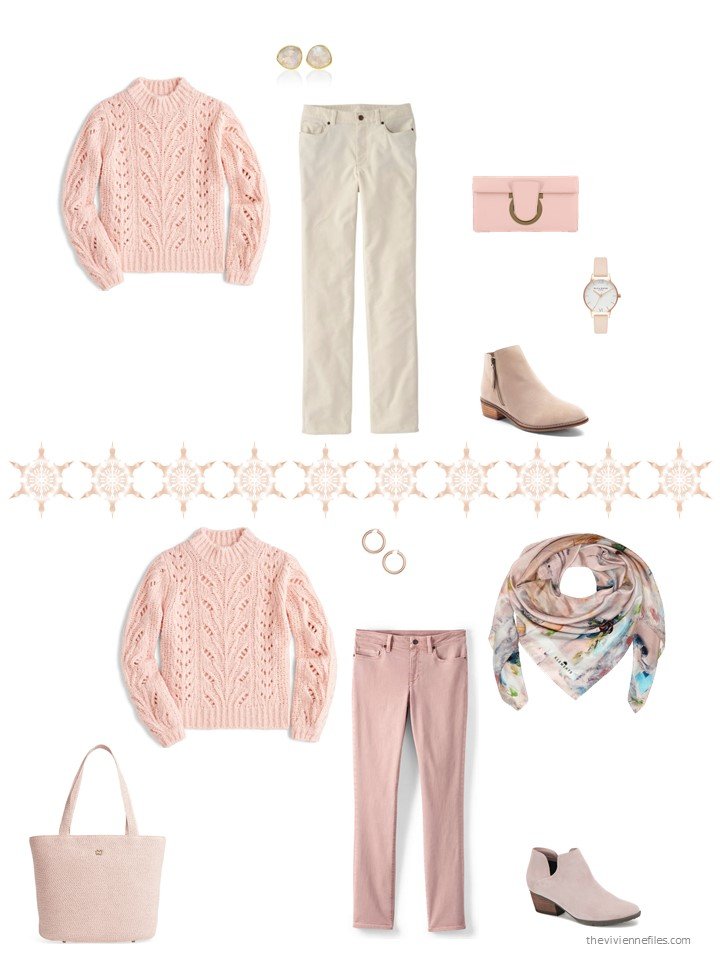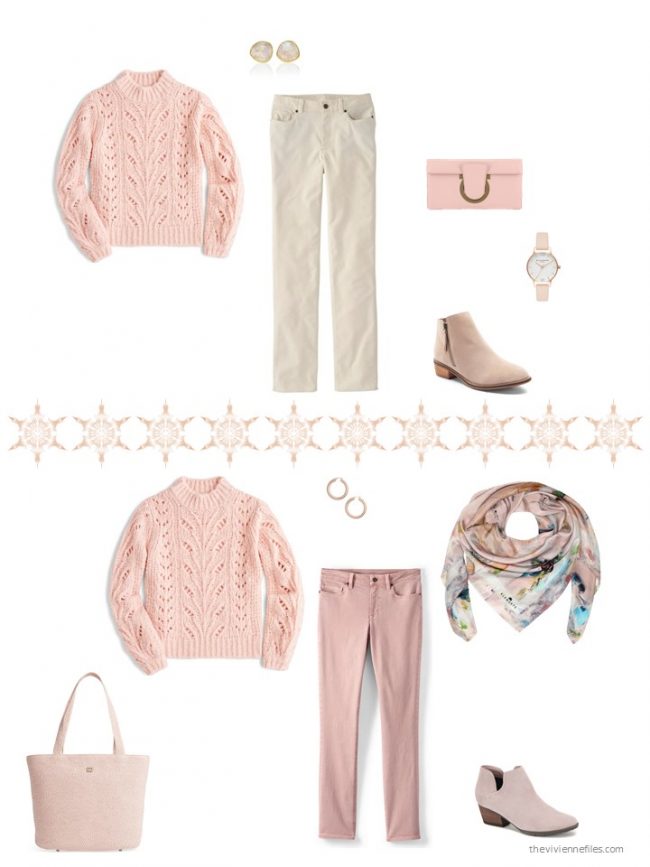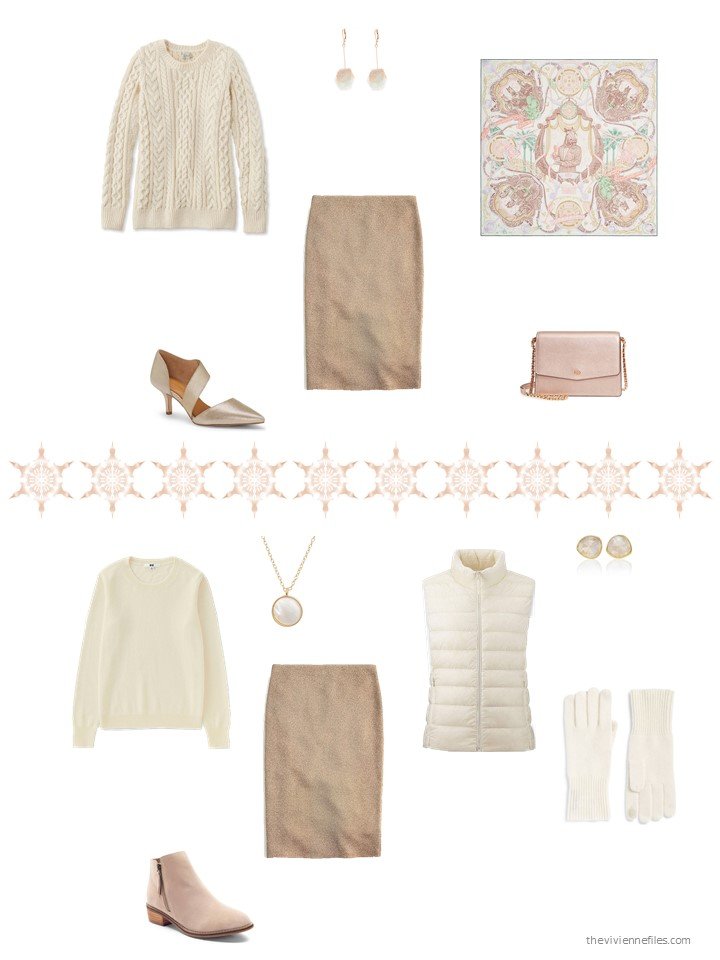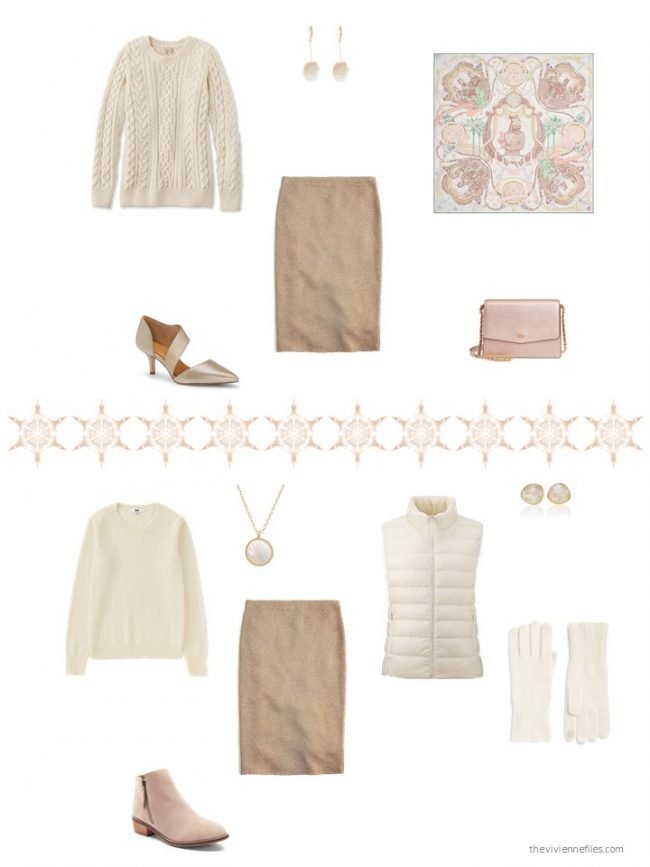 I really wanted to include an outfit here that would be festive but still appropriate for something casual – that kind of sledding or skating or caroling excursion with some cocoa afterwards…
This wardrobe really appeals: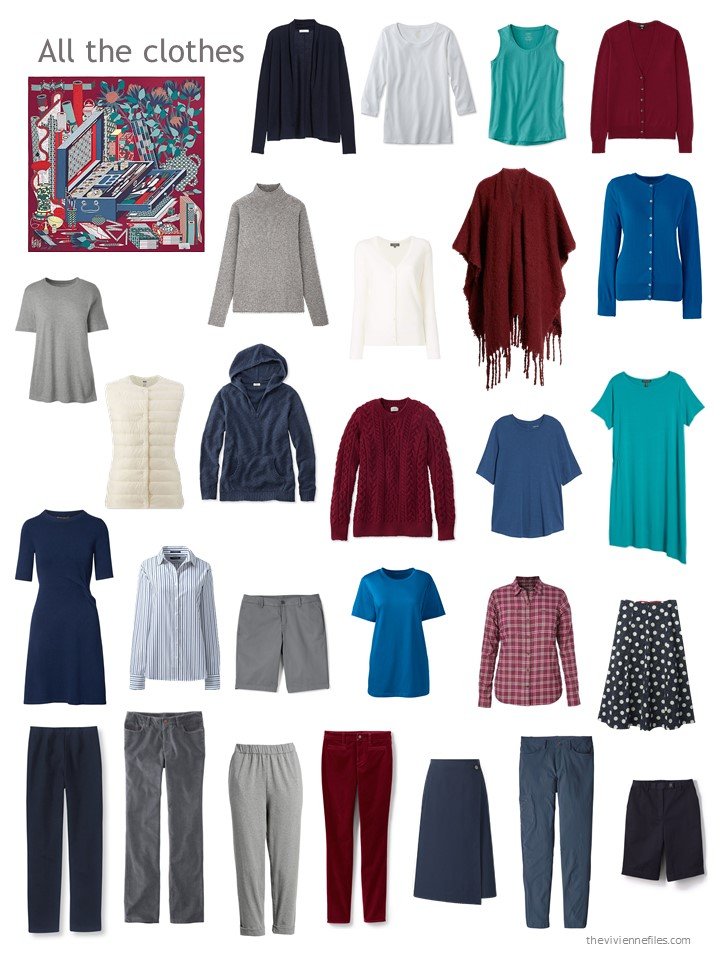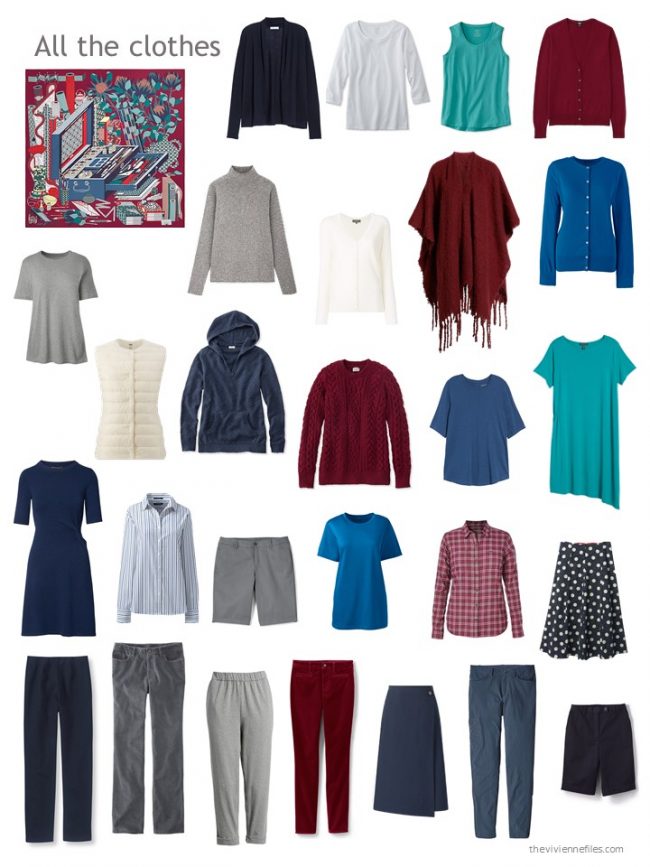 And I really like these accessories!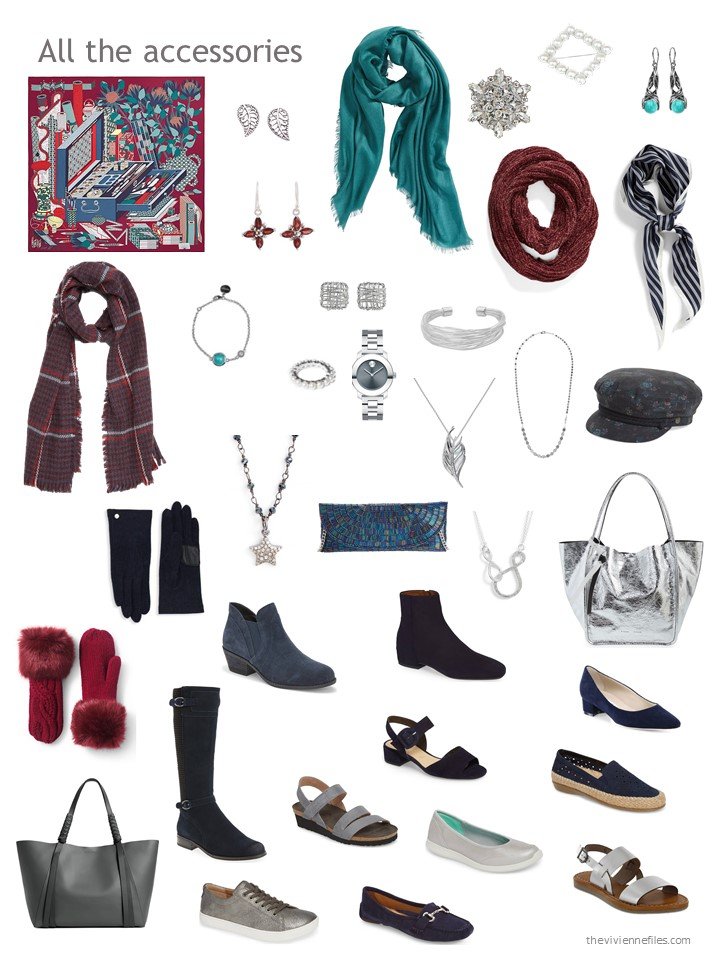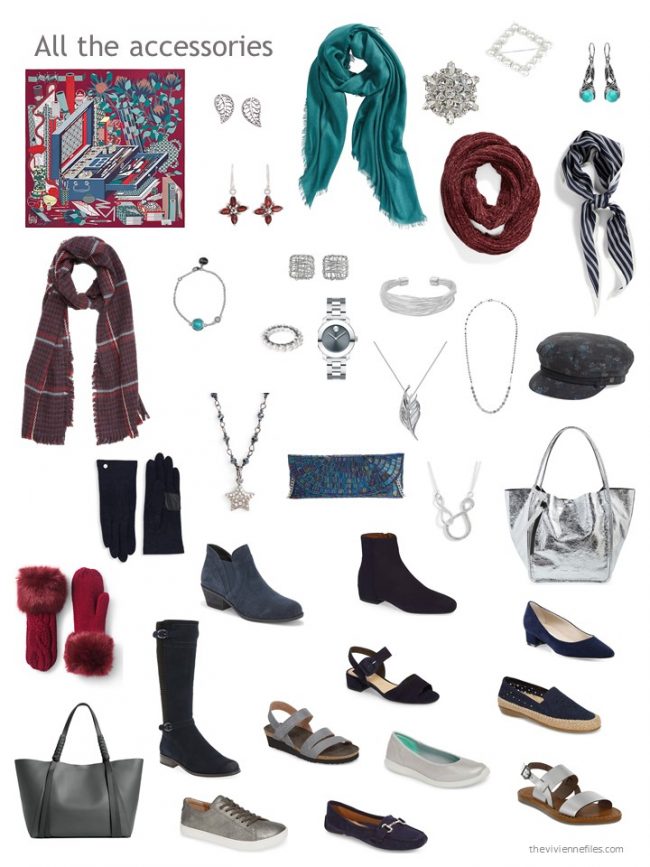 These additions really can be worn in many more ways than this, but at least having these outfits sketched out in the mind of our heroine can ensure that she's not buying a bunch of nutty things in a fit of impulsiveness!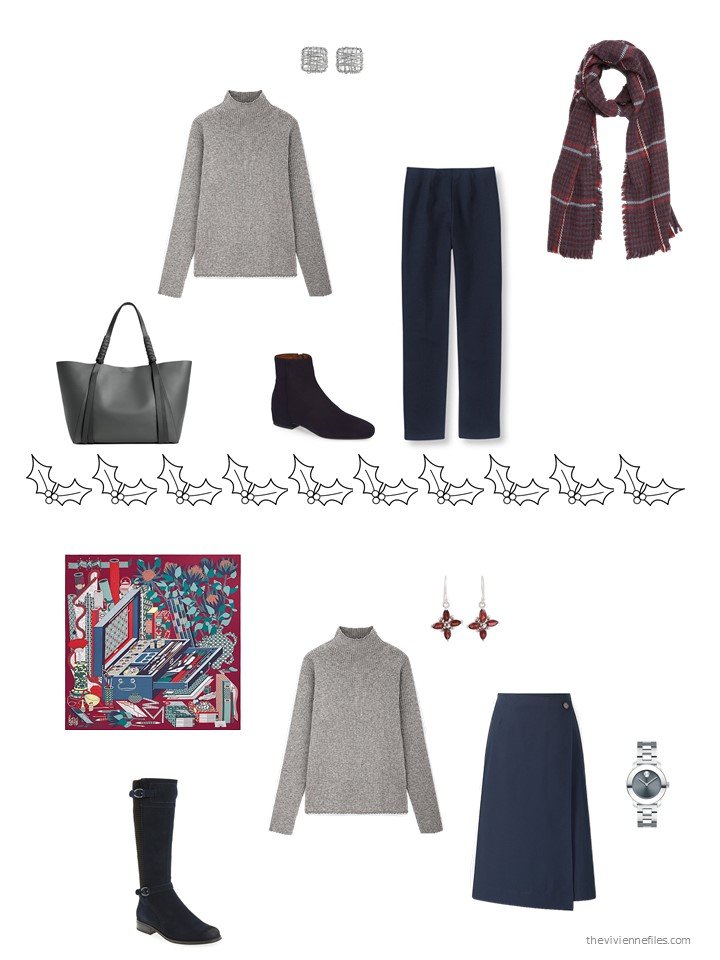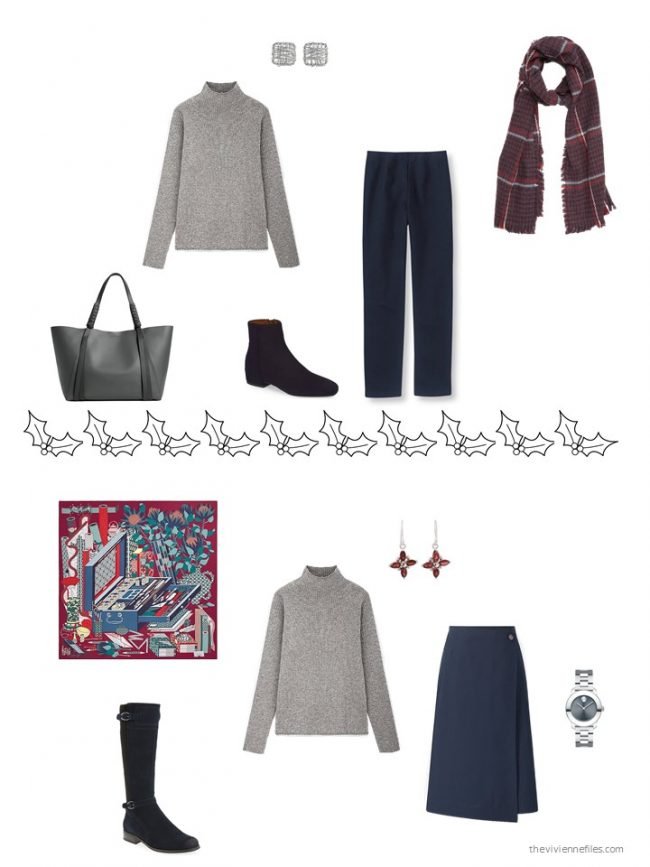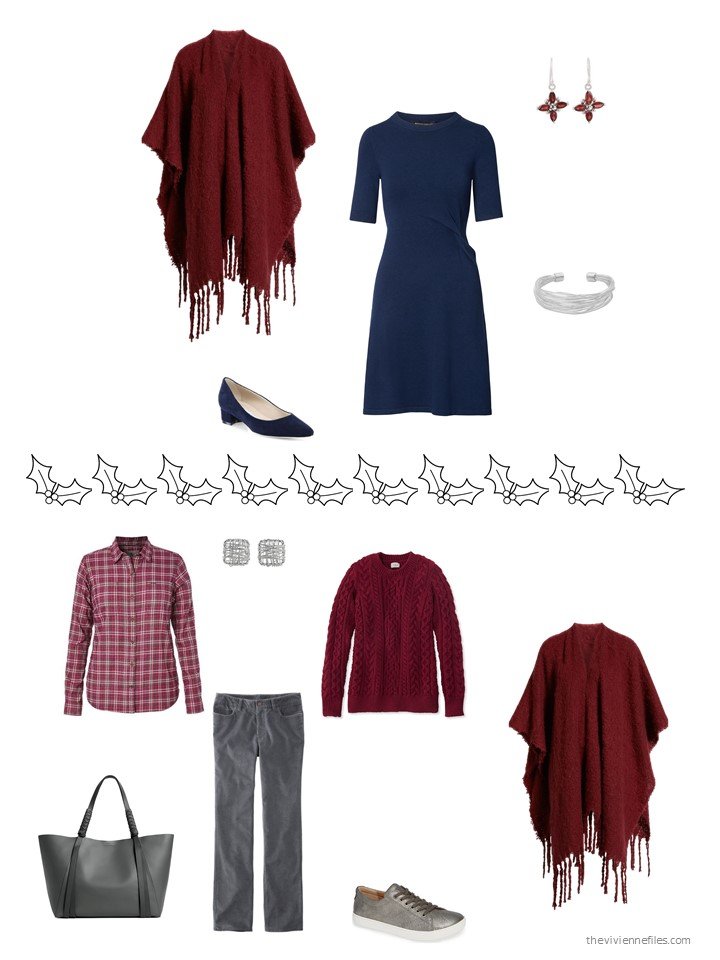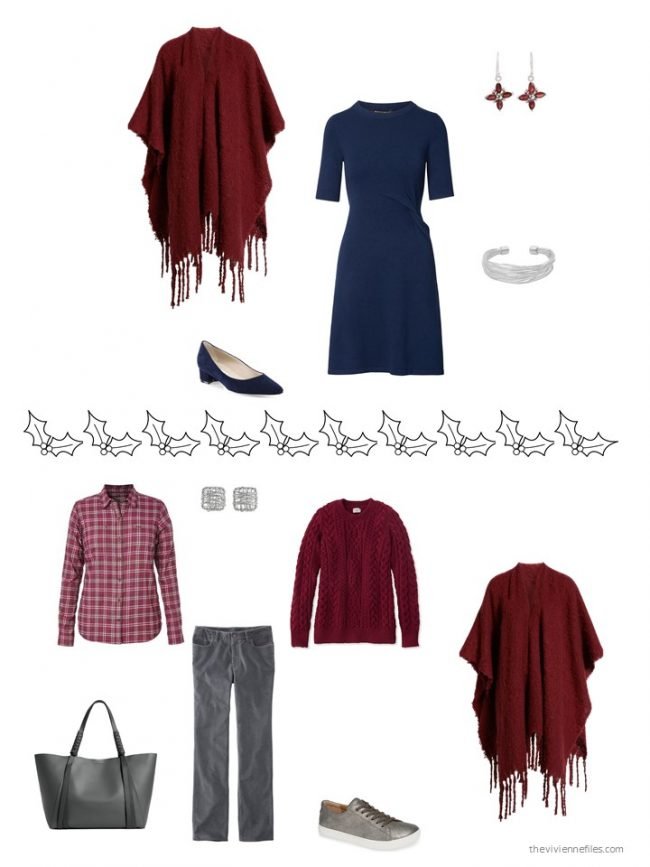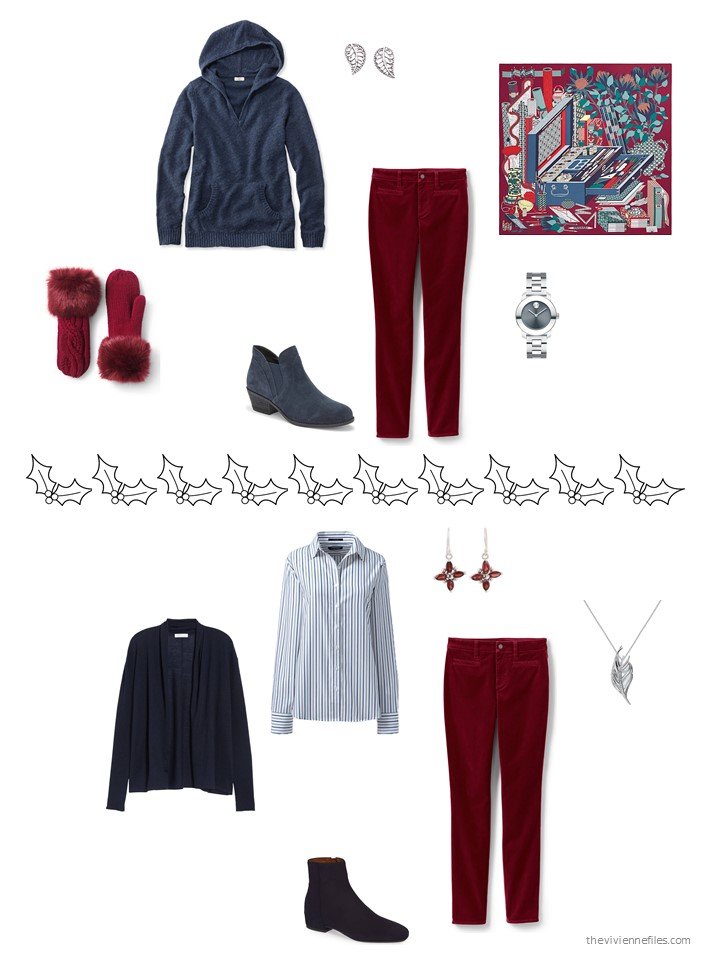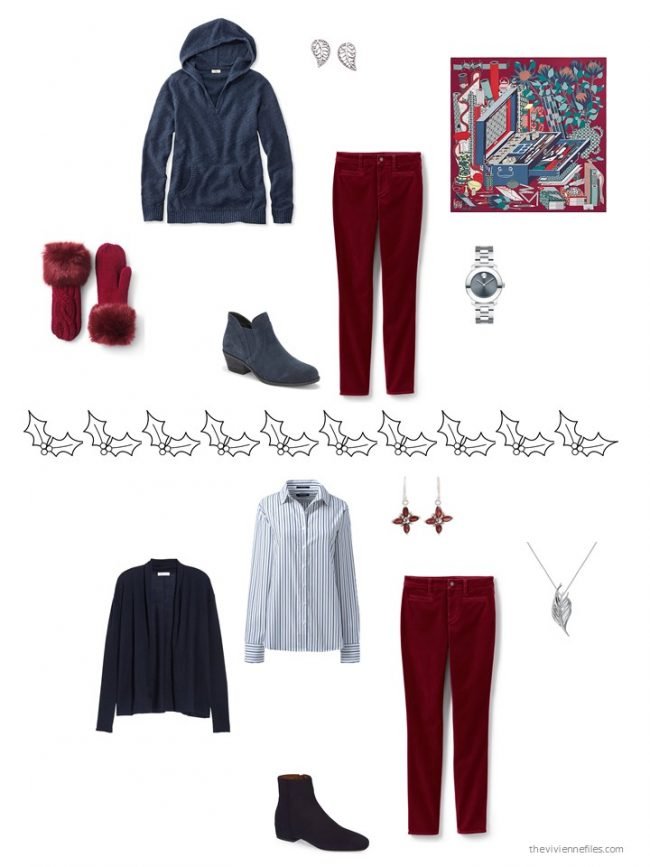 I labored over what to offer to this heroine – I thought about more olive green, or pink…
But then I studied the scarf some more, and realized that I was missing that edging in tan/khaki/camel. And camel in cold weather is gorgeous! (no, the colors don't have to be matched at a microscopic level – that's one of the beauties of wearing garments in different fabrics and textures)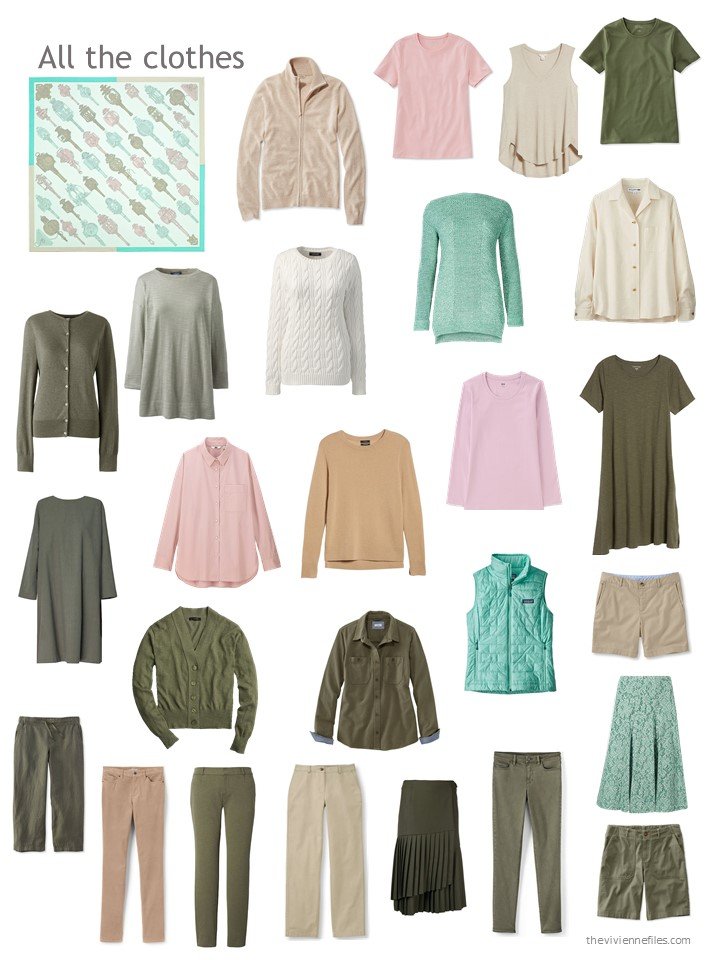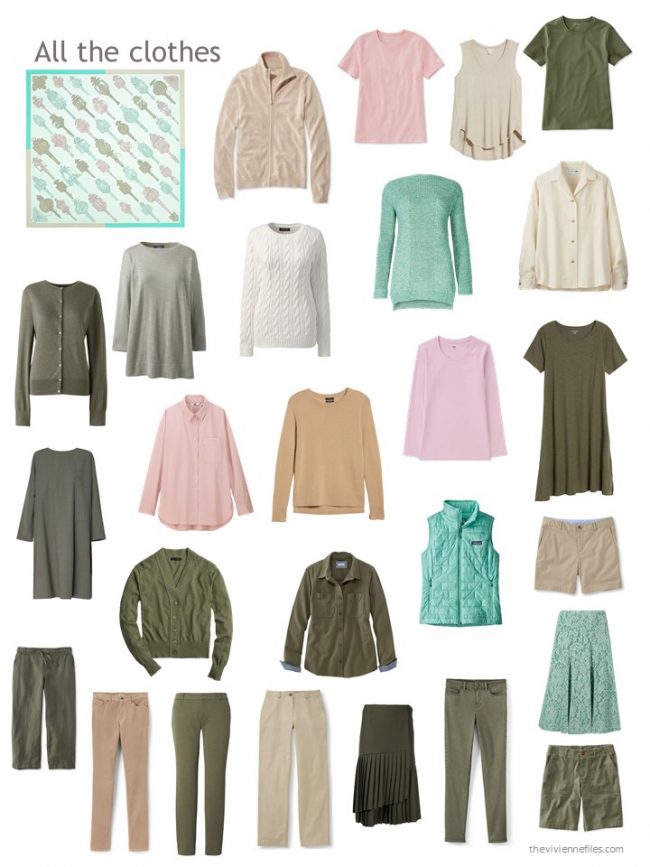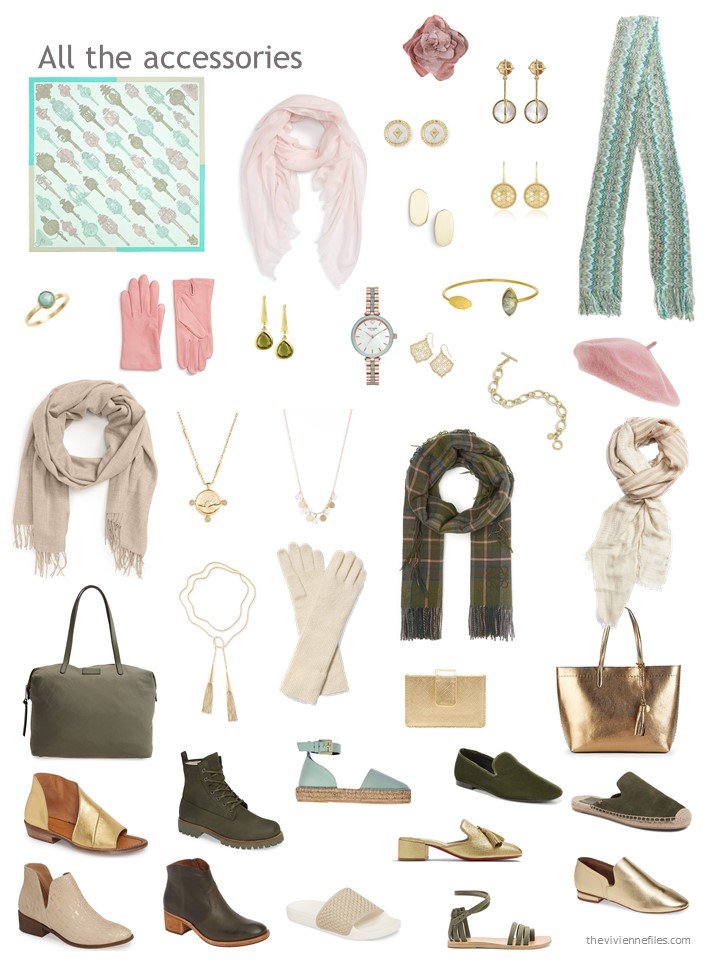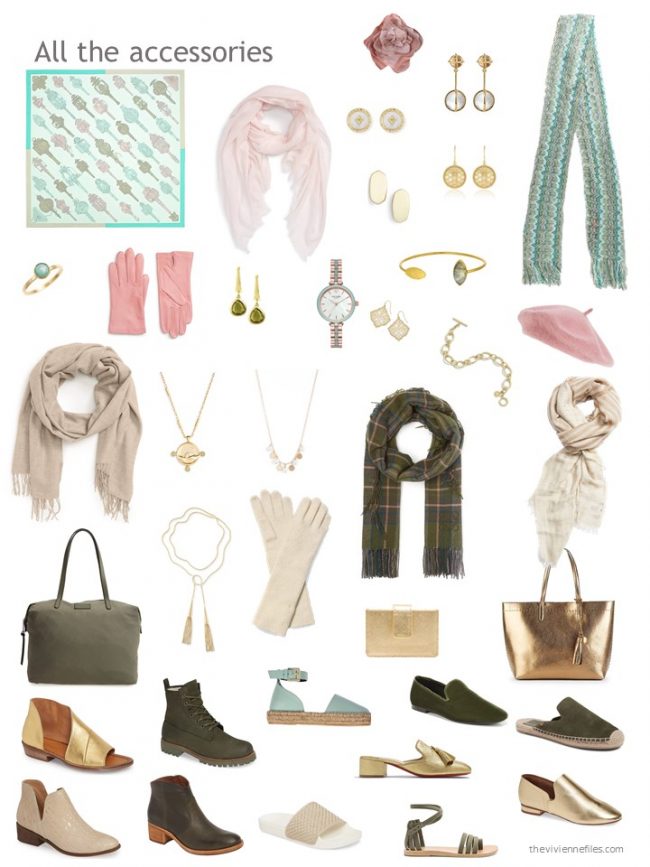 Even though this heroine doesn't have a lot of beige or camel in her wardrobe, she will still be able to get a lot of use out of her new sweater and pants: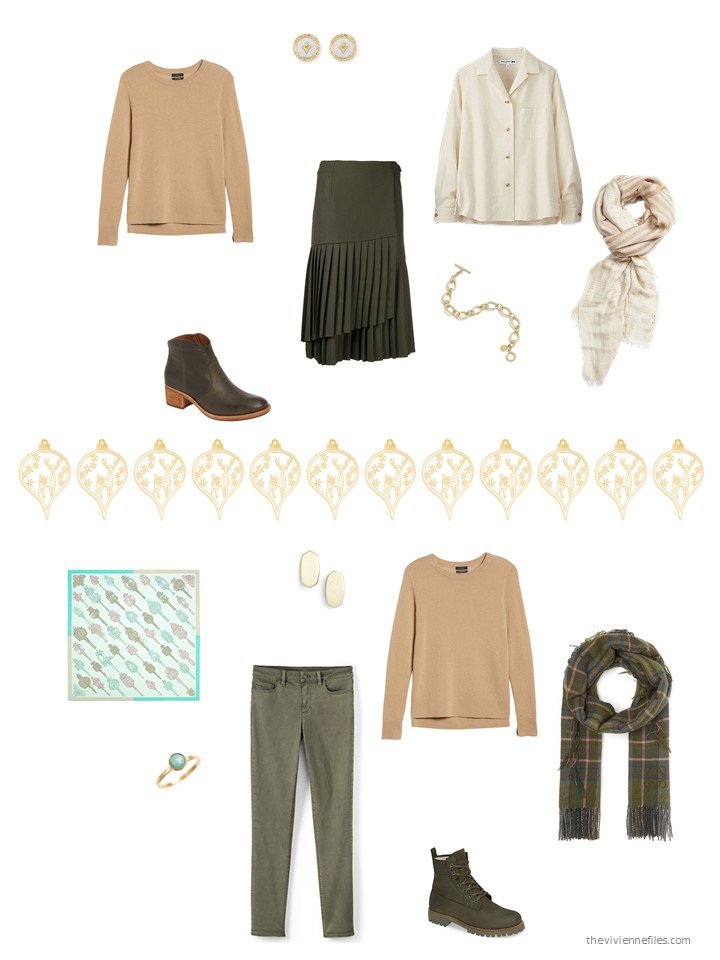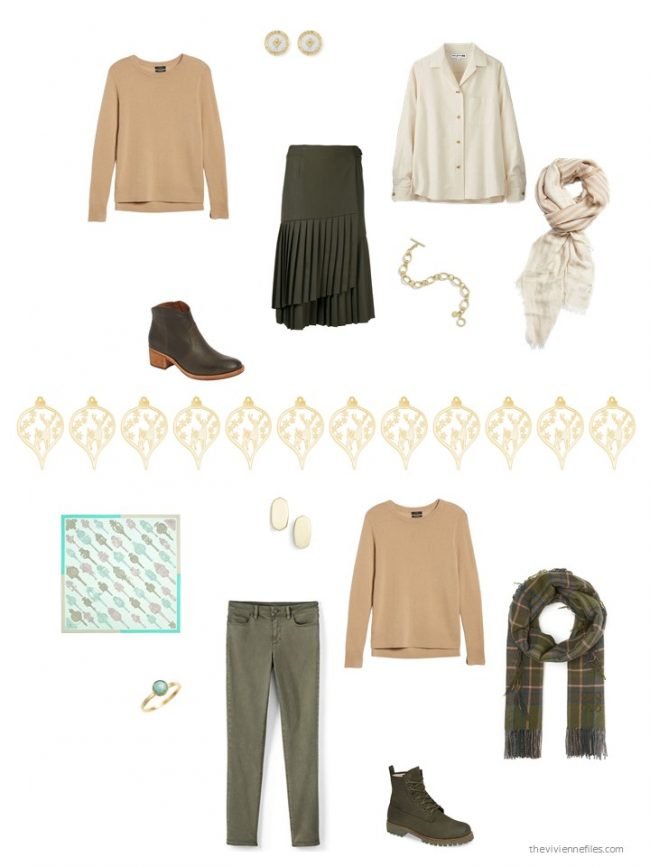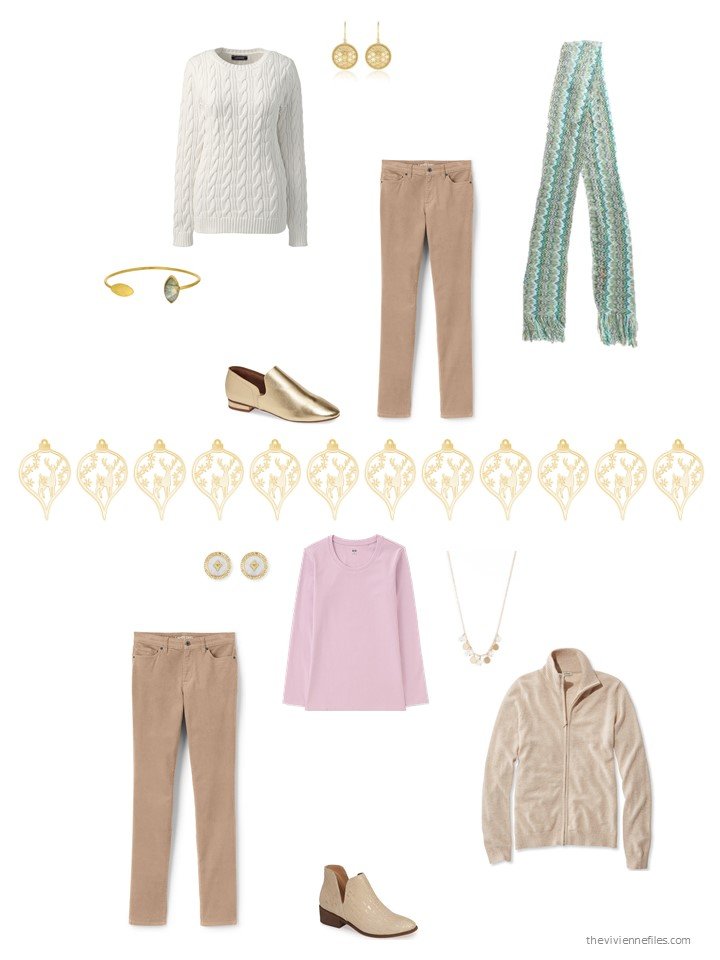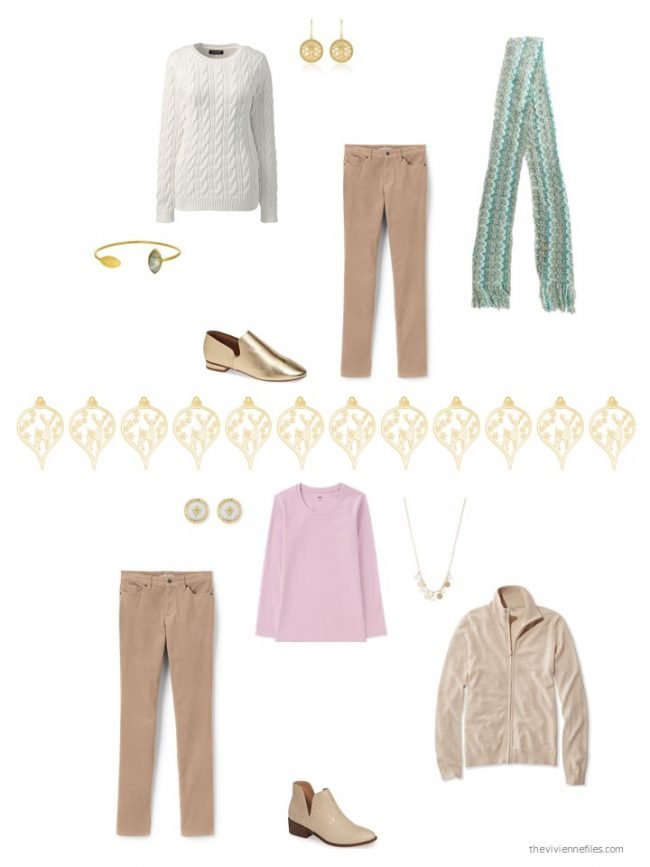 I couldn't resist a silver skirt! Paired with some cashmere, a sparkly necklace and the cutest little flat shoes, this outfit could go lots of places…
This wardrobe all works so well together – I swear you could get dressed in the dark from these clothes: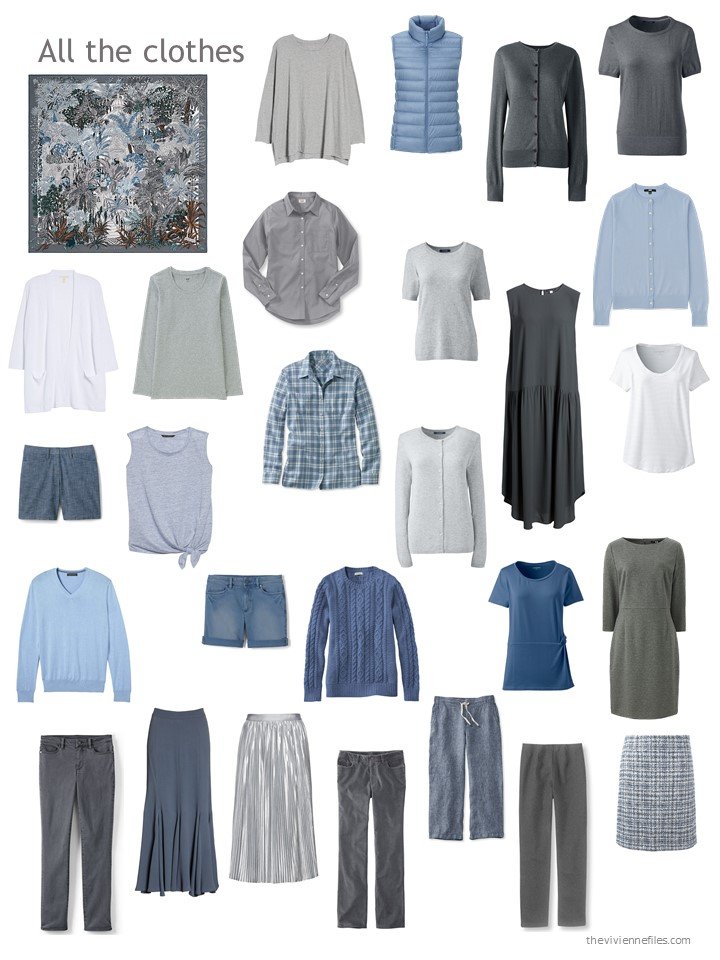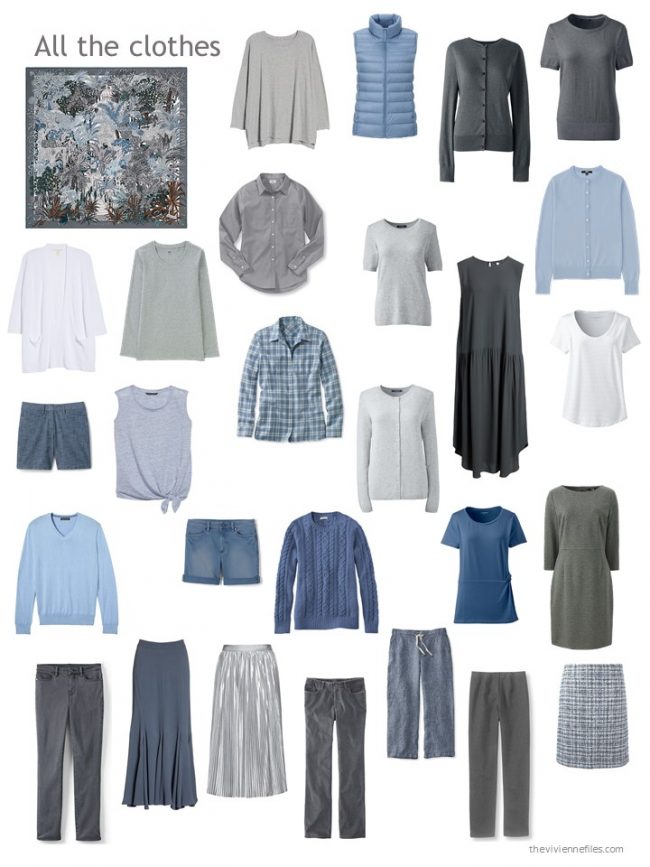 And I think she has all of the essential accessories here…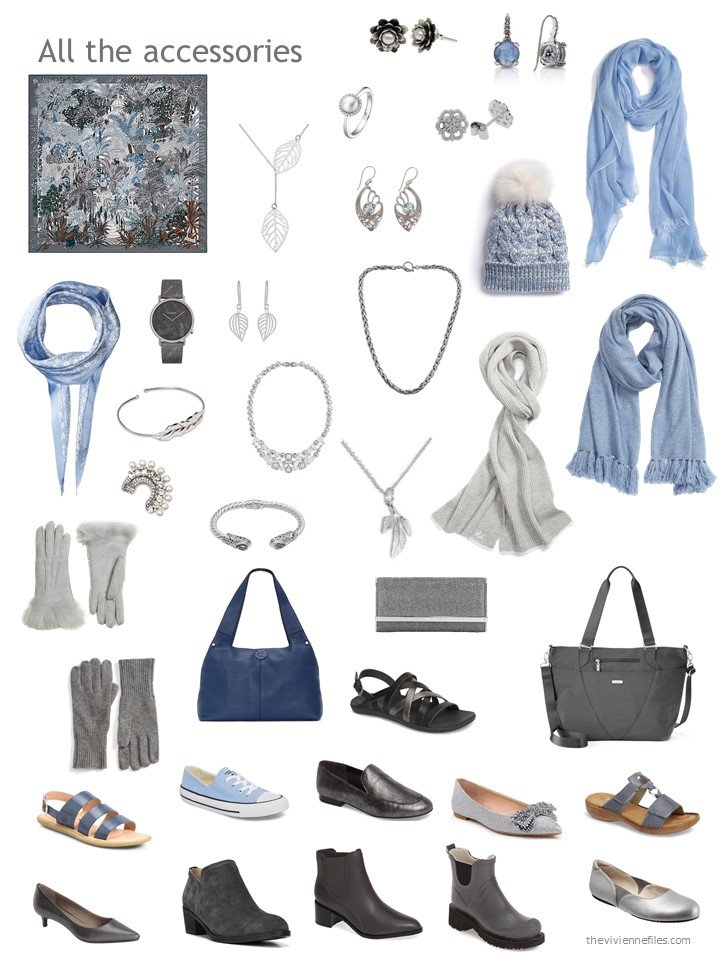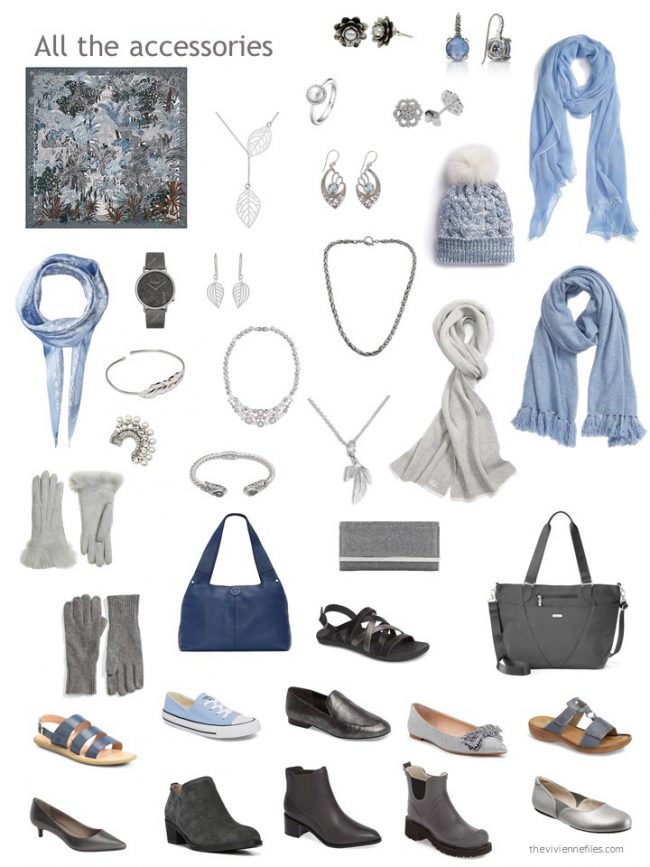 It doesn't surprise our heroine that her new outfit is going to be easily integrated into her existing wardrobe: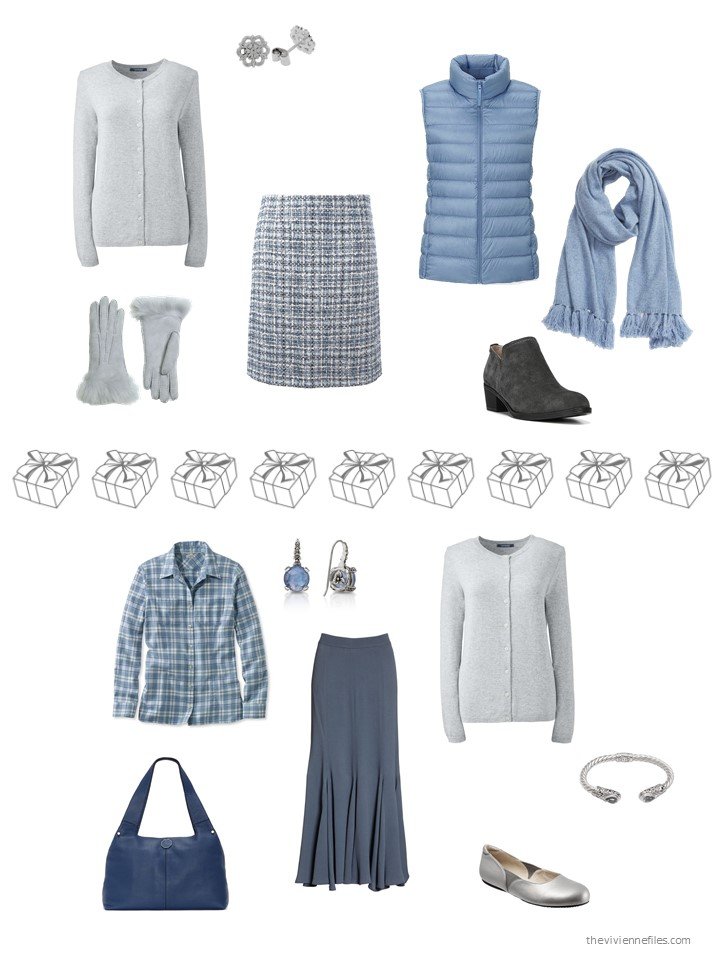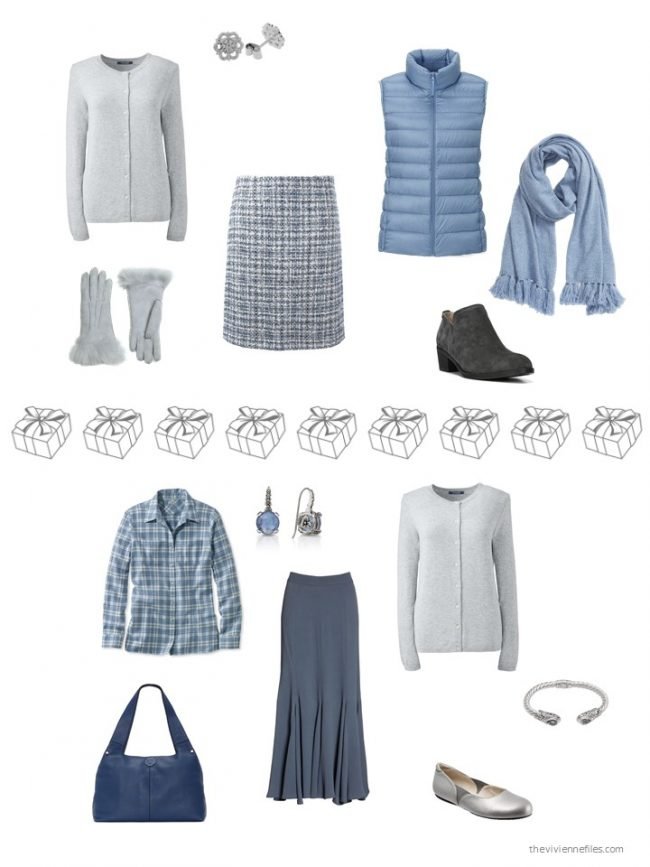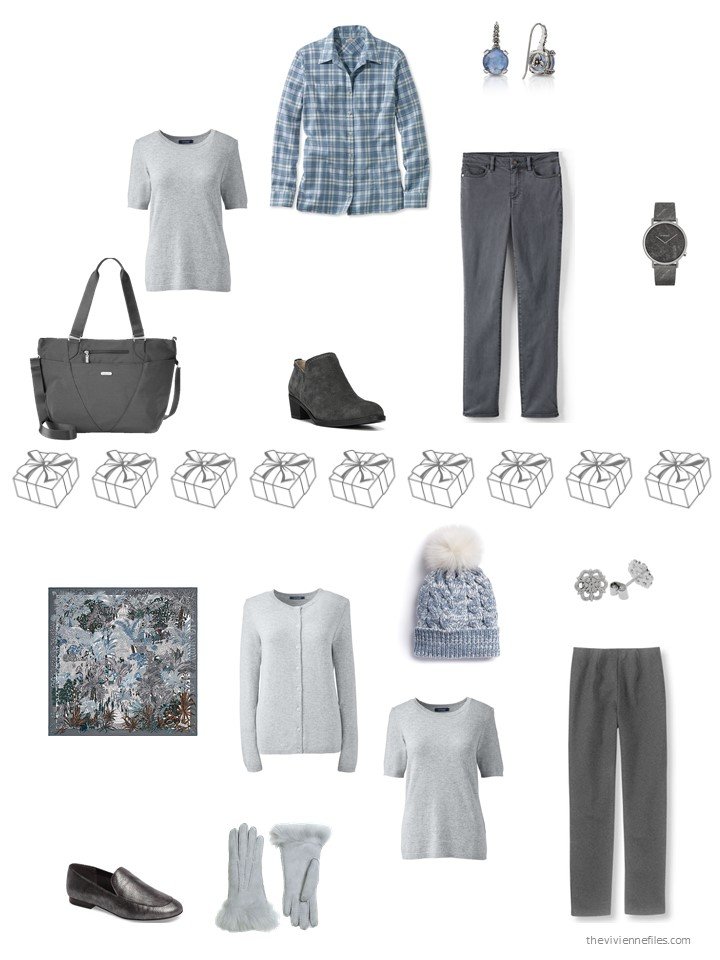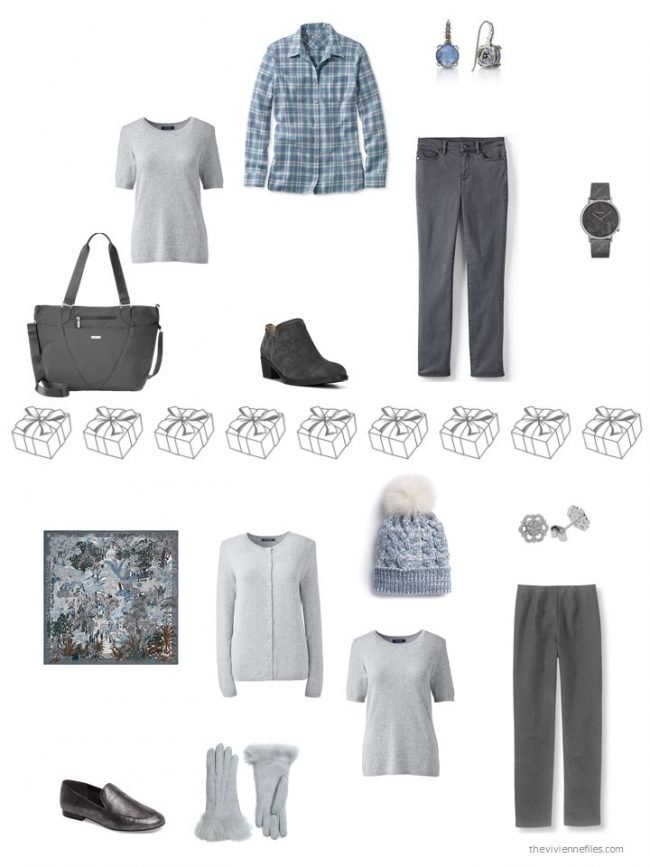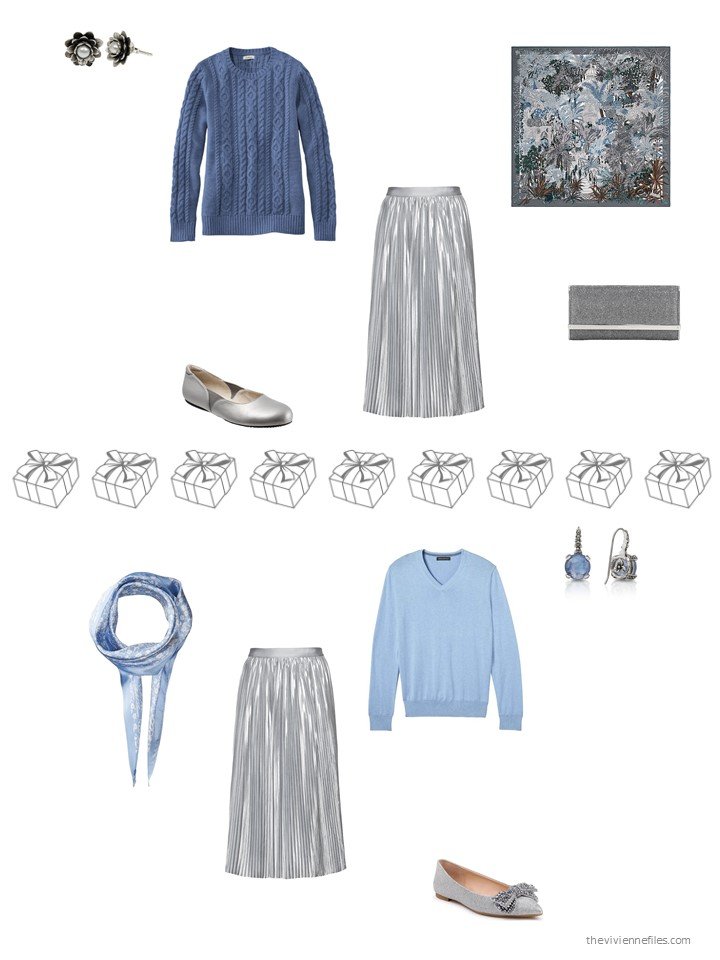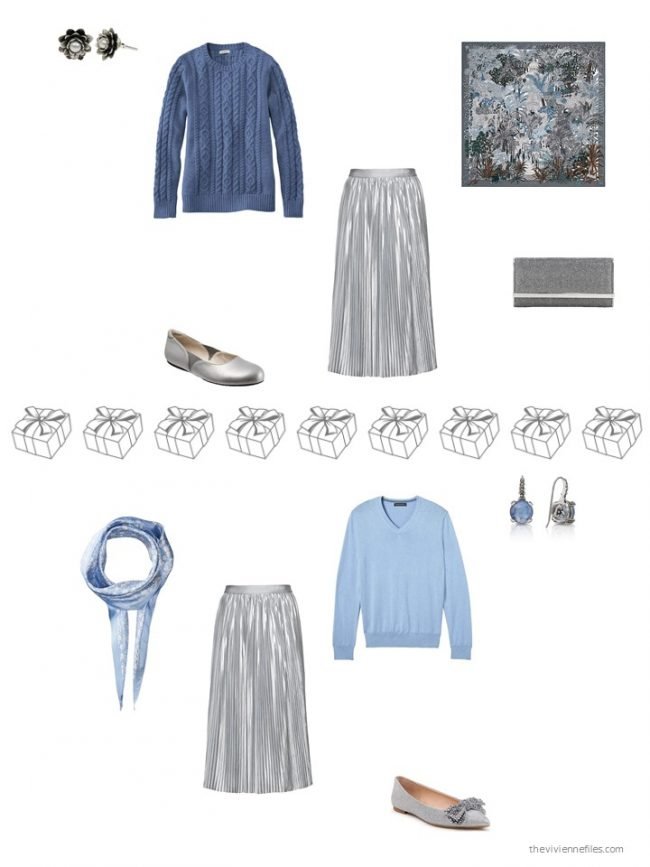 For this last, most amazing heroine and her equally amazing wardrobe, I again struggled a little bit. And then I realized that she could certainly use a pair of black pants… Her ability to wear black and brown together is unparalleled!
I looked and looked and scarves for her, and finally decided to see what Hermes could offer. This purchase of a second scarf in the same design isn't as odd as it might seem; there are some really unusual scarf collectors who will find a "grail" design which they try to buy in EVERY color. I can't imagine it, but everybody gets to live their own life, eh?
Her wardrobe includes a range of neutrals – black, brown and grey – but it all works pretty nicely together!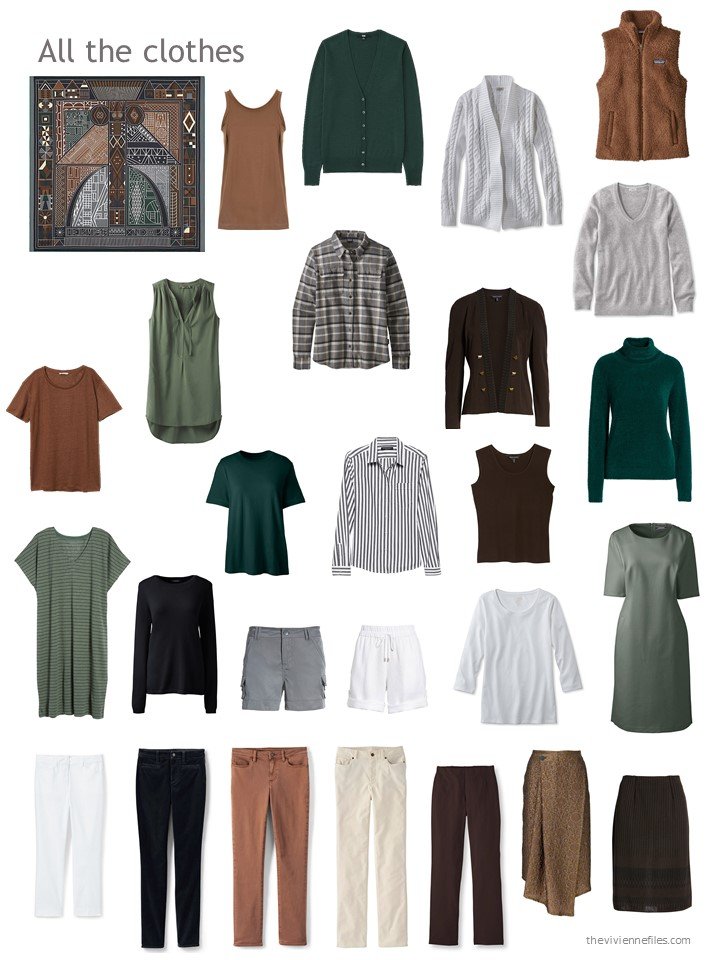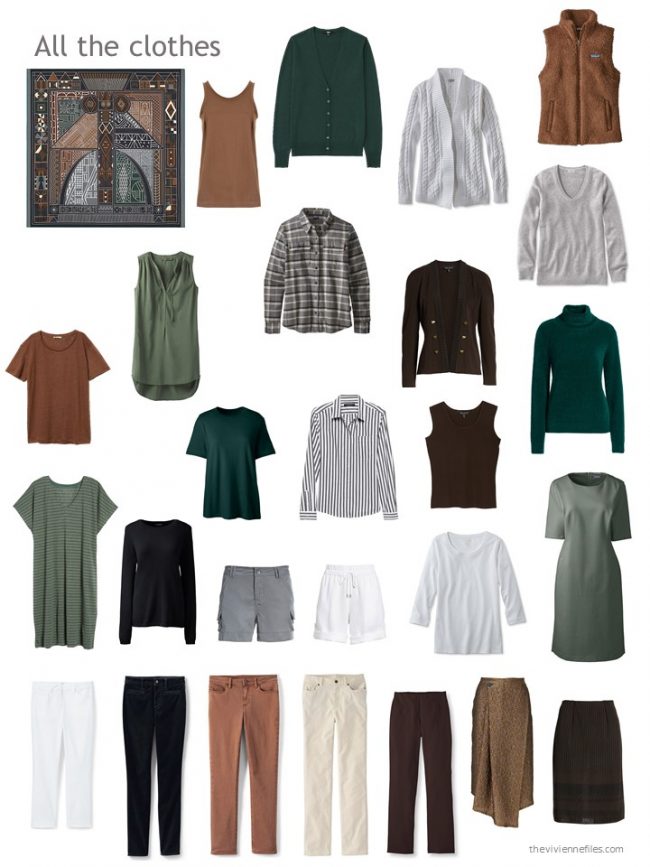 And I think her accessories are amazing – varied, but all invoking the "feel" or the colors of the scarf: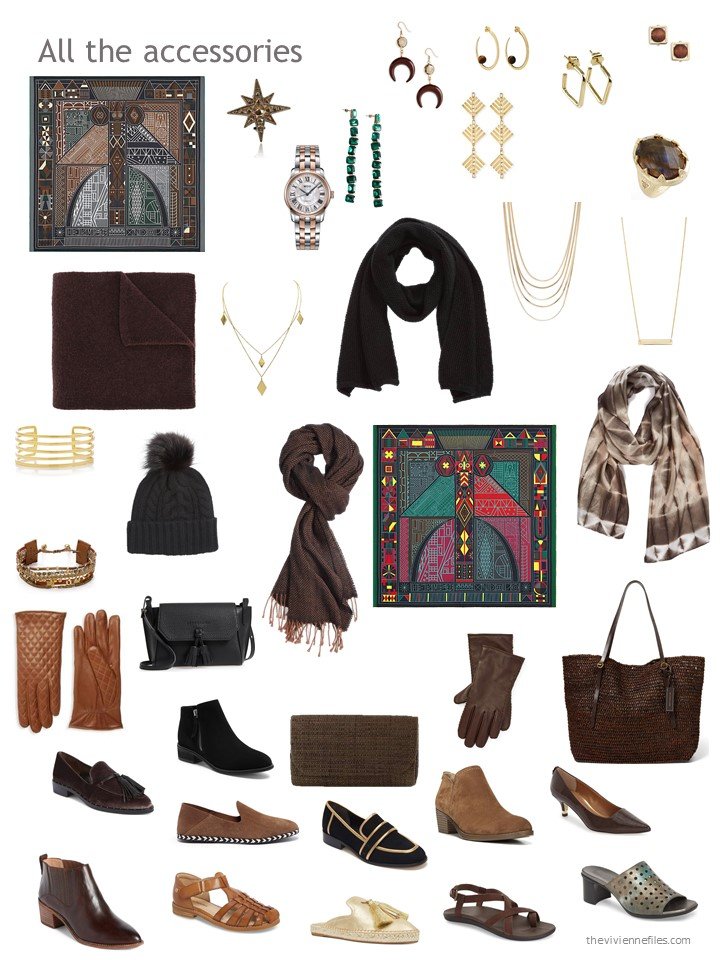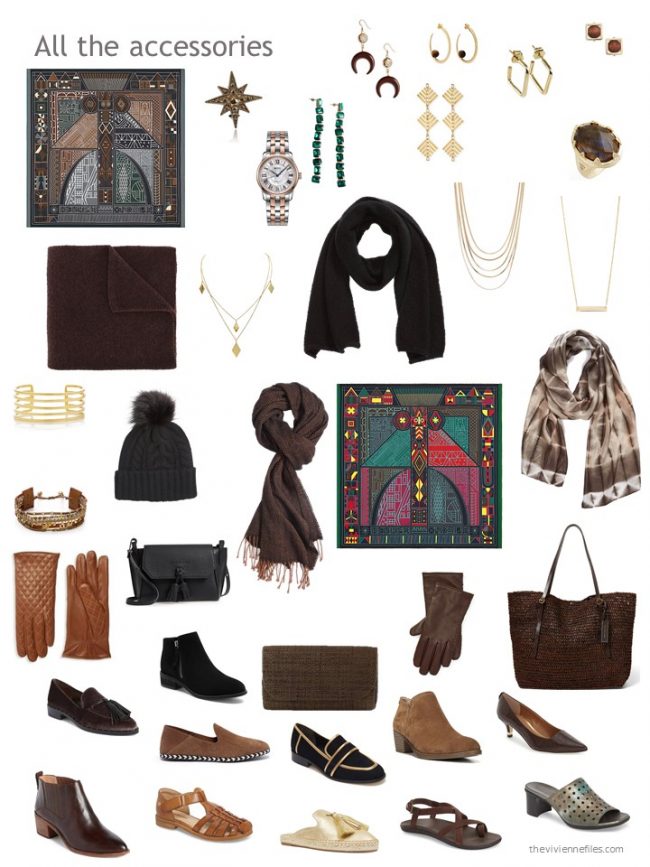 The new sweater and jeans bring a different feel to things, and offer her options that she really didn't have up until now: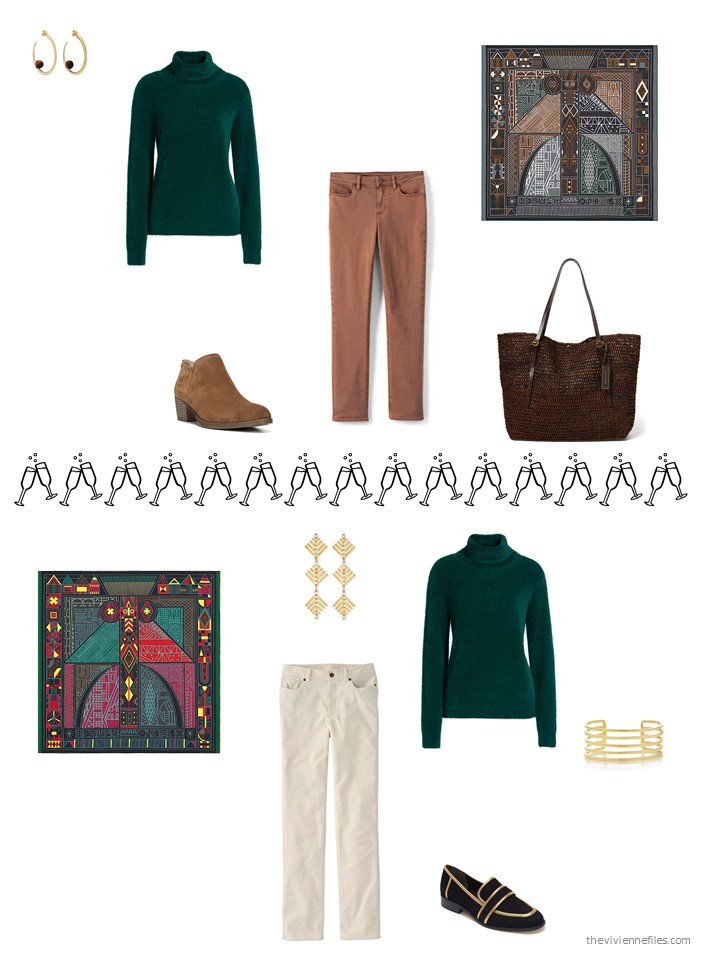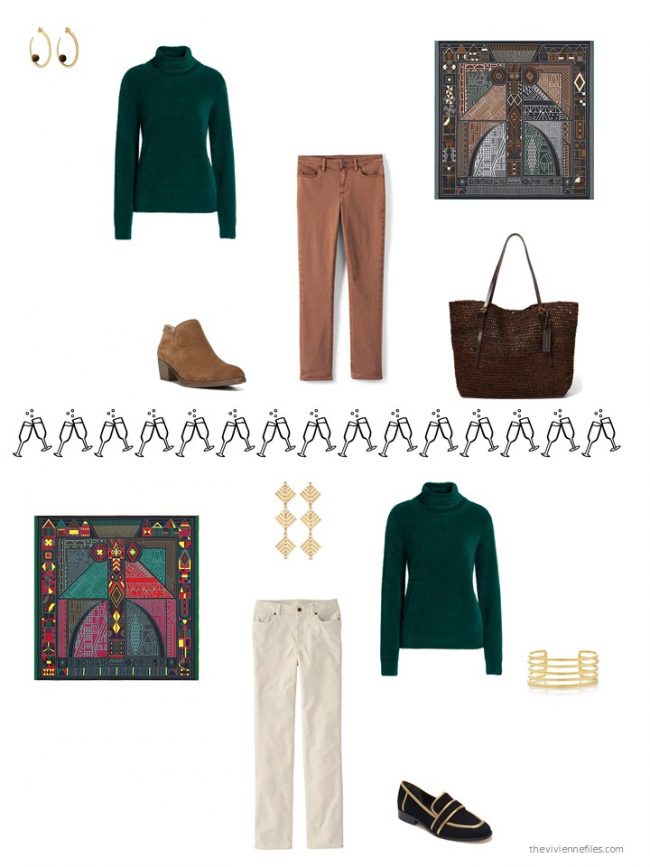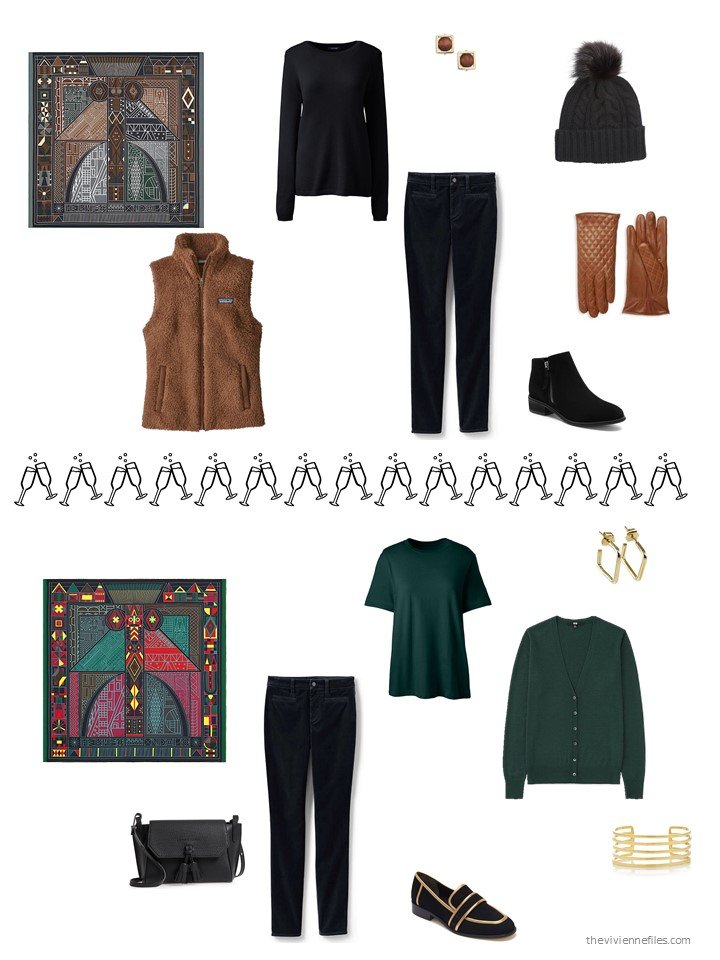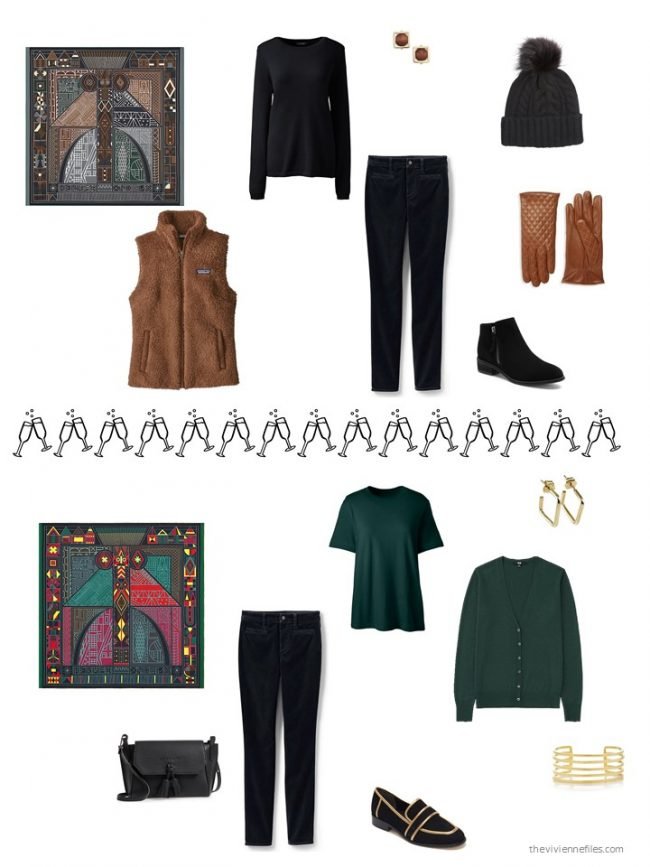 Imagine that you were starting COMPLETELY from scratch – absolutely no clothes or jewelry except for core sentimental jewelry. Which would you choose?
I'm shocking myself – I think I'd go blue and grey… I think…
love,
Janice