September 17, 2018
Lots of us are used to having at least 40 or 50 garments available for the current season, so the idea of limiting all of our clothing AND accessories to 33 pieces seems daunting! But 1 thing that I'm pretty sure the creator of Project 333 would agree with – you should just start somewhere, and move on as you feel comfortable!
Therefore, I decided to build a wardrobe template that includes 30 garments – still fewer than many of us are used to seeing in our closets, but a pretty comfortable number…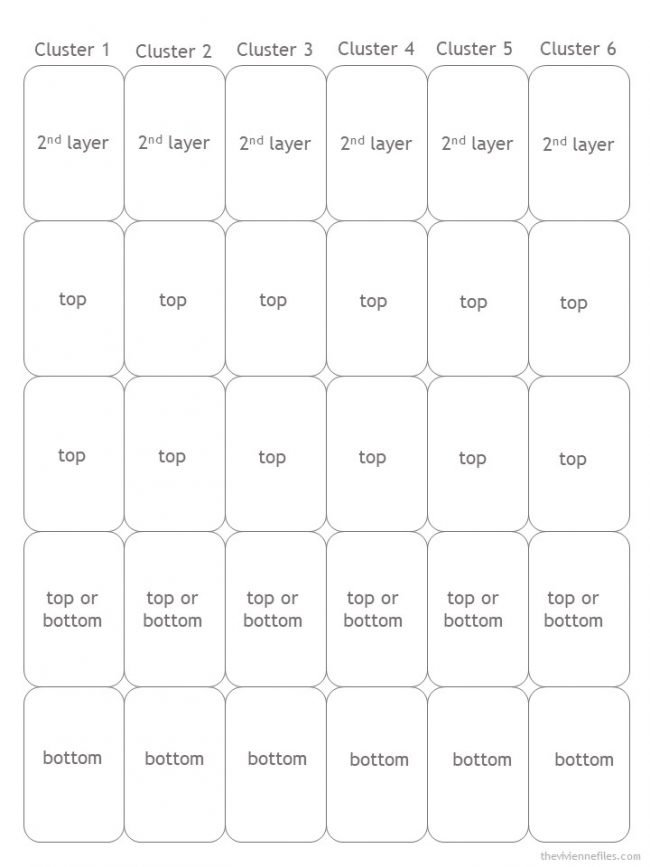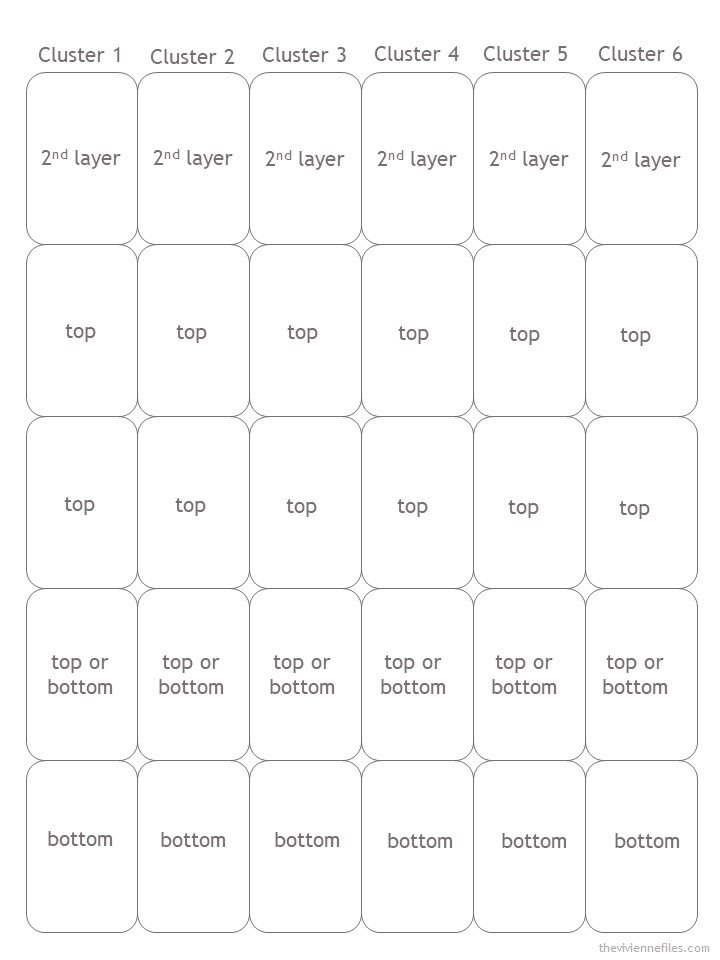 When I look at this template, it seems like a huge number of pieces! But once you start pulling items out of your closet, it could fill pretty quickly.
I'm planning this wardrobe more or less on what I might consider for my own Project 333 this autumn, more or less. When I get my choices settled I will share them, but for now this is a kind of sort of approximation of how I would approach things.
I think of this first cluster as being the pieces of clothing that I would grab in I literally had to cram a few things into a backpack and live in them for a week or two…
There's not any variety here to speak of, and it's strictly monochromatic, but one could go for quite a long time with just these 5 pieces, in a pinch… But let's give more options in our neutral by using our 2nd Cluster as a Supplemental Essentials grouping (which could also be called the Corduroy Cluster!)…
At this point, you're going to look pretty somber if this is your wardrobe, but this is an excellent background for amazing jewelry or beautiful scarves. If you traveled with these 10 garments, you'd be in great shape!
But for those of us who live in black, there are still some essentials missing! A simple button-front cardigan, which can be worn over another top, or worn on its own, is SO useful… A couple of button-front shirts (which can be worn over a tee shirt, or under a sweater, or BOTH AT THE SAME TIME!) are useful, a pretty black sweater opens up dressier possibilities, and jeans that aren't skin-tight… why not?
Let's pause for a moment to see where we are in our wardrobe-building process!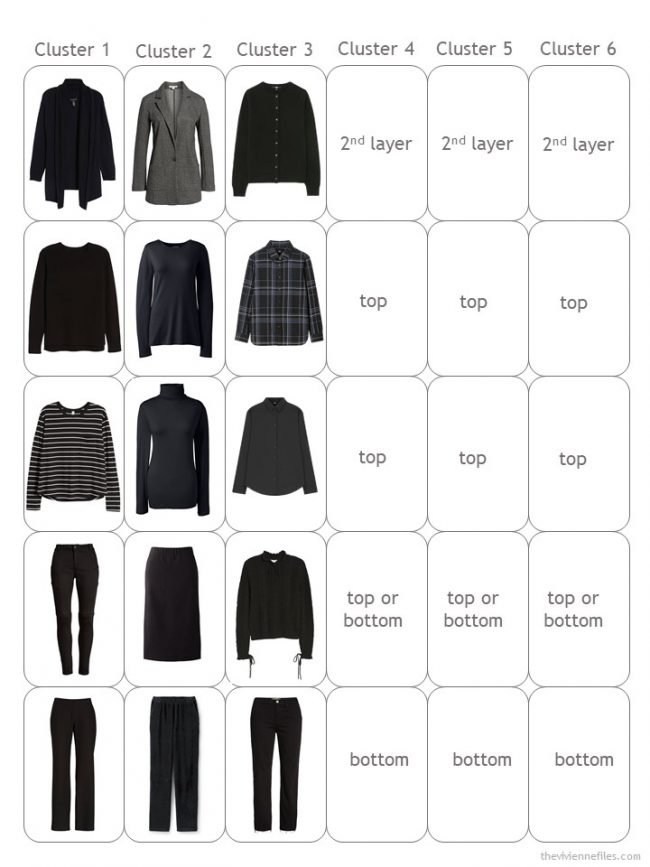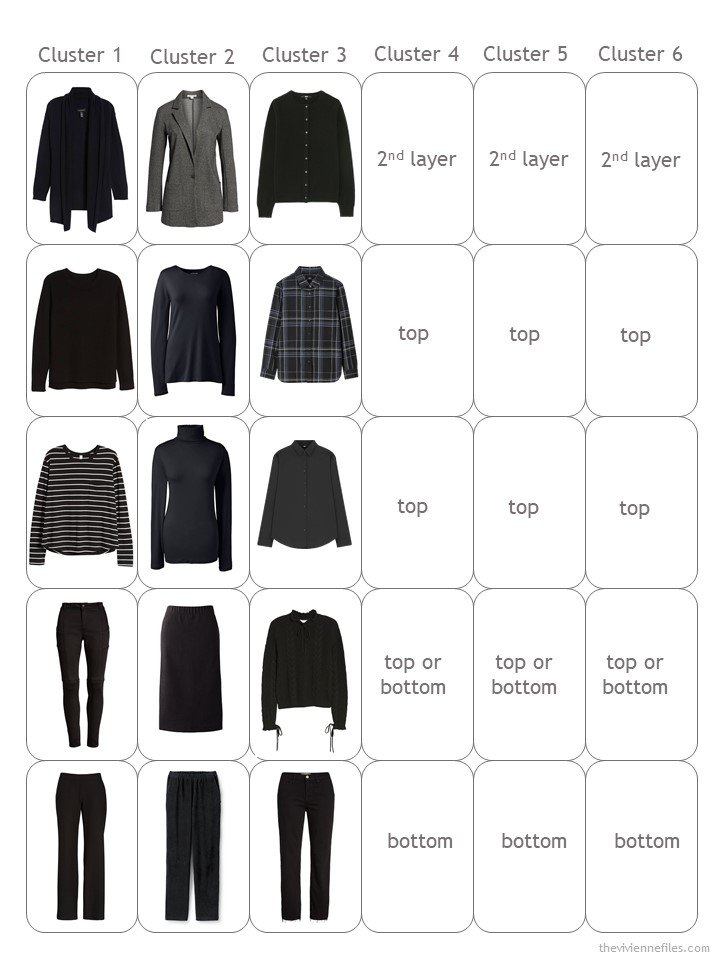 You might absolutely abhor the idea of this much black in your wardrobe, but this is an undeniably versatile assortment…
Still, for most people, it's way past time to introduce some color! So taking my cue from the plaid flannel shirt above, I'm going to introduce some blue, to brighten things up. This is also a good time to find a white shirt, and maybe another printed or patterned shirt…
At this point in the wardrobe-choosing process, our mythical heroine has realized that she really wants to include her grey and black marled cardigan in this wardrobe! So she makes a point to choose 5 garments that aren't black, but which can be worn with her black things.
She's in a good spot! But she pauses for a bit and thinks about what 3 months is going to include… This wardrobe probably isn't going to be worn until the beginning of October, so that means the Thanksgiving weekend, and all of the winter holidays around the end of the year. Better include some dressy things! (This mythical heroine has a robust social life…)
Whew! Choosing these pieces takes quite a bit of time, but there's a profound tranquility and focus to having such a carefully edited wardrobe: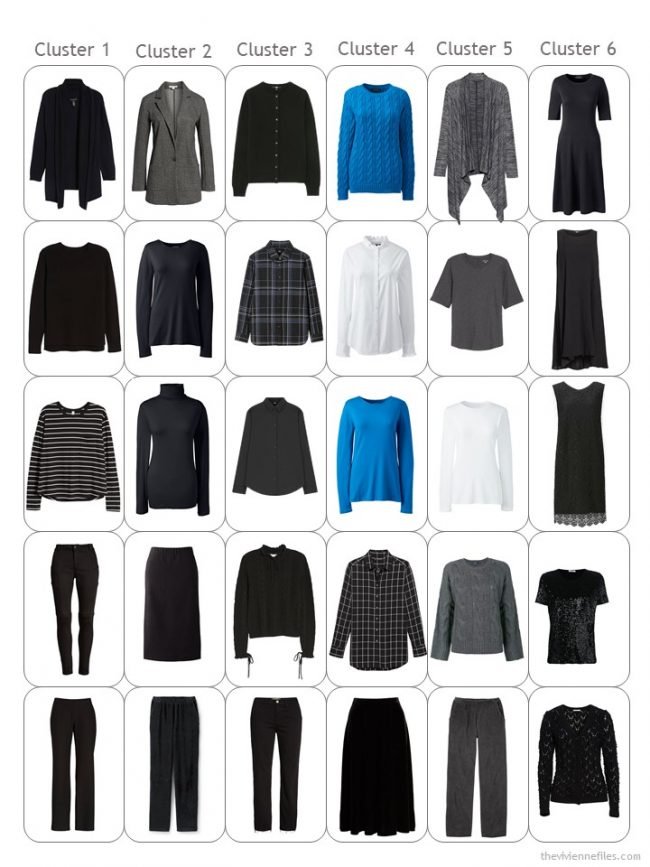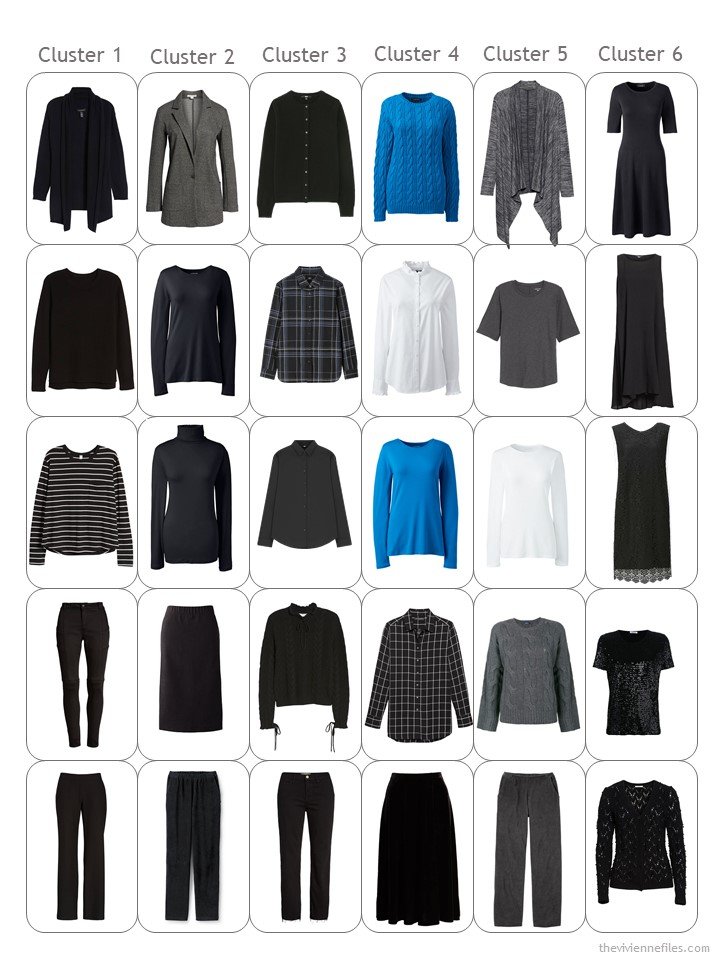 Is anybody else going to try some sort of edited wardrobe plan for cooler weather (if it ever arrives)? I'm targeting 30 garments, which will include what I'm wearing to a wedding in early October, as well as the very few garments that I'm taking to Paris in December…
love,
Janice