May 18, 2018
Yes, I didn't go in December, and I didn't go in February, but tomorrow I am going to Paris! (with an overnight side-trip to London!!!)
I've packed for this trip quite a few times, but I still always like to plan, and ponder… This kind of thinking ahead can help me remember to pack essentials, to choose appropriate clothes for our activities, to be aware of weather… And it's fun to anticipate!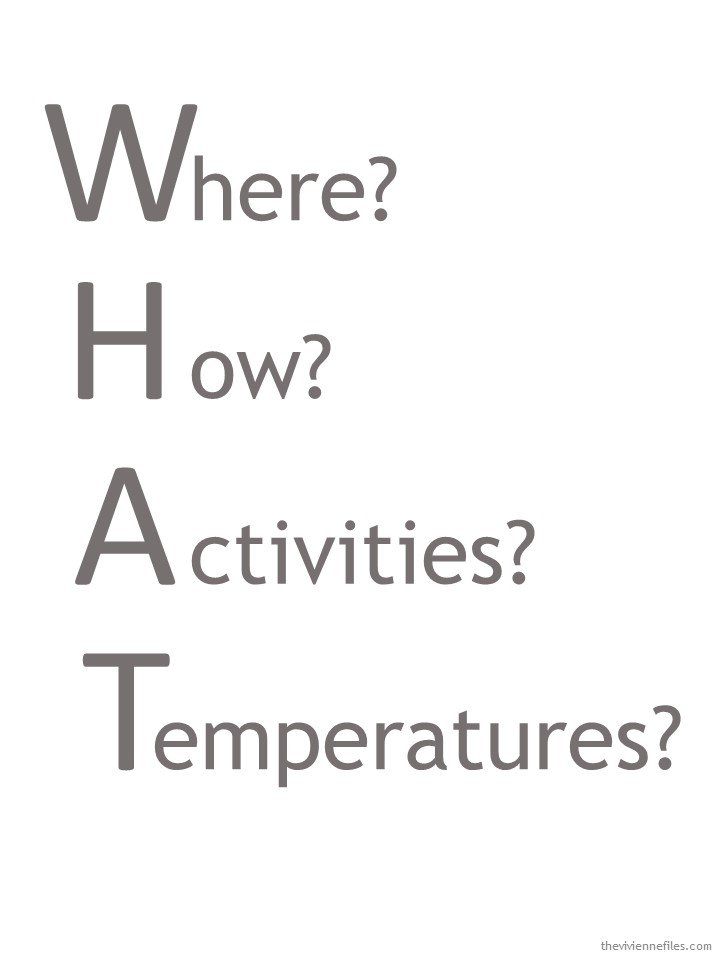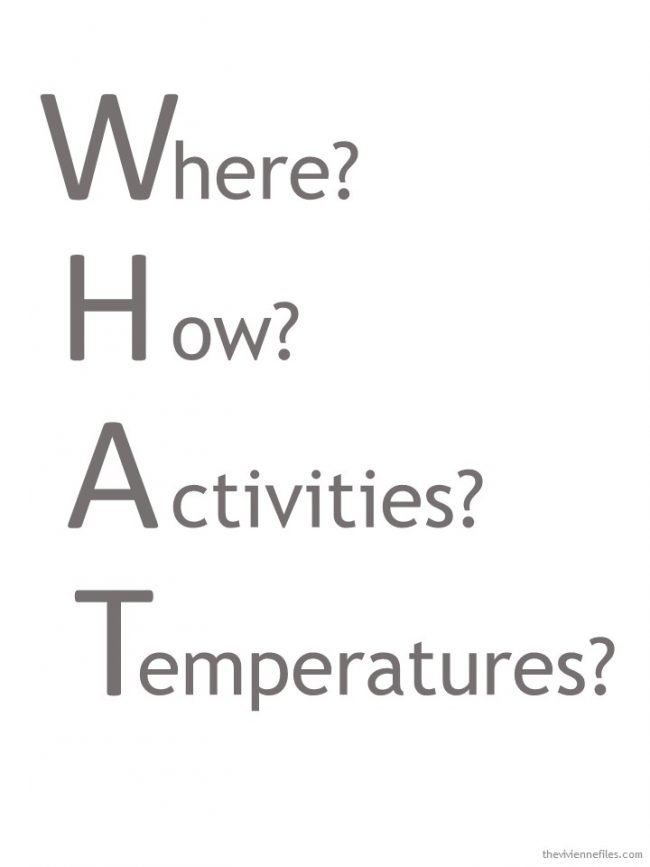 We're going to Paris, with a quick overnight to London to meet with the women of Kathkath scarves (!!!). We're both flying and taking a train, so comfortable clothes (but not sloppy, nor pajama-ish) for flying will be handy. Our plans are pretty casual, so I'm not going to need a ballgown, nor a tiara. And the weather should be very spring-like, with a jacket morning and evening…
Belovedest and I decided to fly in jeans and athletic shoes, partly in order to buy ourselves some spaces in our bags for running gear. (running shoes are atrocious space-hogs…) So I'm wearing this to fly over:
From here, I'm going to deliberately build on my existing garments to choose what to add to my suitcase. Let's assume that I've packed pajamas, and some undergarments, as well as my workout gear and the villainous running shoes… The first thing that I'll want to do when we land is pull on a clean tee shirt, and a change of shoes, so I'm going to pack these things first:
That's not a lot of variety, but it is an easy change to make before we even have our hotel room. (remember, when you fly from the US to Europe, you don't necessarily get into your hotel room the second you arrive; many rooms aren't available until mid-afternoon… this is a good reason NOT to fly in your pajamas!)
Okay… I know that I'm going to go to London to meet with Kathkath, so I want to wear a dress… and a cardigan to wear over it if it's cool, or if air-conditioning somewhere is in overdrive. I'll want ballet flats to wear with my dress, and a fun pearl necklace will be nice with this. The next things to get packed look like this:
At this point, if I had good access to laundry, I could travel for the week. It would be boring and repetitious, but in a pinch, this is sufficient…
But heck – I might as well fill my rolling bag, right? And a change of pants from jeans is a nice idea – dressy pants are appropriate most places now. A couple of sweaters – not heavy, bulky ones, but lighter spring-weight ones – and another necklace for the heck of it! These additions make things look like this:
In the right mood, I would definitely pull one of these sweaters on over my dress…
As much as I would be really happy with a completely black and white wardrobe, I think I'm going to take my denim shirt dress with me… it works beautifully on its own, with a tee shirt under it, or worn open as a duster over a simple top and pants…
The scarf? If I'm going to go visit Kathkath, I'm going to wear one of their scarves!
And I like my "Paris map" tee shirt; one of those days when we're wearing jeans and sneakers, this tee shirt is a nice touch of whimsy…
Frankly, I still have space – I can normally pack 10 garments for most seasons… hmmm…. 2 more pieces…
A white tee, while needing laundered more than a black tee, offers up a more spring-like feel. And I just plain want more lightheartedness here, so my mixed gingham cardigan tops things off perfectly!
10 pieces packed! It would be easy to slip in a 2nd black tee shirt… or a 2nd black & white tee shirt. Just a question of keeping an eye on how much space I have…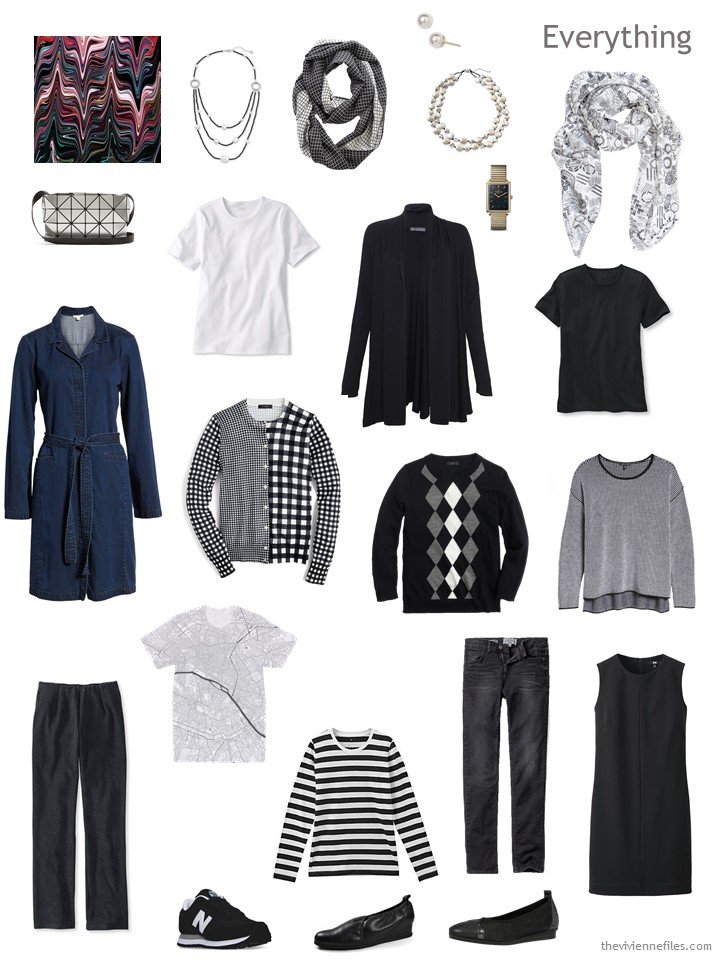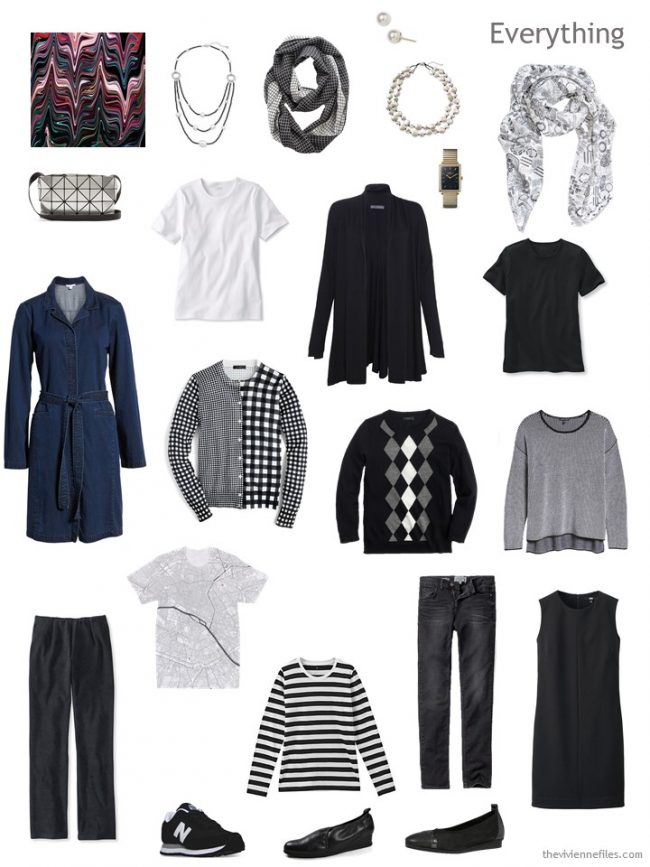 I don't really have any firm events scheduled except the trip to London, so this plan for what I'm going to wear when is pretty tentative! That said, when I lay things out like this, I see that I have enough clothes, and that I might want to tuck a bracelet or two into my bag just for the fun of it… When you plan by outfit, you can clearly see accessory "holes" that need to be filled.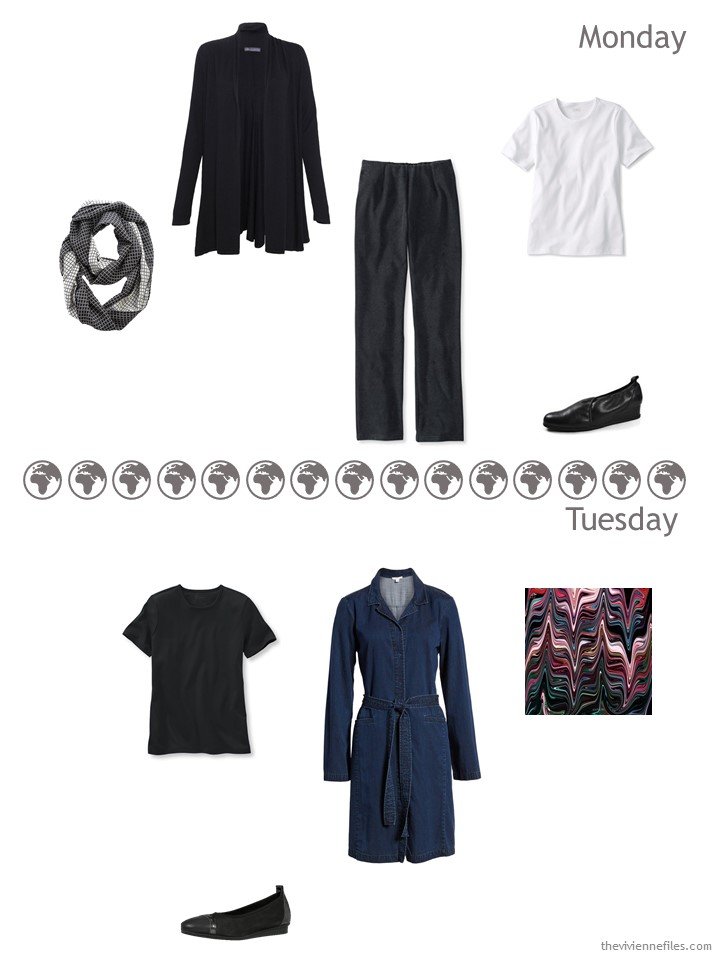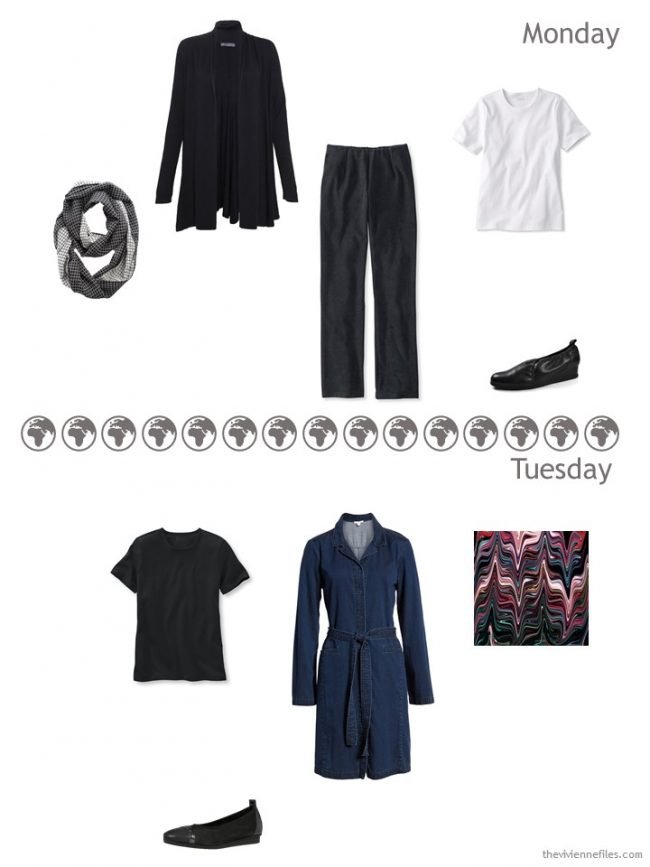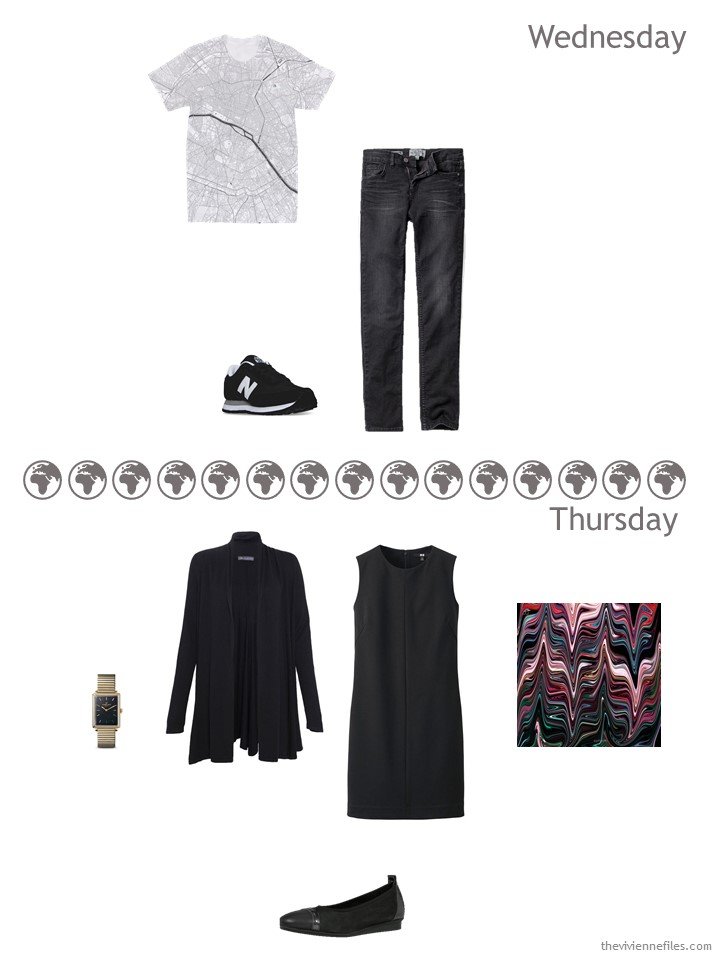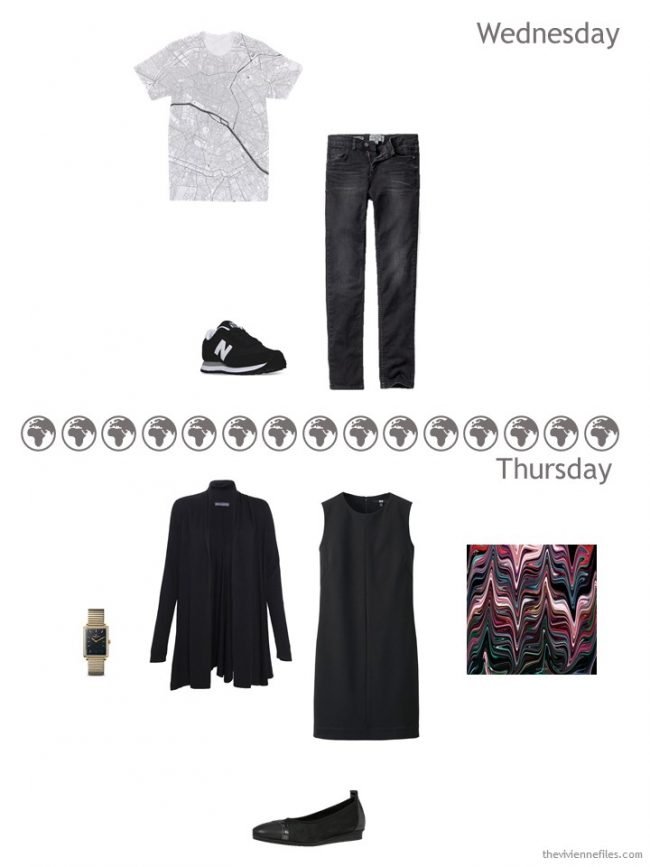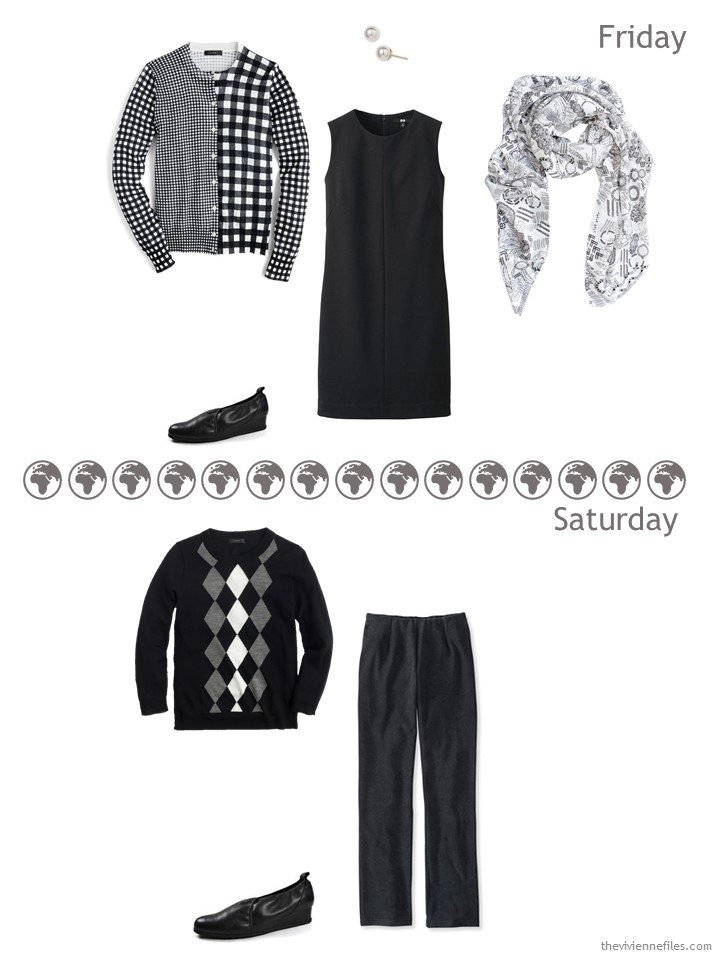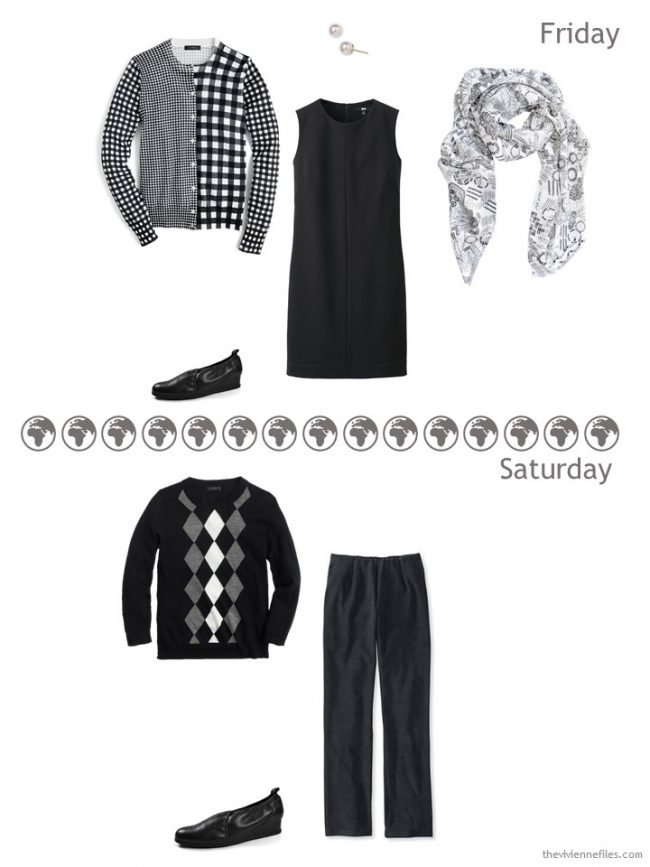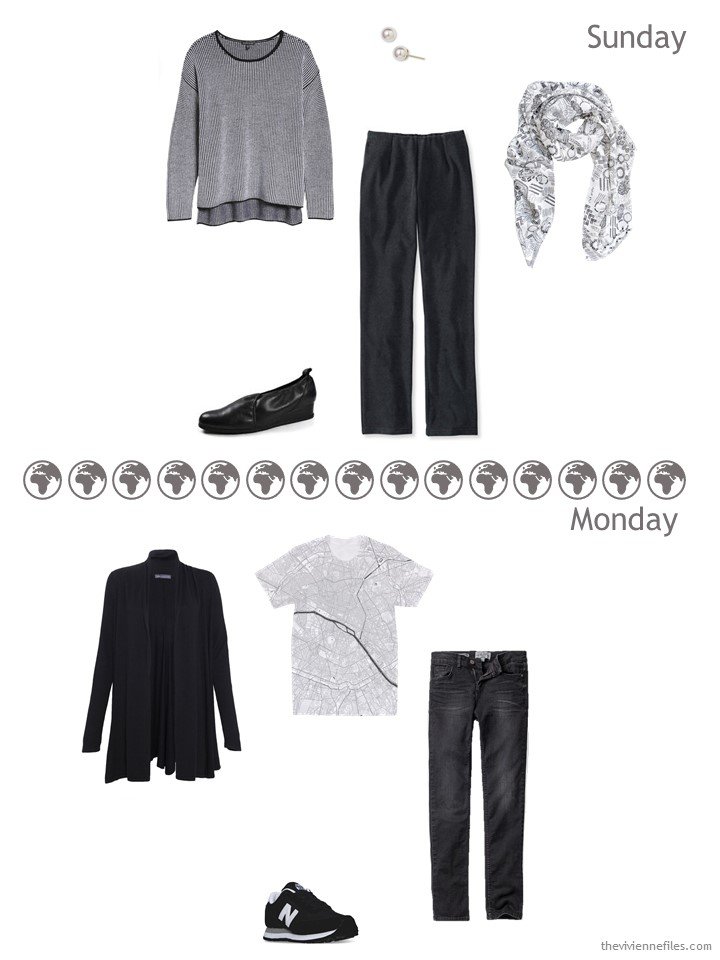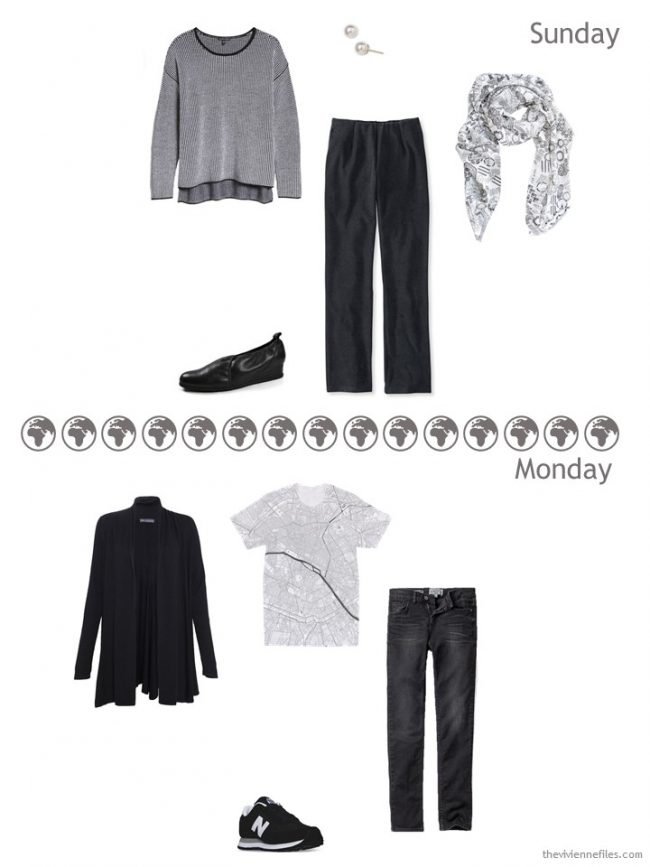 Dressing for Paris is much less stressful than it used to be – there was a time (very recently!) when you would be looked at with some… irritation… if you wore jeans and athletic shoes. Now, everybody is much more casual. Something important has been lost, but in return, we have a bit more latitude in our planning.
Change is the only constant, right?
love,
Janice