May 7, 2018
Our heroine is making great progress with her owl-inspired wardrobe! It's important to remember that if you're doing this process at home, you don't have to accomplish all of this within any specific time frame; don't feel pressured to do a whole bunch of shopping at 1 time. That's a certain way to end up making mistakes and regretting some of your choices…
We left our heroine with this very tidy wardrobe: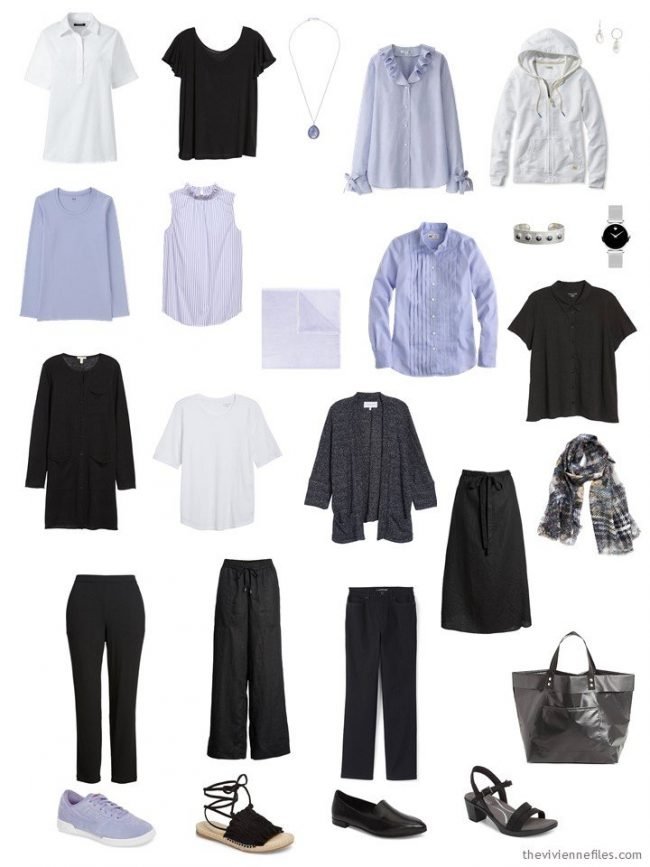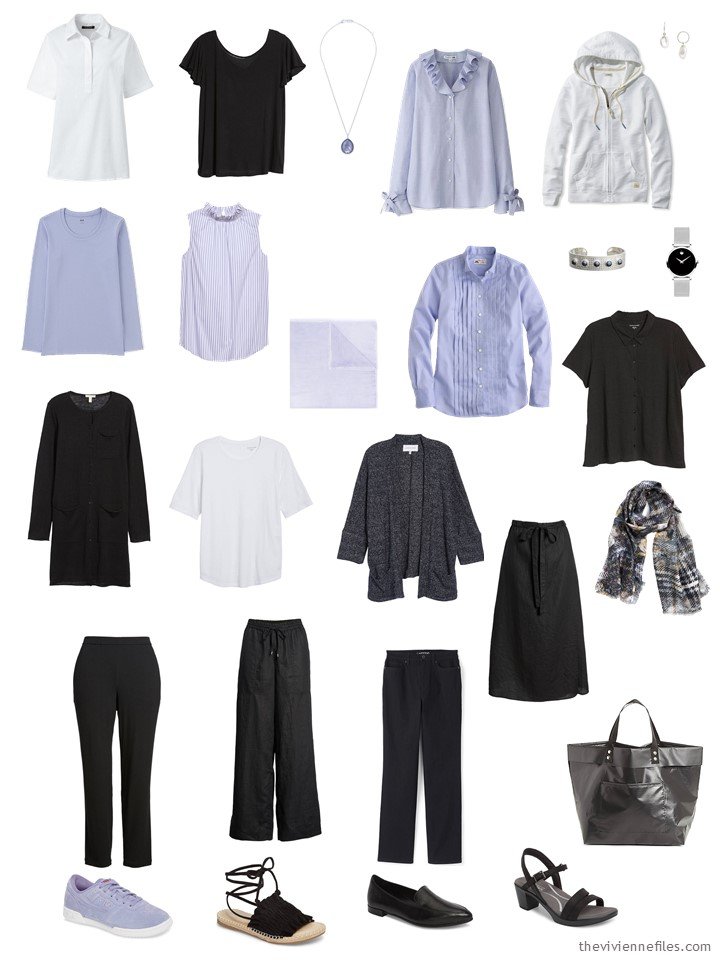 As I scan over this wardrobe, and mentally divide it into categories, I see that our heroine has 3 "second layers," but that they're all black and white. It's time to find her an accent cardigan or jacket! And even though white pants are always a way to tempt fate, for warm weather there's just nothing more appropriate. No, you won't wear them every day, but some days they will be perfect…
Remember, even if you really don't like twinsets, it's often a wise idea to buy 2 versatile pieces like this that match. You never have to wear them together, but any accessory that you chose to go with 1 piece will always work beautifully with the 2nd. There's nothing wrong with being efficient!
In the original Starting from Scratch Wardrobe, Step 12 was a winter coat, boots and scarf. Just because the weather's getting warm (in the Northern Hemisphere) doesn't meant that this step should be skipped. A good rain jacket, some rubber boots, and a pretty scarf are useful in the spring, when weather is unpredictable…
Note that any of her scarves would be lovely with this coat – I just thought it was about time for an "all-neutral" scarf… On a harried day when you're rushing to get dressed, remember that a black cardigan and pants (a "suit"), a white top of some sort, and a black and white scarf is all you need. (substitute your neutral colors as appropriate, of course!)
Speaking of the importance of accessories, Step 13 is a point at which we pause and add more accessories to our growing wardrobe. This poor heroine doesn't even have a small handbag yet! (and yes, for some of us that would never be a problem…)
One area of wardrobe planning that I neglect is to have nice lounge clothes – it is less important to look good for my closest family and friends? Just a few carefully-chosen pieces, that work with the rest of your wardrobe, will give you plenty of options that won't leave you embarrassed to answer the door on Saturday morning…
Today feels like a big shopping day for our heroine, but always bear in mind that some (many?) of these items might already be in her closet…
Moving from leisure to dressy – it's about time this heroine added a dress to this wardrobe! And as much as I love her white sweatshirt, a white cardigan will be invaluable here. There's literally nothing in this wardrobe that can't be worn with a white cardigan…
This 25-piece wardrobe would be enough to see me through warm weather! Toss in some gym clothes and I would be all set…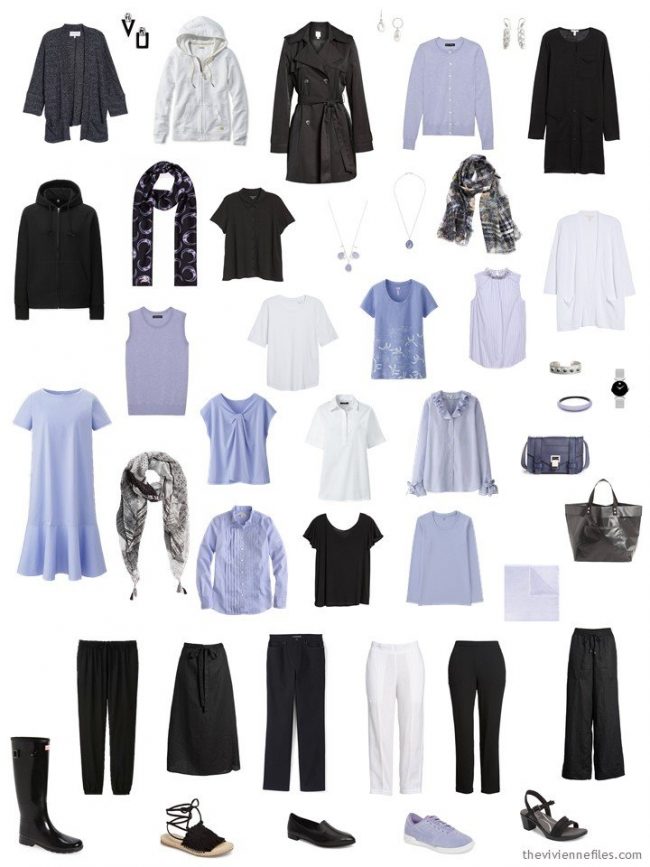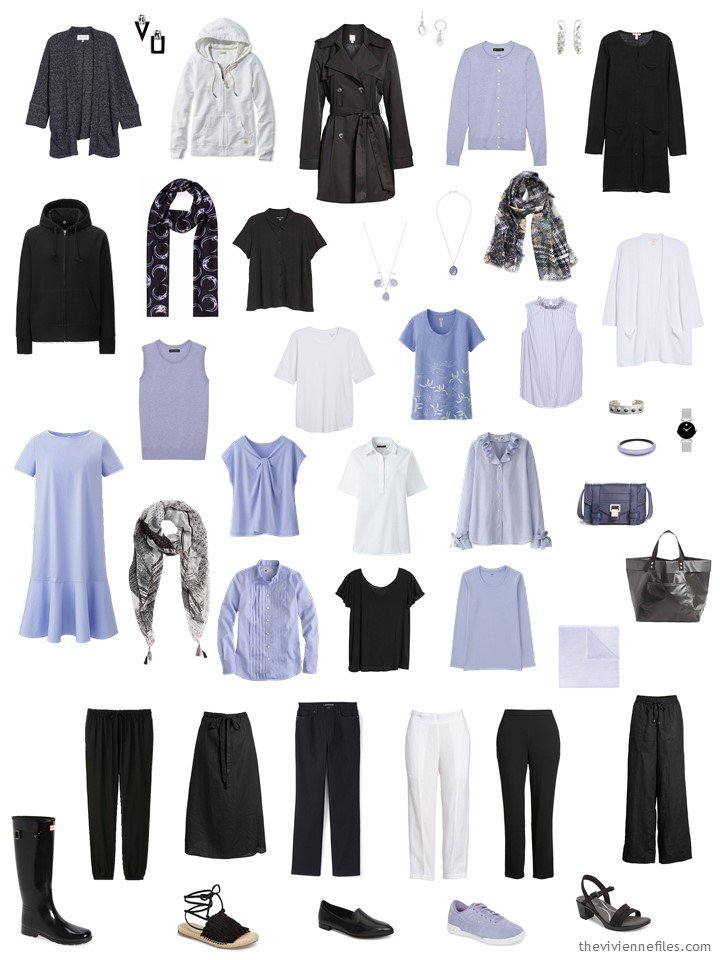 Just to make sure that I haven't wandered off into the wardrobe weeds, let's make sure that we can pull together some easy outfits with some of these additions: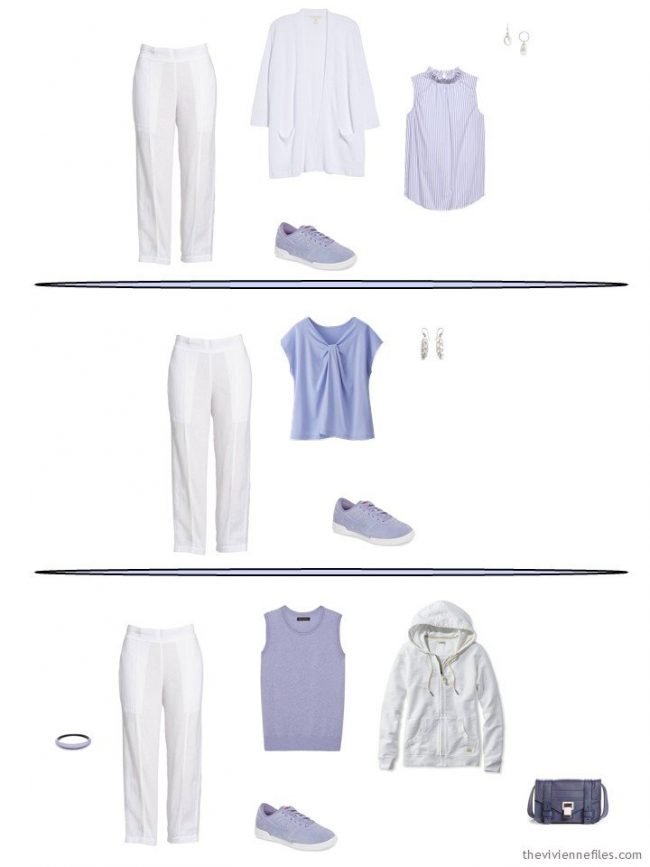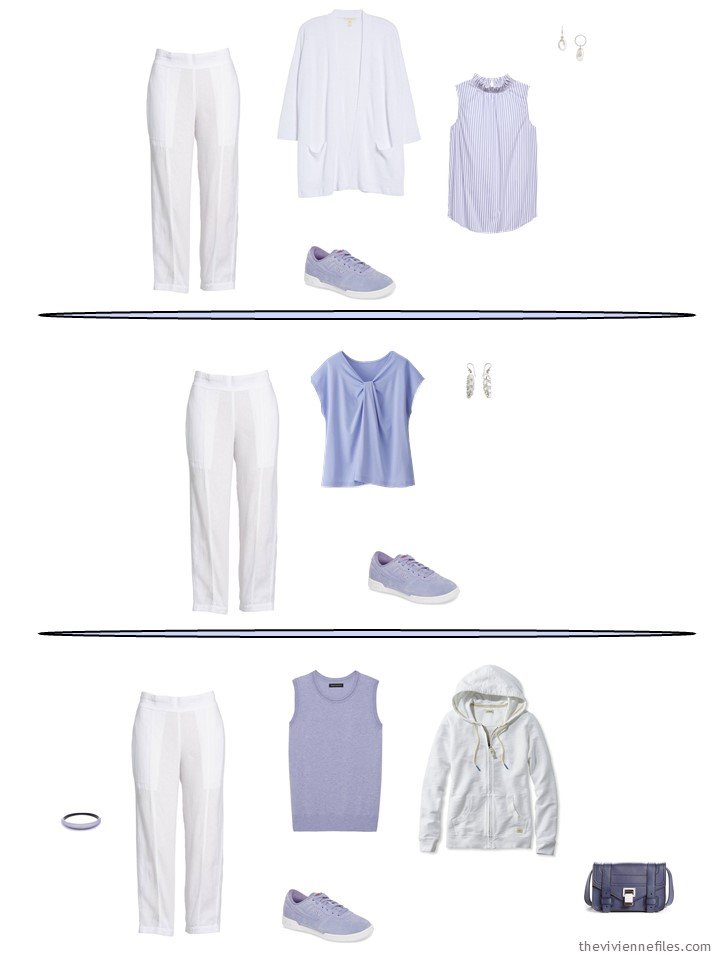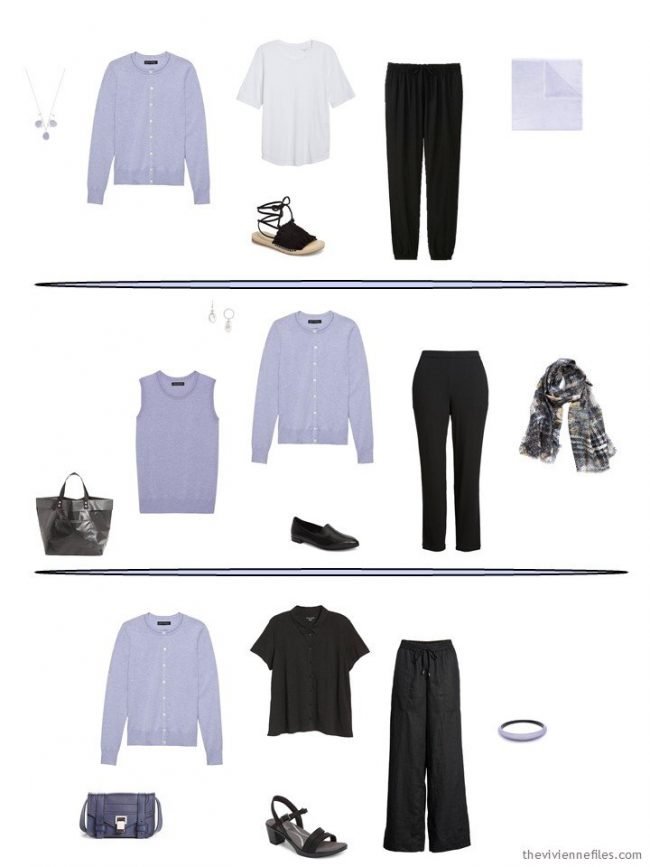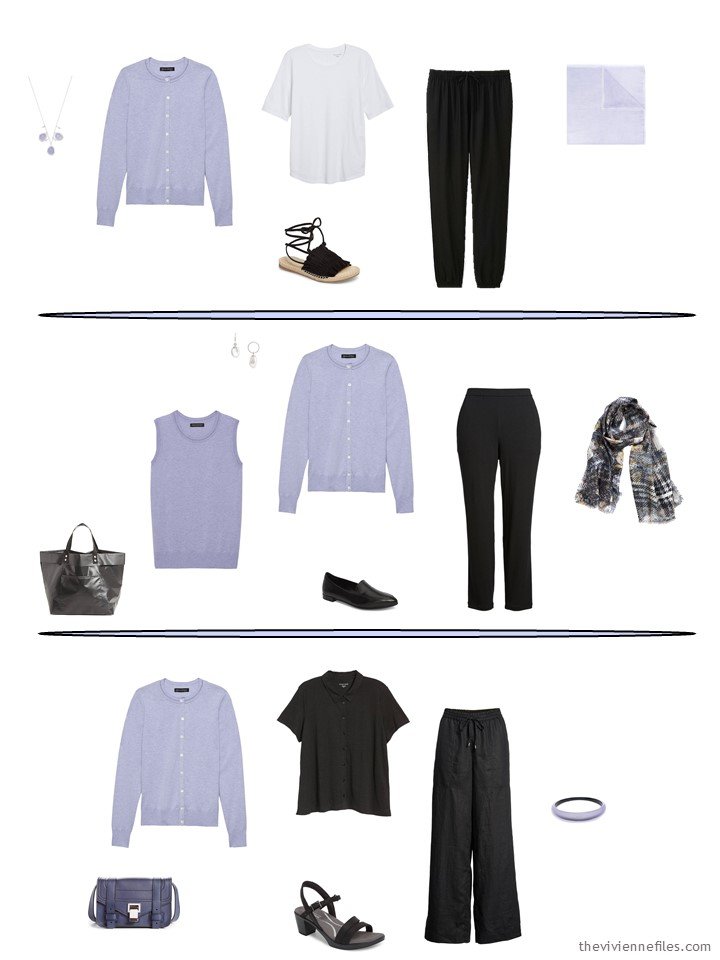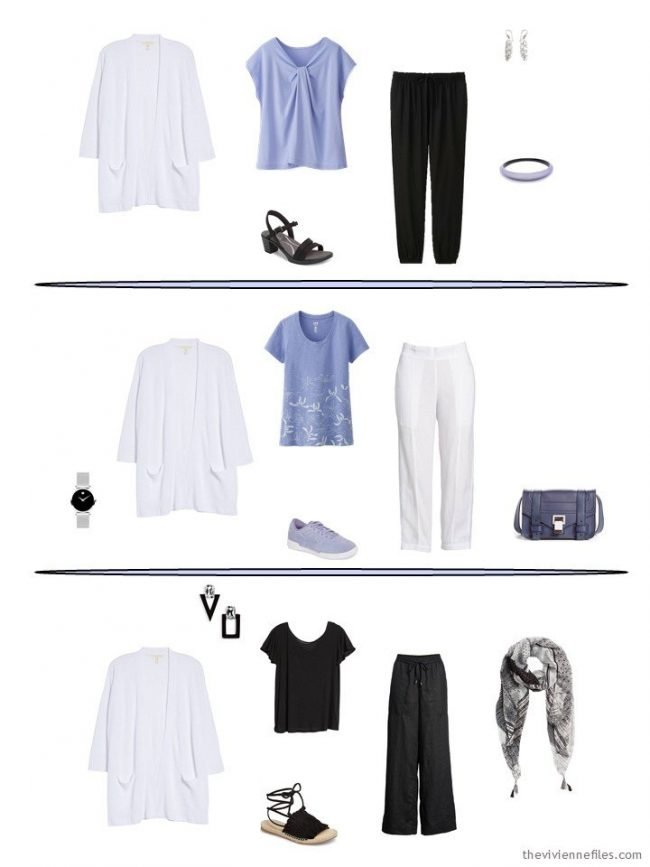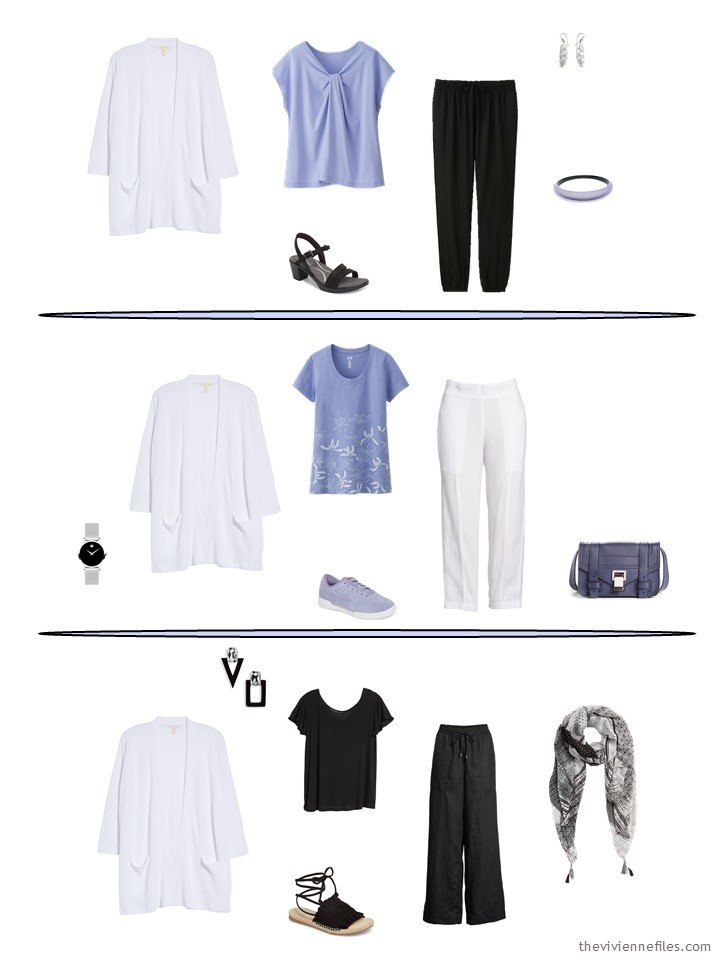 Tomorrow I'm going to analyze the daylights out of this wardrobe and make 3 final additions – 2 of them floral!
love,
Janice