May 3, 2018
So far, so good. While we only have 5 pieces of clothing in this wardrobe, with a pair of shoes, these are important first steps – these are pieces that will be worn a LOT…
While this heroine is in need of some more clothes, let's first get her at least a watch and a handbag! Well okay, a few accessories… You don't really need piles of jewelry, or dozens of scarves, to make a big difference in how your wardrobe works for you.
I've always felt that it was a safe assumption that a wardrobe should include more tops than bottoms – the tops are more visible because they're at eye-level, they're close to your face, and they are more likely to need laundering before a pair of jeans… So let's pick up a couple more tops for this wardrobe, and another scarf, because I like scarves!
At this point in building this wardrobe, there are 3 black pieces, 1 white, and 3 in that irresistible lilac/lavender color. As much as I love this accent color, a wardrobe travels on the back of the neutrals! So I'm bringing in a soft, relaxed, kind of wrinkled black "suit," and a pair of sandals. Note that if I was writing this in September, I would choose different fabrics and probably a pair of boots. But this is a wardrobe for the next 6 months – for our imaginary heroine in the Northern Hemisphere – so let's skew just a bit for warmer weather, eh?
With these additions, we now have 9 garments in this wardrobe – 2 "top layers," four tops, and 3 bottoms. For many of us, this would be a pretty ideal travel wardrobe: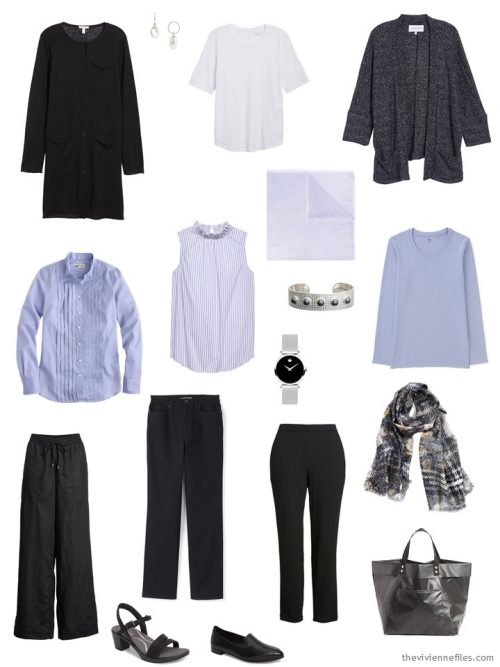 Because everything is closely related in color, our heroine now has 2 dozen outfits (at least) with just these few pieces. If she were to travel wearing 3 garments, she would only have to pack 6…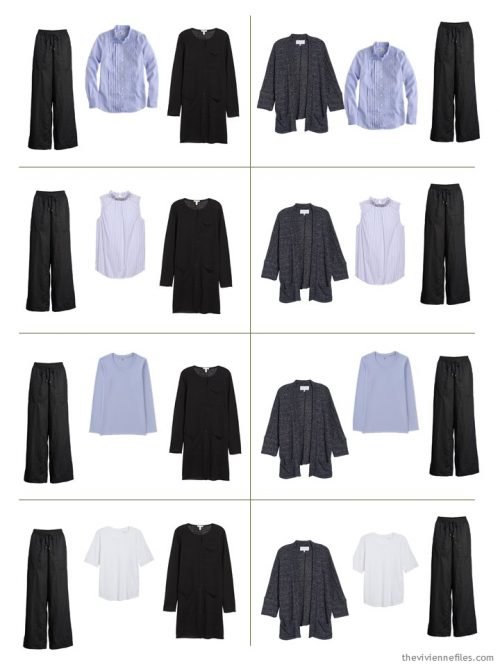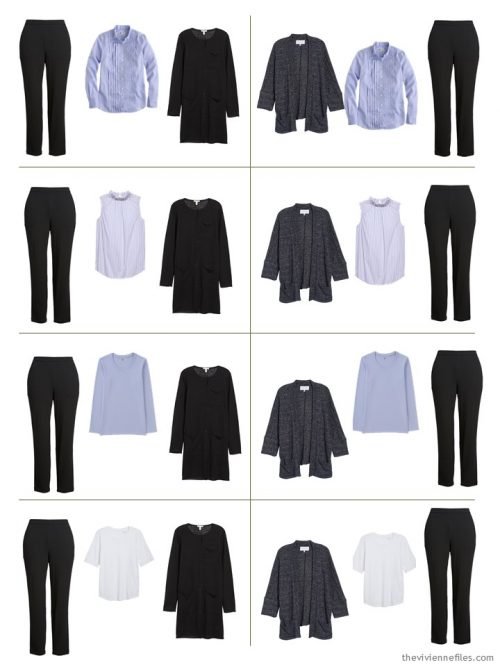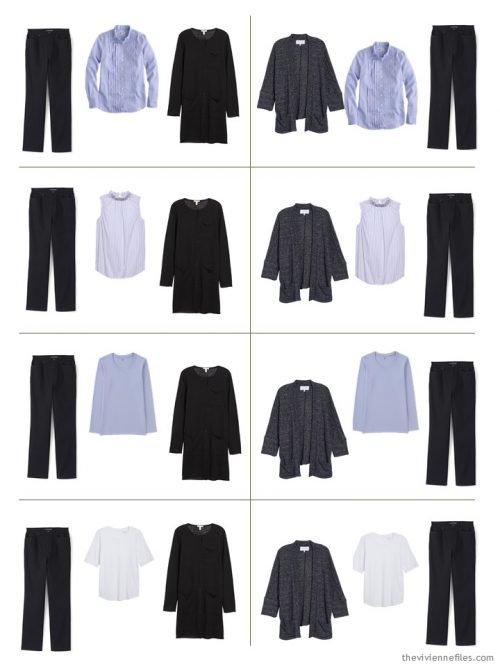 Tomorrow brings some ruffles, a skirt, and some additional white pieces – it is going to be summer, someday soon…
love,
Janice