April 2, 2018
It SHOULD be Spring, but it's iffy, at least here in Chicago…So we'll go with an outfit for warmish weather – capris that are primed for warmer weather, but (with 1 notable exception!) tops that still cover us up a bit…For those who are new to this adventure, it works like this:
I start the year by choosing six Hermes scarves
(for no good reason except that they're beautiful, and have amazing color combinations!) and then each month I add another outfit to six wardrobes – each based upon the colors and overall "feeling" in one of the scarves.
First, the simplest of colors and styles, with classic jewelry and snazzy shoes!
This is what this heroine now has in her wardrobe – a few options available, I'd say!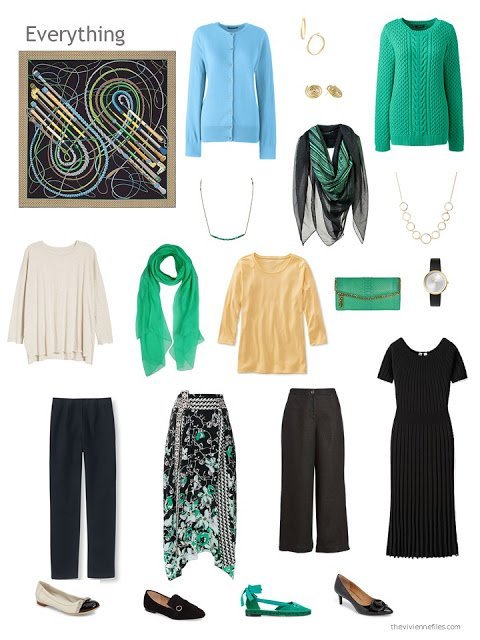 Using the new garments, she can pull together at least a couple of additional outfits: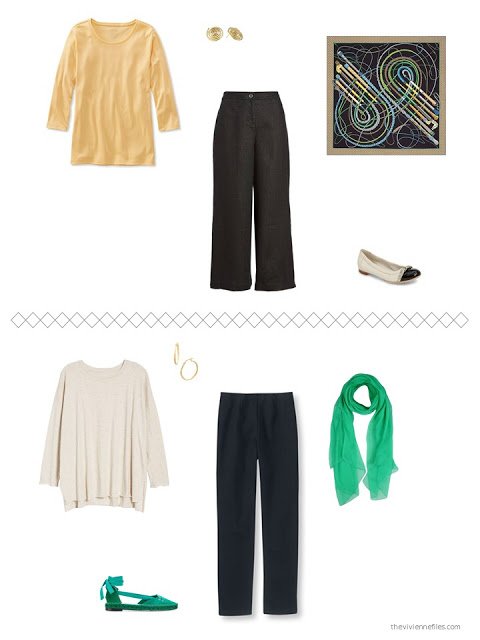 I just love this dusty rose shade…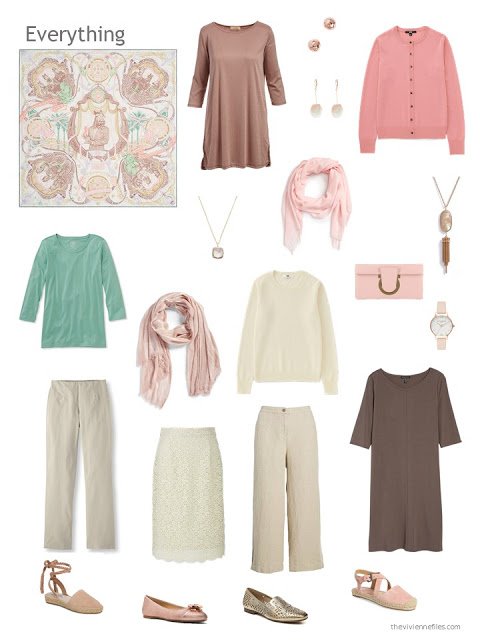 Getting the tunic over the skirt "fit" to work is tricky, but I think this tunic with just a bit of lace peeking out would be lovely…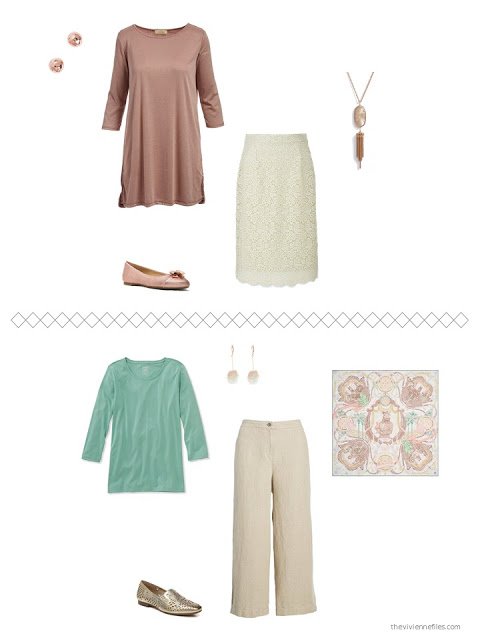 This wardrobe has been SO dressy so far – this outfit is for this heroine's leisure time… (walking along the beach in a cold breeze?)
This wardrobe now has a little bit better balance of dressy and casual clothes, to my way of thinking…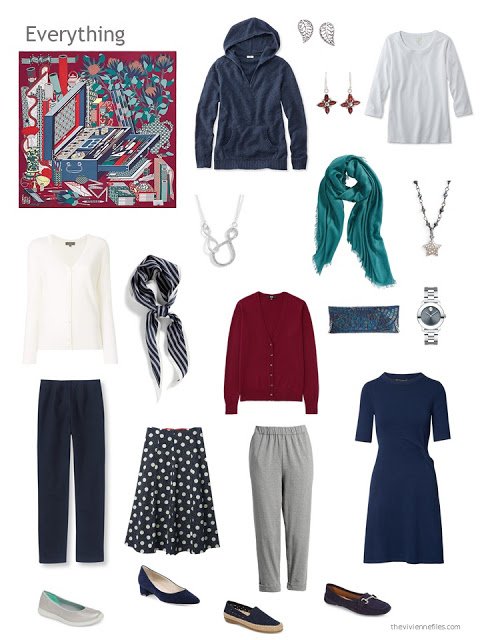 Her new garments give our heroine for this wardrobe some more casual ways to wear her existing pieces: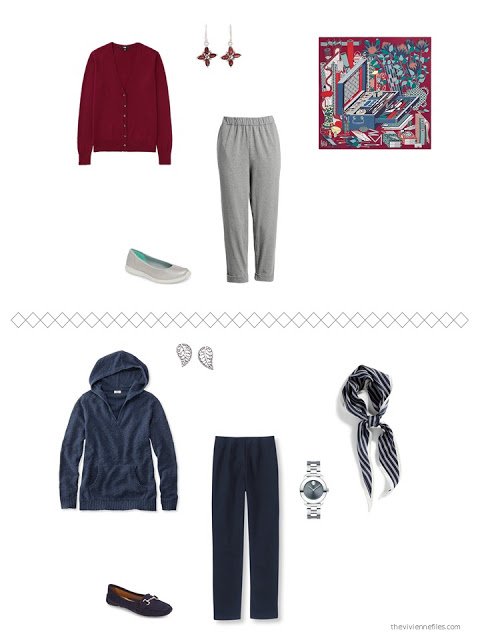 Don't ask me why I felt like these were the perfect earrings, but I did! I'm smitten with them…
She's getting a nice assortment of shades of green… does she have green eyes? (or red hair, or both?)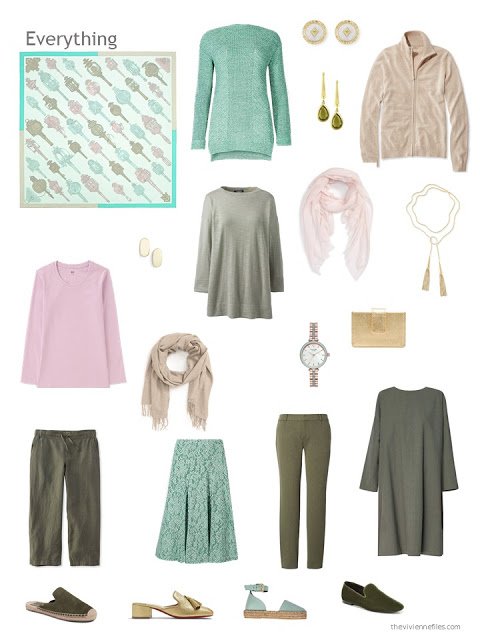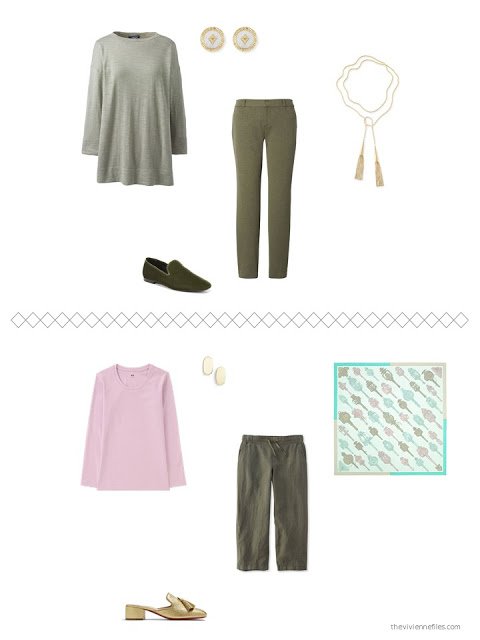 This looks so comfortable…
If I had to start from scratch, this would tempt me… This looks so much like colors that my mother would wear!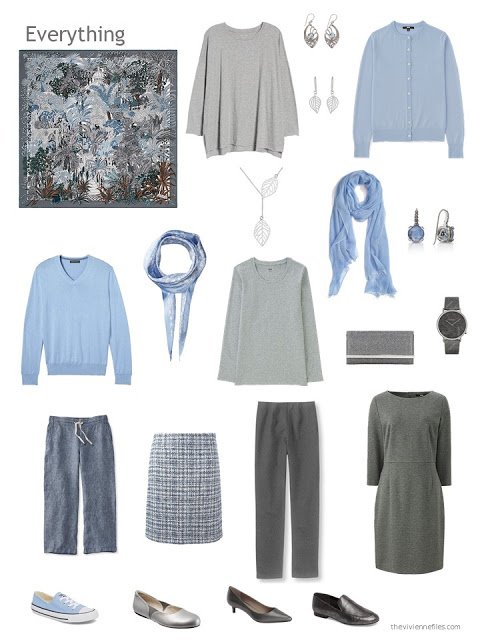 Well-chosen wardrobe additions = more new outfits than you expect!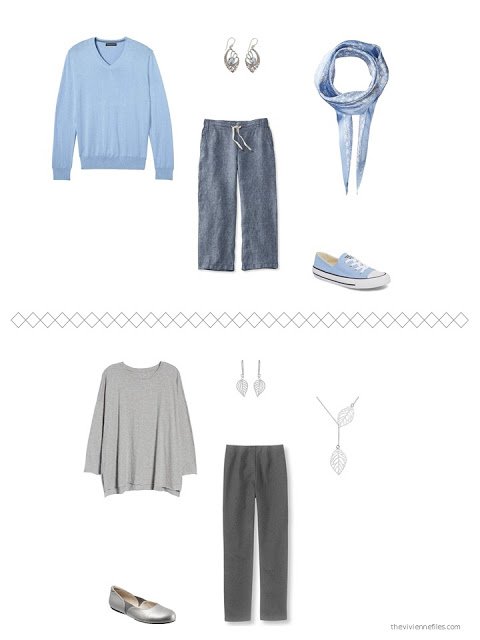 I really love this tunic, so I've chosen to include it even though it's suited for much warmer weather than the other outfits… Some of us must be experiencing spring by now, aren't we? (sure as heck isn't here in Chicago!)
These are really unusual colors to find in a wardrobe together, but so far, everything feels coherent. That's the genius of starting with a scarf – let someone else do the hard color combination work!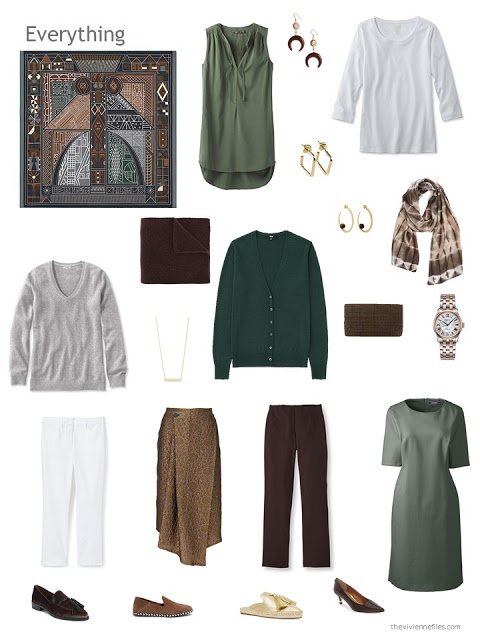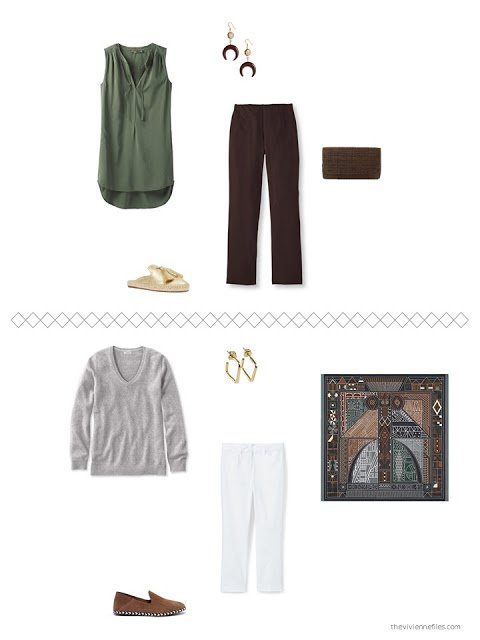 Right now, I'm still pretty much in love with the grey and blue, but I don't know that I would turn down any of these wardrobes, if someone offered them to me!
Are your preferences shifting, or are you true to your original choice?
love,
Janice