October 6, 2017
Well, this is interesting… At the relatively last minute, Belovedest persuaded me to take my larger suitcase (I'm still not quite sure why…) so I ended up packing a few more things than I had intentionally intended.
It wasn't horrible, but it wasn't really amazing, either… Realistically, I could have rated every garment that I packed with a green star as a "keeper;" all of my clothes go together pretty well under almost any circumstances, and I wore every stitch of what I packed.
But in order to force myself to actually rate things, I thought that choosing a third of the pieces as "green," a third as "yellow," and the remainders as the "red star" losers might be more illuminating.
First up, I have to say that if I had to spend a week in Paris with only the clothes on my back, I'd wear jeans and sneakers! This is such a change from even 20 years ago, when most adult women wouldn't be caught dead on the streets dressed this way; now, you fit right in…
My black cardigan was… fine. I only wore it a couple of times, so it really didn't pull its weight. And the striped tee shirt was never worn after the trip over, even though I had laundry facilities in our apartment. (Airbnb – wonderful… more about it in a following post…)
This second cluster of clothing was interesting to evaluate; at the very last minute I substituted a black tee shirt for the cream one that I'd originally intended to pack. I ended up wearing the black one exactly ONCE – under my rugby jersey, to go to the match. I don't really regret having it with me – I don't regret having any of these things with me – but wearing anything once isn't a madly good use of space…
The 2 pieces from Talbots – the trimmed cardigan, and the gorgeous lace top – were complete winners. I wore the cardigan a few times, and the lace top was worn out to dinner a couple of times. Belovedest thought that both of them were lovely, and people actually asked me where I got them! That doesn't happen every day…
My black pants were, as always, useful and comfortable; I wore them on the trip home, which was a 24-hour adventure. But in the interest of separating all of my garments into thirds, these pants can't be said to be one of the best pieces that I packed. (I'd still never leave them behind…)
Here's where I started chucking extra clothes into the bag – I swapped out my striped sweater that I was going to take for a solid black one, and I added my chambray shirt that always feels essential to me….How foolish – each of these was worn exactly once. Sigh…
My 2 print shirts from Lands' End were their usual workhorse wonders – I'm going to be legitimately sad when they wear out. But the real winner here is my marled crewneck sweater. I don't know what it is about this thing, but it has real whappage, and goes on any cool or cold weather trip that I take. I can't imagine packing without it!
And then I went REALLY off the rails – to mixed results. The 3/4 sleeve Eileen Fisher dress that's a weekly-worn favorite right now at home turned out to pack really badly; I was a little bit nervous (aka terrified) around the iron in the apartment, so I didn't really press this dress all that well. Upshot – I wore it once, and could easily have done without it.
On the other hand, my new velvet tunic from Eileen Fisher (courtesy of a gift certificate for my birthday that I'd been sitting on for months…) was a completely winner. It's soft, flattering, comfy, and long enough for me to wear as a dress!
My sleeveless dress is fast becoming essential – it can be worn alone, or layered over a shirt or tee shirt. If I had taken fewer pieces with me, I would have done this, and been perfectly happy.
Don't quite know what possessed me to toss my plaid skirt into the mix. I love it, normally, but it was another one of those things that I only wore one time. To me, that's not really sufficient…
On the other hand, I also had the insane good sense to pack my endlessly gorgeous tweed dress that I've had for 4 years, and still adore as much as I did the day I bought it. Machine washable, hang to dry, wear the next day. I could have worn this every 3rd or 4th day, and been happy as a clam every time.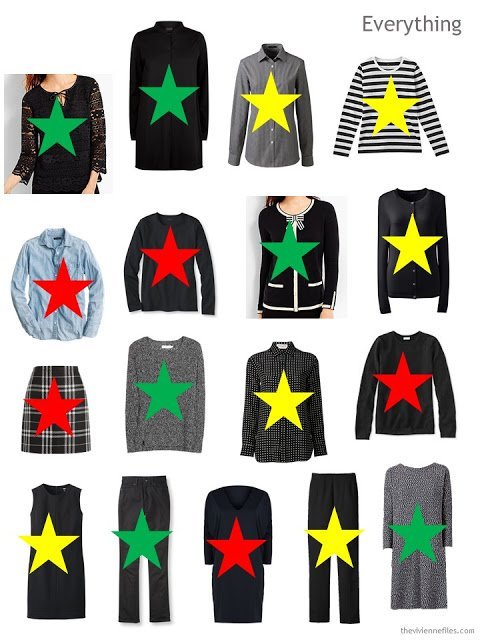 So what's the bottom line of this chaos?
If I were doing this over again, I'd only pack 2/3 of what I had with me, and I'd take only the green and yellow starred pieces. Maybe the black tee shirt, because having it to layer under my rugby shirt was pretty handy when the temperature dropped after dark, and when we went into a bistro for dinner after the match and I was able to wear just the black tee shirt and not look too much like a silly sports fan. But otherwise, I've got to resist the temptation to take a larger suitcase just because I can…
Overall, everything was great. I unpacked every stitch of everything and put it in one of the closets, and then stashed my suitcase out of sight for the duration of the vacation. That in itself was a great delight; it felt like living (however briefly) in Paris!
But the hauling of a lovely huge suitcase (okay 24 inches – not a steamer trunk!) up the narrow, sloping, very worn spiral stairs to our apartment was something I wouldn't ask Belovedest to do again, even though it was his idea…
I've learned that I need to take my own advice and be a bit more strict with myself!
No, I didn't wear all of the jewelry and scarves that I took, but I was always happy to have those options available. Jewelry and scarves make it fee like you've got choices, and they aren't nearly as cumbersome to haul around as a bunch of clothes…
One thing I have decided – I'm sticking with strictly black and white for a while! The ease, the clarity, the ability to mix patterns – it's me! My new art inspiration:
I have much more to share from Paris, including what the current most popular trends seem to be….
love,
Janice