I've made some progress on the 52-Piece Wardrobe Plan that we discussed last Wednesday.
First, I included the idea of columns for each of the "categories" of garment – I think this works pretty well:
The only real question here has to be about how many garments fall into each of the three categories, and that's going to have to be something that each of us personalizes. I will of course lay out my guidelines, but they're never carved in stone; I call them guidelines, and NEVER rules!
I tried to do something around the idea of using multiple colors for borders, to show that some garments were able to serve in multiple functions – FAIL. The page is pretty crowded already, and adding another border (thin as they are) just made things a mess. I think for multi-use garments, we're just going to have to remember that we have options!
The best progress, in terms of being able to work with this template, was to break it into 3 segments – 1 for each of the 3 areas of Warm Weather, Common Wardrobe, and Cold Weather.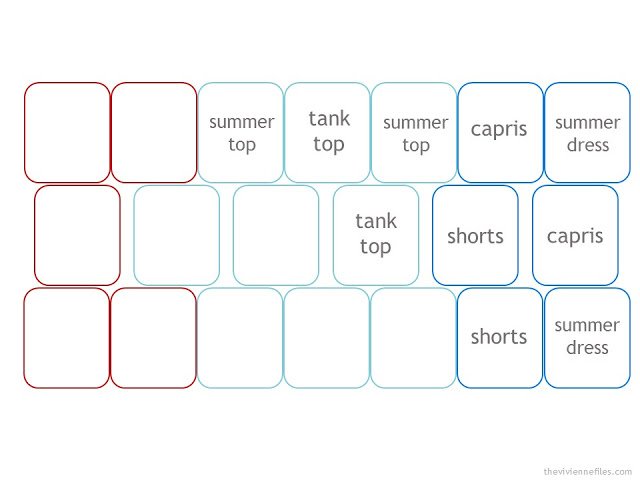 The Warm Weather page isn't filled in; maybe I'll "back fill" with what I'm wearing to pieces this summer and see how it stacks up. I have a hunch that I'm going to need fewer jackets and cardigans, and DEFINITELY more dresses…
The 2nd page is the original Common Wardrobe, from back in the day. I think this is a part of the template that is open for a LOT of experimentation, in terms of the clothes included. I'd like to build at least a few different "Common Wardrobes" to reflect different color preferences and personal styles…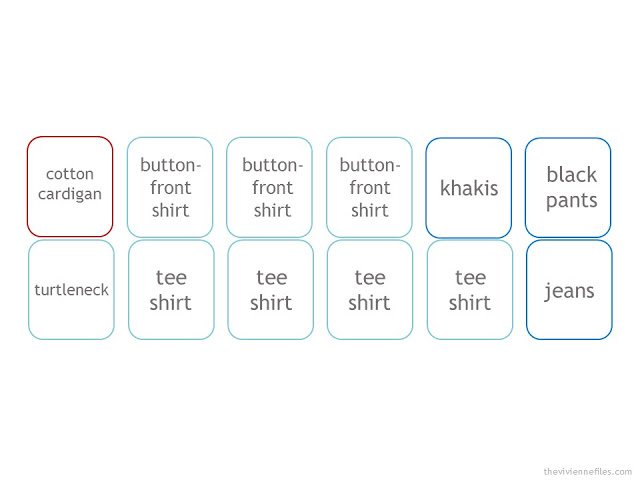 And then there's the 19 pieces for Cold Weather. After I get this whole package in a usable form, my plan, weekly, is to show my own wardrobe, as I add a piece each week (and eventually put a piece into storage for a while…)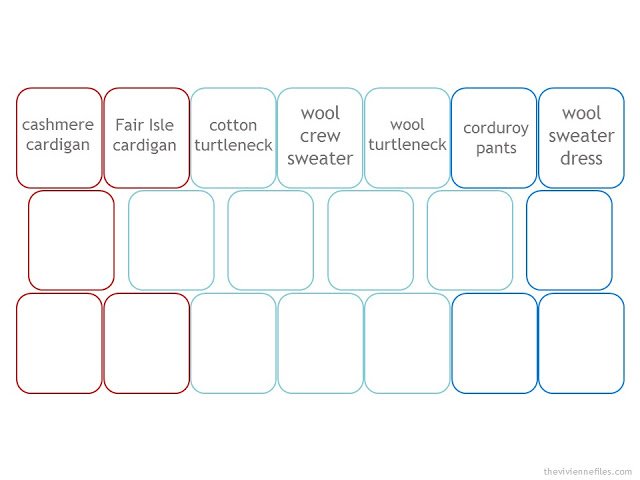 The only segment that's really well planned right now is the Common Wardrobe, because it's the same bunch of garments that we've looked at and worked with for years. I want to do this in warmer colors, in choices that more reflect my personal wardrobe, and maybe some other variations based more on navy? or grey?
This is fascinating… Do you think it's going to continue to be useful?
love,
Janice
p.s. Please note that my health is pretty yucky right now, and I'm finding that there are days during which I can't do much beyond sleep. I'm going to try to keep The Vivienne Files rolling along regularly, but at some point I just have to surrender and take time off. It's not from lack of love…