A few weeks ago I mentioned that I was pondering what it would mean if you used four "Whatever's Clean 13" wardrobes for your year-round wardrobe. I'm still in the "thinking about the possibilities" stages, but I wanted to share with you what I've been thinking, so far…
At the beginning, I'm starting with the original 13-piece "Whatever's Clean" wardrobe. The idea behind these 13 pieces was that they would be chosen in such a way that you literally could NOT put together an outfit that would clash; all of the colors and styles would harmonize to the point that you could, literally, wear "Whatever's Clean." (I was thinking of travel, or vacationing at a cabin, beach house etc…)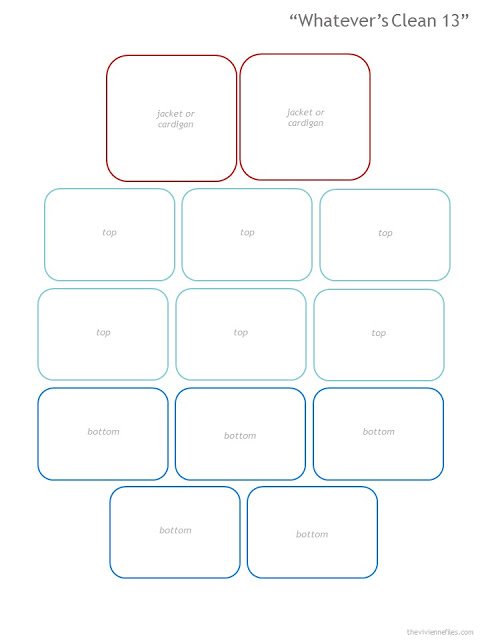 Just in order to make sure that I could fit lots of "parts" onto a page, I rearranged the components. Note that the border around the "Second Layers = SCARLET," the borders for the "Bottoms = BLUE," and that the borders around the "Tops = TURQUOISE." Yes, these kinds of mnemonics really help me keep myself organized!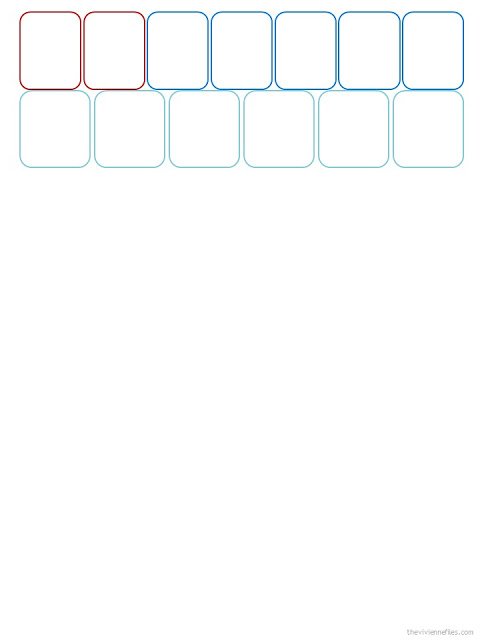 The simplest possible iteration of this for a year-round wardrobe would be to create four separate (but theoretically related) 13-piece wardrobes, and keep them together. That could look like this, more or less…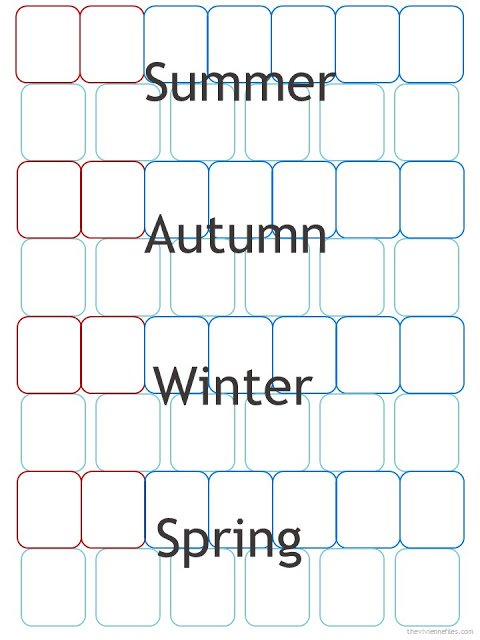 But then I was thinking two things that are separate, but related:
What season gets my blue jeans? They're really good for all but the dead of summer, and
What about arranging and planning so that I wasn't really limited to just 13 pieces for each season?
Of course, I don't think that any of us were envisioning that on March 20th, I would pack up the 13 pieces of my winter wardrobe and hang up the 13 pieces of my spring wardrobe. (in Chicago, I would have to stay indoors until late April if I did that!)
At a minimum, though, I thought that the individual garments for this wardrobe should be put "on paper" in such a way that they visually ranged from extremes of heat to extremes of cold. That way, the majority of garments would fall into that middle range of "autumn and spring," and would include all of those garments that are used throughout most of the year.
(I hope this is making sense…)
So I charted out a dozen pieces in the middle of the diagram for the truly seasonless, transitional items: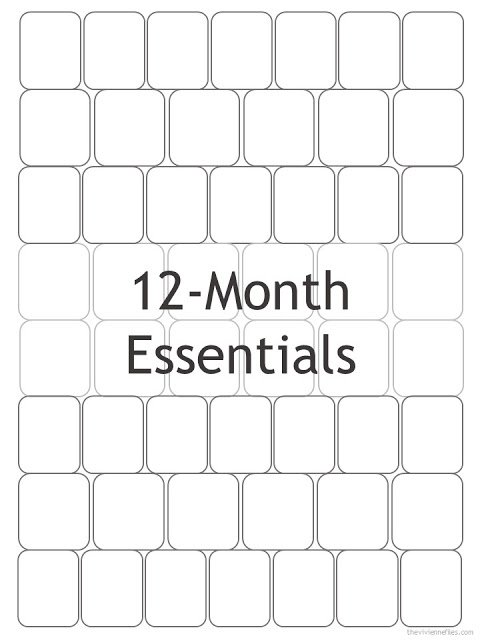 I thought I would start with the hot-weather wear at the top of the page: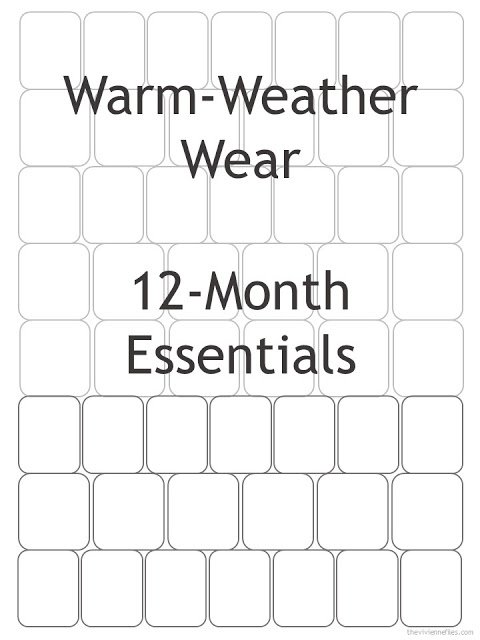 And the bottom of the diagram would include all of the gear necessary for the dead of winter: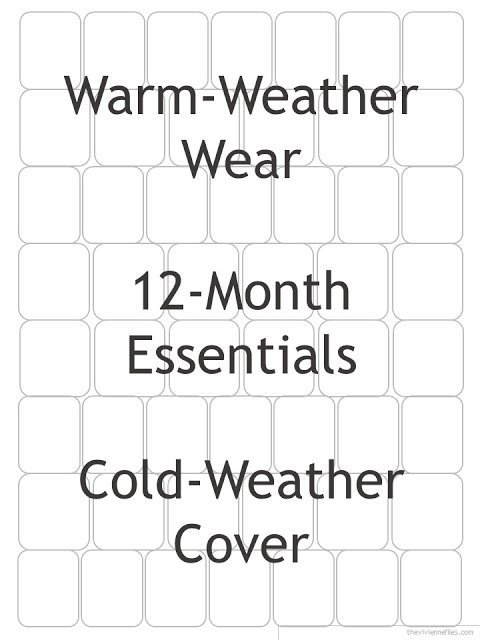 It would be possible to just write-in your pieces, so that you could see what you have and what you need. I'm not sure what to do about "multi-function" items, like a long-sleeved linen shirt that works as a 2nd layer in the warm weather, but also can be worn under a sweater when autumn comes. Maybe give it TWO colored borders? Or just give up the idea of colored borders, and simply be intelligently mindful about balancing tops, bottoms and 2nd layers?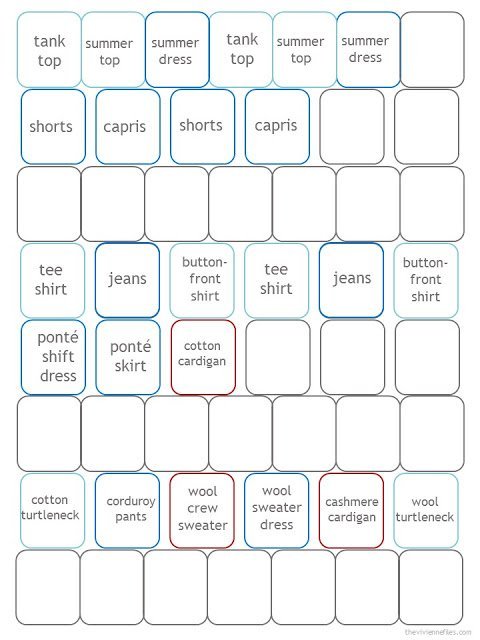 Because I'm all about the pictures, I pulled a handful of images from L.L.Bean (the best source of classic clothing, and classic clothing photographs, that I can find!). I'm liking this already…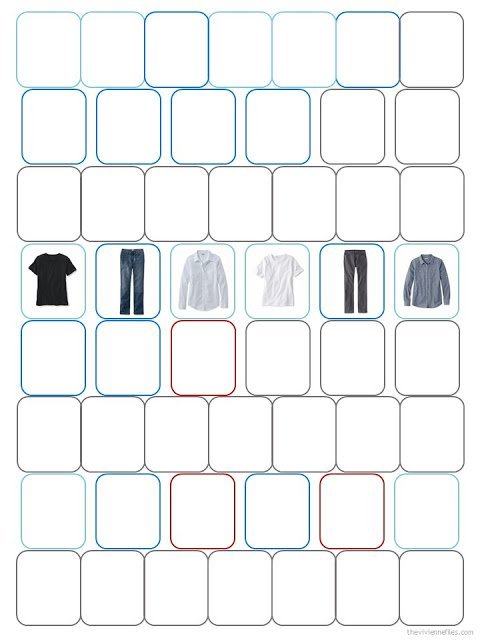 This might not work for everyone – some people who get dressed up a lot might need more than 52 pieces of clothing. But I'm already starting to think that, for me, this might be a useful tool.
Did anybody else notice that this also gives us 1 garment for each week of the year? Would that mean that each Sunday afternoon you laundered and stored one piece, while pulling something more seasonal into your rotation? That you would check on the need to replace 1 piece each week? (and usually finding that you were just fine…) What else could you do with 52 pieces in a 52-week year?
I want to make this easy to use and helpful; if anybody has observations, ideas, suggestions, criticisms, or praise, chime in!
love,
Janice