July 3, 2017
This is a month for shoring up some basic tee shirts and getting a last pair of shorts (and sandals!) before the stores are full of cashmere sweaters. (shortly after July 4th, typically…) I toss in a necklace that's not madly expensive – this is the time of year to indulge in something that's not a big investment, and that might even qualify as a trend or fad. If you're ever going to follow fashion, a summer accessory is a good choice!
Five of the six wardrobes got a nice clean white tee shirt, to wear weekly until it falls to pieces from a combination of sweat and sunscreen… in madly hot weather, sometimes there's nothing nicer than plain, simple, classic white.
(FYI, the new Hermes scarves are on their website. Go. Be tempted, or admire true artistry applied to the design and manufacture of accessories…) Two of our scarves from these six are still available, and for those of you who are trying to find the others, I'm looking every day, checking all of my sources for you!
The addition of a couple of simple tee shirts doesn't add a lot of mad pizzazz to this wardrobe, but it makes possible lots of outfits that weren't available before. It's important to stock up on basics, so that on days when you don't want to do any deep fashion thinking, you're covered! (both literally and figuratively…)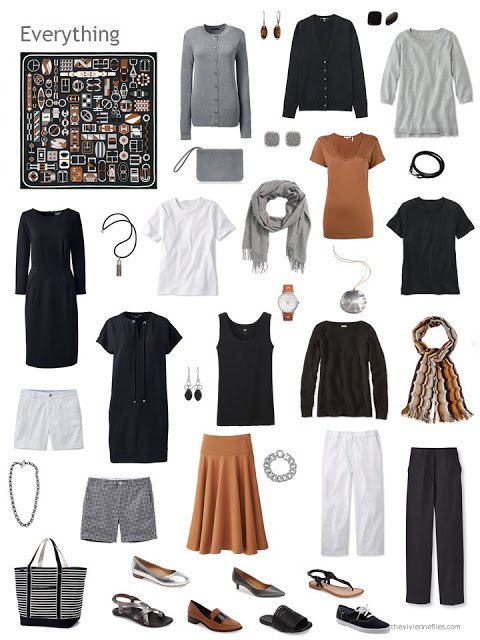 There is blue in this scarf, even though I haven't paid much attention to it yet! This seemed a good opportunity to bring in something denim-ish… These pieces bring a more cool feeling to the overall wardrobe, which is an accurate reflection of the balance of colors in the scarf itself.
A pair of neutral tee shirts are a welcome addition to this wardrobe!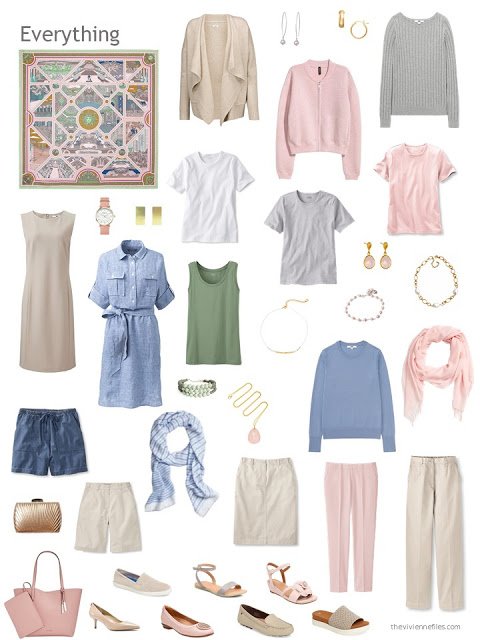 You might make a good case that this red quartz and pearl necklace is sort of dressy for shorts, but I thought that it was so pretty I wasn't going to pass over it!
For this scarf, I was ABSOLUTELY NOT going to put bright blue shorts here – although it would be appropriate for the July 4th weekend…
This wardrobe is taking shape nicely…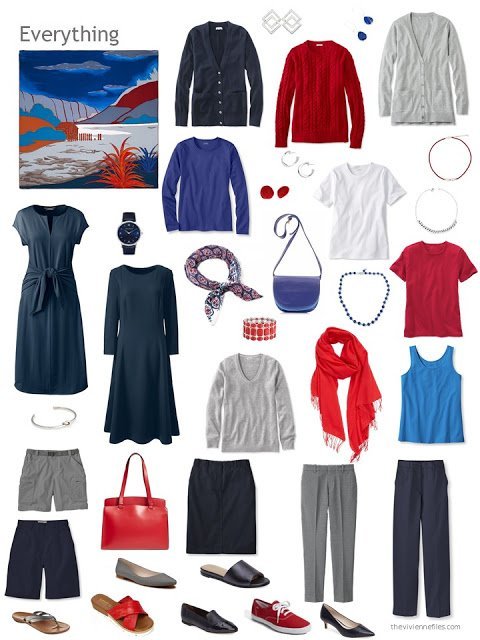 For this next wardrobe, I've been so focused on the green and orange that I really needed to bring some of the blue to the fore. While I don't think there's any white in this scarf, I finally decided that a simple white tee shirt might still be both harmonious and useful!
For me, the overall balance of this wardrobe benefits from the additional blue, and touch of white. It's so easy to become enthused about a few colors in a wardrobe and lose sight of a sense of variety and choices…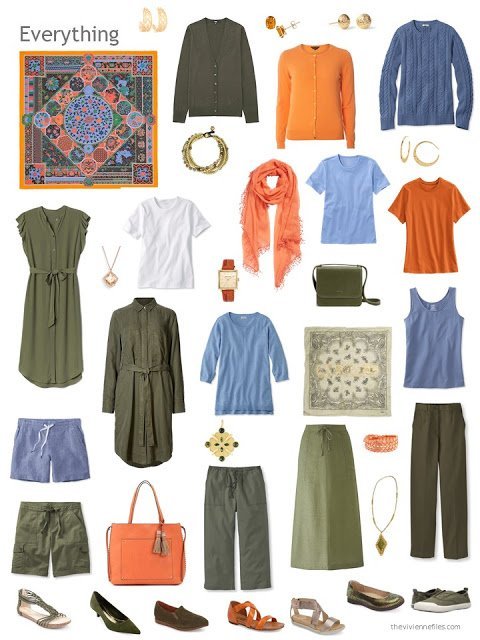 This just feels so simple and fresh for hot weather:
Having enough grey and white in this wardrobe creates a nice base for the accent colors…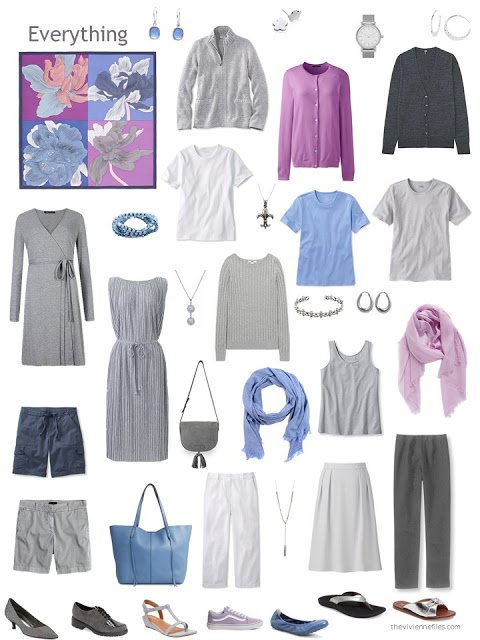 Every now and then I find a tee shirt in an AMAZING color…
I just find it really satisfying to see a row of tee shirts in each of these wardrobe – it feels like choices and options to me!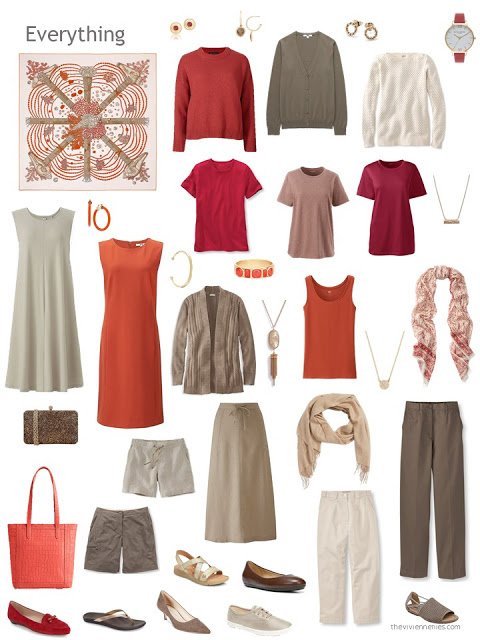 Every month I ponder which of these wardrobes is my favorite… This month the black and white HAS to win; I suspect that those gingham shorts are going to find their way to my house within the next few weeks…
love,
Janice
For more in the 2017 "Build a Capsule Wardrobe – 12 months, 12 outfits" series, check out the following articles:
Looking for more ideas? Follow along as we build a new capsule wardrobe in 2018.