May 9, 2017
I can always tell when a lot of you are planning travel because I start to see more and more emails with packing questions. Many people want a wardrobe that they don't really have to think about once they've arrived at their destination; that's why I cooked up the idea of a "Whatever's Clean" Wardrobe. If all goes according to plan, you should be able to pull any available garments from these wardrobes and assemble a reasonably presentable outfit. Certainly, some combinations are going to be better than others, and you're going to like some outfits more than others, but overall, you've got mountains of flexibility, after doing a bit of strategic thinking…
First off, let's start with a great color inspiration – a scarf from Kathkath! (this really is a 2-woman operation, and well worth our support…)
For hypothetical purposes, let's say that we have a heroine who loves flowers, but who doesn't want to be "that lady" who always wears flowered things. And she's going on a trip during which she will be confronted with weather that's very difficult to predict. I'm starting her out like this – some flowers, sure, but nothing overwhelming.
In order to make sure that our heroine is as prepared as possible for the unexpected weather awaiting her, I'm going to organize her packing around this template: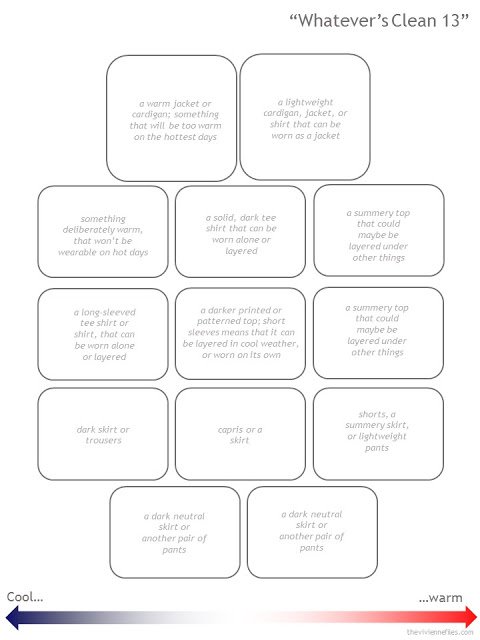 Packing a perfectly interchangeable travel capsule wardrobe isn't easy, and it requires a bit of planning! Primarily, you have to decide what "segment" of your wardrobe is going to provide the variety. You can take printed or patterned second layers with you – a fabulous patterned cardigan would make a great central point of a travel wardrobe – but if you do that, you're not going to be able to take printed or pattern tops and bottoms unless they coordinate with said print cardigan!
The easiest option for this situation is to limit printed and patterned pieces to tops, to use either accent colors or neutrals as 2nd layers, and to use your neutral colors on the bottom. These kinds of wardrobes won't be flawless – there will always be combinations that work better than others – but you should be covered, literally and figuratively, for most situations.
After a lot of looking, and quite a bit of swapping in and out of garments, this is what I foresee our heroine packing:
This gives her a bright assortment of clothes, with plenty of neutrals to anchor everything and make it efficient: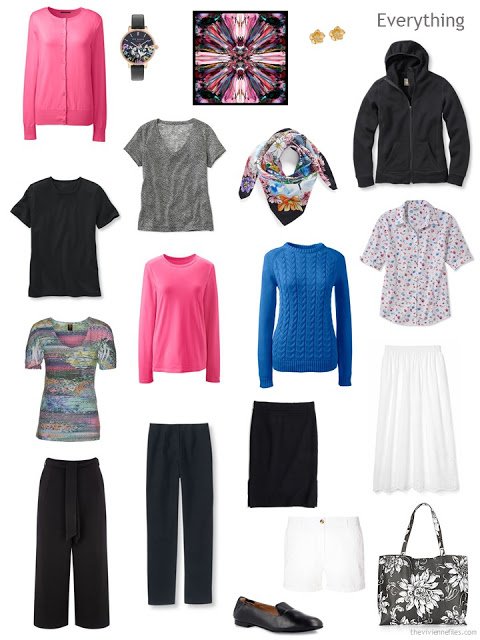 Just to be sure, you can plug the garments into the template to see that she does indeed have the bases covered: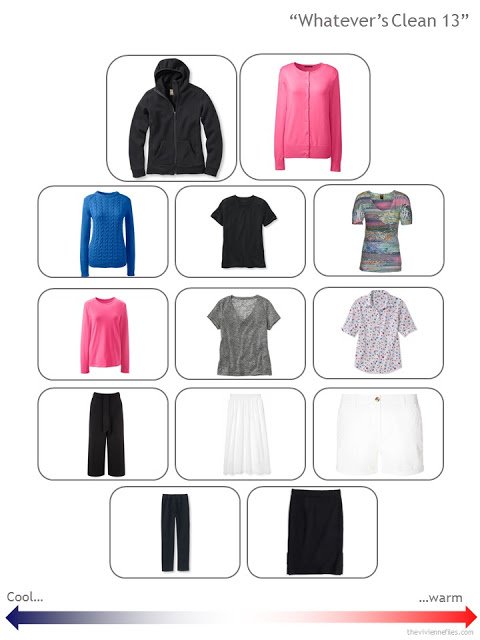 While I have infinite confidence (ahem…) that this wardrobe will work well, I like to go through a lot of the various outfit combinations just to make sure that I haven't gone astray!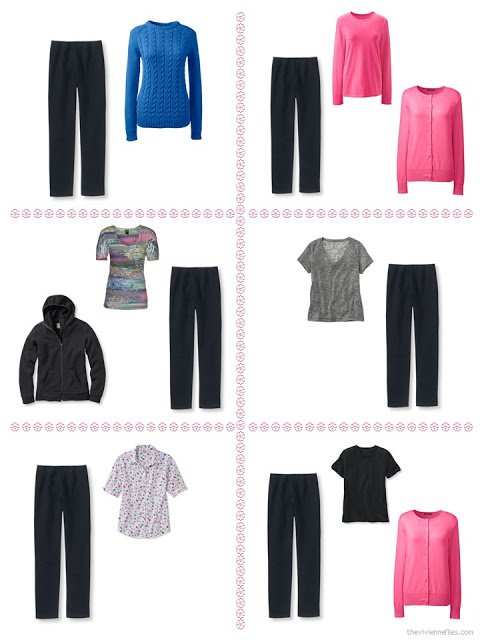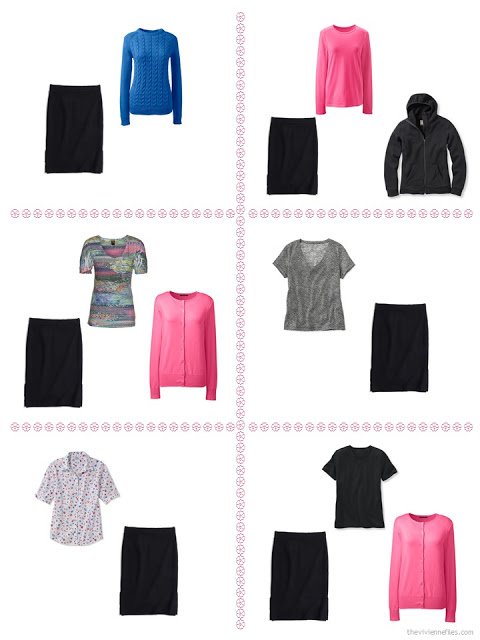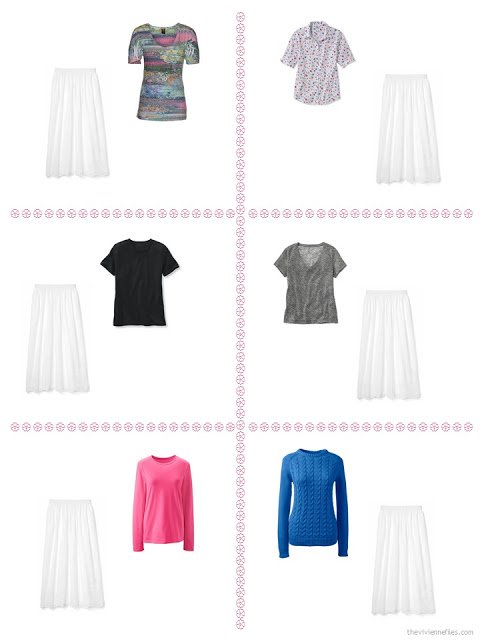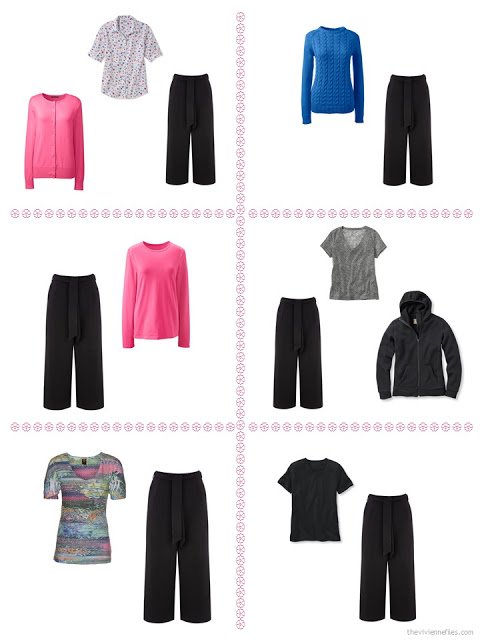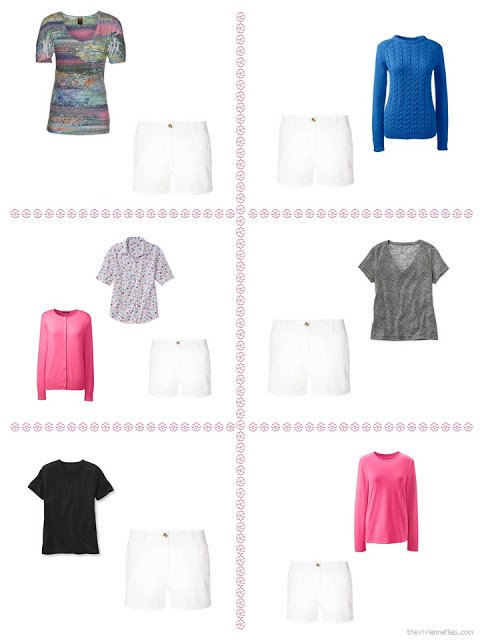 Would this all hang together better if I revisited this with all of the accessories included?
love,
Janice
PS – For more travel wardrobe inspiration, check out the Packing section of The Vivienne Files.