April 14, 2017
So I've been using Neutral Building Blocks for a few weeks as a basis upon which I've built all kinds of interesting capsule wardrobes, but I've neglected to truly address HOW you get those Building Blocks in place. Today, I'll try to fill in this omission!
First up, I settled on the idea of 9 pieces just on instinct, because it seemed like a good number – more than half of a 4 by 4 Wardrobe, enough bottoms that you could include shorts, a skirt AND a pair of pants, four different tops so you could go from sleeveless to short-sleeved, to 3/4 sleeve to long, and then toss in a couple of 2nd layers – a jacket and a sweater.
The more I played around with the 9 pieces, the more I was pretty happy with it, but there's certainly no rule or law around this. If you want to fill in a full 16 or 20 pieces in neutral colors when you're preparing for an upcoming season, do it! I can't as heartily recommend much of a reduction; I think part of what makes getting dressed so very difficult for many of us is having lots of eye-catching and memorable accent pieces, and not enough of the basics upon which these accent pieces need to rest.
So I picture it kind of like this: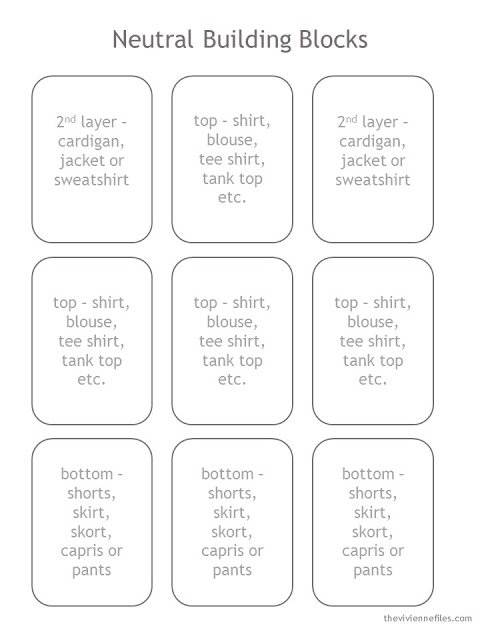 It's a wee bit awkward because I stuck one of the tops up in the middle of the top row… maybe that would be a shirt that can be worn over a tee shirt? or a sweater that can layer over things?
Please note 2 things:
1. I'm working with beige and black, and the colors of beige don't match worth a hoot! But most of these pieces are from the same place, and are probably much closer in color to each other than the photographs indicate.
2. I tried to find as many of these images at one retailer as possible, just so that I didn't spend hours combing through the internet for garments. These pieces are for illustrative purposes, although this would make a perfectly nice wardrobe for the right person!
First up – I think it makes sense to build up from the bottom(s)! These can be the hardest pieces to find in a flattering and comfortable fit, so to me it seems reasonable to begin here. You have lots of options about how you want to go about choosing these:
One thing that I didn't show here was that you can buy six pairs of the exact same pants or shorts or capris or WHATEVER, and wear them every day, if you want to. This might be the smartest possible way to get dressed… Look at photographs of great geniuses – many of them wore what is essentially a uniform. If it works for them…
But the bottom line here is that you need at least 3 "bottoms" (that word just seems odd to me, but I've never encountered anything that makes better sense in this context), and these bottoms should be in neutral colors that look good together. Beyond that, the sky's pretty much the limit, although I'd strongly advise that you stick with neutral solid colors….
Next up, I would add a couple of pieces that can function as 2nd layers. In the hottest of hot weather, these will serve only as air-conditioning shields, but in those "shoulder" seasons, these are the garments that help you navigate warm days with cool evenings, or chilly early mornings that become scorchers by mid-afternoon. With the right 2nd layers, your clothes can become essential 12-month garments, which is terribly efficient…
I virtually never use a jacket as a 2nd layer, and I'm not quite sure why! That field jacket is especially appealing… Most of us might think of a cardigan as the most obvious choice, but I encourage you to look around at the world of sweatshirts – some of them are really pretty – or a jacket…
The last step is where things get even MORE interesting; you've got four tops to choose! And the world is your oyster…
My first thought is for those who like to wear a column of one color, with a contrasting 2nd layer piece:
Another choice, for those who are self-conscious about their upper-body, or for those who just really like to wear a particular neutral near their face, is to dress in "suits" (a matching 2nd layer and bottom) with a contrast top. This, for me, would be the best possible way to wear beige…
Maybe you've left a job and you've got a stack of matching shirts…. (I left a bakery position and still am wearing the plain white shirts that were my uniform there!) or maybe you just really like a particular blouse or shirt. There's nothing in the world wrong with that; you can use the other pieces around those shirts to bring variety to your wardrobe!
What I think is the most likely avenue of approach for most of us will be a mix of colors and style – one 2nd layer in each of the 2 neutrals, a mix of tops in the 2 colors, and a mix of styles and colors in bottoms. These colors can be in whatever proportion you find most flattering – if you want all black bottoms, for example, that would be perfect here!
I think when it's all said and done, there aren't a ton of rules around the choices of these pieces! Primarily, you need to make sure that you have enough neutral pieces in your wardrobe, in styles that you like and will comfortably wear on a pretty frequent basis through the upcoming season. Look at what you currently reach for the minute it's back out of the laundry, and you'll have a pretty good starting point.
And yes, owning every piece that I've shown today wouldn't be wrong! It's a little bit "2nd layer heavy," but you could go a long way with these: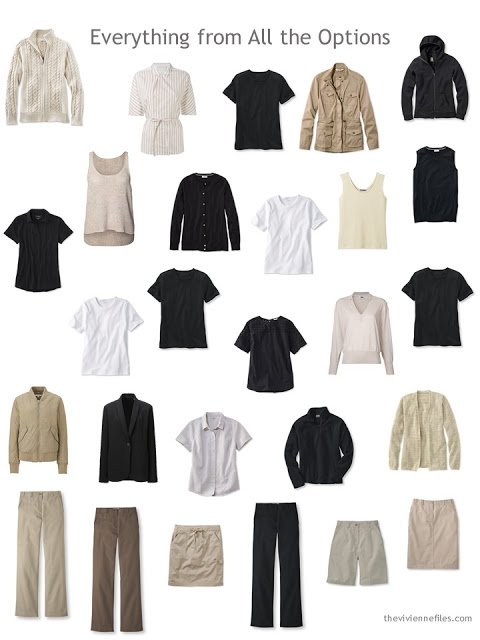 Does this help? Make sense? Would you like to see it in more colors?
love,
Janice