April 17, 2017
This all comes together so well – navy and grey is a really seasonless, timeless color combination! I love a good classic capsule wardrobe…
Let's start with a reminder of where we're headed, more or less. Last week we covered choosing neutral building blocks using this template: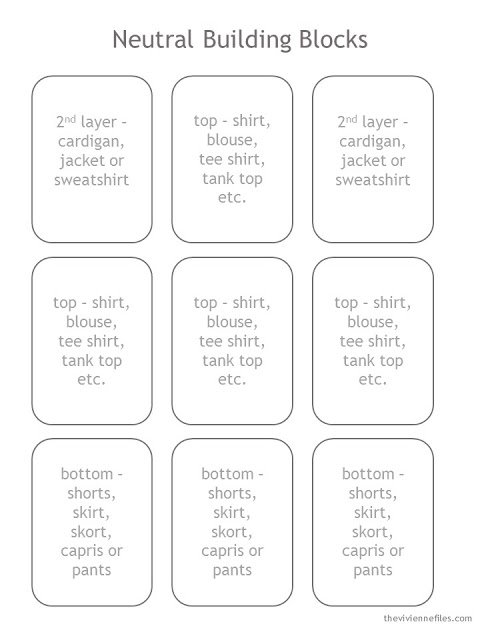 First up is building from the "bottoms" up! This might feel counter-intuitive, but I still think that it's the most logical approach; these are the pieces that for many are hardest to find/fit, and they're the pieces that get worn most often. These really need to be great!
And I'm going to put it on record again – if you find something (pants, tee shirts, whatever) that you really love and know that you will wear a lot, buy multiples! Buy three, four – heck, buy seven! There would be worse ways to get dressed than to pull out "your" pants every day and work around them. If it was good enough for Steve Jobs, it's good enough for me!
As the days begin to get really warm (it's plain old hot here in Chicago today…) it starts to feel a little bit weird to be making sure that you've got 2nd layers. But air conditioning makes some environments positively frigid, cool days happen even in the middle of July or August, and the right 2nd layer makes a warm-weather wardrobe into a 9-months of the year wardrobe…
Two notes of recommendation – the jacket in the middle on the bottom is REALLY NICE. La Photographe owns it, and she wears it constantly… And she's really picky about comfort!
And I have a couple of pieces of the "Ultrasoft" sweats (the first item in the 2nd row), and I can vouch that they are indeed that! The sweatpants are like pyjamas…
It might feel sort of dull to think of wearing mostly dark shirts and blouses, but there's such a variety of styles, textures, and detailings available that it could be a sort of fun challenge. And of course a dark top doesn't have to be solid – the striped top "feels" dark, but breaks up the "wearing solid colors every day" routine.
Here's an example of a striped top that gives more of a feeling of grey than navy – it's fun to have these kinds of options available.
And that knit jacket – I'd have to have that in my hands to be sure that I was comfortable with the color. I have a hunch that the photograph has been brightened a little bit to show the details of the jacket, but I'm not certain…
There are those among us who always wear long sleeves – I did for a couple of years when I was "growing out" a really large scar on my elbow. These shirts are linen so they would be quite comfortable in hot weather, they would be pretty good coverage in the sun, and of course, the sleeves can always be rolled up a bit to show off a pretty bracelet or two!
This grouping shows a variety of possibilities in shirts and tops – lace trim, marled fabrics, or stripes. Once you have a color scheme in mind, you'll be in a better position mentally to notice these kinds of options when you see them.
Just in case you didn't want to be limited to 9 Neutral Building Blocks, this is what the wardrobe looks like if you assemble ALL of the pieces shown today: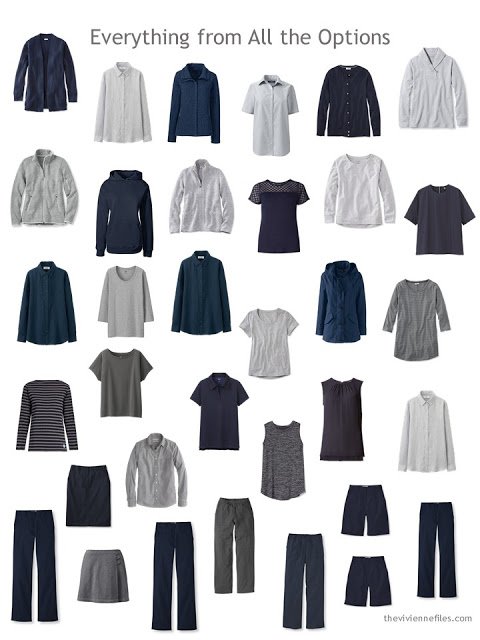 This is 34 pieces of clothing – if you wanted to adhere strictly to Project 333, you would want to eliminate 1 piece (probably a jacket, I'd guess). This wardrobe isn't scintillating and amazing, but it has a good variety of styles, enough pieces for very warm or relatively cool weather, and you could literally get dressed in the dark without worry of making a faux pas. That, to me, is a pretty good wardrobe!
I'm going to try to tackle brown in the next few days if my schedule permits. I may be called out of town for a bit, at the last minute, but I'll do my best to keep things rolling here at The Vivienne Files.
love,
Janice