I'm SO happy that so many of you found Tuesday's Color Method to closet decluttering useful! When I head off into these new blog directions, I'm never quite sure how things will be received; my head is so full of ideas that every now and then I have to toss one out there and cross my fingers!
For many of us, we've been shopping in our favorite color palette for so long that the Color Method doesn't really generate a lot of obvious things to declutter. Thus, I thought that analyzing our wardrobes based on what role each garment plays in an outfit might be helpful.
First up, here's the perfectly a-okay, fine, nothing wrong with these clothes wardrobe with which we're starting. Please bear in mind that if you have a closet like this and it doesn't bother you, DON'T DO ANYTHING. Decluttering is for those of us who feel the need – it is NOT a requirement for everybody! If you're a clothing pack-rat, and you like it that way, carry on, and I will defend you forever!
Oh man, every time I go to the Uniqlo home page, I see a bunch of black and white tee shirts….
not shopping, not shopping, not shopping…
This approach is to take all of the clothes under consideration, and arrange them by function. Here, I have 2 pieces of outerwear, 3 skirts, four dresses, a handful of cardigans, some sweaters, a few blouses, a BIG stack of swingy tee-shirty tops, some more classic tee shirts, shirts and tanks, and then pants…
WARNING – this is a vaguely math-y approach to sorting and saving; it's important to have a reasonably useful balance of tops to bottoms. For me, personally, I would go about 3:1, because I wear a lot of sweaters layered over shirts, or cardigan over something. You kind of have to know your personal outfit preferences in order to make this decision. Frankly, I'm going to tell you flat-out that I wouldn't recommend having fewer than 2 tops for each bottom…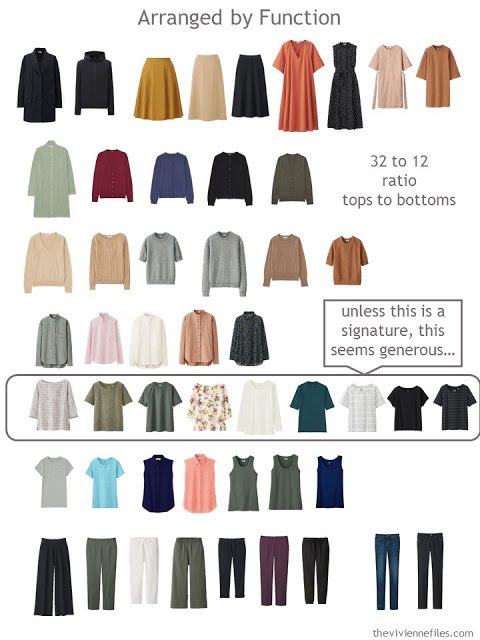 Okay, I remarked that those nine loose-fit tee-shirt-like tops seemed like a generous number, but it's worth bearing in mind that this might be the way to really identify your wardrobe signature. If you went into my closet, you'd see a ton of button-front shirts, and TWO tons of cardigan…. and for me it's just right!
For now, I'm going to keep the jacket and the hooded sweatshirt, as well as all of the dresses. Dresses are a tough nut for an approach like this, because they are both top AND bottom. It's the beauty of them…
Now the fun/hard part. First off, I'm going to start with a target number of garments of 36, in order to be able to have some idea of how many of each category I need to pull out of this collection. It goes like this…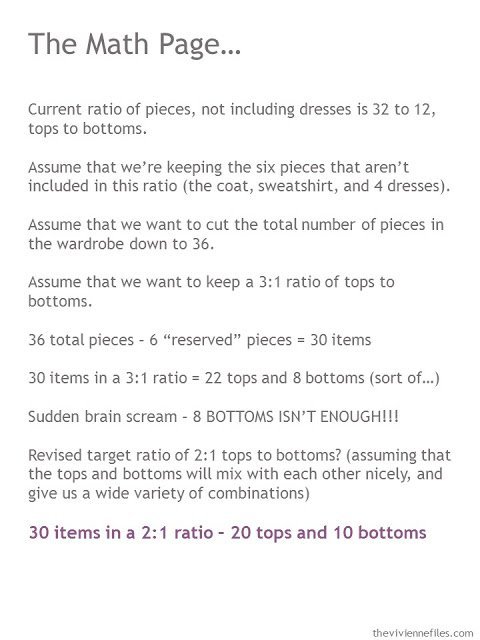 You'll notice that as soon as my brain started screaming that the "bottoms" were going to be cut too far, I just adjusted the ratio and gave myself some wiggle room. So long as you stay reasonably within the range of 2:1 to 3:1, you're going to be fine. This isn't the last time this process will ever happen, and if you don't get it perfect the first time, you're normal!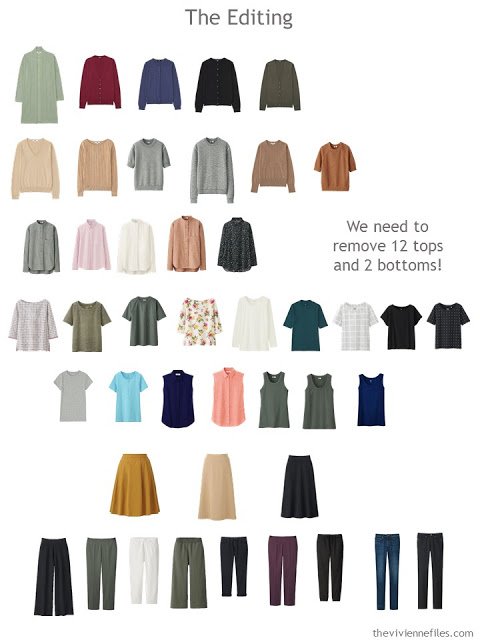 This looks daunting! For some reason, when your clothes are neatly arranged, everything just feels better, even if you're still not optimizing the usage of what you have!
So here's where you need to test-drive each piece, and see how many really GOOD ensembles you can pull together using the piece in question. Really GOOD ensembles, not just something that you could wear out of the house without getting arrested…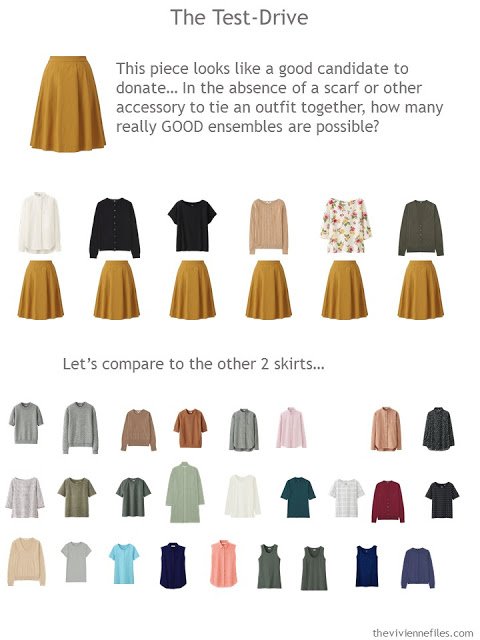 A "good" ensemble is up to you – I'm sure there's someone out there who would wear this gold skirt with 20 of these tops. It's just NOT for me!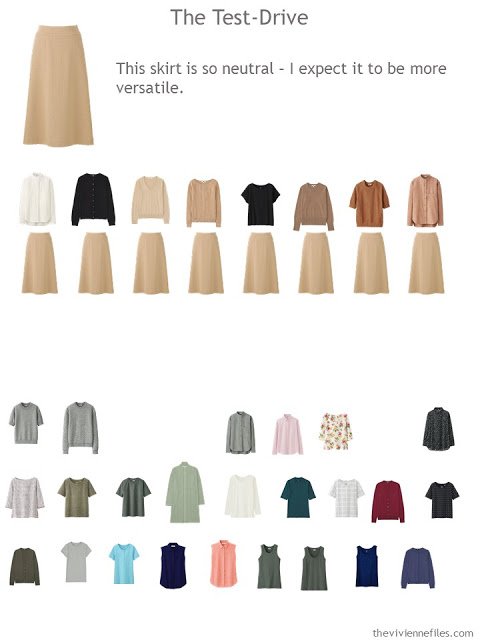 The camel and black skirts are both SO neutral that you know they're going to get used a lot…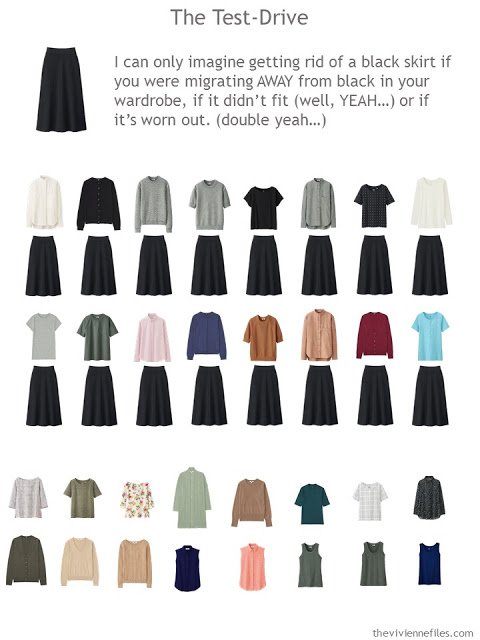 So, after doing this, you can see (if you're me!) that the gold skirt is the weak link. There's nothing inherently wrong with the skirt, it's just not a strong link in the network of your wardrobe. Of course, if you really feel strongly that you want to keep it, you keep it. These are guidelines only, remember. It might be worth considering that you could keep all 3 skirts and maybe get rid of 2 pairs of pants?
After some exhaustive analysis, which might take a couple of days, or which might fall into place pretty quickly, you get to this point: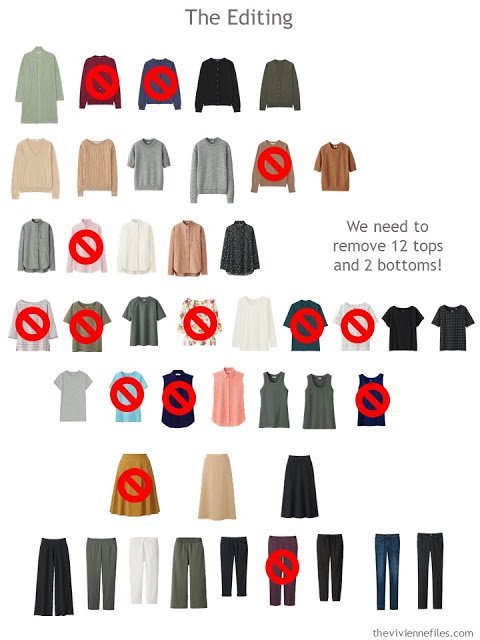 Because all of the clothes in your closet are still in good condition, you now need to find either a resale facility or a charity…. Don't throw things away. Please. There must be a better way…
This is where we are now – it's pretty close to Tuesday's wardrobe, with just a handful of differences: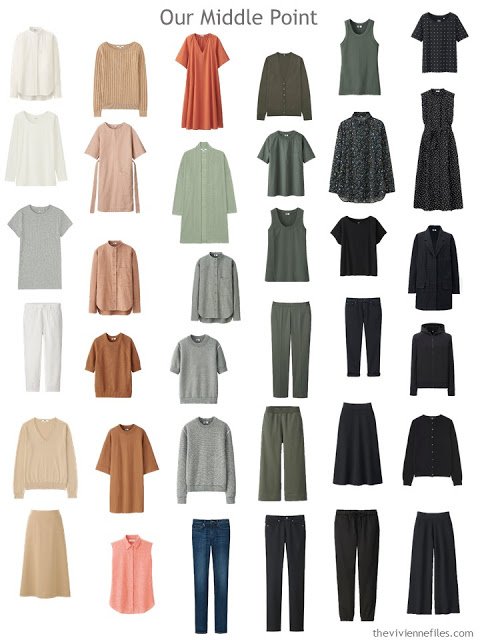 And just as I did before, I pull together a 24-piece Summer Capsule Wardrobe. Note how very much those 2 pair of olive green pants are going to get used now – maybe this would be a good time to look for the perfect olive skirt (maybe with a bit of a rust print or pattern?).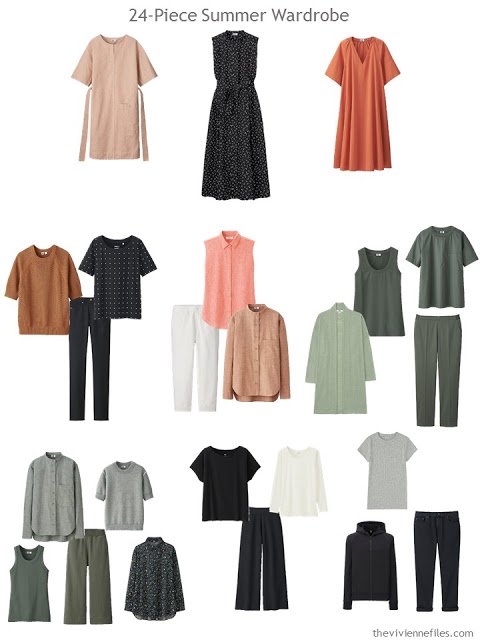 And these are the dozen pieces to be stored. With so few pieces to be stored, it might be worthwhile to look for a canvas hanging bag that's just a couple of feet wide, into which all of these pieces will fit while still hung. Or you could just put them into a handful of garments bags and hang them in the back of your closet. It will be like getting gifts when you unpack them in the cool weather!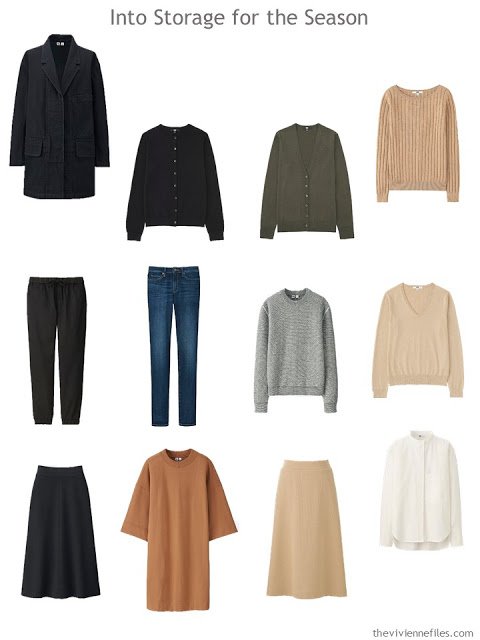 And yes, just to check myself, I want to be sure that I can still build a quick Four by Four Capsule Wardrobe for packing…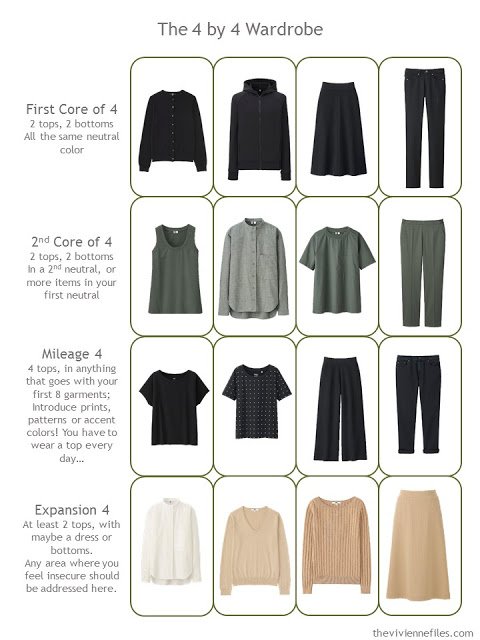 Do you want me to tackle another one of these next week? I'm sort of enjoying the process, and I thought maybe seeing it run through a second time might be useful?
love,
Janice
PS – For more in the "Cleaning Out Your Closet" series, please check out: