September 21, 2016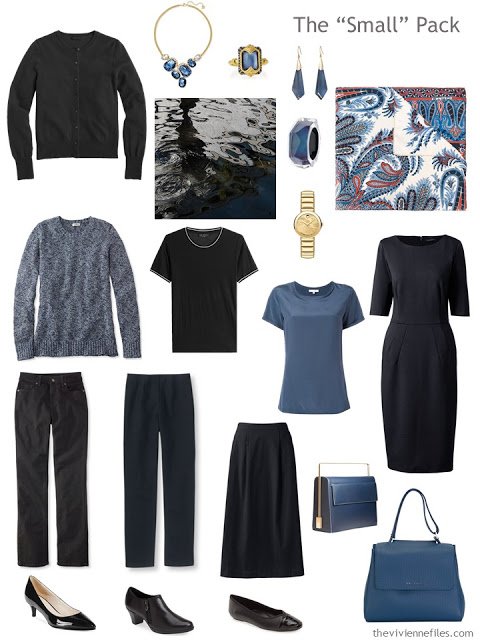 cardigan – J. Crew; necklace – Swarovski; ring – Armenta; earrings – Alexis Bittar; scarf – Image Diary; bracelet – Alexis Bittar; scarf – Etro; watch – Movado; sweater – L.L.Bean; black and white tee – Rag & Bone; blue tee – The Mercer N.Y.; dress – Lands' End; jeans – .L.Bean; pants – L.L.Bean; skirt – Lands' End; handbag – Lautem; pumps – Cole Haan; boots – Munro; flats – Vaneli; tote – Orciani
This is the unifying style inspiration that she uses for her appearance and image; not for just anyone, I'd say!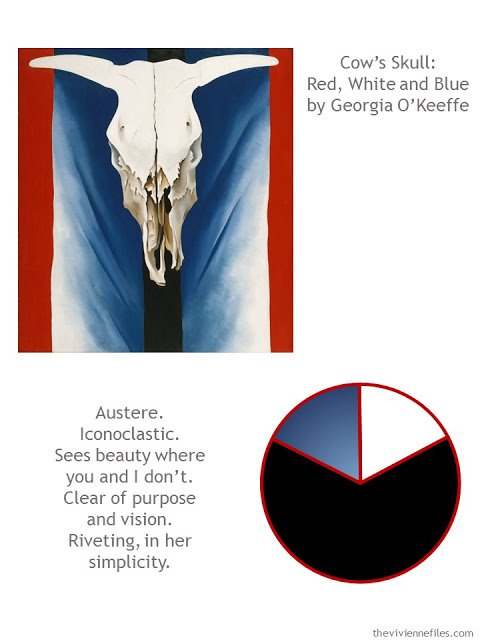 Now, she's preparing for an interesting vacation. She's agreed to go with someone on their lengthy business trip, even though they don't know each other all that well…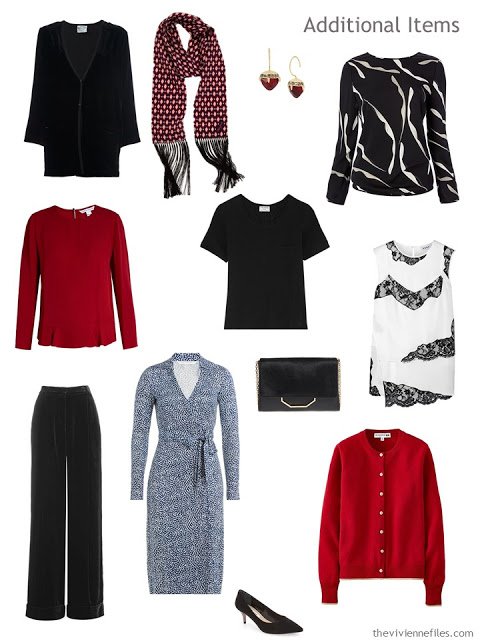 Velvet jacket – Forte Forte; scarf – Marc Jacobs; earrings – Betsey Johnson; print top – Diane von Furstenberg; red silk top – Diane von Furstenberg; black silk tee – Frame; lace-trim top – DKNY; velvet pants – Unique; dress – Diane von Furstenberg; clutch – Louise et Cie; pumps – Nina; red cardigan – Uniqlo
The promise of 10 days in a new city is compelling, and the idea of having 8 or 10 dinner dates with him is… sufficiently intriguing that she's willing to give it a try!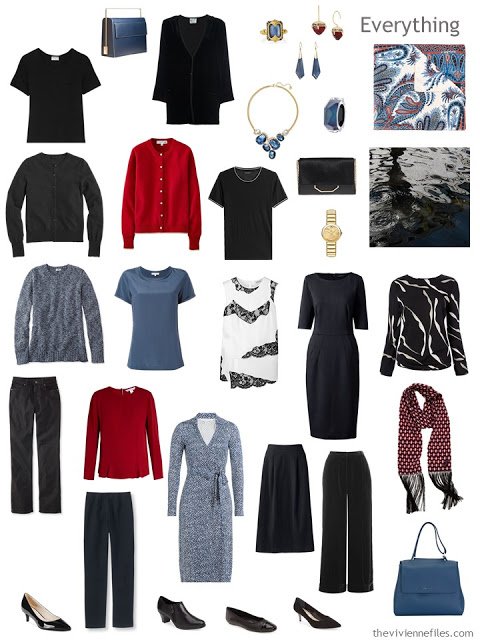 She packs meticulously, as would be expected. Because it's vacation, and because it might be romantic, she includes lots of velvet, and silk, and a touch of very non-frilly lace: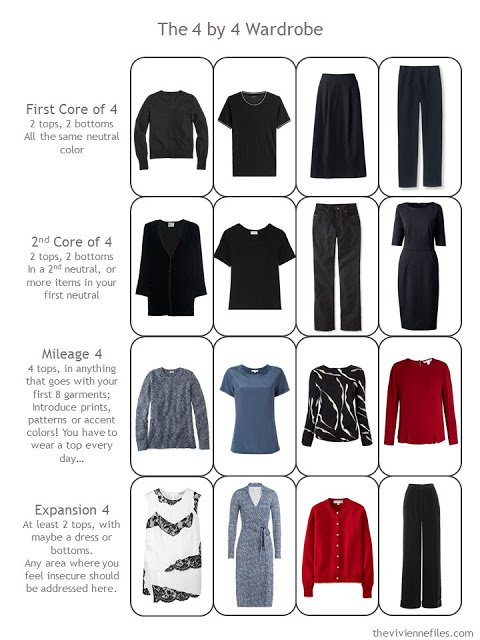 She's got a range of dressy options, from a blue that could be interpreted as… cooling…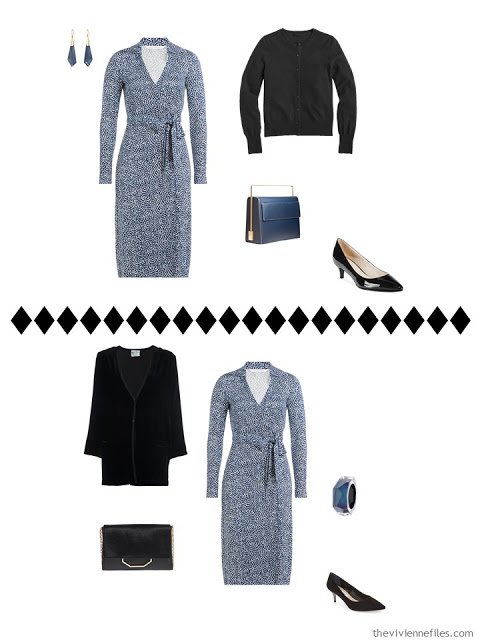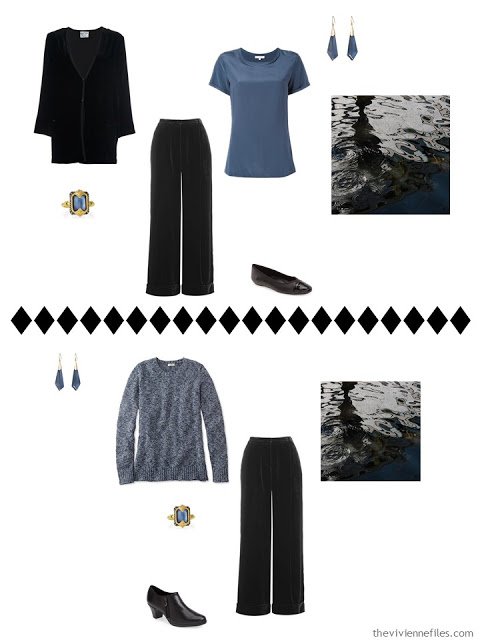 To just a touch of red, which might be worn if she wants to heat things up!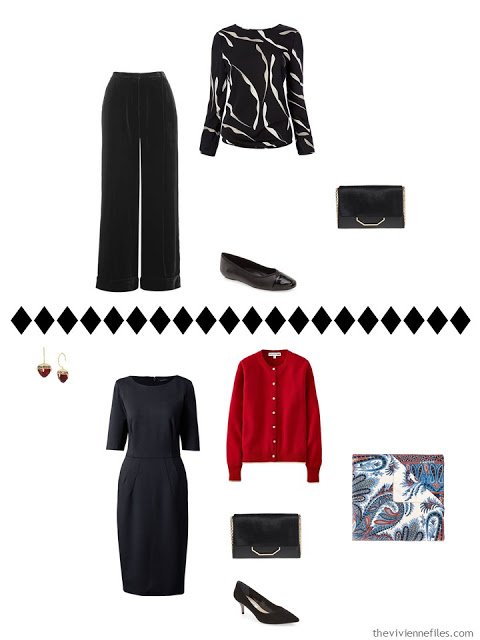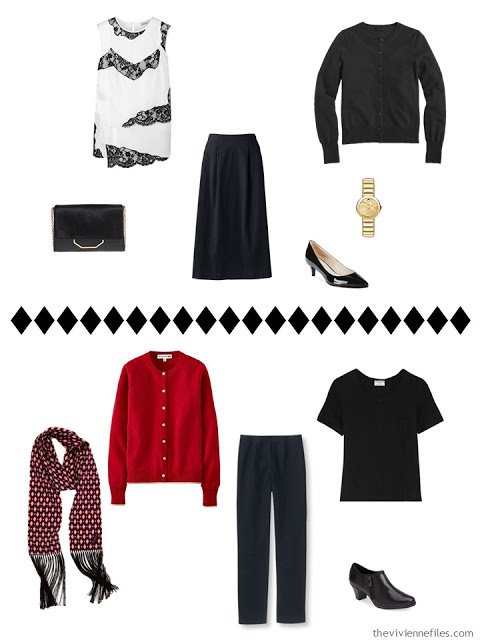 Of course, if things go really well, it won't matter WHAT she's wearing! And if things go badly, she has her own hotel room, and she's holding her own return ticket….
Nothing ventured, nothing gained, eh?
love,
Janice