September 16, 2016
Depending upon whom you consult, this is NOT plum. However, I like it, and so for now we're going to roll with it… There are going to be more colors in this series, so some other interpretations of plum in a capsule wardrobe are entirely possible!
Purple is an interesting color in shops; a great deal of what's available looks very… goth? Sort of like you're living on the fringes of normal society? Just plain strange? It's such a pity, because purple is a lovely color, and goes so well with all of our neutrals.(I've had a deep fondness for the "stitchworks" L.L.Bean cardigan for years. I'm really happy that I've finally found a good place to show it to you!)
I was REALLY doubtful of how well olive was going to play here, but I think it's lovely…
If you really want a purple bag, but you don't want to spend three fortunes, look at JCPenney, (I was surprised!) which has eight different styles, in nylon, with anti-theft features. This might be a very good way to test-drive the idea of a purple bag, before going off the deep end with an expensive leather… And they are worth checking if you're looking for almost any non-black bag – they have red, teal, olive…
Why yes, I will get a wee commission if you buy one; it's how I keep the lights on chez The Vivienne Files. But you and I both know that I don't make my choices about what to show you based on that, right?
I was surprised to be so happy with the results of the camel experiment. Camel isn't a color that I handle well, but the beautiful purple just settled in happily…
I knew that navy would be perfect with purple. Is there a color that doesn't go well with navy? I think not…
Brown and purple? Oooh, that sounds difficult… But the colors share a depth, and an intensity of color, that makes them surprisingly appealing together. Not for the faint of heart, perhaps, but worth a 2nd look. THIS is the bag upon which you splurge after you've worn out the nylon one you used for the test-drive…
Purple and black is a color scheme that could go wrong really quickly. When I'm unsure about the best way to handle a color combination, I go to the experts. In this case, an Hermes scarf helps a lot!
Next week, I'm going to look at brighter accent colors… Should be fun!
love,
Janice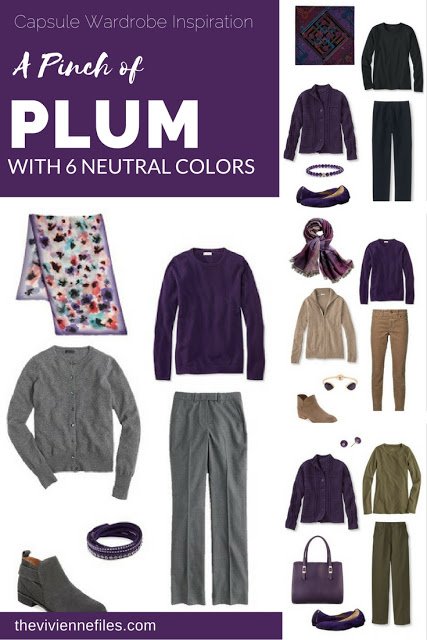 Like this article? Save it to Pinterest!