September 15, 2016
Sigh… there are NO teal foods. If a food is teal, it's a genetic mutation, or a scary misuse of food coloring!So we've abandoned my very fun food theme for post titles, but the general concept of accenting neutral outfits holds true. And teal is SO pretty in the capsule wardrobe…
The teal tee shirt has a slightly different neckline than usual, and it's tunic-length. We like to keep some options available!
I wasn't at all sure how olive and teal would be together, but I could cheerfully wear either of these outfits (and olive isn't a good color for me…) Remember, when looking for scarves, to check out the men's departments. Why some scarves are only for men is a mystery to me…
I don't know that I would want to wear teal with a lighter grey than this, but with this sort of medium shade, it's really lovely…. and don't you LOVE these accessories? That wee bag just tickles me… Some years, you wouldn't be able to find a teal accessory for the world, but this is a good year for them! And I don't recall hearing that this was going to be a trendy color, do you?
Teal and camel are just right together…
This is a very subtle color combination; I think it looks rich, yet uncommon… Very memorable, in a quiet way…
If you are looking for a teal handbag of any style, click on one of these bags from Kalencom, and search around for that brand on Shoebuy. They make a handful of designs, and they ALL come in teal, as well as about a dozen other colors…
I don't own a stitch of teal, but these 2 outfits make it more and more appealing….
Tomorrow: purple! Which I am naming plum, despite all of the various designers who disagree with me…
love,
Janice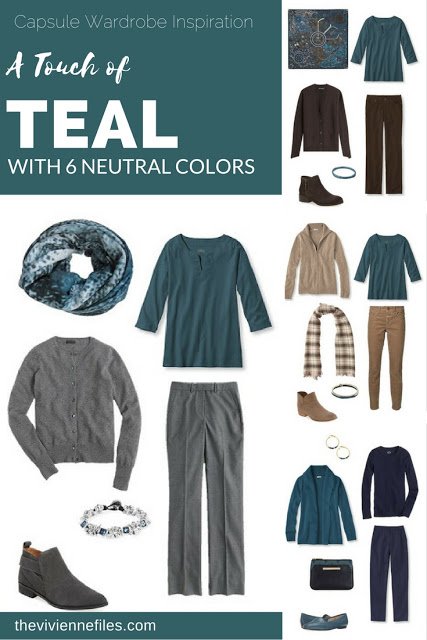 Like this article? Save it to Pinterest!