May 23, 2016
These subtle colors in this capsule wardrobe really appeal to me…Remember, this was our first outfit, to which one MUST add some shoes. Unless you live somewhere that doesn't require shoes?
And simple earrings! I particularly like that bottom pair because they're simple, but they aren't…
There weren't hundreds of scarves in this very subtle color scheme, but many of them were lovely; if this were my wardrobe, I'd have quite a few scarves!
Finding just the right color sandals was a challenge! These colors are somewhere between sand, taupe, drift, and some other strange names… Remember when you're searching the internet for something specific, you have to be really creative about color names. It's worth searching for a couple of sites specifically about colors to get some ideas.
More simple watches that you can actually read – sometimes I'm so radical!
For leather accessories, this wardrobe lends itself to a range of colors from really pale ivory through to cocoa brown. This is another case in which it's wise to carry swatches, or a small color "reference item" of some sort. I still stick with a few skeins of embroidery floss, in a small zip-lock bag.
There was a true embarrassment of riches in the bracelet department…
I like the bit of shine that pearls or mother of pearl can bring to a small earring. They bring a nice light near your face.
Tote bags are another place where you have a range or color possibilities…
Honestly, just the most beautiful, subtle scarves are available!
A small pendant, or more substantial necklace, is another way to bring some variety to your wardrobe, and a little shine and movement to your outfit.
I'm devoted to ballet flats…
Does this put you in the mood for a specific place, or event?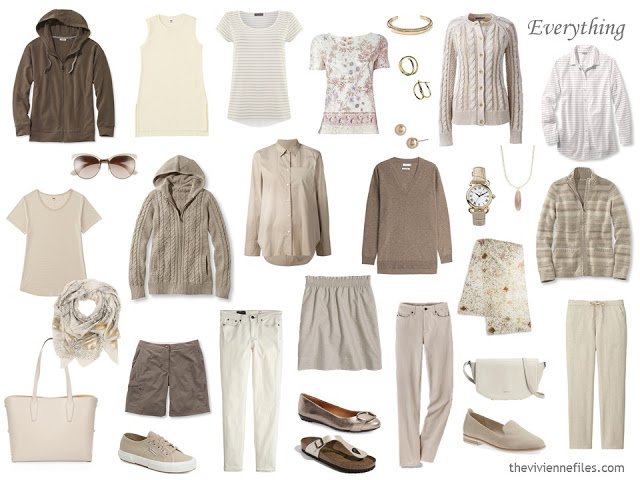 love,
Janice