May 19, 2016
Casual, but really nice…Remember, we started with a simple black column of clothing, with a great blue cardigan; of course, we need shoes:
And I usually have earrings added pretty early in the process. For this wardrobe, I tried to stick with a feeling of linearity, to echo the subtle stripes in the cardigan:
For those who do not want to wear sandals, a simple low-heel or flat casual shoe will be just as suitable:
I love wearing an inexpensive watch sometimes – the look on someone's face when they admire your watch, and you tell them it's a Timex, is priceless. And it's an important reminder that good design can be found at a variety of prices (and the expensive does NOT automatically equal well-done!)
A cross-body bag that keeps your hands free for pushing the grocery cart is always useful:
A simple, timeless bracelet might be something that you slip on literally every day, at the same time you put on your watch. A small, personal signature…
Small earrings can be worn with anything – even shorts!
I'm so happy that casual canvas shoes are becoming more accepted as a legitimate leisure option. They don't have to look like you're running the marathon, either.
A simple necklace with a linear feeling can be worn with everything in this wardrobe – that first necklace is a PERFECT complement to the cardigan!
Don't forget the usefulness of a solid or subtly patterned scarf in your accent color – sometimes it's just the right touch of color:
Tote bags don't have to be amazingly "blinged out," nor do they have to cost the moon. They're designed to carry things, really….
And in the interests of being prepared for cool days, or slightly dressier activities, a pair of closed-toe shoes are useful:
Looking at this REALLY makes me feel like going to Ireland, or Scotland, or Maine…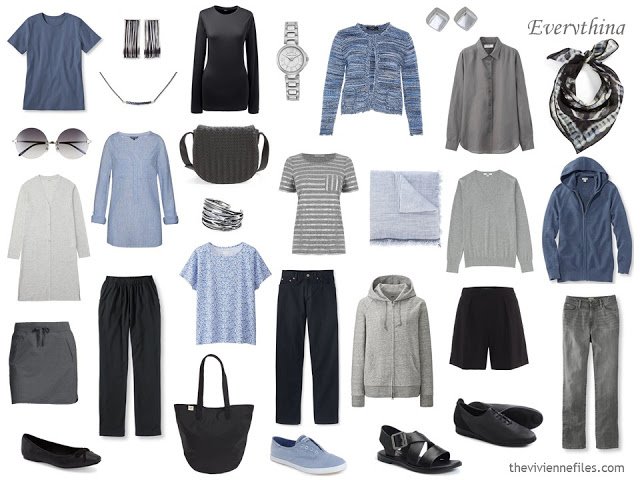 love,
Janice