May 18, 2016
This is in response to a specific request to incorporate more leisure wear into a capsule wardrobe (without breaking the bank), based on the same simple black column I've used before, but including a great cardigan:
The request also wanted to incorporate some grey into their leisure wardrobe, so this was the color scheme that I developed:
I need to mention also that this person isn't in a really hot climate, so a lot of super-lightweight clothing wasn't going to be necessary…First, we need to break up that black column and introduce a piece of blue clothing to complement that cardigan:
And this sweater is going to be a LOT more relaxed than any button-front sweater!
If you're not the person to wear shorts, a canvas skirt, denim skirt, or pair of capris would be good choices here:
Time to bring in some grey; a v-neck sweater can be worn on its own, or layered over a tee shirt for a touch of color at the neckline:
I love classic sweatshirts! They're much more timeless, and more flattering, than a lot of lycra-filled athletic wear – revealing isn't always a good idea!
Jeans! Not the typical blue, but the "everybody in Paris was wearing them" grey:
Yes, it's a striped tee shirt, but it's metallic, and the pocket is on sideways!
Floral is never a bad idea…
Black jeans can go a lot of places…
A linen shirt is a great choice for leisure wear, because you can wear it alone or layer it. They wrinkle, and that makes them feel relaxed!
While this cardigan has buttons, and could easily be worn in dressier ensembles, when paired with jeans and tee shirts it has a swishy sort of relaxed feeling that I found appealing.
A skort! I love skorts – you can do the things that you would do wearing shorts, but with more coverage.
And finally, a sort of wild-card tunic in cotton and linen, that can be worn over any of your bottoms. Cool if the weather warms up some (roll the sleeves) but can also be worn under the long cardigan when the temps drop.
This would be a great packing capsule wardrobe for a trip to cooler vacation destinations – shorts if it warms up, but enough sweaters and sweatshirts to have some variety on cooler days and evenings: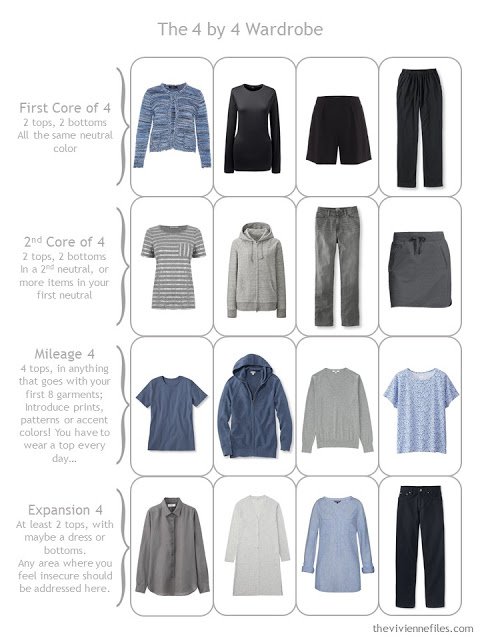 Tomorrow I'm going to choose some accessories for this wardrobe – come visit!
love,
Janice