May 21, 2016
You wanted to see a leisure capsule wardrobe in warm colors? Here it is….I found that I could stick exclusively to shades of brown, tan, and cream and put together a really nice, workable capsule wardrobe. The accessories (which will be here on Monday!) are going to have a big impact on this very subtle collection.
I started with a simple beige column (although the tee shirt has a bit of a stripe) and found a cardigan that contained all of the shades that I wanted to consider: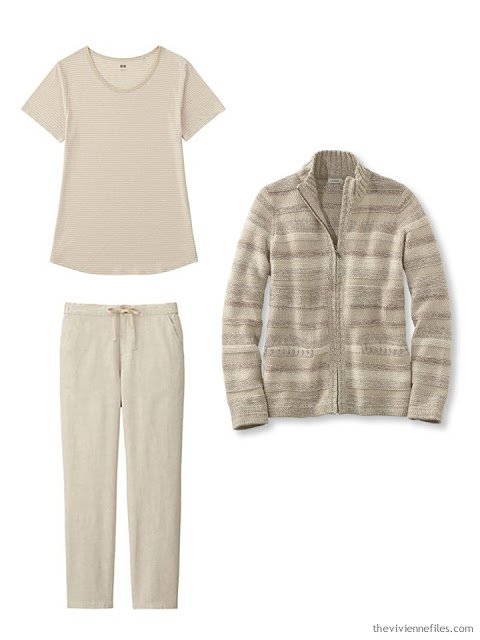 Tee – Uniqlo; pants – Uniqlo; cardigan – L.L. Bean
The gold is included here as a very clear hint about accessories: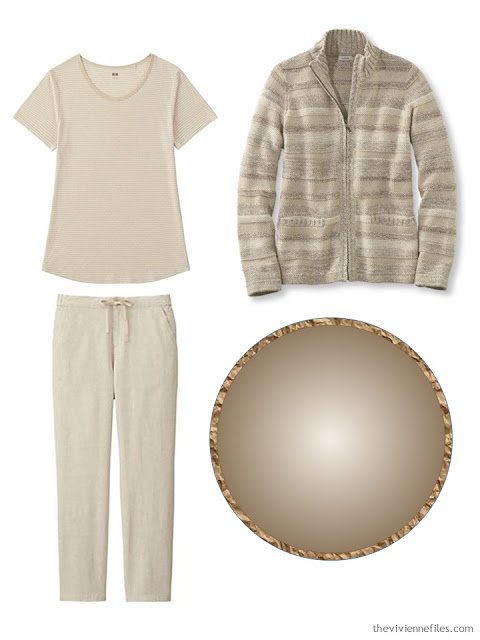 Tee – Uniqlo; pants – Uniqlo; cardigan – L.L. Bean
With warm weather coming (theoretically, where I live!), I thought that a light-colored top would be a good starting point. This top could of course have short sleeves, or 3/4 sleeves: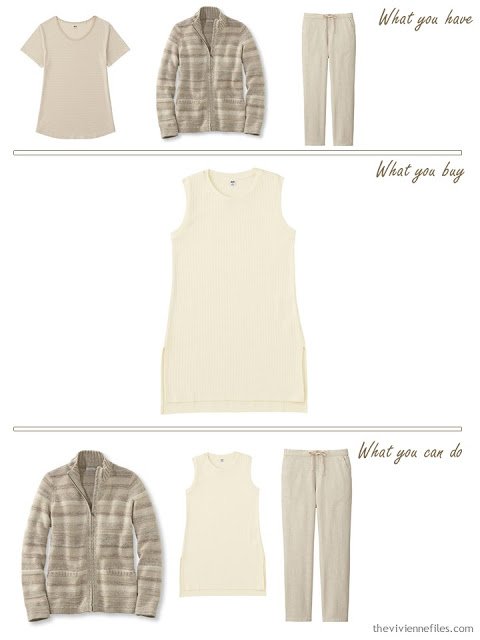 Tank – Uniqlo
Hoods and zippers equal casual, and I think this is a gorgeous cardigan in a beautiful color!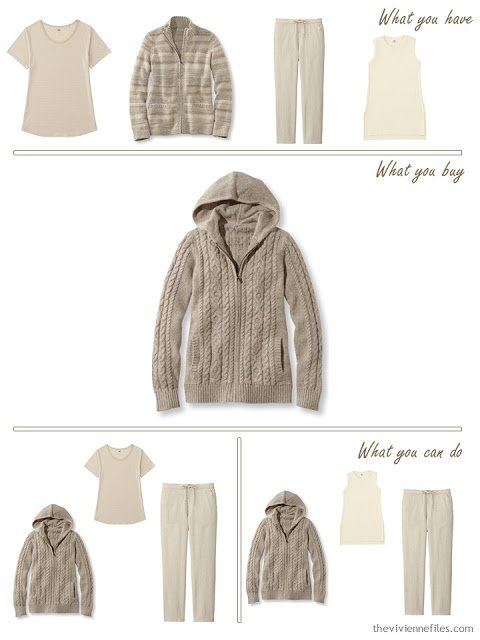 Cardigan – L.L.Bean
As always, shorts are optional, and can easily be replaced by a skirt, capris, pedal pushers, clam diggers, or any other strangely named garment for the bottom half of your body!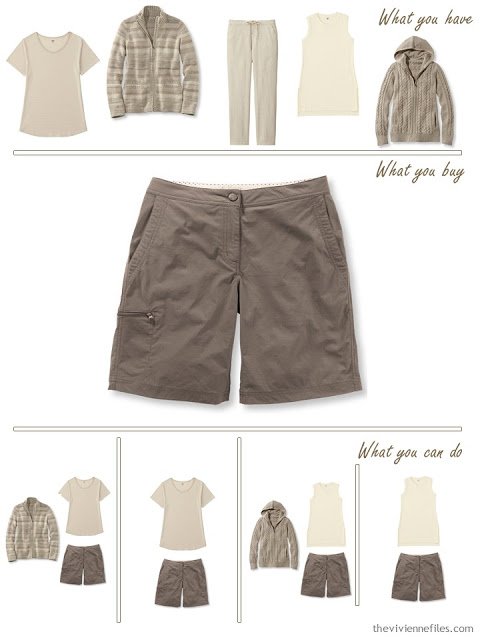 Shorts – L.L.Bean
No matter how hot it gets, some places will still experience cool evenings, for which a snuggly sweater is perfect. If you don't need anything this warm, you can always consider something in linen or cotton, or even a top with shorter sleeves.
I'm a one-woman fan club for the hooded sweatshirt; sometimes it's just the right touch of warmth and leisure.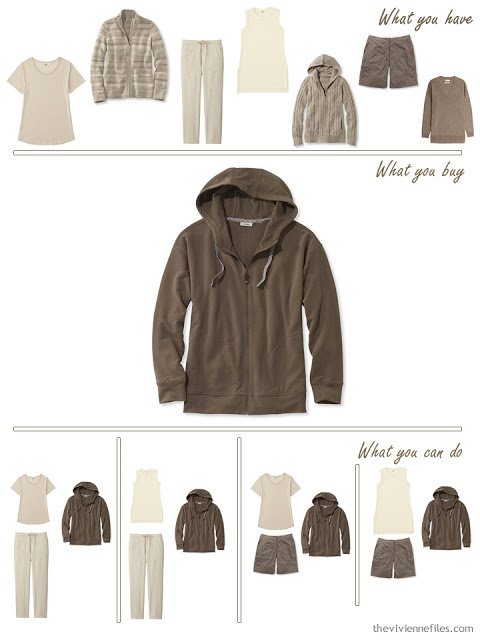 Sweatshirt – L.L.Bean
Jeans come in any color you can imagine, if you're willing to look long enough to find them!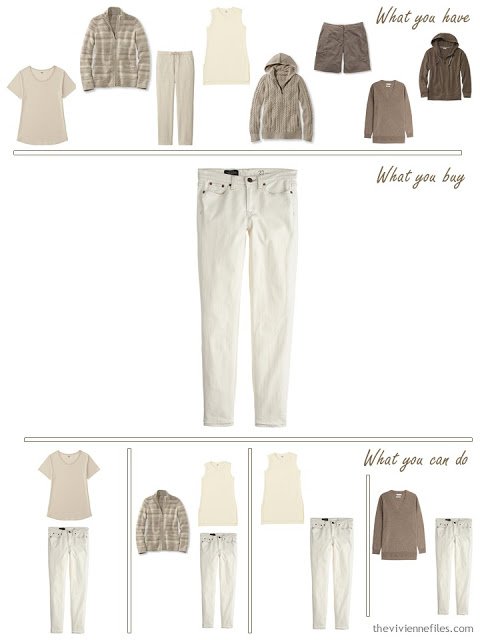 Jeans – J. Crew
I love printed and patterned tops. This one is a true budget-buster, but it's so pretty that I included it just so you could see it! Realistically, you might want to continue to look around for something that costs less than an international plane ticket!
Stripes are always a good choice when you want to mix colors in an outfit. Happily, this tee shirt is a little bit less… ruinous…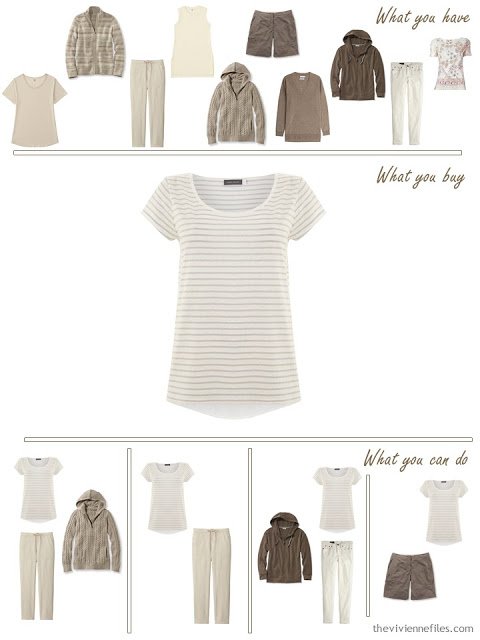 Tee – Mint Velvet
Another pair of jeans, in a darker beige. There's nothing wrong with having at least a couple of pair of jeans, especially if they are different colors and can contribute a different look to your wardrobe.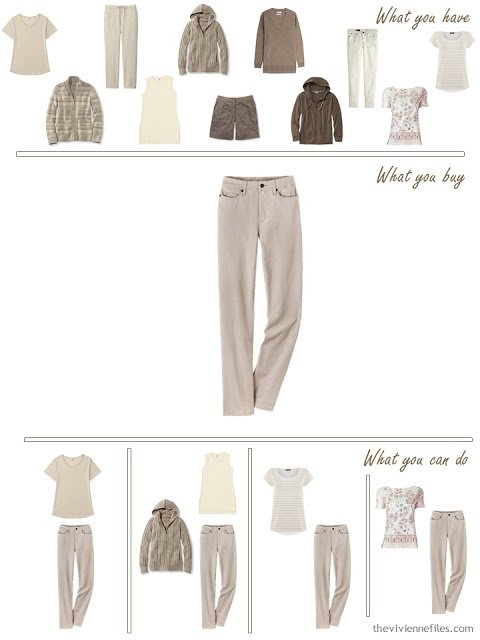 Jeans – Coldwater Creek
I wear button-front shirts all the time, and so I'm often going to include one in a wardrobe: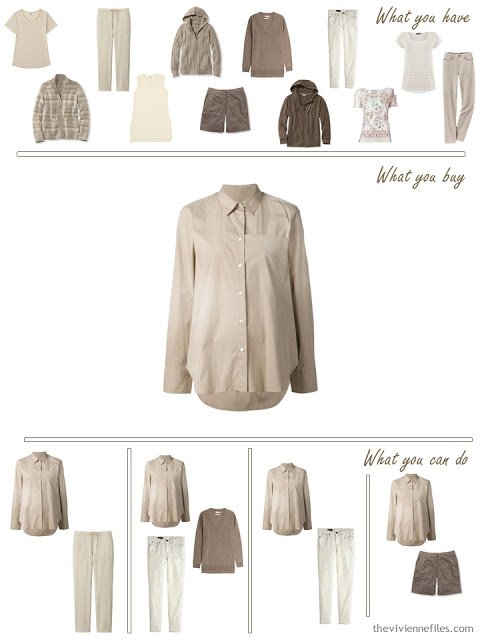 shirt – Lareida
This cardigan is so perfect for this wardrobe! The combination of so many different shades makes it very easy to combine with any pair of pants or jeans we have chosen so far.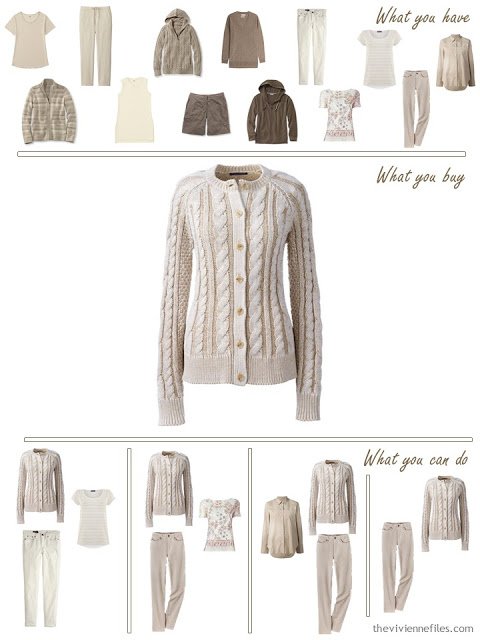 Cardigan – Lands' End
It's not a skort, but it's about as casual as a skirt can get and still be called a skirt: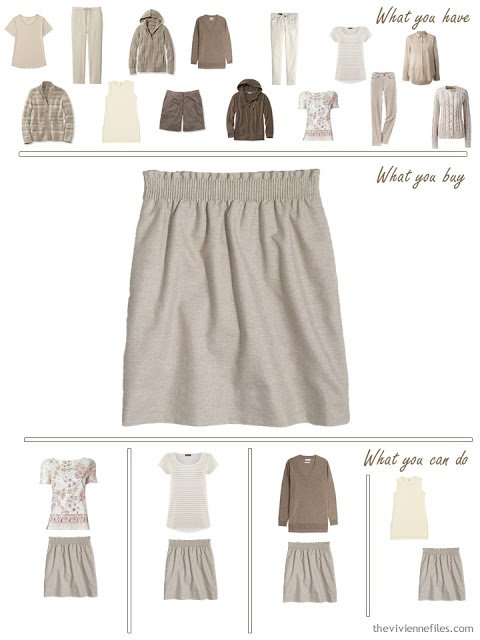 Skirt – J. Crew Factory
And I'm really liking the way that a tunic offers a change of pace and a relaxed outfit option to these casual wardrobes!
This came together really well, I think…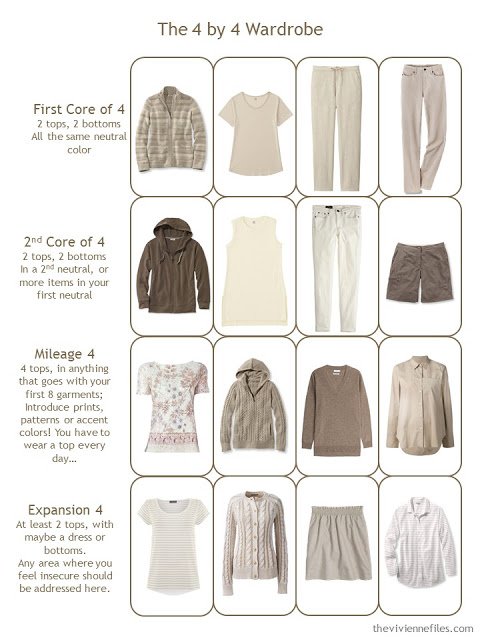 love,
Janice