This is my last post about our recent trip to Paris, so I'm going to cover a few different areas, and toss in some bizarre, uncategorizable outliers…For B and me, Paris isn't Paris without food! One of the first things we have to do when we get to Paris, (after breakfast, of course) it find some eclairs. Coffee eclairs are a food group during our vacations!
The patisserie windows in Paris are always beautiful, and there are a LOT of them; seldom do we have an "eclair emergency" that can't be assuaged in just a few minutes.
This sugar isn't just refined; it's positive elegant!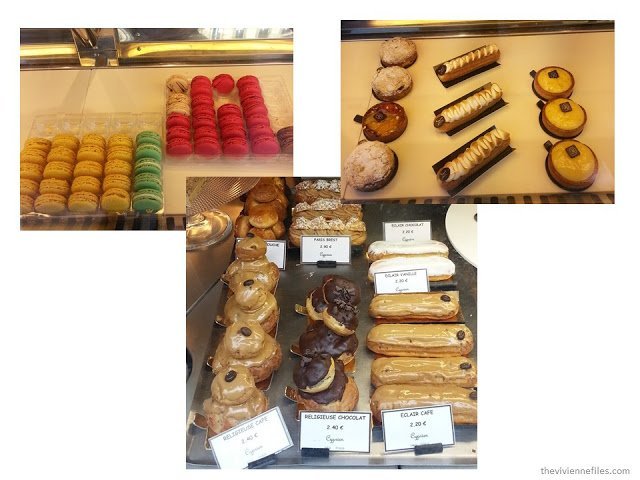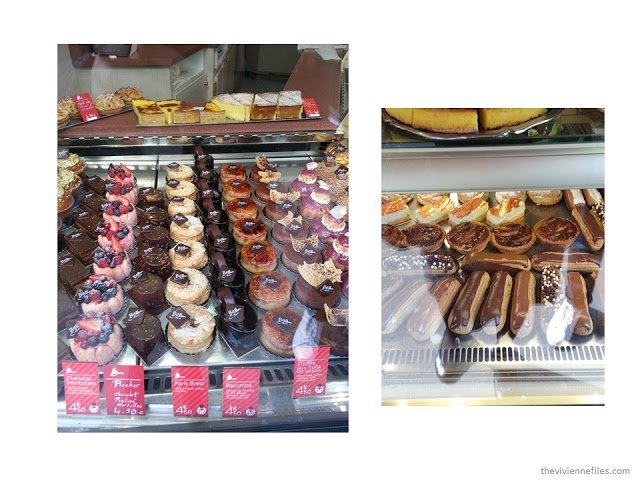 I love this – it dumbfounded me that walnut meats could be displayed so elegantly!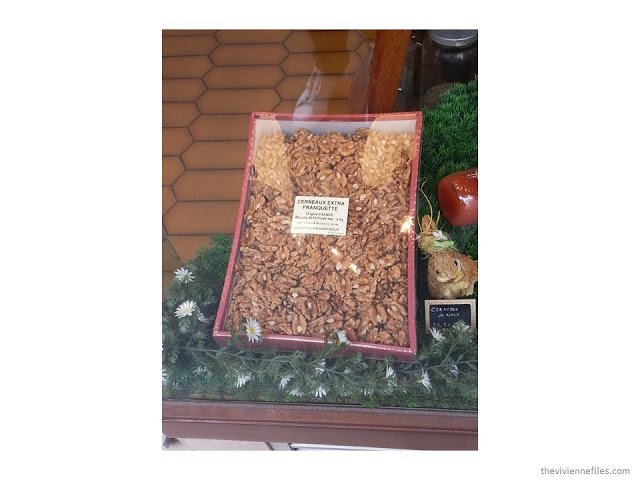 And those beauties on the top left are Merveilleux – they're a kind of baked meringue type of bite-sized miracle…. Oh, how very many of those I could eat, given the chance, and a caloric "get out of jail free" card.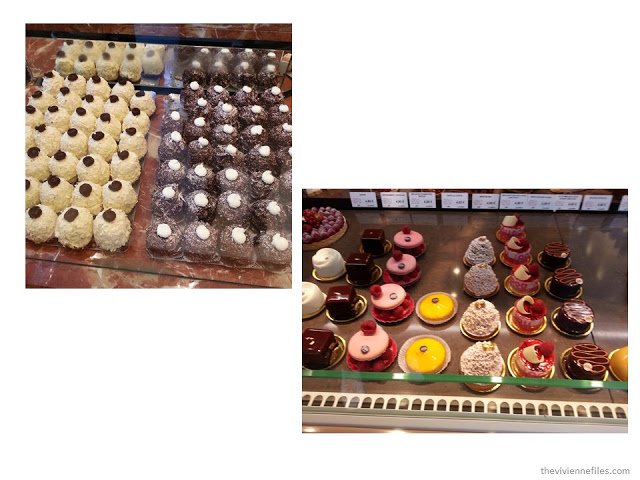 In Chicago, store window displays seem to often be focused on a particular brand, on or some artistic theme that means you're shown a wide-ranging variety of pieces. I would rather see this sort of thing – a capsule wardrobe for the season, ready to scoop up and buy!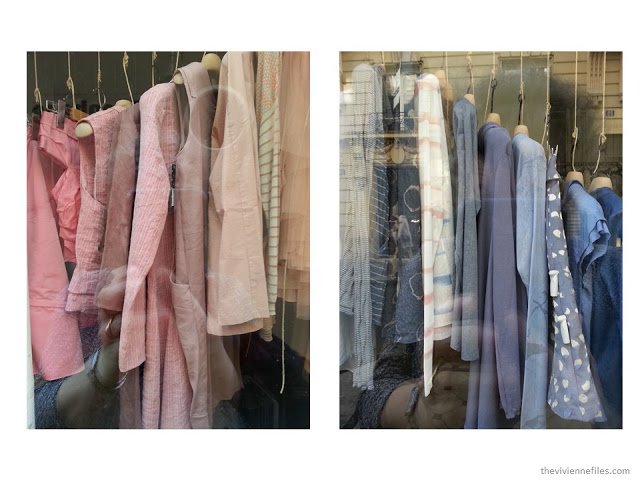 These were taken inside the Loft store (not Ann Taylor Loft; a different company). Any grouping of these clothes would have covered someone, literally and figuratively, for quite a few occasions. This kind of display makes shopping much easier, and leads to mad impulse buying!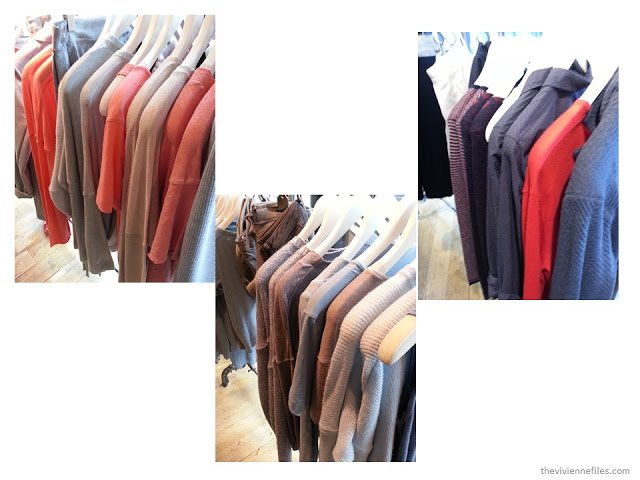 Unlike the handbags that come from the 4 department store brands (which shall remain nameless) in US stores, there are all kinds of little handbag stores in Paris. Also, many clothing stores will carry a handful of bags from sources off the beaten path.
If that handbag on the top left hadn't cost as much as a month's rent, it would be here Chez Janice…. but I can always admire, and try to figure out what holds so much appeal, so that I might someday replicate the idea within my budget.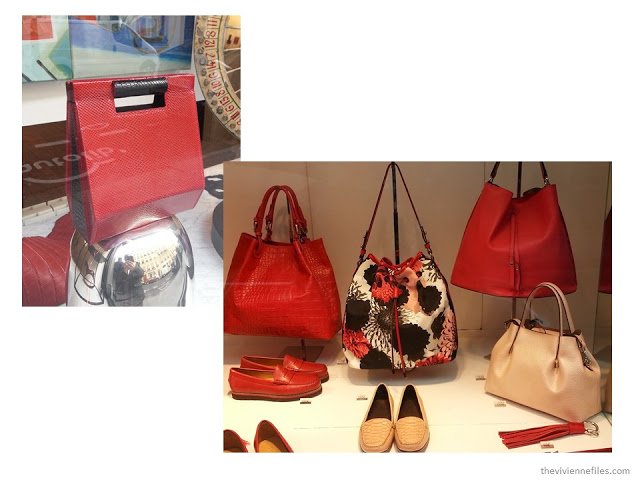 These bags were all in the window at Anne Fontaine, which IS available in quite a few countries. I love the rose motif; if you are a flower person, a floral handbag could be a fun touch!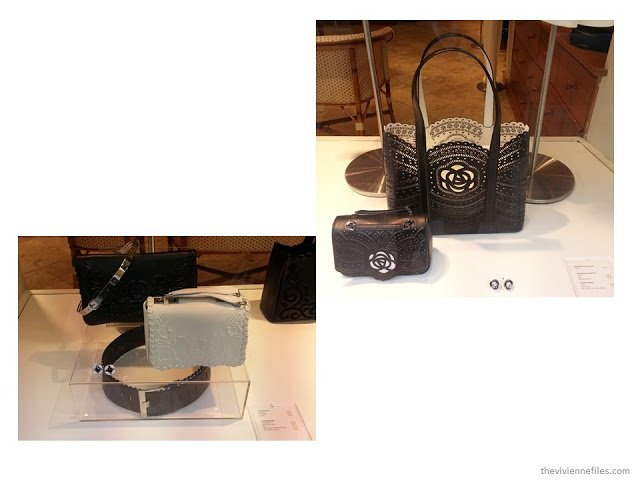 Being the person most in love with packing in the entire world, any time I see shop windows with displays like this, I fall a wee bit in love! The entire outfit, complete with accessories, all folded and ready to tuck into an overnight bag… sigh…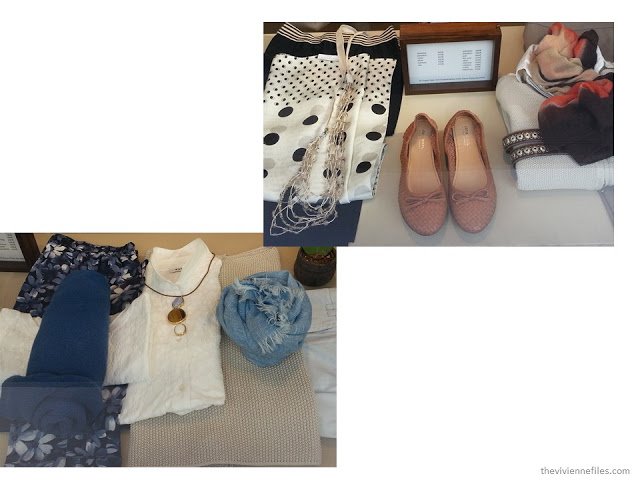 This window just screamed "take all of this to the beach, NOW!"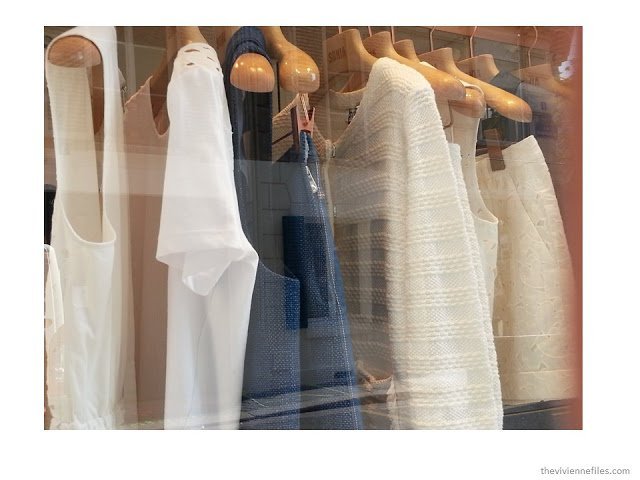 It was so bright that I struggled to get good photographs of some of the bigger windows, but I wanted to share some great color combinations I saw. Navy, white and mint! Coral and white with a navy-grounded floral accent, and navy with white and yellow! Clearly a lot of navy and white this spring, as I think is true every spring.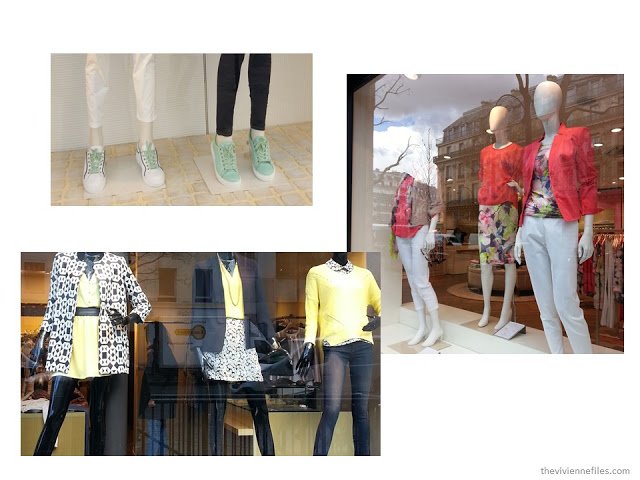 The Hermes windows at the main store left me un-thrilled. They were chock full of pattern, and felt cluttered and claustrophobic to me. But even in the midst of all of that visual madness, there are always beautiful individual items: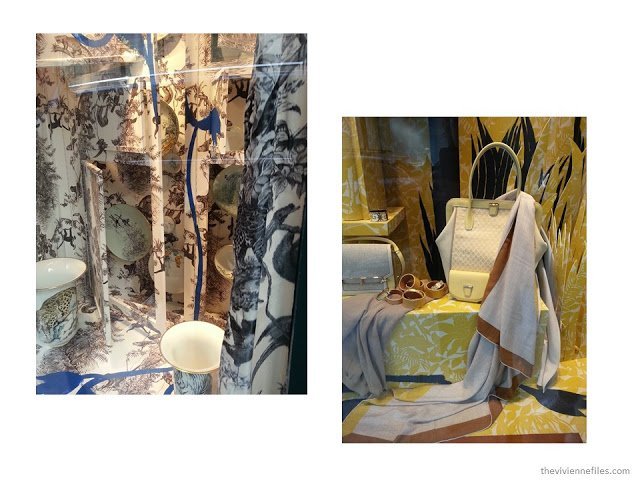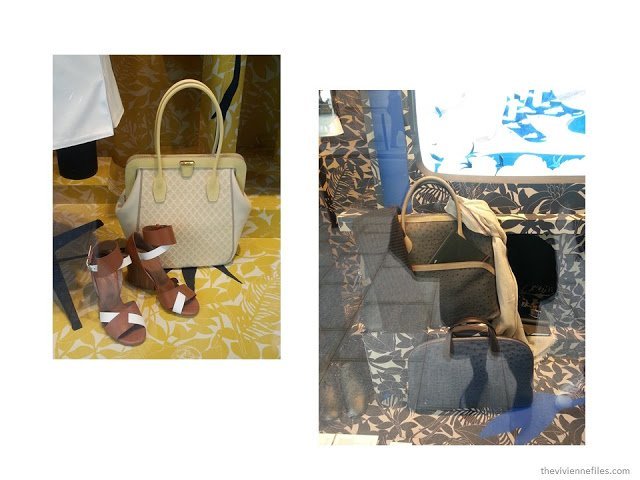 I thought these bags were interesting, and of course I can always entertain the possibility of an Hermes enamel bracelet or seven…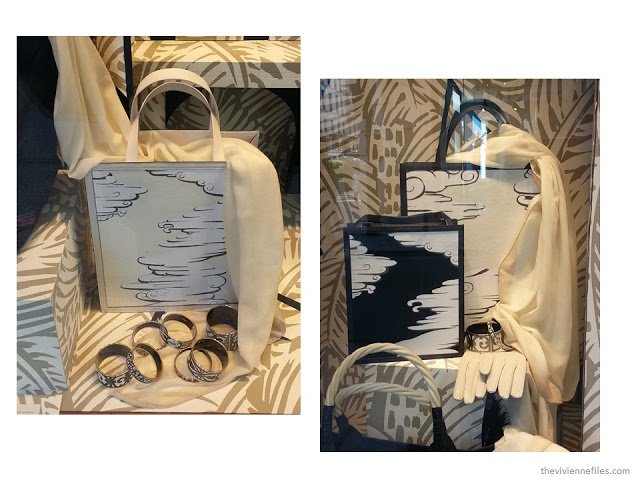 Ah…. flowers… so many shops with beautiful flower displays…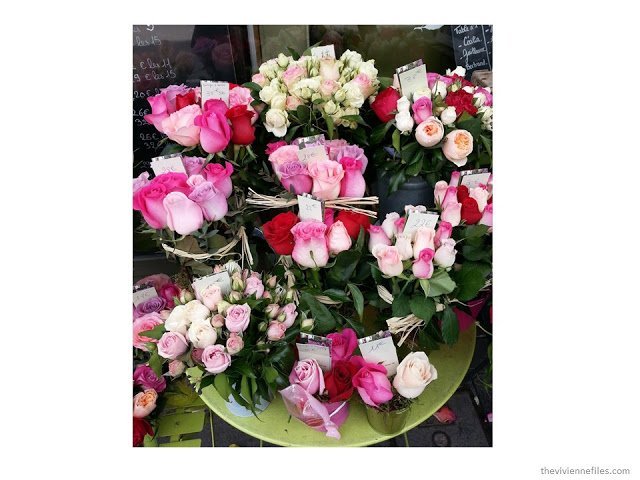 If you're planning to stop by the Galleries Vivienne on your next trip, you'll want to check on the state of renovation there; lots of shops were either closed completely or operating on reduced hours.
What I wouldn't give to tie into that stack of books in that window, by the way. Straightening up book disasters is in my DNA!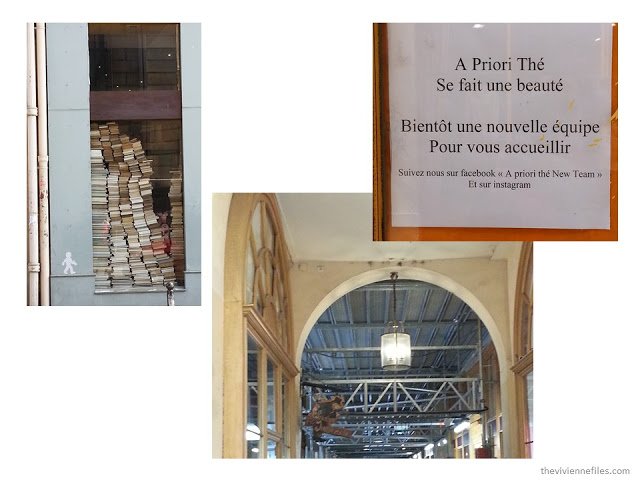 In the middle of all of this beauty, it's good to remember that Paris is also full of history – some of it centuries old, and some of it more recent. Very little is neglected, or forgotten, it seems.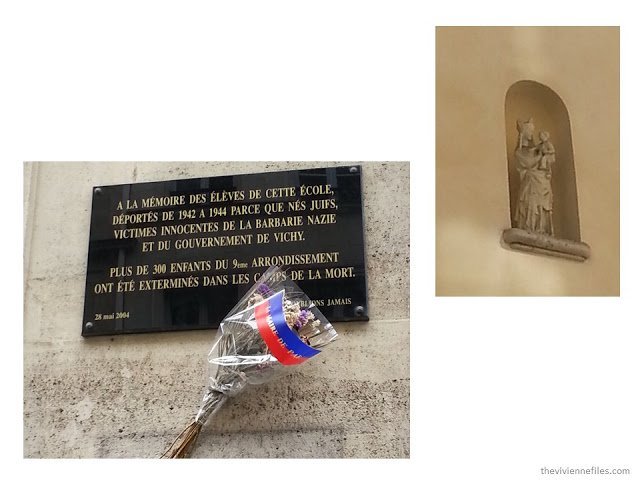 This is a small portion of a very large work of art that we saw in the window of a gallery in the area behind the Musee d'Orsay. I couldn't photograph all of it, and I couldn't find the artist's name. And the gallery was closed…
But this is so cool – simple silhouettes, accented with REAL BUTTONS! What WILL they think of next?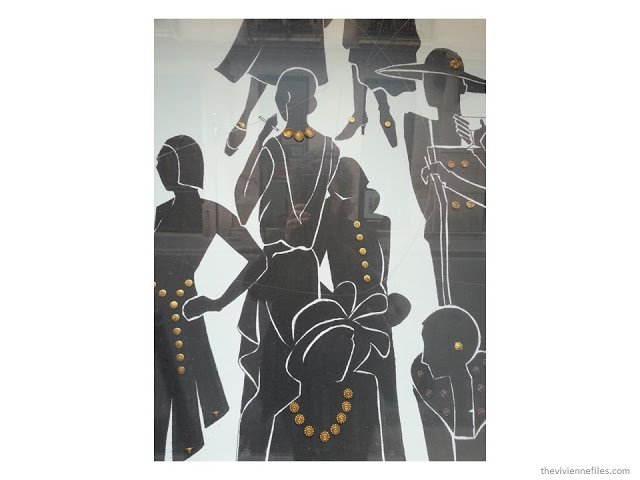 These posters were everywhere. I have no witty comment…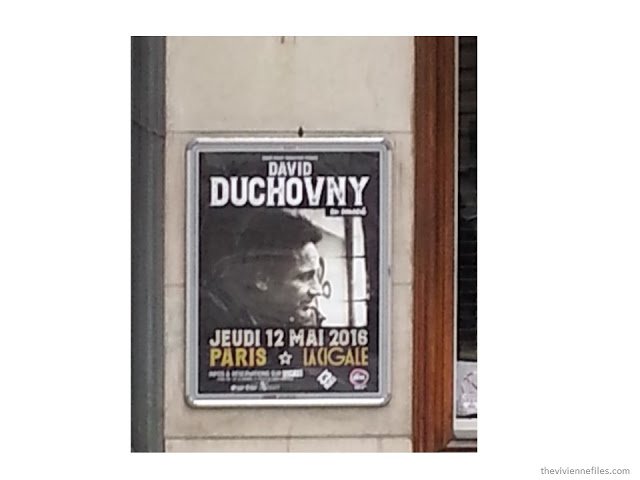 This is the Uniqlo store in the Marais, decked out for their partnership project with Liberty London. The store is tucked into a building off of the street, and they did a marvelous job renovating it. If there weren't a Uniqlo 8 blocks from Chez Janice, I might have been tempted!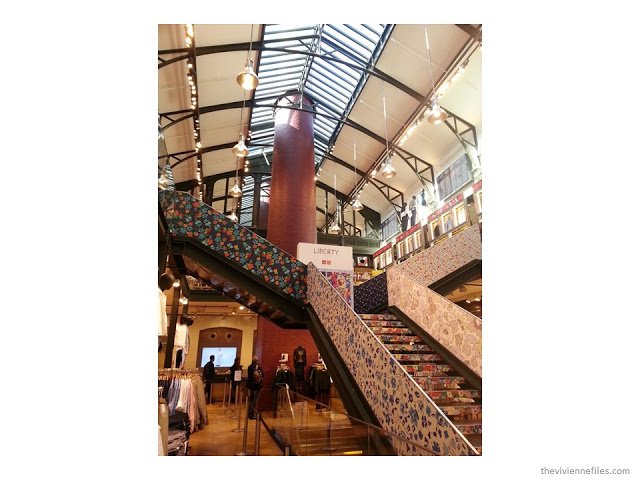 And so I leave my Paris photographs, until the next trip (probably in December). In parting, I have to share some of my favorite images, taken in the cafes in which I spend a great deal of time. Convivial AND tasty – what else could a vacationing person want?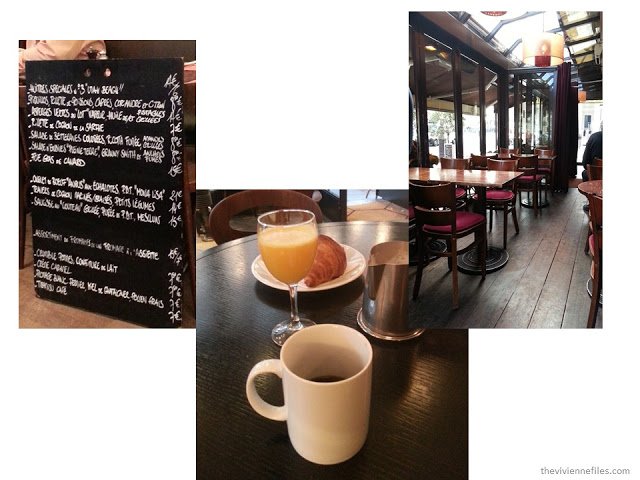 love,
Janice