April 15, 2016
While I know that some of us don't wear and don't like costume jewelry, there are others among us who cheerfully indulge when something makes our heart sing. And Paris is the best place I've ever been to buy costume jewelry.In the US, the "fashion" jewelry industry is dominated by the 4 "department store" brands (which shall remain nameless), and thus we have to do some creative searching in order to find something out of the ordinary. But in Paris, it's a different story. Want a pair of earrings that look like pansies? Easy… a bracelet that looks like a row of ducks? I can find that… earrings that look like gorillas hanging from your ears? check the Diwali store just south of Notre Dame; they were in the window last week!
First up, Paris is fully of those incense-scented stores that sell all kinds of things from India, Nepal, and other countries I don't remember. The jewelry is like that from Novica, except that after you shop in one of these, your clothes smell funny for days afterwards…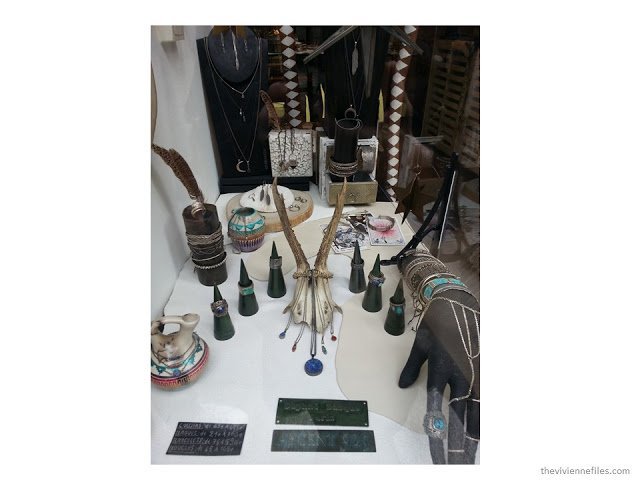 I forgot to mention it when I was talking about what Paris women were wearing, but we saw a few women wearing unapologetic combinations of yellow and black, with nary a bumblebee aesthetic in sight. And if you're in the market for a necklace in turquoise, yellow, blue and green, I can hook you up with that!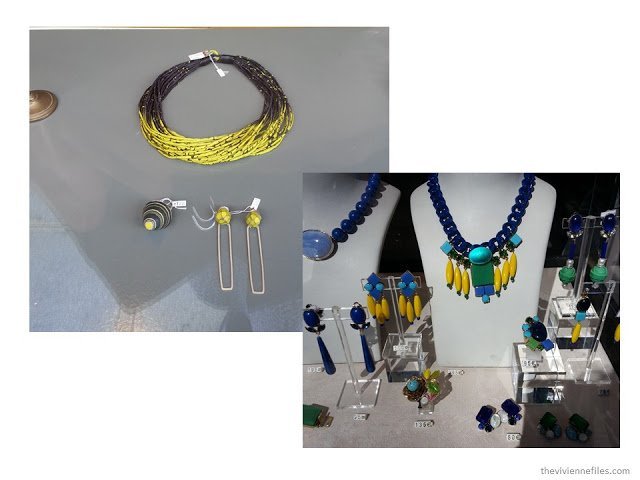 These 2 windows are from Diwali. I know that I talk about them a lot, but they are an overwhelming source of jewelry and necklaces – you can easily find inexpensive treats that will brighten up your wardrobe for a season or two. Nothing of investment quality, but tons of small treats.
But you MUST have at least a clue about what you want before you go into one of the stores, or you'll be completely gobsmacked by the abundance, and walk out either with nothing, or with the entire store!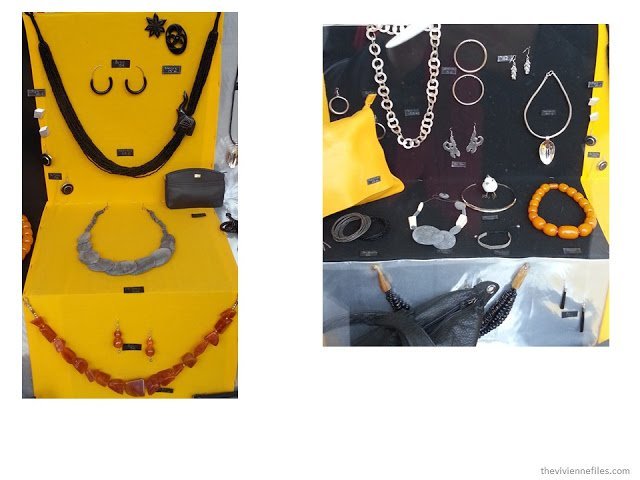 Conventional wisdom used to tell us not to wear earrings larger than our ears, but that seems to have gone by the wayside… If you're looking to make a statement with a large piece of jewelry (or two) there are lots of options: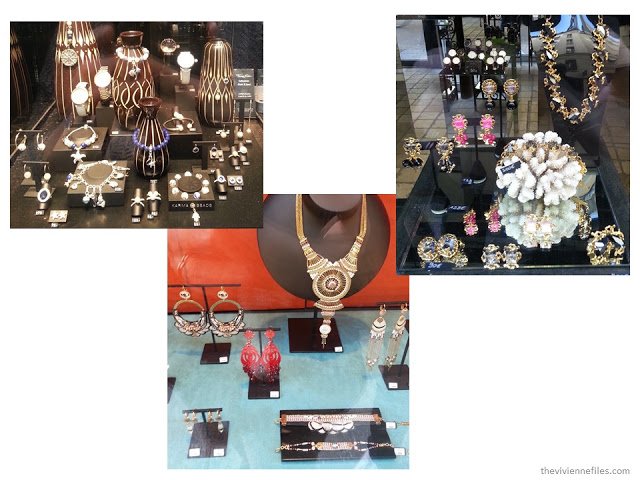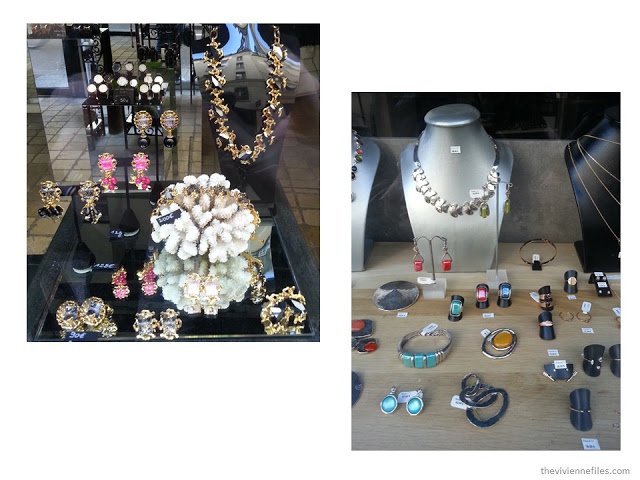 If you prefer more subdued choices, there are plenty of pretty things for you too! I still don't know how I had the discipline to walk away from that necklace in the background of the 2nd photograph…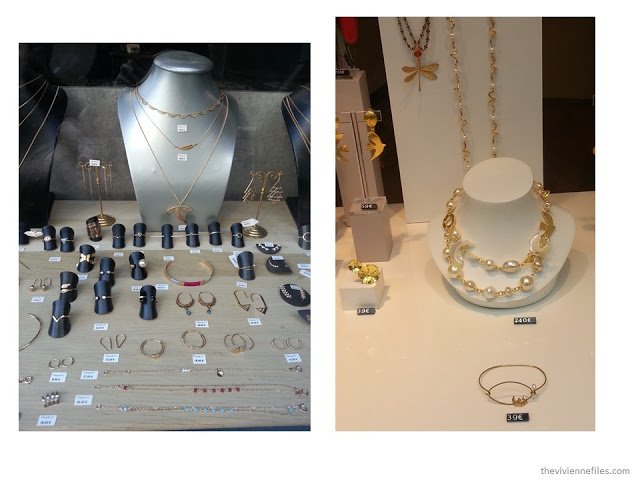 Really, you'll see more jewelry in Paris than you can imagine..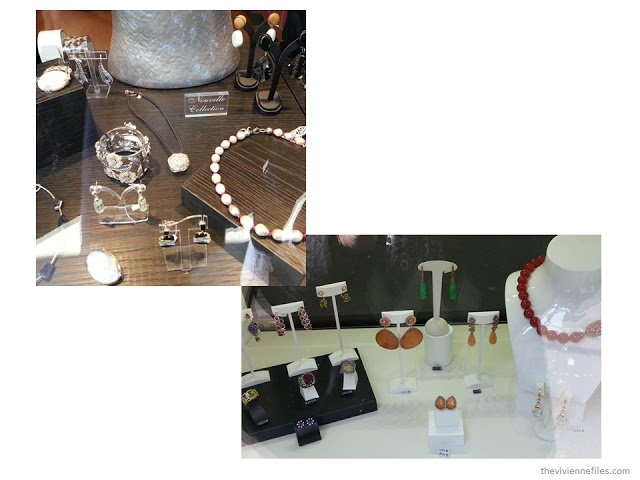 Another pair of windows from Diwali. They always tempt me to distraction…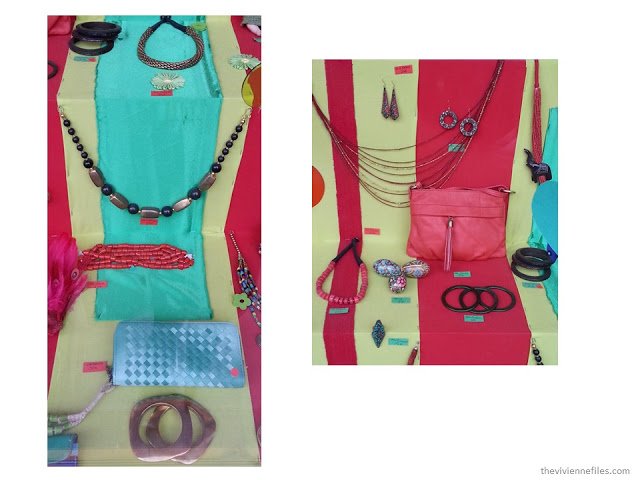 And no matter what Pantone tries to tell people, someone in Paris is going to ignore their advice completely.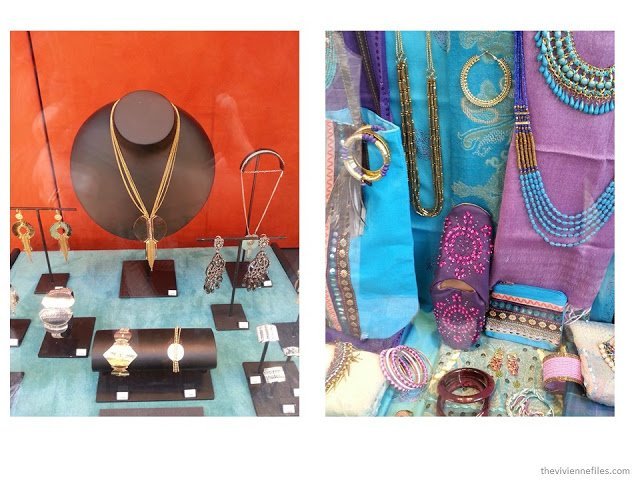 Red pearls? A strand of beads in orange, green and brown? Or beautiful pearl, red and gold necklaces? Heck yes.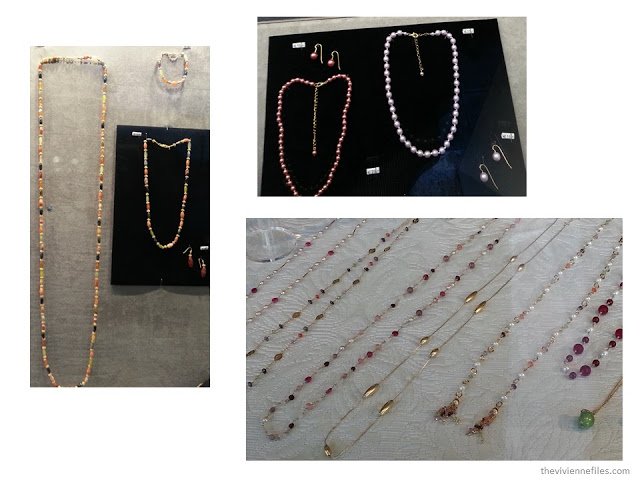 And for all of those other colors, glass jewelry is available in every shade and nuance in every rainbow ever seen: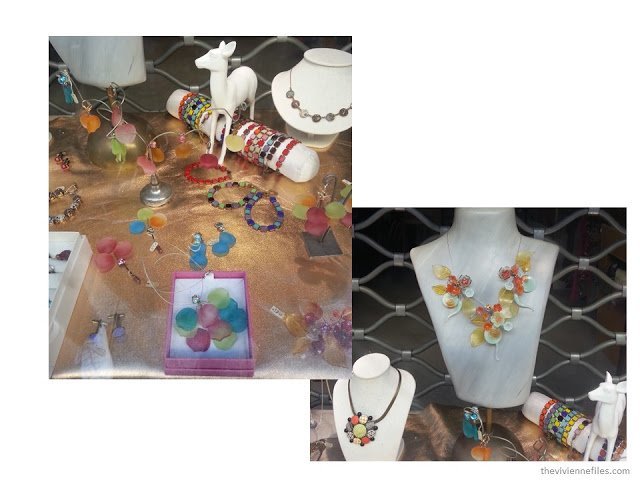 I still have all of my photographs of the shop windows, including Hermes….
love,
Janice