April 21, 2016
A friend received this as a gift, and doesn't know where to start… I have some ideas; I ALWAYS have ideas!
The red in this is actually a hair closer to rust, but since we're moving toward warmer weather here, and rust is IMPOSSIBLE to find, I'm working with a more poppy red. These accent colors don't have to be a flawless match to the color in the scarf, nor to each other. Unless you plan to wear pieces together, you needn't be madly rigorous in making the colors perfect in a capsule wardrobe.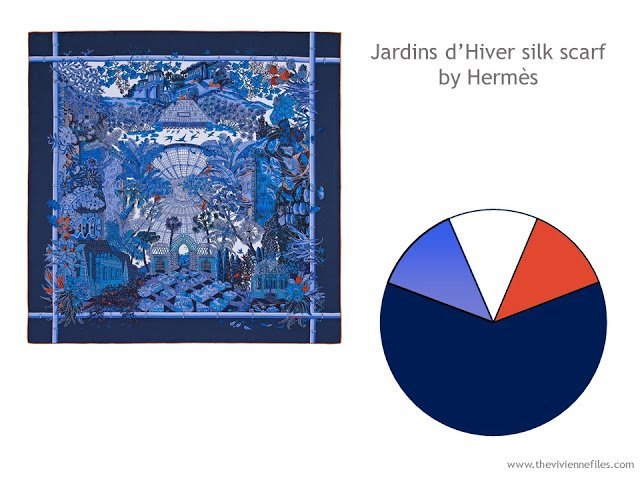 Of course, when building around a single accessory, 1 outfit at a time is a good approach: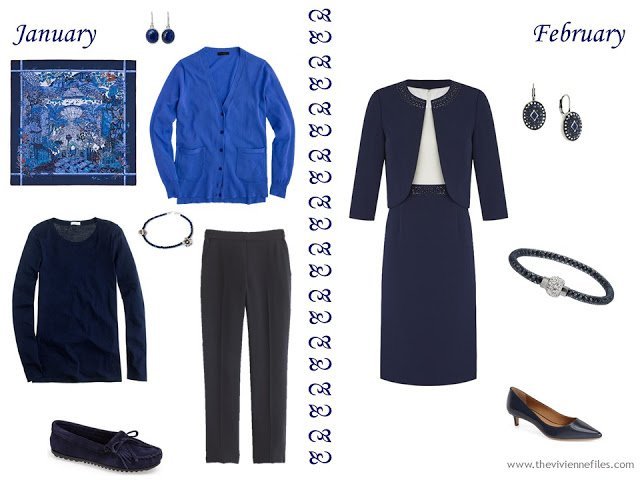 Scarf – Hermes; earrings – Matta; cardigan – J.Crew; tee shirt – J.Crew; lapis bracelet – Somluck Komolmith; loafers – Minnetonka; pants – J. Crew; jacket dress – Joanna Hope; navy earrings – Vince Camuto; bracelet – Wallis; pumps – Calvin Klein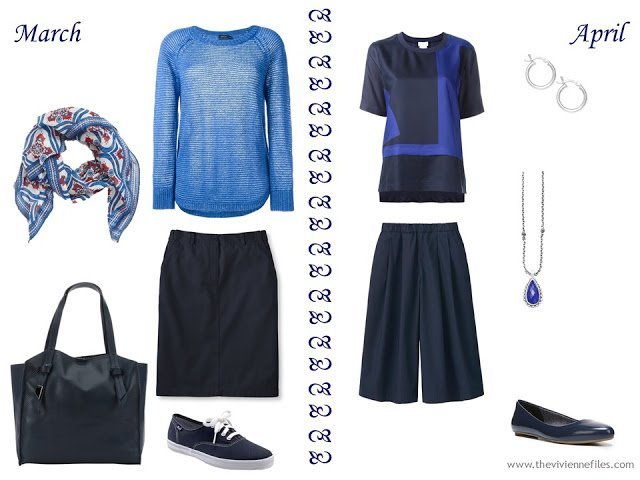 scarf – Roffe Accessories; sweater – Polo Ralph Lauren; skirt – L.L.Bean; tote bag- Foley + Corinna; shoes – Keds; block tee shirt – DKNY; gaucho pants – Uniqlo; silver earrings – Giani Bernini; pendant – Lagos; ballet flats – Dr. Scholl's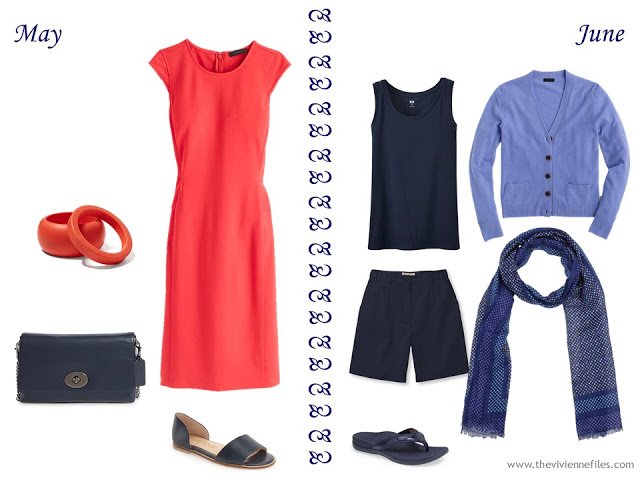 Dress – J.Crew; bracelets – Banana Republic; bag – Coach; sandals – Sole Society; navy tank – Uniqlo; navy shorts – L.L.Bean; cardigan – J. Crew; scarf – Mosaique; sandals – Vionic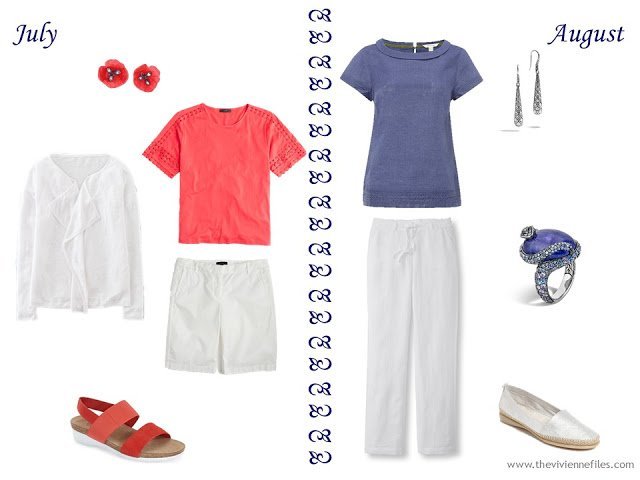 Poppy earrings – Michael Michaud; white cardigan – Boden; poppy top – J. Crew; white shorts – J. Crew; sandals – Munro; blue top – White Stuff; earrings – John Hardy; white linen pants – L.L.Bean; ring – John Hardy; silver espadrilles – The Flexx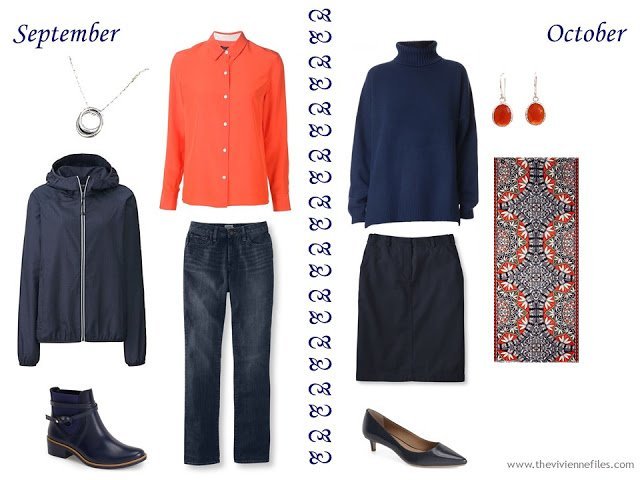 Pendant – Aoy
; jacket – Uniqlo; blouse – Rag and Bone; jeans – L.L.Bean; boots – Bernardo Footwear; turtleneck – Tib
i
;
earrings – Bhavesh
; skirt – L.L.Bean; scarf – Tory Burch; pumps – Calvin Klein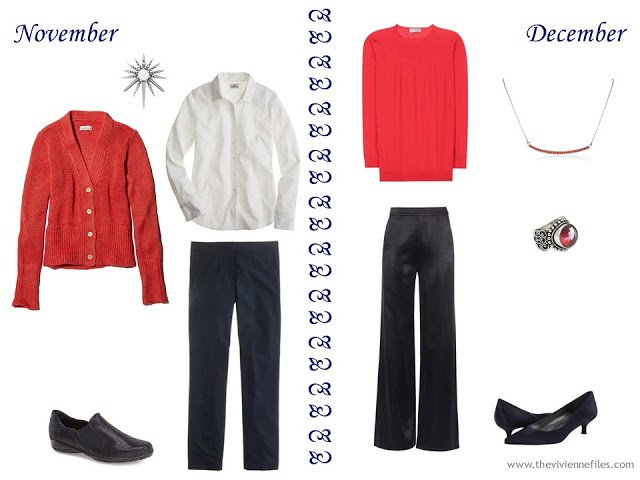 Cardigan – L.L.Bean; brooch – Kendra Scott; shirt – J. Crew; loafers – Vaneli; navy wool pants – J. Crew; sweater – Balenciaga; silk pants – Equipment; necklace – Marshelly's; ring – Buana; satin pumps – Stuart Weitzman
I reused a skirt in a couple of outfits, and a pair of pumps – in the normal world, you wouldn't buy complete new outfits each month. You would work with what you already own, and add on the pieces that give you the most versatility. After 12 months, this is the assembled wardrobe; how many outfits could be drawn from these garments?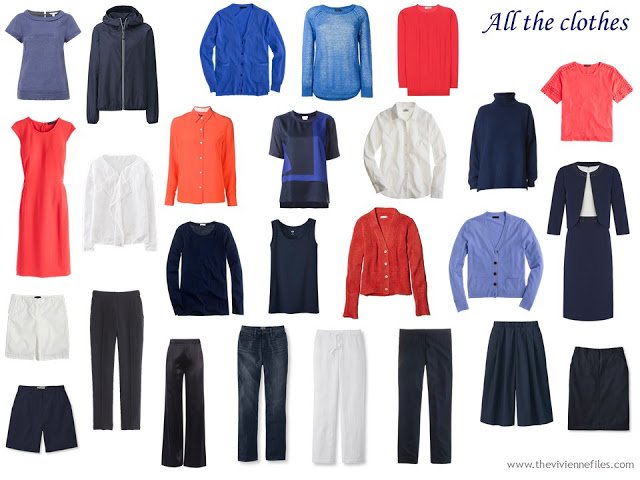 I love to see the accessories all together! Again, it's doubtful that you would purchase new shoes each month, but showing all of these together gives you a clear image of what the overall, desired "shoe effect" is. And those scarves… sigh… I love me a good scarf!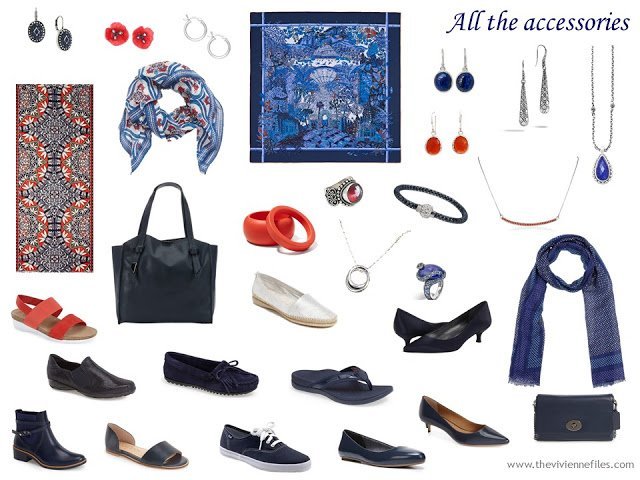 I hope this is helpful to my friend with the dilemma, and to everyone looking for a fresh idea or two!
love,
Janice