February 17, 2016
There are a lot of cardinals in the park very near here – it's my favorite detour when I'm out and about to go look for them. They are SO striking, and such a spot of cheerful color on these short, grey winter days!I'm always taken with the way in which the male and female birds are colored differently. He is very high-contrast, in cool colors: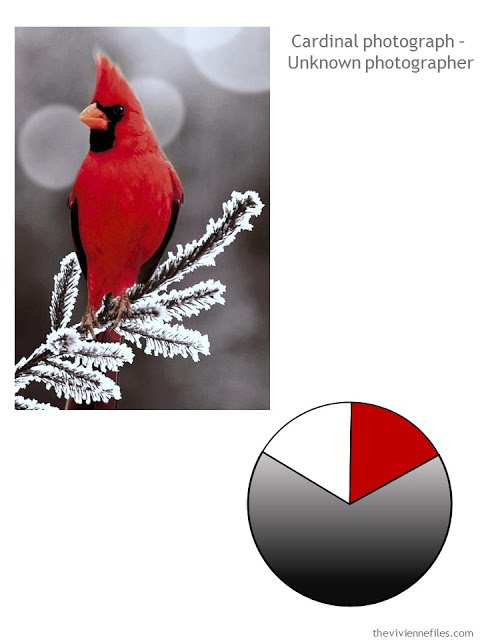 I'm going to visit her color scheme too, but for now, I was in the mood for a small 4 by 4 wardrobe in these colors. Maybe a miniature winter work wardrobe? (for those among us who do miniature winter work?)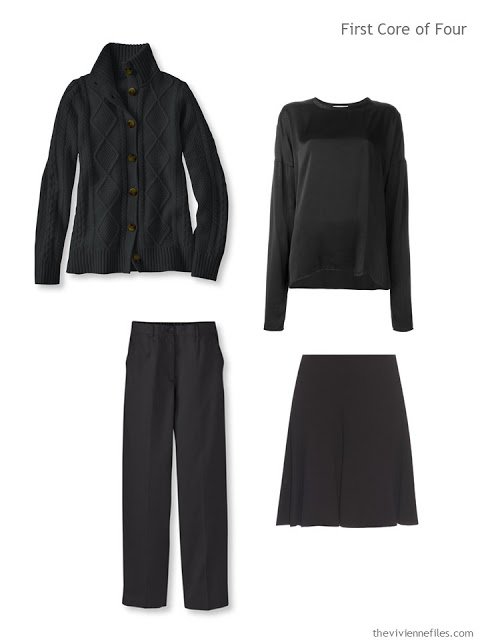 Cardigan – L.L.Bean; pants – L.L.Bean; Blouse – Faith Connexion; skirt – Diane von Furstenberg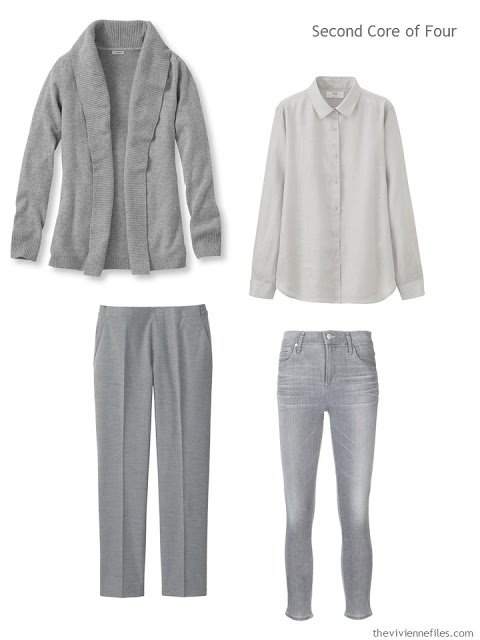 Cardigan – L.L.Bean; trousers – Uniqlo; Shirt – Uniqlo; jeans – Citizens of Humanity
Since the red tops won't ever be worn together (I don't know, physically, if you could), they don't have to be dye-lot matched. But they should all reflect that intense, vivid coloring of the male cardinal, in his preening glory.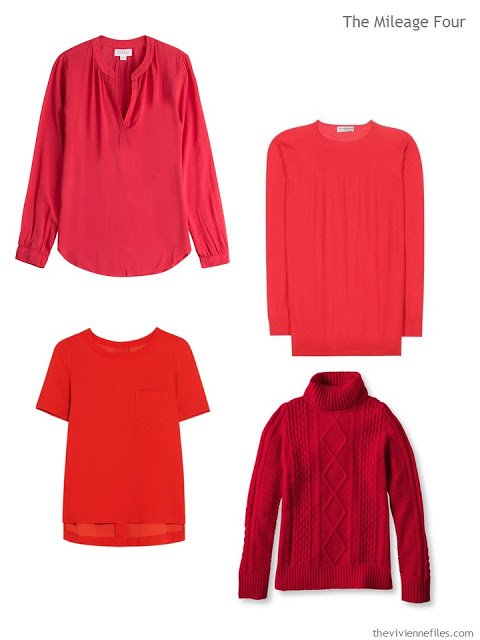 V-neck blouse – Velvet; silk-trimmed top – Madewell; Red sweater – Balenciaga; turtleneck – L.L.Bean
In keeping with my theme of cheerfulness, I found some interesting, beautiful pieces.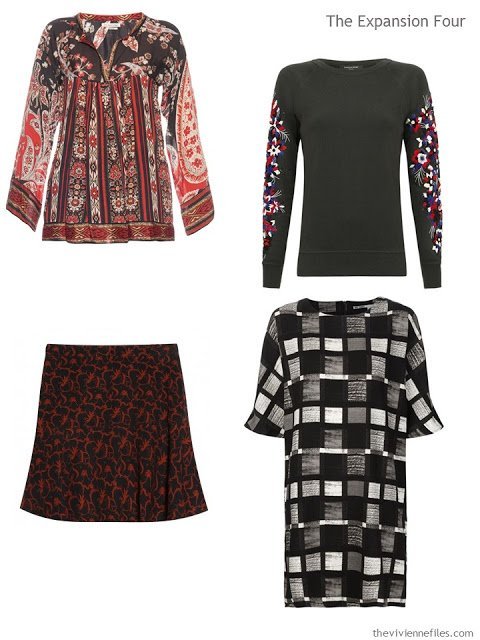 Tunic – Isabel Marant Etoile; skirt – A.L.C.; Sweater – Ï Miss Sophie; dress – Just Female
And what would The Vivienne Files be without accessories? I channeled a bit of the exuberance of the cardinal when I chose some very… noticeable… shoes.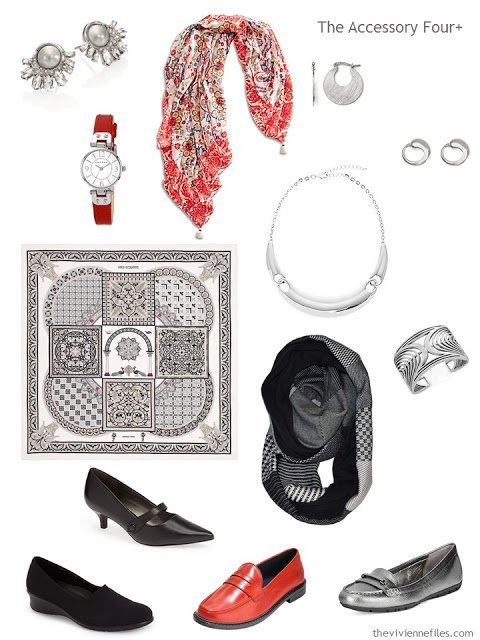 Stud earrings – Alexis Bittar; watch – Anne Klein; tassel-trimmed scarf –
Lucky Brand; flat hoop earrings – Open Sky; circle earrings – Open Sky;
necklace – Lane Bryant; scarf – Hermes Ciels Byzantins; infinity scarf – Lieke van Opstal; bracelet – Lucky Brand; loafers – Ecco; pumps –
Trotters; red loafers – Cole Haan; silver loafers – Bandolino
Everything hangs together, literally and figuratively, quite well. When arrayed like this, it's easy to see options!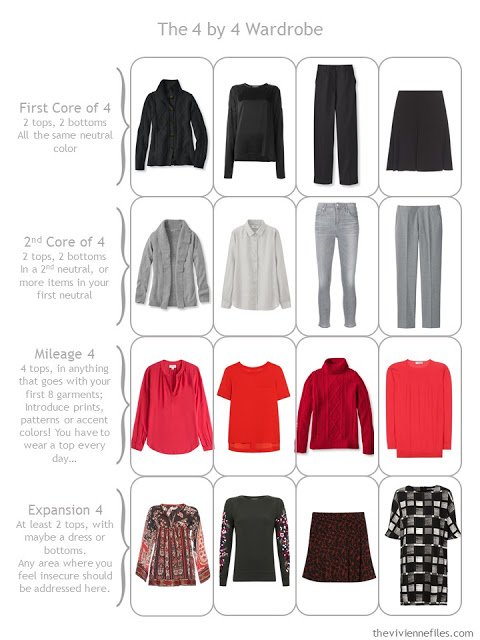 And when everything is together, you can see how the accessories really help everything mesh. These are the kinds of clothes in which I could easily (and cheerfully) live.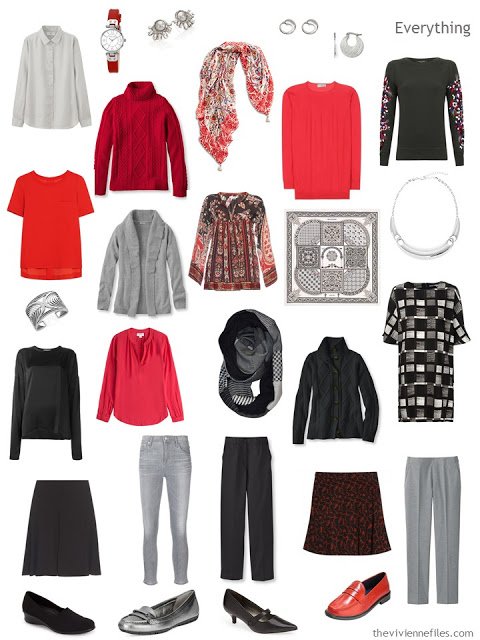 I'm going to work on the female cardinal colors, and try to get it out to you before I have to leave on my unexpected trip. Cross your fingers that the mysteries of the garment world are smiling on me!
love,
Janice