Unpacking my bag last night, I was thinking about how, for the last handful of trips I've taken, I've started my packing by choosing my travel outfit, and then adding 1 piece at a time until I'm at an appropriate number of garments for the length of my trip. It's a system that's working pretty well for me…I then started considering the possibility of applying this concept to the building of a wardrobe. Some people just aren't in a position to buy an entire wardrobe, or even an entire outfit, at one time. And for those among us who are more comfortable moving gradually into changes, this might be just the ticket!
Let's start with this outfit; maybe this is someone's very favorite ensemble, including the colors around which they wish to build: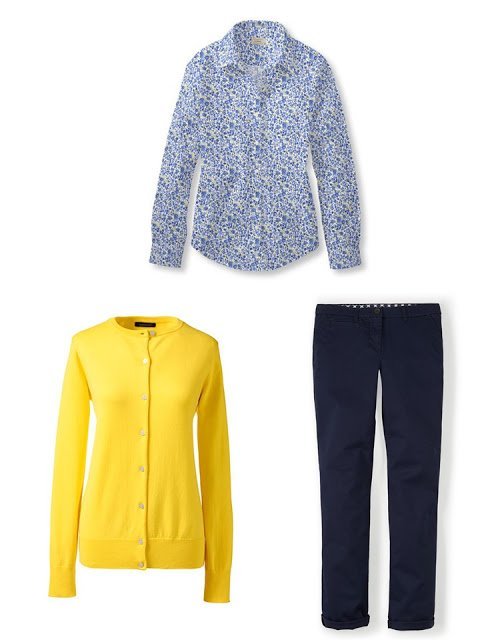 Just to make sure things are clear in our minds, and in the mind of our imaginary shopper, let's draw a color scheme image.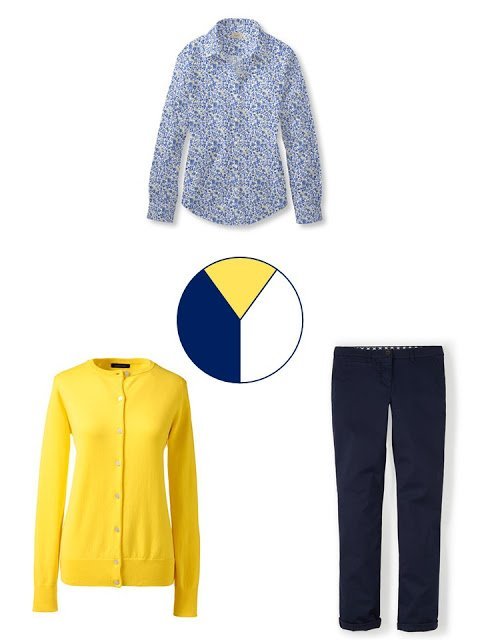 For me, if I'm just traveling overnight, I pack only a clean blouse or shirt, and re-wear my cardigan or jacket, and my trousers or skirt. (I'm on a one-woman crusade to persuade people that unless you've gotten very dirty, or very sweaty, re-wearing clothes won't hurt anybody. Our grandmothers did it….)So mythical shopper (hereafter to be known as MS) picks up another flowered shirt. She really LIKES flowers…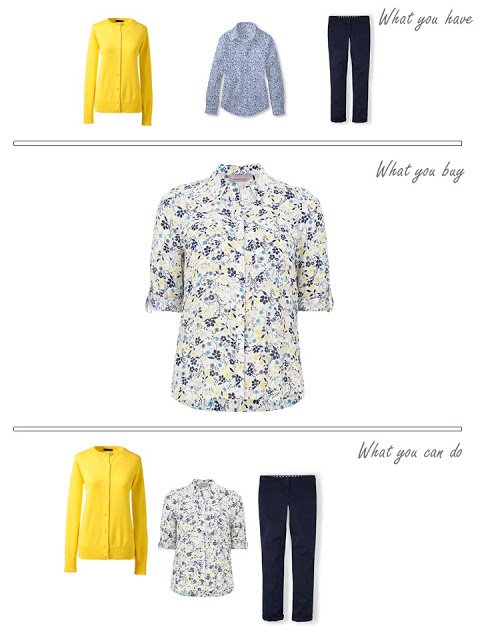 The essential measure of the "rightness" of MS's purchases will be what she can actually DO with them when she gets them home. If you buy something and get it home to find that you've got no possible way to wear it, it's a shopping fail. Sorry, that's harsh I know, but true.But MS knows for an iron-clad fact that she can wear the short-sleeved blouse exactly as she had been wearing her long-sleeved shirt, so this works well.
Next up, a 2nd layer, which could be a jacket, sweater, or cardigan. MS shares with me a fondness for the suit-like feeling of a matching cardigan and pants or skirt, so she chooses this: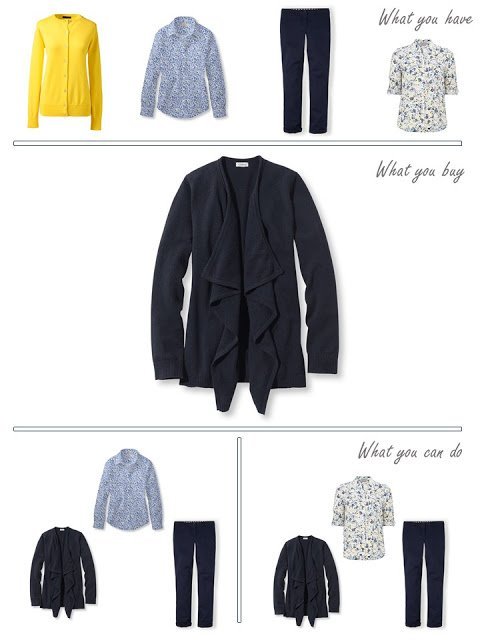 She had two outfits before she bought the cardigan, now she has four! Another successful purchase…It's now time for another pair of pants (or shorts, or a skirt, or capris…) Both of MS's shirts have white in them, and she had isolated white as her 2nd neutral color, so white pants are her choice (these are just like the navy ones, except for color).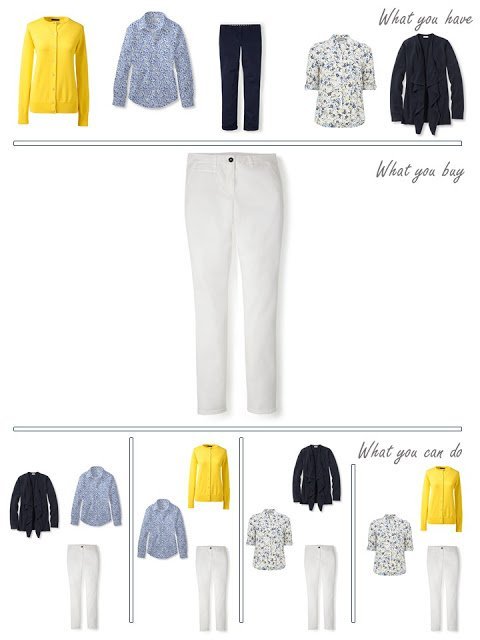 From here on, I'm going to set four new outfit possibilities as our standard of success, because showing more than 4 becomes cluttered. Any time you can buy 1 piece and wear it four different ways, you've done well!
The shopping pattern gets repeated now: top, 2nd layer, bottom. Realistically, many of us might toss an extra tee shirt or two into the mix…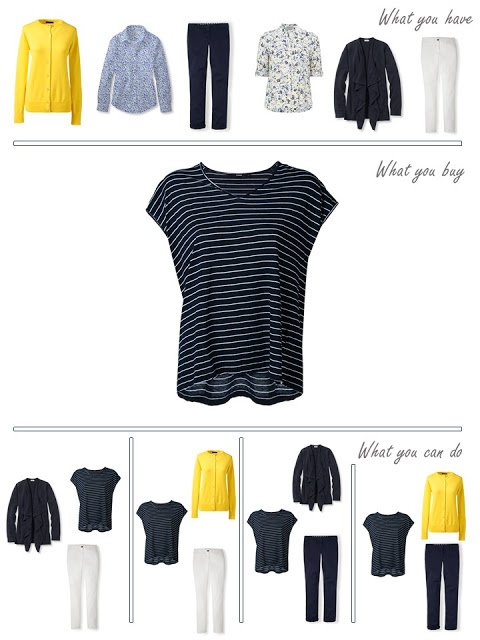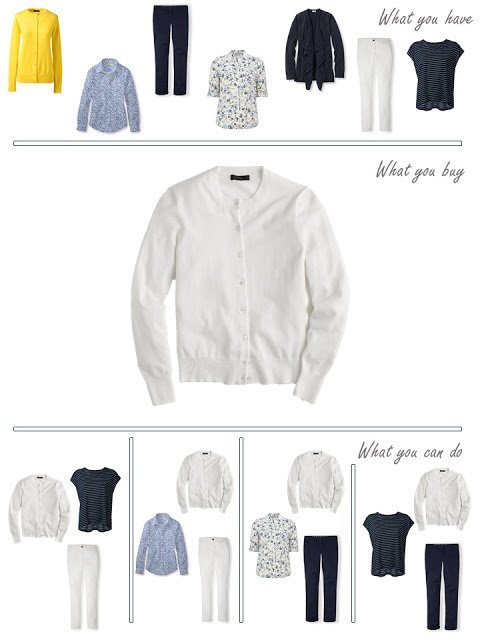 If you're simply not a skirt person, you are, of course, free to substitute whatever will be most useful for you. If your heart sings for a pair of navy coveralls, I'm NOT going to stop you!
This isn't a "Whatever's Clean" wardrobe – MS will eventually buy some things that wouldn't be ideal together. But everything shares the core color scheme, and of course her preferred shapes and lines, so most of the time, she's going to have plenty of ways to pull outfits together.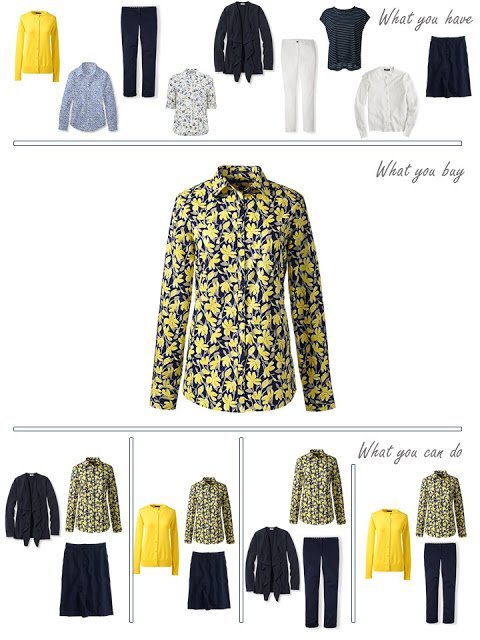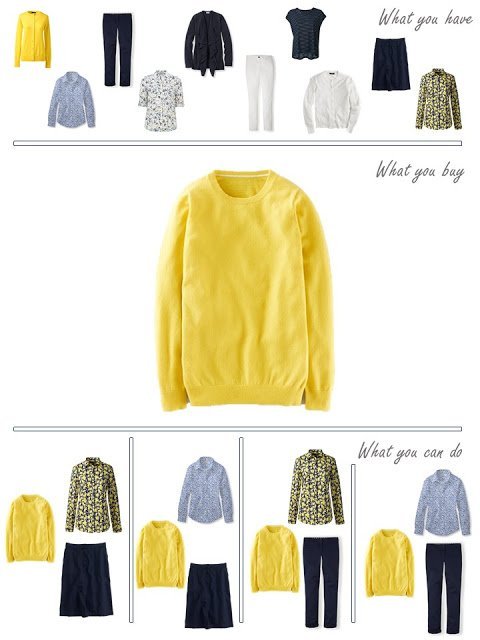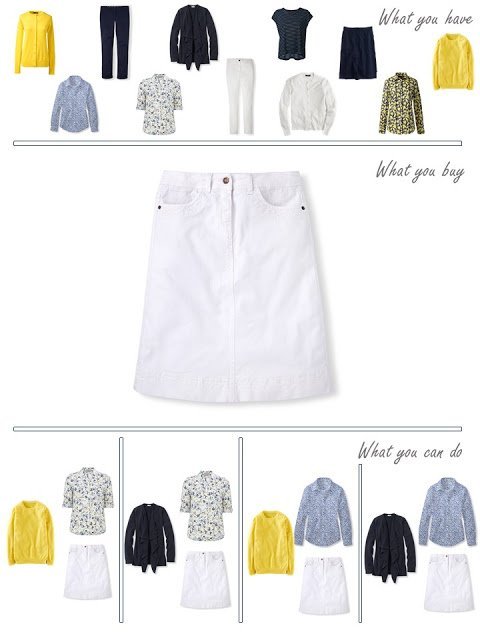 It wouldn't be a real betrayal of the system to buy a few tee shirts at the point – I can picture MS sneaking in a solid navy tee shirt along with this white one…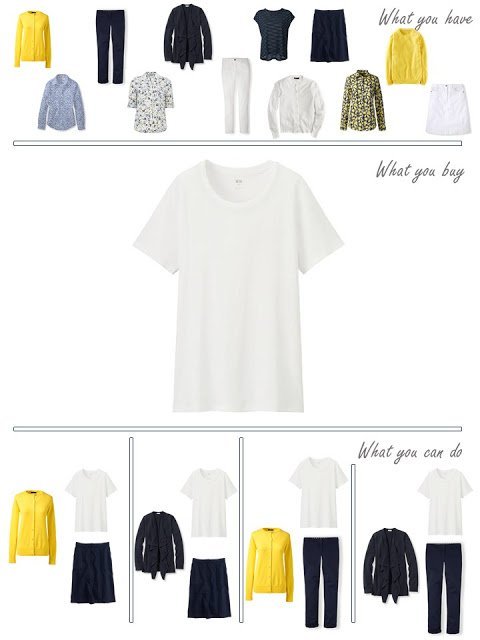 Tee shirt – Uniqlo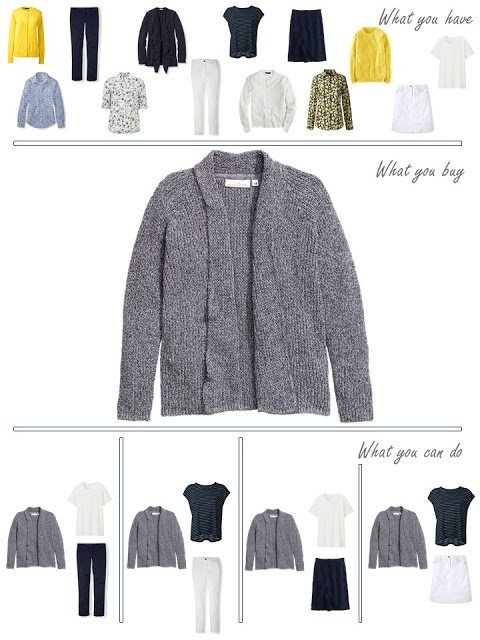 And this shirt in white seems an obvious possible addition: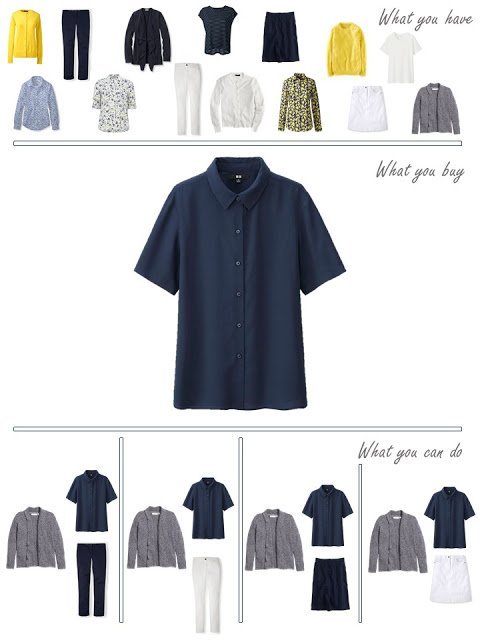 Rayon shirt – Uniqlo
I decided to stop at 16 pieces of clothing, because it suggests wearing 3 to travel and packing 13, which feels like a nice number. Sometimes, it's just all instinct around here…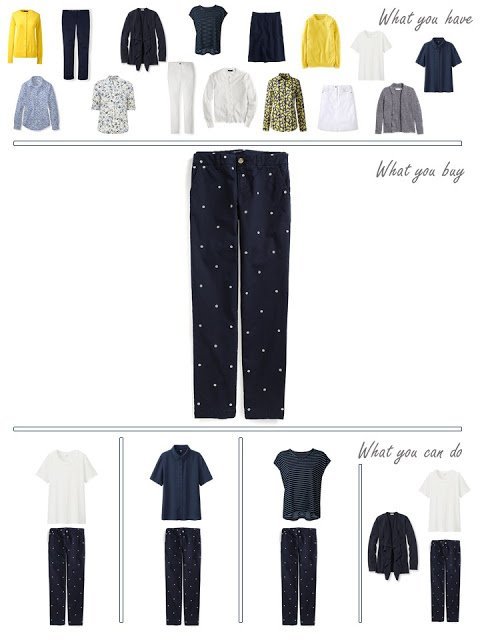 I swear, I was not looking at the 4 by 4 template when I chose these garments, but after I finished picking pieces, I decided to take a look at how well these garments would correspond to the guidelines of the 4 by 4 Wardrobe. They fit perfectly! (I was surprised…)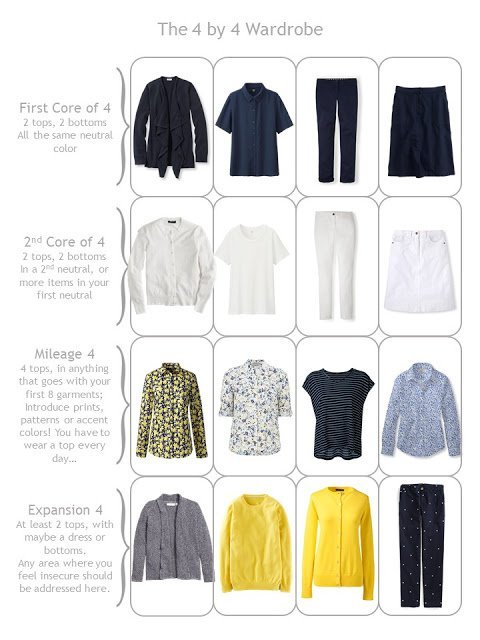 Just to test the theory, (or my good luck) I'm going to try this project again tomorrow, in warm colors.
love,
Janice
p.s. Tomorrow the colors are beige with blush and soft green – what other colors would you like to see? I love this system and would be delighted to work through it a couple of times!