February 27, 2016
Wow, this was much more difficult than I expected it to be!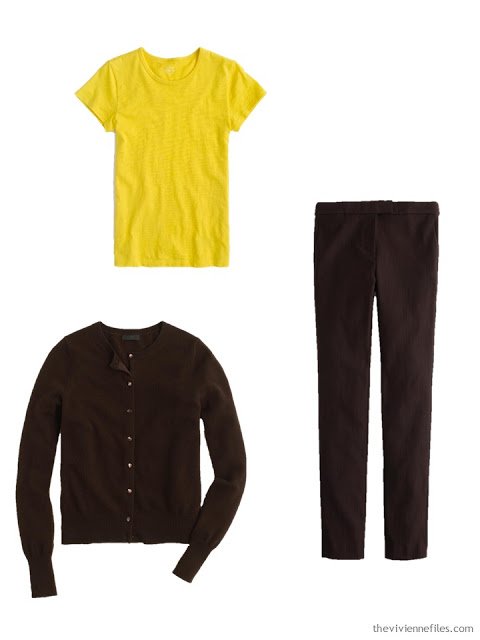 Tee – J. Crew; cardigan – J. Crew; pants – J. Crew
This is really a great color scheme – the accent colors are sufficiently different from each other that introducing them into an outfit gives you two very different sensibilities…And I didn't set out to find so many pieces from one source, but when I found that they had matching pieces in brown, it didn't seem like a bad idea!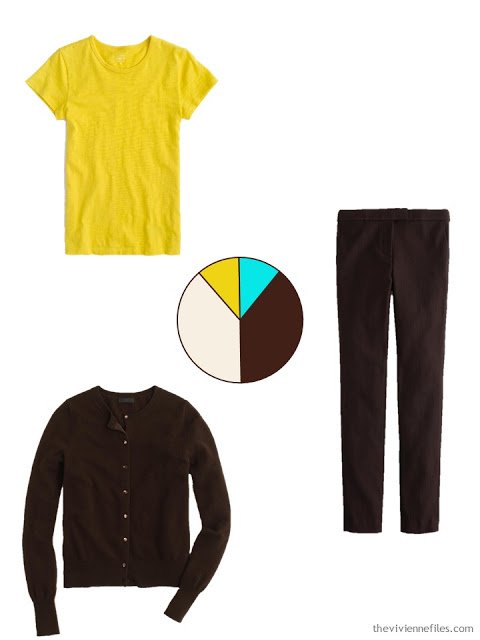 Tee – J. Crew; cardigan – J. Crew; pants – J. Crew
So the matching brown pieces made it impossible to resist getting a brown shell, too. I think of this as a wardrobe that's ideally suited for changeable weather, or for those of us who have hot flashes…
Shell – J. Crew
I love this yellow…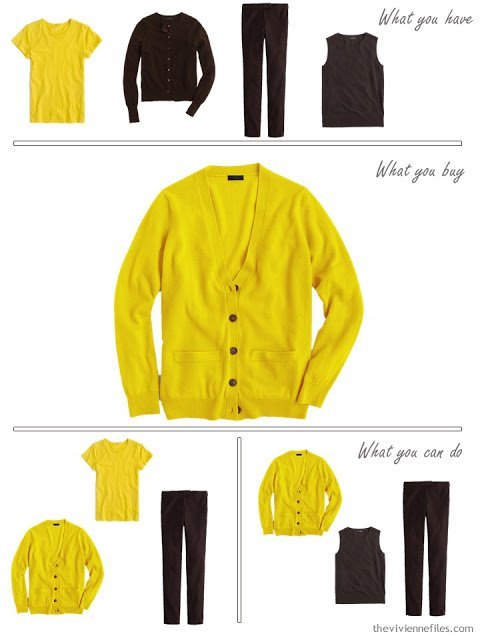 Cardigan – J. Crew
Cream and brown together are an underrated combination – every bit as classic as black and white, and much more flattering for many among us.
Finding print or patterned clothes in these colors has proven to be REALLY difficult, so when I saw this tee shirt, I grabbed it. The lightest color here is still darker than the cream that we were targeting, but it will still blend nicely. So long as the brown shades have the same degree of red in them, blending is always a good option.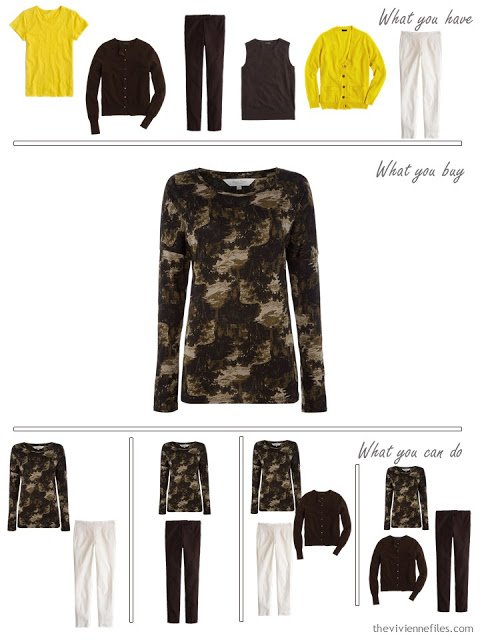 Tee – Part Two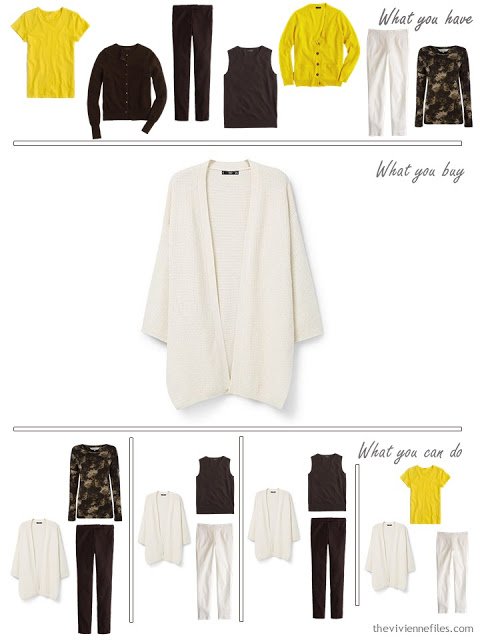 Cardigan – Mango
In lieu of a skirt, I thought I'd go with another pair of pants, in a different fabric. Corduroy feels VERY different in an outfit from twill or gabardine.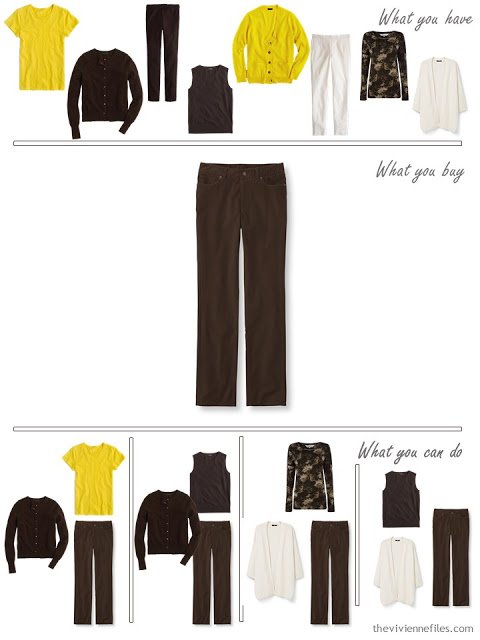 Cords – L.L.Bean
Now for a bit of aqua!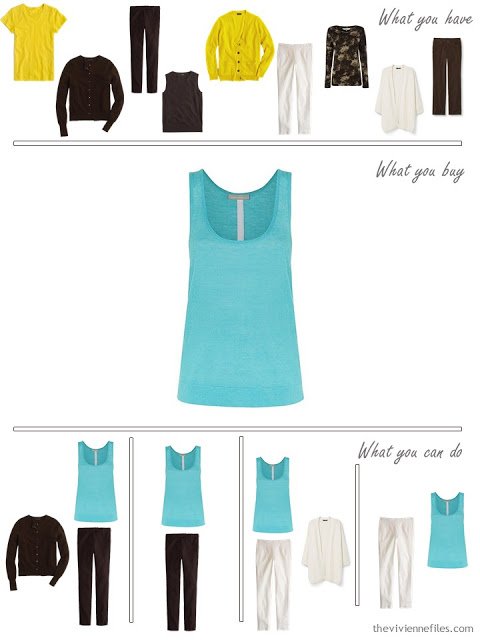 Tank – Fenn Wright Manson
And another bit!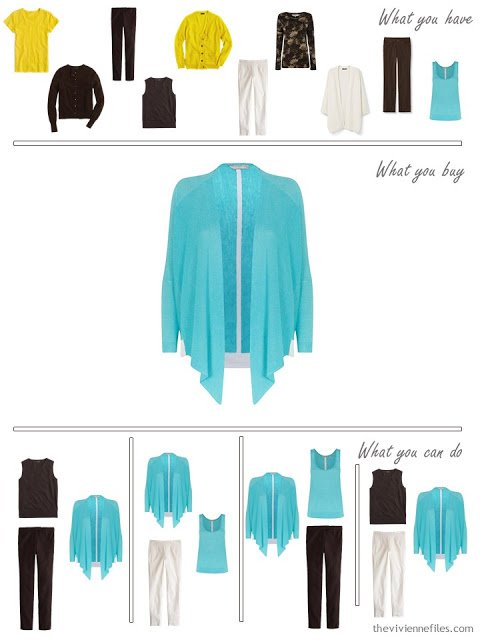 Cardigan – Fenn Wright Manson
Since I skipped a brown skirt, I thought I'd skip a cream one too – this is a more casual wardrobe than the earlier versions of "1 at a Time." These are the kinds of modifications that you can freely make when you adapt this system to your own needs!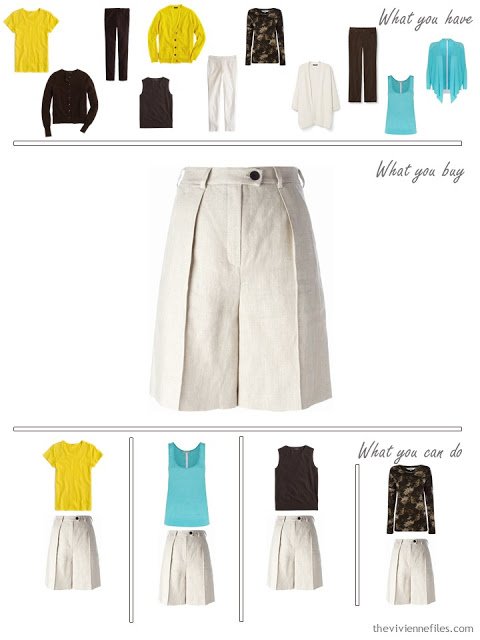 Shorts – Carven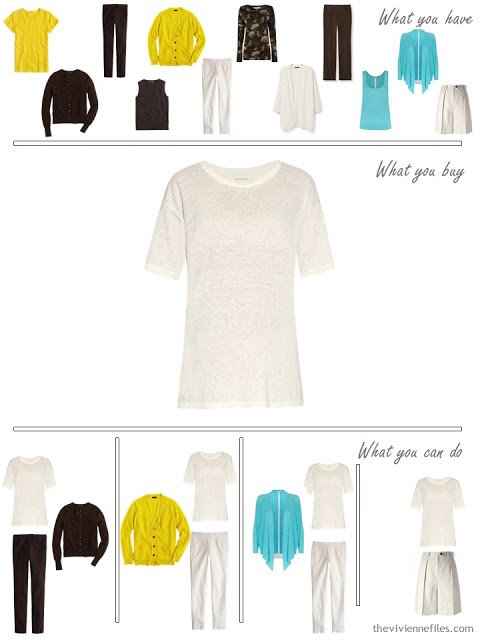 Tee shirt – Isabel Marant
I turned the Internet UPSIDE DOWN looking for this cardigan, and then I turned it over AGAIN trying to find an image that didn't have a stupid clothes hanger (and a necklace!) on it. I failed… but this sweater was made for these colors, don't you think?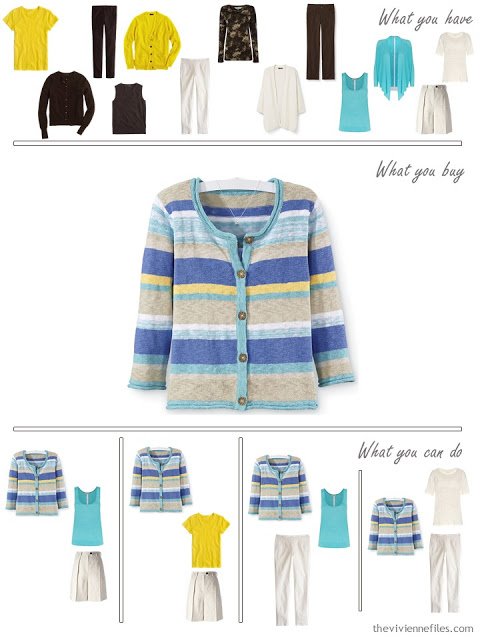 Cardigan – Northstyle
An additional bit of print might be nice – a neutral striped tee shirt is ALWAYS a good idea!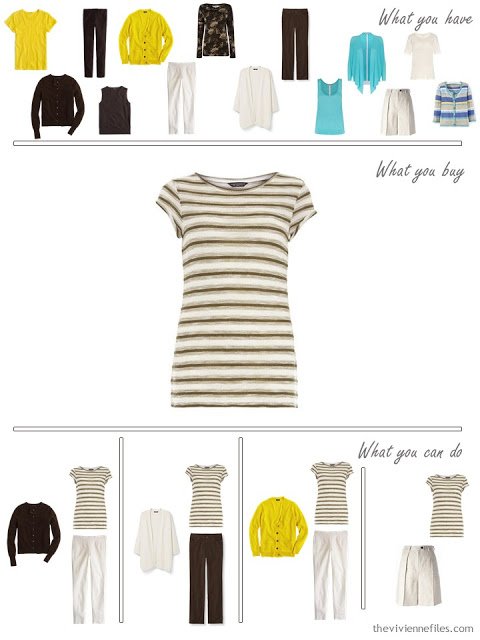 Tee shirt – Dorothy Perkins
And since I've eschewed skirts so far, I thought I'd go a bit crazy with the last piece – yellow culottes. (although Stella McCartney refers to these as shorts, and who am I to argue with her?)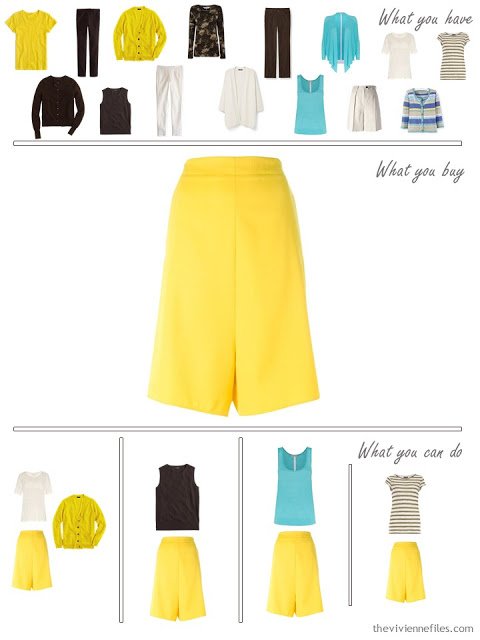 Culottes – Stella McCartney
What a fun wardrobe, when it's all together!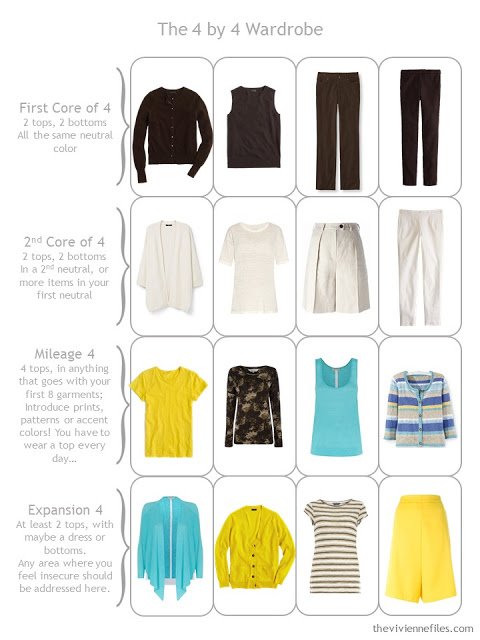 I can't wait until I get to find accessories for THIS one….
more brown on Tuesday,
love,
Janice