July 24, 2015
One of you is taking off soon for a trip to China, and you have asked me for some ideas about what to pack.
I did quite a bit of reading about travel to China, and one thing that was stated repeatedly was that it's important not to take too many clothes, because (a) it's extremely easy and inexpensive to get laundry done in China, and (b) there are quite a few non-clothing items that you need to pack, so you want to reserve space for those kinds of items. (OTC medicines etc. – PLEASE do some research before a trip like this, to be certain that you have with you all of the recommended necessities.)
Now, for some aesthetic inspiration.
Sotheby's assessed this vase at around $1,000…
When the hammer went down, it sold for $18,000,000.
Even experts might not see your true value!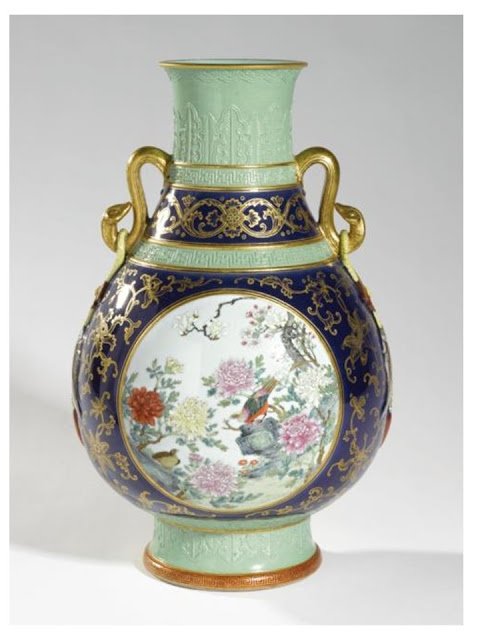 My thought process when building this color scheme was to use the navy as neutral – easy to wear for travel, and then use the beautiful green and white as accent colors for clothing. The glorious cognac base is a great color for leather accessories, and there's no way you could use anything but gold for jewelry and metal details.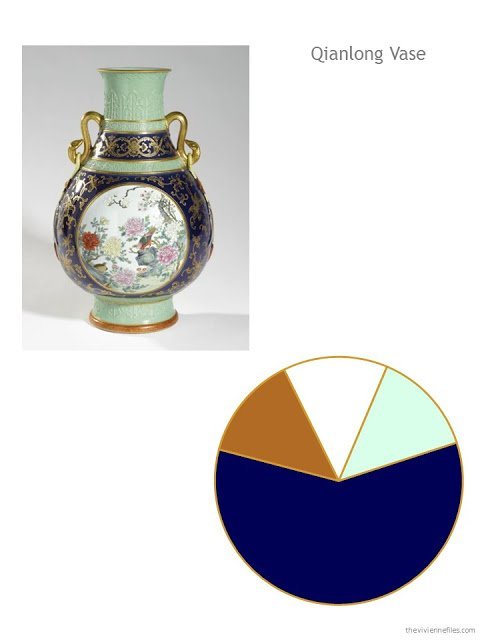 A cardigan for layering, a scarf for amusement, green socks just because you can, and warm cognac accents in leather, and in your earrings. This capsule doesn't include any blindingly expensive anything – one fewer worry in the middle of so many things to think about, and to absorb.
No, the tote bag shown is NOT your suitcase…
Here's where I got really strict – a pair of capris for warmer days, a skirt for a change of pace (and in case there's anything dressy happening!) and a simple dress for days when you've sent 3 or 4 pieces to the laundry. Shoes designed for comfort and walking, just enough jewelry to keep things interesting (notice all of the jewelry has a "round" element to it, in honor of the vase that inspires us), and a top with a hint of metallic gleam, for when you need a bit of brightness.
(Yes, all of the tee shirts are from L.L.Bean. Once you find your size, and you see that they carry that glorious shade of green that you like, why not stock up? There are no bonus points for variety…)
If this is too painfully little for you to pack, look for a plain white shirt, a cognac cardigan, maybe a pair of floral trousers in mostly navy, with hints of your green and white… Maybe a navy and white striped shirt? Or another dress, in a pattern? Just don't overdo – that's the one thing I've read repeatedly…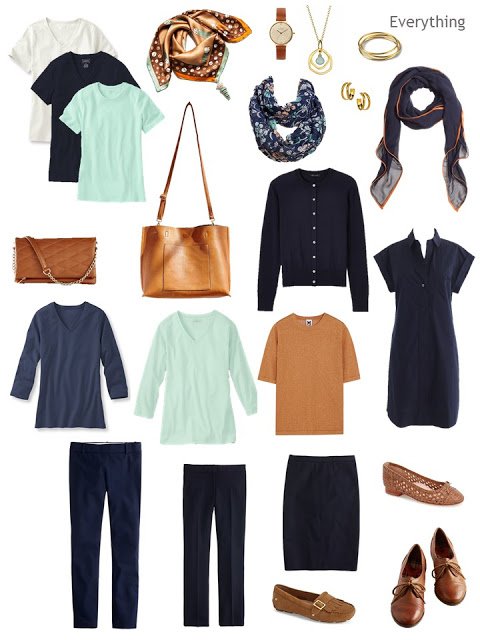 I'm pretty sure that this is a "Whatever's Clean", if you use a scarf of piece of jewelry to tie together disparate colors…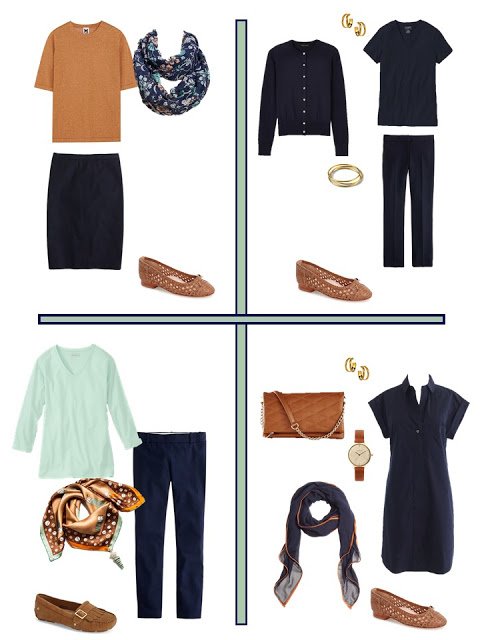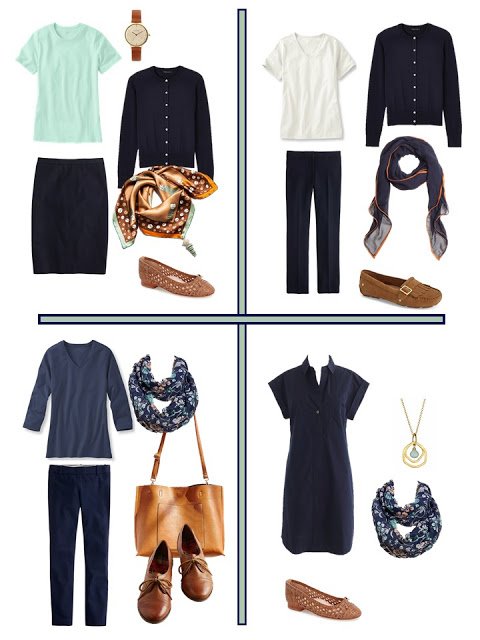 I always think that having my packing sorted out is a great way to ease your mind about at least part of the stress/excitement of travel to new places.
love,
Janice